Could a log burner help to save you money on your energy bills?
Log burners are cheaper to run than traditional gas and electric alternatives. With energy bills rising, you've probably read a lot of cost-saving tips. Getting a log burner installed could be one of them.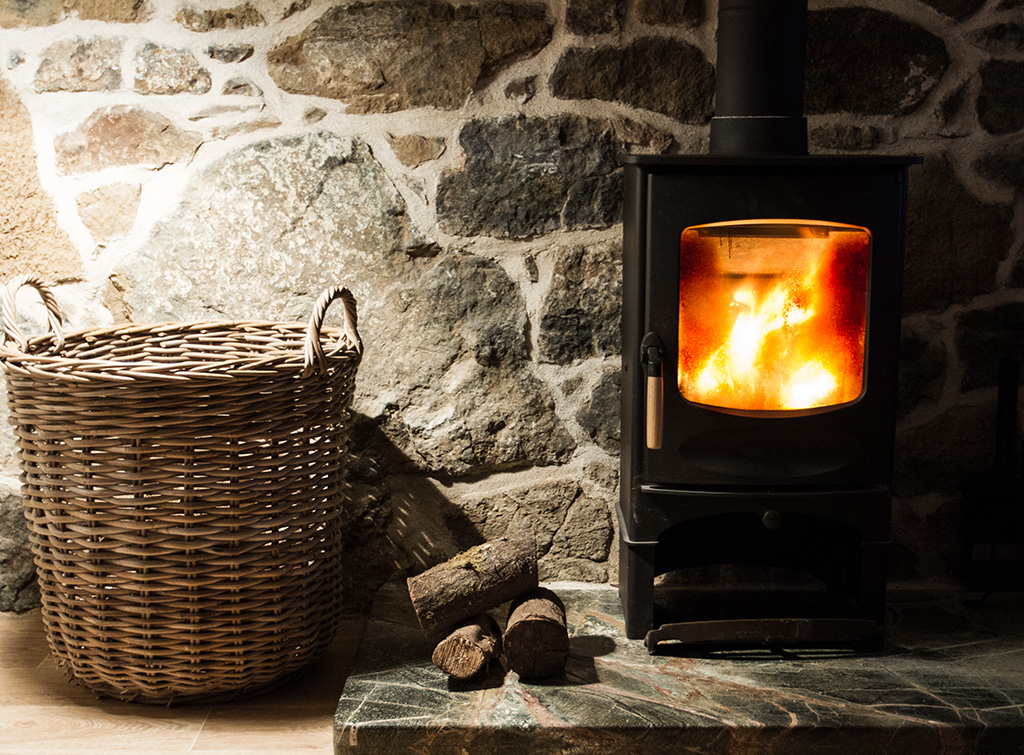 Installing a log burner is a great way to heat your home and save on energy bills. Not only are these stoves practical, aesthetically pleasing, and easy to maintain, but log burners are an efficient way to stay toasty.
Of course, you're probably wondering exactly how much you can save, the installation costs, and what you need to do with your chimney (if you have one). Then there's also the matter of finding and storing the logs you need to keep your engines fired.
We're here to give you expert advice on everything you need to know about log burners. This includes their money-saving benefits and transformative qualities (interior design-speaking).
Is a log burner really cheaper than gas?
Yes.
With household bills skyrocketing during the energy crisis, log burners are becoming more appealing to homeowners.
A wood-burning stove can shave off around 10% of homeowners' heating bills, according to the Energy Saving Trust.
That said, the make and model of your unit and the type of logs you want to burn will depend on the amount of savings you make. For example, less fuel is required for an eco burner, which means more money is saved, and less energy is wasted. However, older models may need more wood to stay fired up.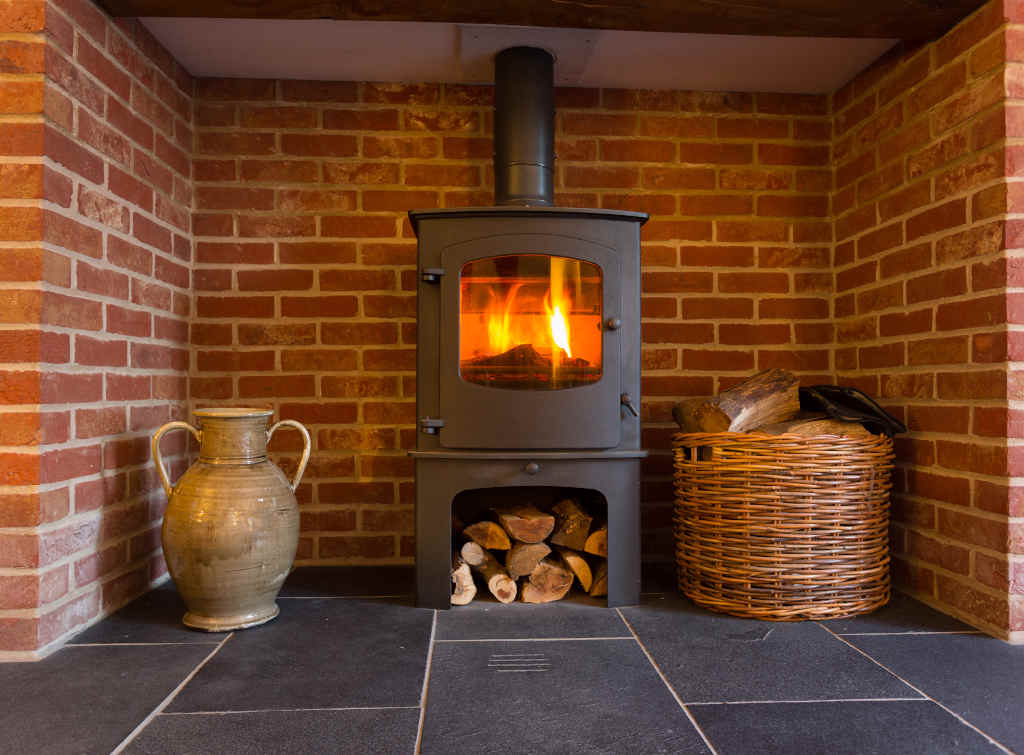 Will a log burner heat the whole house?
It depends on the size of your home, but usually, a log burner won't heat your whole house (unless you install one specifically for central heating).
However, log burners are very efficient at heating the room they're installed in. For example, only 20% of the heat they produce is lost up the chimney. 
If you want to maximise the efficiency of your wood burner, there are several ways to do this:
Size
When it comes to choosing your log burner, you need to check its rating, which is shown in kilowatts (kWs).
With a little maths, you can work out the size of the stove you need to heat the size of your room. If it's too large, you'll swelter. If it's too small, you defeat the point of having a stove.
Assume that you need a 5kW log burner for a room measuring 3.5 x 3.5 metres.
Another way to work this out is to multiply the length, height, and width of your room and divide it by 14 to get the most accurate kW size.
If you're unsure, hire a professional to help you choose the perfect model for your home.
See the tradespeople we've checked and recommend for your job
Placement
Another way to make sure the efficiency of your burner is to place it somewhere the heat can travel more easily. This is one of the main reasons people install a stove in their kitchen.
For example, you can always hide under a blanket in your lounge or snuggle under your duvet in your bedroom. On the other hand, it's also worth keeping the heat in the room you spend the most time in so you reap the toasty benefits.
Model
Lastly, the model you choose is also important. You will need to consider the size, style and how it looks in your room.
Do wood burners save money?
Yes, wood burners can save you money.
Wood costs a lot less to burn than other types of fuel, meaning savings are inevitable. However, the amount of saving depends on the type of fuel you use, how much you burn through, and how often you put the central heating on in the rest of your house.
We always recommend installing an eco-friendly burner if it's your first purchase. This is because they require a lot less fuel to run and are also better for the environment. Most log burners are considered carbon neutral.
In terms of running costs, a burner will use, on average, 3.5 cubic meters of wood (if used from mid-October to mid-April). A cubic meter of kiln dried logs costs between £120 – £140, meaning you could be spending between £420 – £490 for the winter. When compared with the cost of gas and electricity, this is a huge saving.
You can even chop your own hardwood and use that, but you'll need to store it for over a year and make sure it's dry. Burning wet wood is a known pollutant and can be bad for your and your neighbour's health.
However, it's worth noting that a wood burner is a long-term investment, and you'll need to factor in the upfront installation costs. They also require yearly maintenance to keep them in tip-top shape.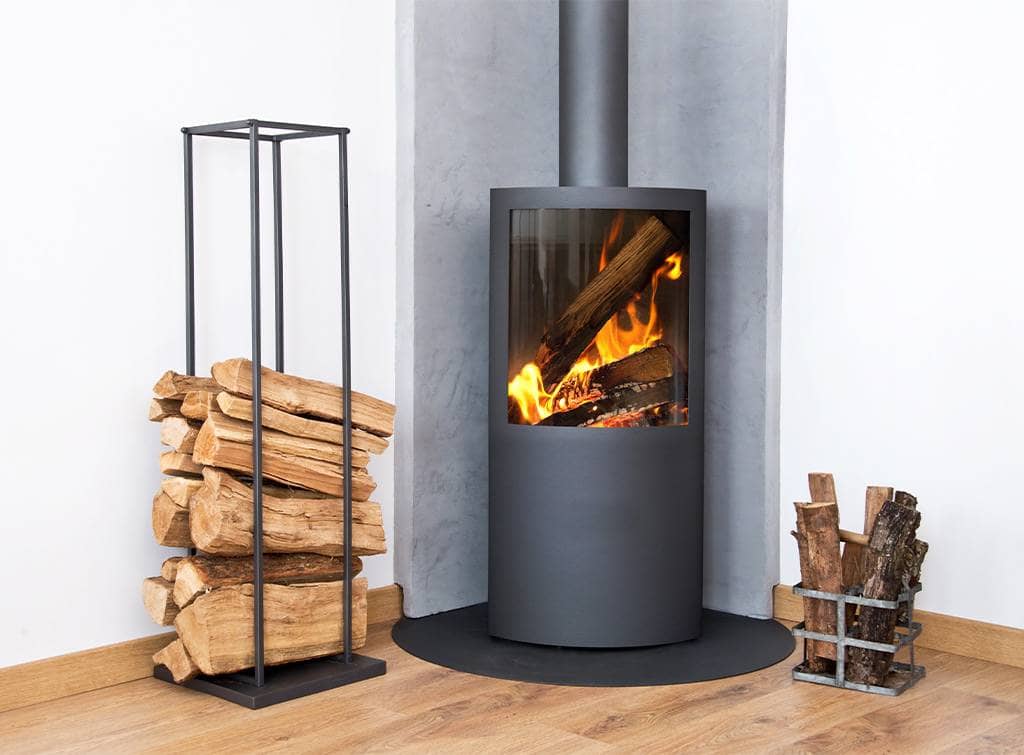 How much do log burners cost to install?
For those who already have a chimney, it's worth getting it inspected and tested by a competent and qualified engineer before you install your stove.
You will need to hire a competent person to install your log burner. They'll be able to check for leaks or blockages in your chimney and let you know if it's lined or not. If it is, they'll advise you whether it's in good enough condition to use.
Most stove installations cost around £2,000, while the actual stoves cost an average of £950. You'll also need a flue liner installed to make sure your log burner is fit for purpose.
For more information on how much a log burner will set you back, read our log burner installation cost guide.
Get inspired with a kinetic aesthetic
Once you've decided on your log burner, the decor fun begins.
To fit a stove into your current home and aesthetic, you need to make sure you've checked out the design potential they bring into your life.
Consider a pared-back fireplace, a contemporary corner, or a stone hollow. You can keep it simple with a matt design or go for maximum impact by placing it under your mantlepiece and accessorizing it with log holders and Scandi-weaved baskets.
Check out our log burner fireplace ideas for more inspiration.
Did you find this article useful? If so, check out our blog for more expert advice, top tips and design inspiration.