Last updated on November 15th, 2022
How much does a log burner cost to install?
There are many benefits to having a log burner in your home, but it's important that you choose the one right for you and have it installed correctly and safely.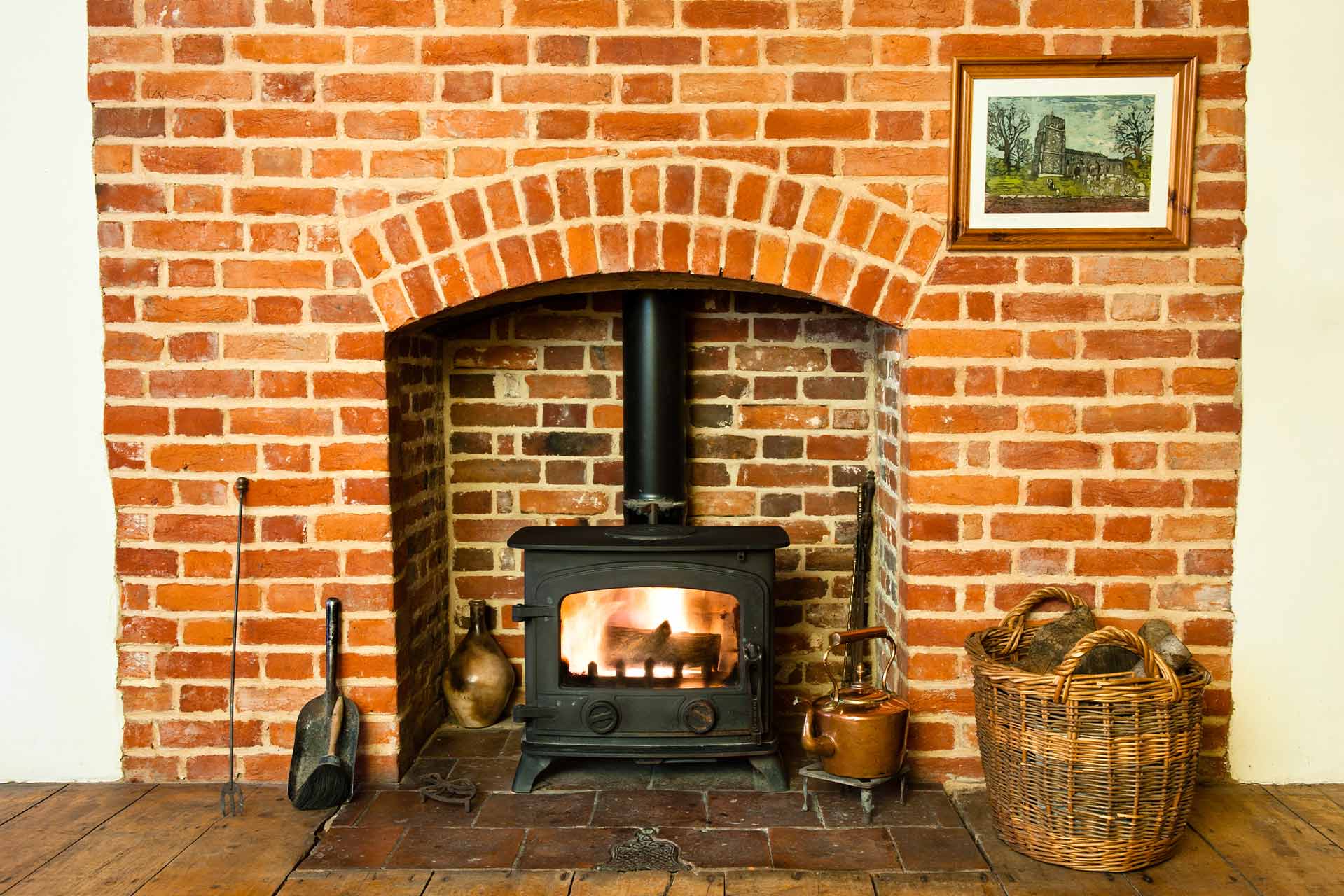 Fast Facts
Average cost to install a log burner is: £2,000
A log burner itself is around £950
A wood burning stove will require the installation of a flue liner
Log burner installation cost
Over time a log burner will be more cost-effective than an open fire, although there is an initial cost for the burner and the labour required to install it.
| | Use existing flue | New flue in existing chimney | External twin wall flue system |
| --- | --- | --- | --- |
| From new fireplace and hearth | £900 | £1,500 | £3,000 |
| Use existing fireplace | £550 | £1,150 | £2,550 |
The overall cost of installing a wood burning stove will depend on a variety of factors, such as the scale and complexity of the project.
If the installation involves forming a new fireplace and hearth (a stove will need at least 150mm of the hearth at the side and 300mm in front), there will likely be two to three days of additional work. This can add around £600 – £1,000 to the original cost.
It's worth noting that if you don't have a chimney and need to install an external twin-wall flue, you will need to factor in an additional £2,000 for the cost of the materials.
The cost of the wood burning stove itself will vary significantly based on the size and style you choose. You can pick up a smaller model for under £500, while a larger, more contemporary designs could cost you in the region of £1,500.
The average cost to install a log burner is: £2,000
The log burner itself will cost around £950
Take a look at our guide to help you choose the right log burner for you.
See the tradespeople we've checked and recommend for your job
How much does a fireplace installation cost?
A fireplace is a brilliant surround for any stove or fire and is heat and burn-proof for safety.
The average fireplace installation cost is £1,845.
How much is the cost to install a pellet stove?
For an efficient alternative to wood burners, pellet stoves use compressed pellets of wood or biomass and electricity to heat a room.
The average cost to install a pellet stove is £1,945.
How much is the cost to install a gas stove?
An alternative option to wood burners, gas stoves emit less pollution, provide instant heat and are easier to maintain.
The average cost to install a gas stove is £850, with the average cost of the unit being £750.
How much does a chimney flue installation cost?
When installing a new stove, it is often essential that you add a new or replace an old chimney flue.
On average, chimney flue installation costs come in at around £1,700.
Type of stove
Cost + VAT
(Range low - high)
Average cost
Wood burning stove (with installation)
£3,000
Wood burning stove (stove only)
£400 - £1,500
£950
Ceiling hung wood burner (supply only)
£3,500
Ceiling hung wood burner (install only)
£4,000
Wood burning fireplace
£1,460
Fireplace
£230 - £3,460
£1,845
Pellet stove installation
£840 - £3,050
£1,945
Gas stove
From £750
Stove Installation
£700 - £1,000
£850
Chimney flue
£1,700
See the tradespeople we've checked and recommend for your job
Factors affecting the cost of installing a wood burner
Once you have decided to install a wood burner in your home, it is essential that you take into account the following factors that will affect costs when choosing your stove:
Surrounding structures
It is generally advised that you install your new stove in a hearth of some sort, to protect the floor and wall adjacent to the wood burner. You will also need a chimney or flue to channel the emissions.
Type of stove
Whether you choose a wood burner, a gas stove or a fireplace each option has a different cost for the materials and the installation. Refer to our above table to see the different prices.
Size/wattage of the stove
Depending on the size of the room where you are installing the burner, the cost of the stove will increase or decrease. If you have a small room, you may only need a 4 – 6kw stove, however, if your room is much larger, you may need a 10 – 15kw stove. These have a significant price difference.
Stove material
Stoves come in all shapes, sizes and materials. The most common materials used are iron and stone, whichever you choose will impact the cost.
Design
It is possible to purchase stoves with different designs which will increase the visual beauty of the burner but also increase the cost.
Additional features
Optional added features, such as the ability to swivel, or double-sided stoves will also increase the overall cost of your burner.
Why install a log burner?
As an efficient, environmentally friendly method of keeping your home warm, wood burners are a great way to save money. Wood burning stoves are not only a practical heating option, but they make a stunning focal point in any room; creating a comforting environment for stress reduction.
More efficient than open fires, they need little maintenance and can be expected to last 10 – 20 years. Remember to factor in an annual check, sweep and service by a registered tradesperson. Allow £100 for this.
Finally, as the name would suggest, log burners use kiln-dried logs for fuel, which is a better environmental choice.
Save on central heating
Wood burning stoves can provide 'spot' heating in particular rooms and therefore reduce the burden on your central heating system. As a result, they can be useful in reducing heating bills, particularly around the seasons of early autumn and late spring, where evening chills would otherwise demand the whole heating system be turned on.
In order to save more money on heating bills, consider installing a stove in an open plan living area, so that the heat can circulate in a wider space. Stove fans are also widely available. They typically cost £40 and operate once the stove surface reaches a certain temperature, pushing warm air around the room.
Easy to control
The ability to control the air intake of wood burning stoves gives you a level of control that you don't get with an open fire.
Clean to use
Compared to open fires, wood burning stoves are easy to live with. They don't spit coal or wood onto the carpet or emit fumes into the room itself. As well as this, they don't have an open chimney. An open chimney can be problematic as it can be a major source of air leakage and there is the potential problem of soot built-up that you will need to ensure is maintained.
Create a great focus for a room
Nothing says 'cosy' quite like the warm glow of a wood burning stove. There's also something incredibly pleasing about the simple process of collecting wood and building a fire and the resulting warmth it provides. There are so many styles out there to choose from, and you can make a real statement in your home with either a traditional or contemporary design.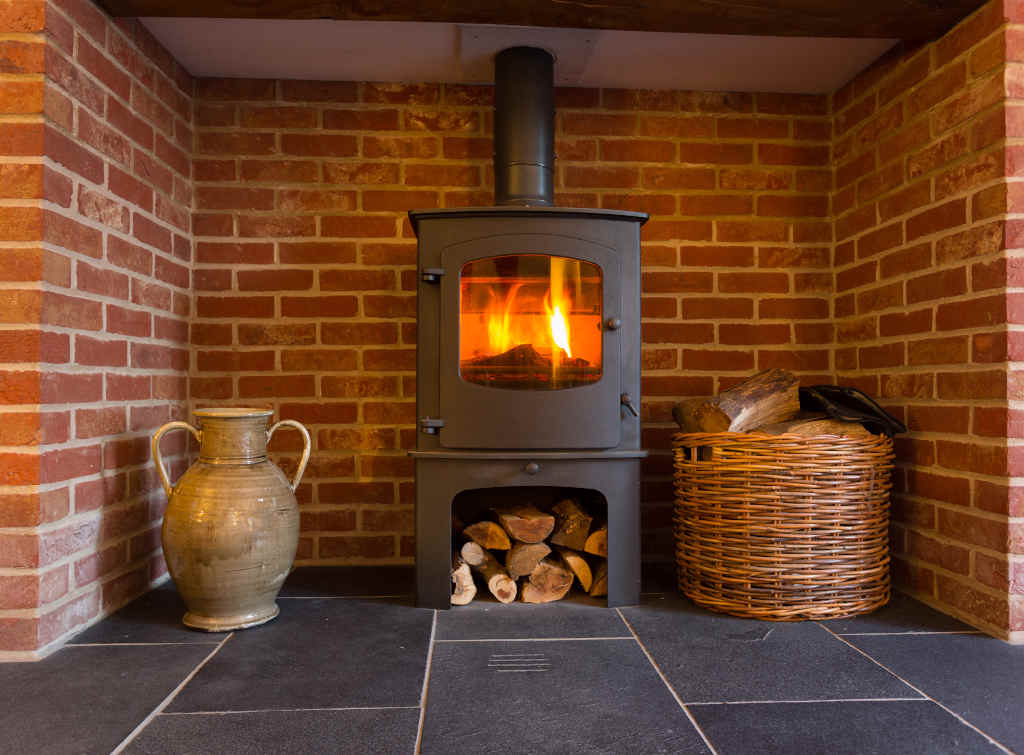 See the tradespeople we've checked and recommend for your job
Who should install my log burner?
You will need to hire a registered competent installer to fit your log burner.
The competent person schemes for fitting log burners are:
APHC
BESCA
Certsure
HETAS
NAPIT
OFTEC
Stroma
Can I replace my gas fire with a log burner?
Replacing an existing gas fire with a new log burner is relatively straightforward – it just needs a bit of planning out.
Firstly, if your gas fire is flueless (no chimney), then you will need to plan for the addition of a flue. If there is a fireplace and an existing flue, then you'll need to check that the flue is big enough and well-constructed enough to allow the stove to work correctly. It is essential that the existing gas fire is removed safely and you will need a Gas Safe registered engineer to carry out this work.
What flue does my wood burning stove need?
Houses built before the middle of the 20th century tend not to have a lined chimney, so the addition of a wood burning stove will require the installation of an accompanying 6" flue liner. These are effectively just long flexible tubes. Liners are there to reduce leakage, improve draw and provide a sealed system. All wood burning stoves will require a 6" flue, except DEFRA approved stoves (usually labelled 'DEFRA') which, due to their reduced particulate output, will only require a 5" flue.
The flue should also finish 60cm above the ridge if it terminates within 60cm of the ridge, and you should be able to draw an imaginary horizontal line 2.3m around the top of the flue itself to ensure wind/air distortion doesn't affect the performance of the flue itself. For a full list of the rules in regards to flue positioning and height, check Part J of the Building Regulations.
Can I have a stove if my home doesn't have a chimney?
If your home doesn't have a chimney, you can still have a stove, but you will have to have a specially designed prefabricated twin wall flue. This type of flue is effectively a series of stainless steel tubes that will connect the stove to an external vent. The flue can either be exposed internally within the void of the ceiling space or, more commonly, moved to the outside wall behind the back of the stove.
If exposed internally, pick up a stove pipe from the stove retailer to make the flue termination with the stove more attractive. In most cases, you should aim for the top of the flue to be around 4m above the stove to ensure it works properly.
Building regulations for log burners
The concerns over the emissions of wood burning stoves have been well publicised, with recent Government announcements under the Clean Air Strategy showing the need to reduce particulate emissions from stoves significantly. The wider attitude towards stoves has the potential to move from overwhelmingly positive to negative, particularly in urban areas where stoves are seen as being partly responsible for poor air quality.
If you live in a smoke-free zone (mainly urban areas) (find out here), you will have to buy a DEFRA-approved stove to comply with Building Regulations (the stoves are usually labelled 'DEFRA'). All but the cleanest stoves (80% efficient) will be prohibited for sale after 2022 – but you can get ahead of the game and buy them now. Look out for stoves with an 'Ecodesign' label.
Stoves under 5kW do not require an air vent to be added to the room it is installed in unless the stove is going in a new build or highly airtight home.
The benefits of different common burners
Every variety of stove offers pros and cons, so we have compiled the following list to help you choose the best option for your home:
Wood burning stoves (log burning and multi-fuel): Less costly than coal or similar stoves, this option burns wood making it environmentally friendly
Pellet stoves: Using compressed wood or biomass, pellet stoves require electricity and can be more efficient than wood burners
Gas stoves: Producing less pollution than wood burners, these stoves use gas to provide an instant warming effect and are easier to maintain
Electric stoves: Running on electricity these stoves emit heat whilst having the look and feel of an open fireplace. With portable and wall mounted options
Wood burning fireplaces: A beautiful feature in any room, open fires are great for use during power outages and offer appealing scents
See the tradespeople we've checked and recommend for your job
Can I install a wood burner myself?
It is important to consider the risks and dangers when installing a new wood burner.
Stoves made from metal or stone are very heavy and can cause injury from lifting or dropping, plus if they are not correctly installed, the effects of fire and smoke may damage the surrounding areas of the fireplace or any bystanders.
It is also essential that you ensure that any stove installation complies with building regulations. A professional will take on any risk and use their wealth of knowledge to make sure the installation and future use of the stove is safe and compliant with regulations.
To find a local, reputable tradesperson in your area and get a personalised cost to install a wood burner use our free search feature.
Key takeaways for log burner installation
Wood burners are beautiful centrepieces and are environmentally friendly
The are other types of stoves, such as gas, electric and pellet stoves, you may want to consider too
Factors affecting the cost of installing a wood burner include the stove's wattage, type, and design
The cost of adding a new burner includes the cost of the stove itself plus the installation cost
It can be risky and dangerous to install a wood burner yourself