What to do with a peeling leather sofa
Is your leather sofa peeling? Are you looking for a way to repair or restore it? If so, you've come to the right place. This article is going to teach you how to make your sofa look its best again.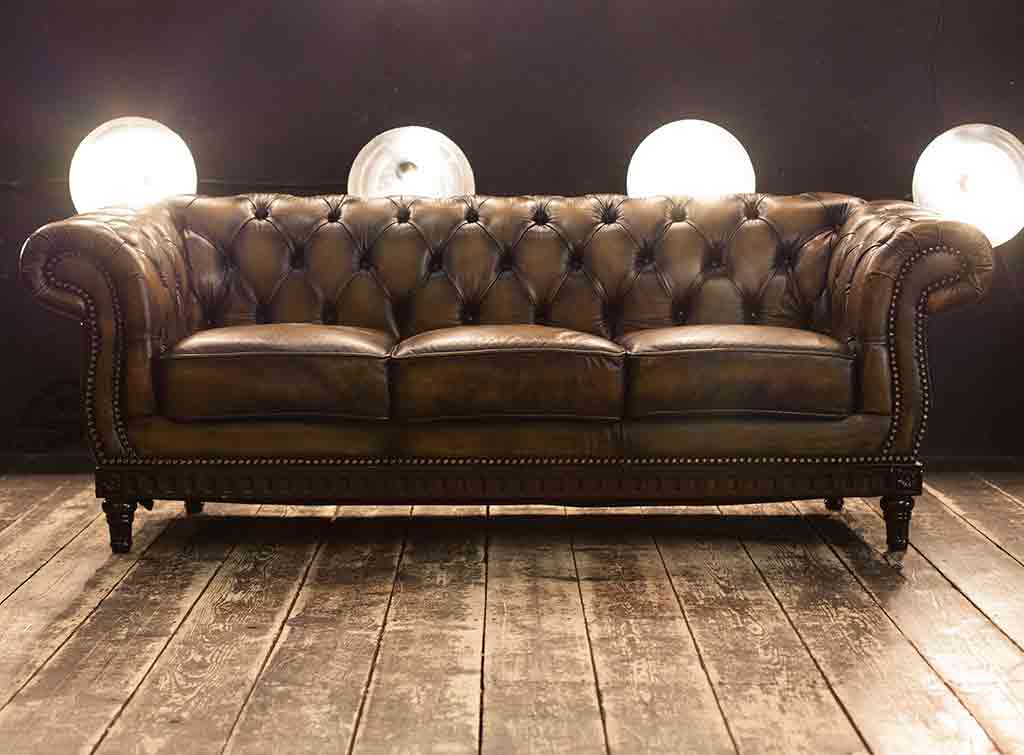 Is your leather sofa peeling? Are you looking for a way to repair or restore it? If so, you've come to the right place. This article is going to teach you how to make your sofa look its best again.
However, before we begin, it's worth checking whether the leather couch cracking and peeling is genuine leather. For example, materials such as bi-cast, bonded, or faux leather are usually coated with delaminating polyurethane (PU), which is what peels and cracks over time.
In these cases, any restoration applied won't last long. Therefore, it's more cost-effective in the long term to replace the material with genuine leather – even if it's second-hand – because it's much easier to restore and lasts a lot longer.
See the tradespeople we've checked and recommend for your job
Why is my leather sofa peeling?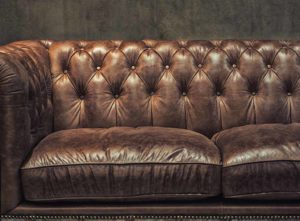 Leather doesn't tend to crack, so more often than not, it's either a finish or sealant on the top of the leather that's cracking or peeling. This is usually caused by abrasive cleaning products, wear and tear over time, or accidental damage. Alternatively, you've been lied to about your leather sofa's authenticity.
Bonded leather often delaminates quickly, which makes a lot of purchasers angry when they find out they've been conned. If your leather couch was cheap, it's probably not real leather. So, make sure you read the fine print before you buy!
How to restore peeling leather couch
If you know your couch is authentic and you're looking for how to repair your leather sofa, this section is going to cover various ways to do that. Leather is an investment, and as such, repairing and restoring it is infinitely better than replacing it.
Knowing how to restore a leather sofa that's peeling will save you money in the long run; however, if you're in any way unsure of your abilities, it's always worth hiring a professional who can make sure the job is done properly, first time.
Read our cost guide on sofa cleaning prices for more information.
See the tradespeople we've checked and recommend for your job
How to repair a leather couch
For peeling, stains, wear and tear, and other issues with your leather couch, here's our simple DIY repair process. However, if you're hoping for a professional finish, consider hiring a leather upholstery cleaning company who are able to deal with cracks, peels, and stains quickly and effectively.
Option one
For a quick fix, consider disguising the issue with a leather recolouring balm. Simply apply it to the damaged area using a sponge, then let it fully dry before inspecting your handiwork and repeating the application if necessary.
It's worth noting that this will merely hide and not fix the problem, so if your peeling is more severe, move on to option two.
Option two
For more severe issues, a leather repair kit offers a more permanent solution. Once you've purchased your ideal product, separate the cleaning and repair tools and follow the following steps.
Vaccum the couch to remove debris, grime, and dust. Then clean it with the leather cleaning solution from your kit.
Prep the leather with the appropriate product using an abrasive pad or cloth. This will strip the original finish on the affected areas and leave it ready for repair. You'll know you're doing it right when the colour of the leather comes off on the pad/cloth.
Once your couch is prepped, wipe the same areas with some rubbing alcohol and wait for it to dry.
After it's dried, apply the leather binder to strengthen the leather filler's hold. Note: you might need to apply several coats to achieve the desired result. (Just make sure you let your couch dry between coats!)
Trim any long fibers on the peeled areas and then apply the leather filler with a palette knife, making sure to remove any excess filler as you go. Smooth as much as possible once you've finished and leave to dry for around two hours.
When dry, take a sander and sand down the filled areas until the surface is completely smooth. Wipe off the residue using a cotton pad and alcohol, then add some colourant using a sponge. Leave to dry and reapply as many layers as required to achieve the desired result. (It might be worth using an airbrush to speed up this part of the process).
Seal your repair by brushing over a few layers of a leather finisher, which will strengthen the leather and leave your couch looking as good as new!
Option three
The best way to keep your leather sofa in tip-top condition is to hire professional cleaners to restore it once or twice a year.
When you hire a Checkatrade professional, you can check their recommendations, which are checked by us to make sure they're legitimate. This gives you the peace of mind you're in safe hands.
We recommend getting two to three quotes from our experts to avoid disappointment. It also lets you compare each offer to make sure you're matched with the right person for the job.
See the tradespeople we've checked and recommend for your job
How to patch a leather couch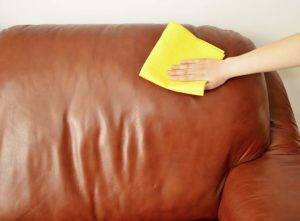 If your sofa has larger areas of wear and tear you want to repair, here's the best way to patch a leather couch. You'll just need leather cleaning products, a cloth sub-patch, a flexible leather glue such as Loctite Vinyl, Fabric, & Plastic Flexible Adhesive (which goes on clear), and masking tape.
Prep and clean the part of the sofa that needs repairing.
Measure the tear in your leather and cut out the sub-patch so it fits the hole. Slip it under the surface of the leather and smooth it out.
Take your flexible glue and apply some to the applicator before brushing it on either side of the tear, then on the patch.
Wipe off excess glue and 'peace' the tear together with your fingers so it closes, then hold in place for 5 minutes.
After 5 minutes, you should be able to secure the seam with some masking tape.
Leave to fully set for around 2 hours.
If your leather couch is too damaged to save, it might be worth getting it reupholstered. Our reupholstery cost guide has everything you need to know about how much this project might set you back.
How to fix a peeling faux leather couch
Although there are leather fillers available on the market that allow you to fix a peeling faux leather couch, these fixes are temporary and rarely last longer than a few months. However, if you're looking for a quick fix and not a long term solution, follow these steps:
Peel the loose leather away from the underlayer using scissors and a razor blade until you reach a point it no longer comes away.
Vacuum the area and use a brush to remove any dust or dirt. If you don't do this, the filler might not hold.
Use a putty knife to apply the leather filler (or spray) to the required area, being sure not to accidentally coat the seams too. Feather the edges with your fingers to ensure a flush fit.
Once the filler has cured, apply an additional layer if required. Repeat until you have the desired result.
Use a sponge, cloth, or pair of plastic gloves to create texture if applicable.
Add your colourant and sealant to the dried patch to create the finished result.
Did you find this 'how-to restore a peeling leather sofa' guide helpful? If so, there's plenty more where this came from. Check out our blog for more expert advice, how-tos, and helpful cost guides.