Preventing mould on walls
If you want to know how to get rid of mould in your home, we explain the typical causes and how to clean mouldy walls to remove it permanently.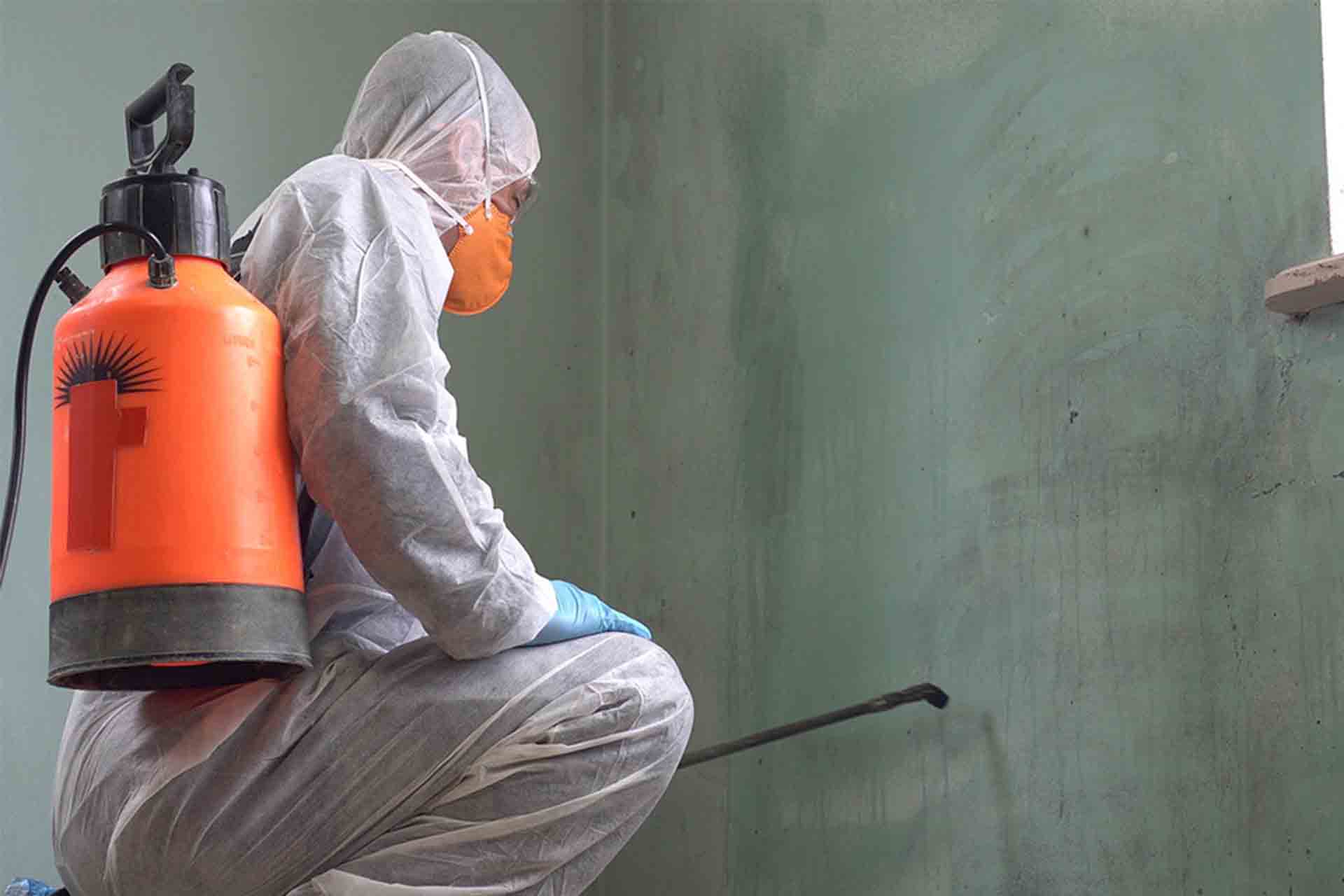 Many homes may face the problem of mould growth on walls, often through no fault of those living in the property. Mould can be caused by hidden water ingress, room humidity or a lack of sufficient airflow around a room. In this article, we'll look at causes of mould, ways to remove mould from your walls and how to prevent it from coming back.
Assess your mouldy wall before cleaning
If you have mould growing on your wall, the temptation is to get rid of it as soon as possible. This is understandable, as it's unsightly and unhealthy, but before removing mould from your wall it's advisable to try and understand why it's there in the first place.
Mould loves damp, humid conditions, which our airtight and overheated homes provide in abundance. If you have mould growing in your property, it will be because something is creating this ideal environment. It could be condensation from drying clothes, a water leak, water ingress from the roof, rising damp or a lack of suitable ventilation.
Finding the cause of your mould
Getting a mould prevention expert in is the best course of action, but if you want to know how to stop mould on walls yourself, there are steps you can take to identify the problem and prevent it from happening again.
Firstly, you should feel around the mouldy patch. Is it damp to the touch? Is there visible water on the wall? Is mould growing in an area with little airflow?
Answering these questions will give you clues as to what's supporting the growth of mould.
If the wall is damp
If the wall is damp to the touch, it may be a sign of water ingress behind the plaster. In this situation, you may need to get a plumber or roofer in to check for leaks.
If the wall is dry
If the wall is dry, then it could be humid room conditions that are supporting mould growth. In this case, you can try opening vents on your windows, opening windows more regularly and investing in a dehumidifier with a built-in moisture meter.
With the cause identified, you can clean the mould off yourself. To save time and have peace of mind that it's cleaned properly, we recommend getting quotes from trusted local specialists.
See the tradespeople we've checked and recommend for your job
Tools required to clean mouldy walls
If you're going to clean mould off your walls yourself, then you'll need the right materials for the job. This way you can be sure you'll complete the task efficiently and effectively the first time around. Here's what you'll need:
Bleach
Water
Rubber gloves, goggles, face mask and a full-body PPE suit
Spray bottle (optional)
Damp soft cloth
Dry soft cloth
How to clean mould off walls
Soapy water is great for cleaning dishes, but it's not strong enough to clean off mould on walls. You'll need to use a bleach and water mixture to kill and remove the spores. Be aware that in the process of removing the mould, you will more than likely rub some of the paint off the wall behind, so be prepared to repaint the area cleaned.
Protect yourself – Put on your gloves, goggles, face mask, and PPE suit to protect your clothes from gathering spores.
Prepare the cleaning mix – Mix one part bleach to four parts water in a suitable container, judge the total amount of solution needed by the size of the mouldy patch.
Scrub – Using your damp cloth gently scrub and wipe away mould.
Dry – Mould loves moisture, so be sure to dry the area well with a soft cloth after cleaning.
Cost to professionally remove mould
Cleaning mould is not a long-term solution, and you really need to tackle the cause of the mould to make sure it doesn't come back. Getting a professional to come and take a look is the best way to get rid of it and stop it from coming back.
Professional mould removal costs on average, £225 per job, or £7.93 – £19.84 per square foot.
If you have a particularly bad case of mould across your entire property, then mould removal costs will be higher. This could cost between £800 – £1,000 to get sorted. For more on prices, check out our mould removal cost guide.
See the tradespeople we've checked and recommend for your job
FAQs
How do I get rid of black mould on walls?
Black mould, or Stachybotrys Chartarum, is a particularly nasty form of mould and it should be dealt with very carefully as soon as discovered. It's important not to touch or move this toxic form of mould as you may release millions of harmful spores into the air. For this reason, the best way to remove black mould is to hire a professional to do it safely.
What causes mould on walls?
Mould is a living thing, and all living things need water to exist. Mould growth is caused by a constant supply of moisture which is accelerated by humidity and a lack of ventilation. This is why mould is most common in bathrooms, where there is a constant supply of water, water vapour and heat.
How do I stop mould coming back?
While anti-mould paint will claim to stop mould coming back, it won't solve the problem and mould will persist. To stop mould from coming back after cleaning it you need to deal with the cause of the growth. This will be because of excess moisture due to a leak, condensation, rising damp or poor ventilation. Remove the moisture supply and you'll stop mould coming back.
How do I get rid of mould on walls permanently?
As detailed above, permanently getting rid of mould is all about removing the conditions that it thrives in. This usually means preventing moisture build-up, so fixing a leaky pipe or a leaky roof, preventing condensation from drying clothes or dealing with rising damp in basement and ground floor rooms.