Professional carpet cleaning vs DIY
Carpets take a battering on a daily basis and for busy households the signs of home life as stains, spills and marks soon build up. In this guide we compare professional carpet cleaning vs DIY cleaning.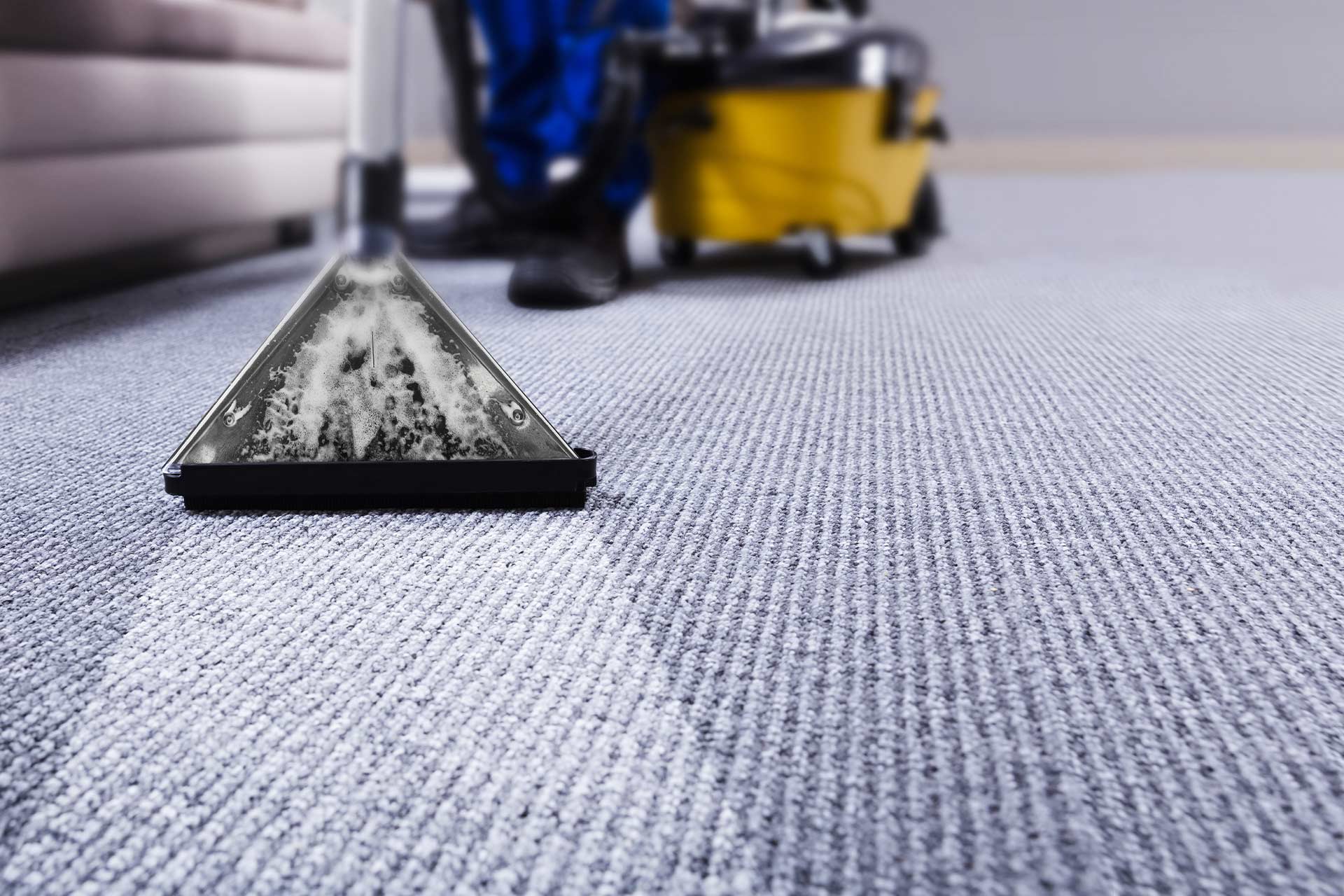 Carpets take a battering on a daily basis and for busy households, the signs of home life such as stains, spills and marks soon build up. In this guide, we compare professional carpet cleaning vs DIY cleaning.
All homes with carpets will notice that over time, hoovering alone isn't enough to keep your carpets looking their best. And if you have pets or children, the dirt and stains are likely to be ten-fold.
To battle the regular beating your carpet is taking, you have two options: hire a carpet cleaning professional or do it yourself. Keep reading to find out the pros and cons of both options.
Hiring a carpet cleaning professional vs doing it yourself
For some people, this is a quick and easy decision. Either, you love cleaning so you're happy to don the rubber gloves, roll up your sleeves and get stuck in yourself. Or, you hate the idea of cleaning and will hire a professional carpet cleaner without blinking.
If you're someone in the middle and are currently toying with the idea of hiring a professional or doing it yourself, here are some of the pros and cons to consider.
See the tradespeople we've checked and recommend for your job
Professional carpet cleaning
Pros:
Hiring a professional will ensure your carpets are cleaned to a high standard
You don't have to get your hands dirty
They come with all the tools and cleaning products to do the job
Experienced carpet cleaners are faster than you would be
Cons:
Hiring a professional carpet cleaner is often more expensive than DIY cleaning
You might have to wait for a good carpet cleaner to be available
DIY carpet cleaning
Pros:
You can keep costs down by doing the hard work yourself
You're in control of the standard of cleaning
You can fit in the cleaning with your schedule
Cons:
Cleaning a carpet properly can be a tiring job
You need to buy the products and/or hire the right equipment
You could end up damaging your carpet if you don't clean carefully
You'll get dirty
Carpet cleaner vs steam cleaner
Steam cleaning vs shampoo carpet; what's best? The answer depends on your carpet, the condition it's in and the results you want to see.
Both a steam clean and using carpet shampoo will make your carpet look cleaner and brighter – though there are some key differences:
Carpet shampoos are good surface cleaners but don't usually reach dirt at the bottom of the carpet.
A steam cleaner generally provides a much deeper clean, where carpet shampoo may leave some dirt behind.
Carpet shampoo is much cheaper and easier to get hold of than a steam cleaner.
By using a carpet shampoo you're effectively burying the dirt in the foam, which can cause staining over time that you can't remove.
Whichever option you choose, you need to take care not to damage the carpet with the brush or hot 'steam' water.
How does carpet shampoo work?
As you can imagine, a carpet shampoo needs to be mixed with warm water to create a solution that you then apply to the carpet. Shampooing can be done using either a spray or dry foam and then a revolving or rotating brush is used to work the shampoo into the fibres of the carpet to loosen the dirt.
There are a couple of issues with using carpet shampoo: a) you can overwet the carpet and cause an unnecessarily long drying time, and b) it's easy to damage carpet fibres with the brush, especially delicate carpets.
How does a steam cleaner work?
A steam cleaner is like a hoover that sprays warm or hot water onto the carpet and has a powerful vacuum to suck up the dirty water, which it then stores in a tank to be emptied. You might think it's using steam because of the name 'steam cleaner', but it's actually using water to clean instead.
Steam cleaners generally offer a much deeper clean, but due to the often high temperature of the water there's a risk of scalding yourself if the water pipe breaks, and also damaging the carpet with the hot water. This is why it's best left to the professionals.
See the tradespeople we've checked and recommend for your job
Which carpet cleaning method is best?
There really is no single best carpet cleaning method, as it depends on the type of carpet you have, the condition it's in, the depth of clean you want and how much you want to spend on cleaning it.

That said, the best carpet cleaning method is usually considered by most people to be steam cleaning, which typically removes over 90% of dirt and bacteria from carpets.
Before deciding which carpet cleaning method is best for you and your carpet, speak to a local carpet cleaning professional for their professional advice. You can also get accurate quotes for the work at the same time.
Hiring carpet cleaners
You've decided that you want a professional carpet cleaner to do the work, and you're ready to book them in. Here are a few tips on hiring carpet cleaners to make sure you get a good one:
Check their reviews and ratings from previous customers to gauge the quality of their work.
Ask which methods of carpet cleaning they offer and would recommend for the job.
Request a full quote with a breakdown of all costs, so that you can compare the prices with other carpet cleaners.
Make sure you confirm exactly what is included in the price before you hire anyone – you don't want to be stumped with costly extras.
Choose a professional carpet cleaner with insurance, in case something goes wrong.
Ask friends and family for recommendations of good quality carpet cleaners.
Use the Checkatrade request a quote feature to find quality, vetted carpet cleaners in your area.
See the tradespeople we've checked and recommend for your job
How to steam clean carpet yourself
Here's a brief overview of the steps you should take when you steam clean a carpet yourself:
Clear the carpet floor as much as you can by removing or moving all items and furniture. If necessary, move everything to one side while you clean it and let it dry, then do the other side.
Dust all surfaces and hoover thoroughly to remove dust and debris from the room, including all the edges of the carpet – steam cleaners can easily get clogged with large bits of dirt.
Pretreat any deep stains with a carpet pretreatment product and leave for it to sit before you steam clean.
Fill the steam cleaner tanks with hot water and detergent – making sure you follow the manufacturer's instructions.
Start steam cleaning, go slowly and work in sections – starting with the furthest corner of the room away from the water source, so you avoid walking on wet carpet.
Let the carpet dry thoroughly and keep everything off the floor (including yourself) until the carpet is dry. Opening windows can often help the carpet dry faster and decrease the chance of mould and mildew.
Job done! Once you've finished steam cleaning, be sure to look after your carpet properly by hoovering at least once a week and using doormats at all doors to the outside.
Find out more in our guides on how to care for your carpet and how to deep clean your carpet.
Is professional carpet cleaning worth it?
The answer depends on what you're looking for, your budget, and the amount of effort you want to put in. If you're short on cash and have spare time then DIY cleaning might be the best option – just make sure you follow official guidance when using any carpet cleaning products and equipment.
However, if you can afford it and/or don't want to get dirty then hiring a professional carpet cleaner can ensure you have beautifully bright and clean carpets. It can also be a sensible decision to hire a professional if your carpets are particularly dirty or stained so that you can get them as clean as possible by an experienced cleaner.
For many homeowners, the cost of hiring a professional carpet cleaning service is more than worth the money – especially when they see the results and have been able to save the time and effort of doing it themselves.
How much does professional carpet cleaning cost?
The average cost for a professional company to clean your carpets is around £60 – £120 per hour, depending on a number of factors including the condition of your carpets and where you live.
To find out more about prices, check out our guide to carpet cleaning costs.