What is subsidence?
Learn how to spot the signs of subsidence with our helpful guide. Including everything you need to know about subsidence, its causes and signs to look for.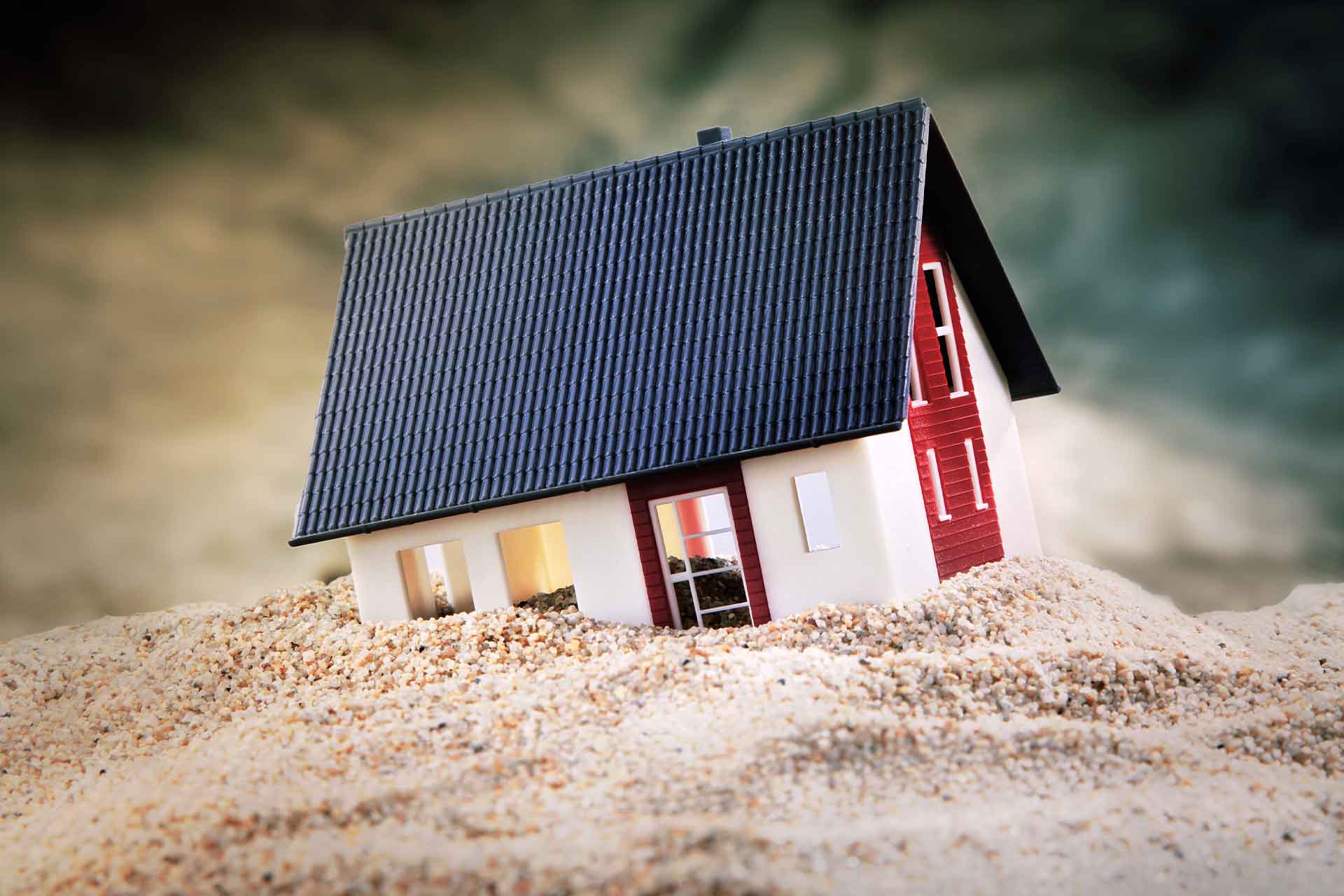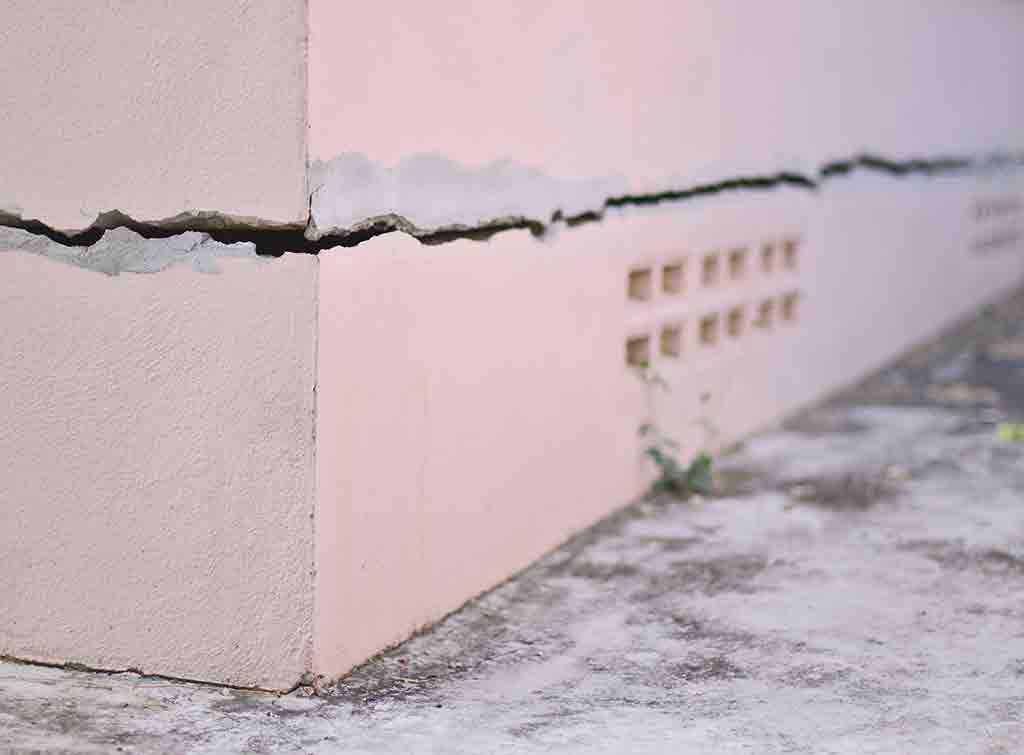 You may have heard the word "subsidence" spoken about with dread and anxiety. And generally, subsidence can be a serious issue that can impact the structural integrity of your home, decreasing its value and causing future issues. But what is subsidence?
In this article, we will look at 'what is subsidence' and questions around the issue of subsidence such as house subsidence signs, what causes subsidence and getting a mortgage on a property with subsidence.
Read on to learn more and above all, try not to panic. The earlier you catch subsidence, the easier it is to remedy.
What is subsidence?
Subsidence occurs when the ground under your house collapses, or sinks lower, taking some of the building's foundations with it. This puts a strain on your home's structure as one side sinks, causing structural cracks to appear on the property itself.
What causes subsidence?
There are a few different causes of subsidence all of which can affect your home at any time. Although it is worth mentioning that even if your subsidence issue is severe, you still have options to restore your home.
Wondering what causes subsidence? The following are the most common issues that lead to subsidence:
Foundations on older homes can be much shallower than newer buildings, which can be compromised over time by weather conditions and development.
Local mining, quarrying, ground settlement or sinkholes can cause subsidence.
Broken/damaged water mains and drainage pipes can wash away the soil under your home, compromising the foundations under the weight of your house.
The type of soil is key as well. Clay soil shrinks and cracks during hot weather and can cause ground instability.
Trees/large shrubs planted close to your property can absorb a lot of water from the soil, leaving it dry and unstable. Tree roots can also damage foundations.
See the tradespeople we've checked and recommend for your job
How to spot signs of subsidence
It is important as a homeowner that you know how to spot the signs of subsidence early. This will prevent the issue from worsening and will be a lot cheaper to remedy than severe subsidence. The most obvious house subsidence signs to look for are cracks in the walls of your property.
Remember, it is not uncommon to find cracks in your home, particularly if it is newly constructed, but there is a difference between drying/settling cracks and the ones that develop through subsidence. These cracks will be:
Thicker than the diameter of a £1 coin (over 3mm).
Sloping diagonally, from one corner to another and bigger at the top than the bottom.
Located in proximity to windows and doors.
Both inside the home and outside.
Other house subsidence signs to look for:
Trouble opening windows and doors, they may be sticking/wedged due to warped frames.
Wallpaper puckered/wrinkled where the wall meets the ceiling.
If there is a crack between a recent addition/extension and the original property.
Wondering how to check for subsidence in your home? Always stay vigilant. When you are cleaning or using different rooms of your home, keeping an eye out for the above signs of subsidence is vital.
If you do find any signs, try not to worry, there are many other causes of these issues that are much less serious and easy to repair.
What to do if you suspect your home has subsidence
As we previously mentioned, just because your home has some of the signs of subsidence there is no guarantee subsidence is the cause. We now know the signs to look for, but you may be unsure what to do if you suspect your home has subsidence.
Generally, your first point of call should be to contact your home insurance company. They will arrange for a full survey to check whether your property is affected by subsidence or another issue.
It is worth noting that there may be exclusions to your insurance if the subsidence is found to be due to construction or demolition work, or if poor/faulty materials or workmanship are to blame. Always read your policy documents when signing up for home insurance and before making a claim.
See the tradespeople we've checked and recommend for your job
What is a subsidence survey?
Once you speak to your insurance company, they will arrange for a subsidence survey to be carried out. Getting a proper survey involves a specialist coming to your property to carry out an investigation into the existence and extent of subsidence. This may involve a geographical and drain survey, to identify if there are broken drains or unstable soil present.
Identifying subsidence can take time. Monitoring may be required over a long period of time to ensure that the cracks are indications of structural issues. If the movement/damage continues to worsen, your insurer may decide to monitor your property over several months before agreeing to repairs.
Should you buy a house with subsidence?
If you are looking to move home, it can be difficult to find the perfect property for you and your family. So, if you do find your ideal home (even if it is affected by subsidence) it is tempting to put in an offer without thinking about the consequences. But should you buy a house with subsidence?
If you are worried about buying a house with structural movement, you should definitely look further into the issue before making a decision.
Unfortunately, fixing subsidence can be costly so it is always a good idea to get a full structural survey done to know what needs to be fixed. If the subsidence problem has been previously rectified, you can negotiate a drop in the purchase price to accommodate any cosmetic work required.
A word of warning though, there is a real stigma around subsidence within insurance companies. You may be able to negotiate a good purchase price but getting future buildings insurance could prove problematic.
Please note, buildings with a history of subsidence can attract much higher excesses and rises of 20%, 25% or even 30% on standard premiums. Luckily, there are specialist insurance brokers to help you find an insurer.
Top tip: If you can't get a property insured, it is less likely that you will be able to obtain a mortgage.
Before jumping in headfirst, use the following guidelines when purchasing a house with subsidence:
Begin by gathering information including structural survey reports, how long the problem has existed, and any works already carried out to treat the problem.
If the seller can confirm and provide evidence that underpinning work has been done on the property to an acceptable standard, it can be possible to obtain a mortgage.
Investigate whether the area/postcode has been blacklisted by insurers for subsidence issues. Speak to the owner of neighbouring properties and insurers.
Check if the problem has been rectified. For example, have the damaged drains been fixed and have any offending trees been removed etc.
If the source of the subsidence has been remedied, ensure there is a paper trail for all works undertaken to support your application for buildings insurance.
Always speak to an expert for the best advice, as they will know lenders who have a good track record in subsidence mortgage lending.
Top tip: Be honest with your insurance provider and tell them the building's full history. If you ever make a claim and have provided false information the policy and claim can be invalidated.
See the tradespeople we've checked and recommend for your job
How much does subsidence devalue a property?
Homes with subsidence are less attractive to buyers due to the potential for future issues and are often sold for less than they would be usually worth. But how much does subsidence devalue a property?
In truth, it is not possible to put an accurate figure to this. People still purchase properties with issues that are fixable, however, it does make selling a property harder. Most buyers require a mortgage, and lenders often stay away from properties with issues, leaving you looking for cash buyers, investors or property developers.
What's more, the amount that subsidence will devalue your property depends on the extent of the damage and the area that you live in. Cash buyers will be aware of the risk in buying your property, so the price offered will factor in that risk.
It may even be cheaper to fix the issue prior to putting your house on the market. Plus, it is worth noting that even though the issues have been resolved/repaired you will have to declare that the home has previously been subject to subsidence.
Concerned and confused?
Until you have a full subsidence survey carried out on your property, it is impossible to know whether the issue is subsidence or something much less worrying. It is understandable you would feel concerned, and your best option is to speak to a professional to fully investigate the severity of any problems.
To speak to a trusted and knowledgeable expert, please use our free search feature today. Another option is to check out our subsidence repair cost guide for a range of prices, tips and considerations.
See the tradespeople we've checked and recommend for your job
How much does subsidence cost to be repaired by a professional?
This will depend on the cause and extent of the subsidence issue, plus, the method used to remedy the problem. Below are three of the most common subsidence fixes:
Underpinning
In extreme cases, underpinning is used to structurally support a property suffering from subsidence. This can be a lengthy and expensive process, costing anything up to £50,000.
Most insurance policies offer protection against the works needed to deal with subsidence, but many policies will have exclusions and there is usually a policy excess that you will need to pay. Read your policy before claiming.
Top tip: Keep all important documentation to ensure you have a comprehensive paper trail for insurance purposes, or if you plan to sell your property.
Tree removal
Many cases of subsidence are due to tree roots sucking moisture out of the soil. Simply cutting down the offending tree can fix the problem. This will cost an average of £450-£650 per day.
Drain repairs
Repairing damaged drains and downpipes can stop soil and gravel from being washed away, eliminating the need for underpinning. Below are rough guide prices you can expect to pay:
Pipe lining: £900 – £1,500 (for a lateral connection not exceeding 10 metres).
Open cut pipework repair: £1,500 – £2,500 (for a lateral connection not exceeding 10 metres).
Down pipe: £250 – £950 dependant on the depth and damage.