Preparing your garden for the winter
The winter can play havoc on your garden if you're not prepared. Don't waste all the hard work you put into your garden during the spring and summer, make sure your garden is prepared for the seasonal change.
We spoke to the team at Denham Gardeners Ltd for their top tips on how to prep the garden for the winter, so that you can have a healthy garden all year round.
Cut back certain flowers to the ground
A lot of flowers will naturally come to the end of their bloom as the cold hits, and it's important to cut them back. Perennials, such as roses, will need to have their longer stems trimmed to stop them from snapping in any storms. Autumn-fruiting raspberries, on the other hand, will need to be cut down to within 5cm of the ground. It's also a good time to cut back clematis, wisteria and any fruit bushes.
If you're unsure about which plants need cutting back, then we recommend hiring a professional gardener. They will be able to advise you and make sure your plants are cut correctly to avoid any mishaps.
Protect seasonal plants by bringing them indoors
Some plants are too fragile to withstand the winter chills, but that doesn't mean they can't make it through another year. It's simply a case of potting them up and bringing them indoors into the warm.
This includes plants such as dahlias and gladiolus. As long as they are indoors, away from the frost, they will be okay.
Speak to one of our gardening experts if you're not sure which plants to bring in.
Remove fallen leaves from the grass
Fallen leaves from trees and bushes will need to be removed from the grass before a lot of rain or even snow, falls. If not, the leaves can end up suffocating the grass, causing damp patches and potentially mould and rotting.
This can be done using either a rake or leaf blower, with the leaves added to a compost pile to help create next year's soil.
Tidy borders and add new soil
When the flowers aren't big and in bloom, you have better access to work on your borders. It's the perfect time to remove any weeds, dig up any old soil and add fresh layers of soil ready for the spring.
Not only will it be good for the health of your borders, but it will also make them tidy so that everything is easier to manage over the winter months, because let's face it, you want to be out in the cold as little as possible!
You don't have to get your hands dirty though, you can either wear some gardening gloves or even easier, hire a gardener to come and do the work – then you'll be safe in the knowledge that everything is being done properly.
Plant bulbs for next year
Winter may be nearing the end of the year, but it's also a great opportunity for the start of something new. Now is a great time to plant bulbs for springtime. Tulips, daffodils, pansies, bluebells and snowdrops are some of the most popular to plant for the spring.
Don't forget your house plants
House plants will also need a little TLC in the colder months. Darker days mean less sunlight and warmth for your plants and so they will go into a dormant stage. Because of this, it's important not to give them the same amount of water as you would in the summer. Other things you can do include:
Cleaning their leaves to remove any dust or dirt.
Keeping them warm and away from any draughts.
Putting them into light, preferably a conservatory if you have one.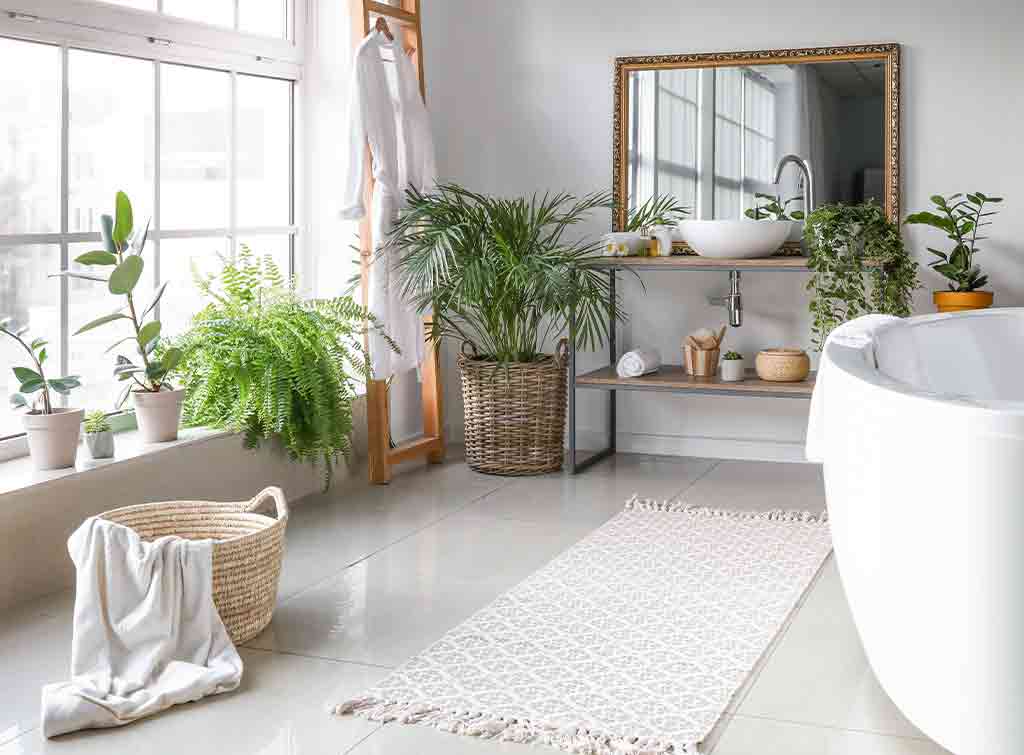 See the tradespeople we've checked and recommend for your job
FAQs
When should I prepare my garden for winter?
The best time to make a start on preparing your garden for winter is November. You will want to start by getting your garden in order by clearing debris and making it as tidy as possible. Be careful not to over-dig your soil though, it needs protection from the winter weather.
How do I get my garden ready for winter?
To get your garden ready for winter, follow the below checklist:
Cut back certain flowers to the ground.
Protect seasonal plants by bringing them indoors.
Remove fallen leaves from the grass.
Tidy borders and add new soil.
Plant bulbs for next year.
If you're struggling for time or you don't feel confident in the garden winter prep, then one of our gardening members can help you.
Should I cover my garden in the winter?
Yes, you should cover your garden. Future you and your soil will thank you when you hit spring.
Covering your garden means it will halt those early spring weeds and protect those beneficial insects living inside the garden from frost and snow. You can do this by applying compost, or by applying compost and another cover for protection too. The nutrients in the compost will give a healthy boost through the chilly months ahead.
When should you till your garden?
The best time to till a garden is in the spring. This is when the soil is dry and the weather is taking a positive turn. So you could till as early as March, but some people decide to wait until May or June.
For more spring gardening tips read our guide.