Last updated on August 31st, 2022
How much does a pergola cost?
Pergolas provide a functional yet stylish addition to a garden. Use our pergola cost guide to find out how much it costs to build your dream pergola design.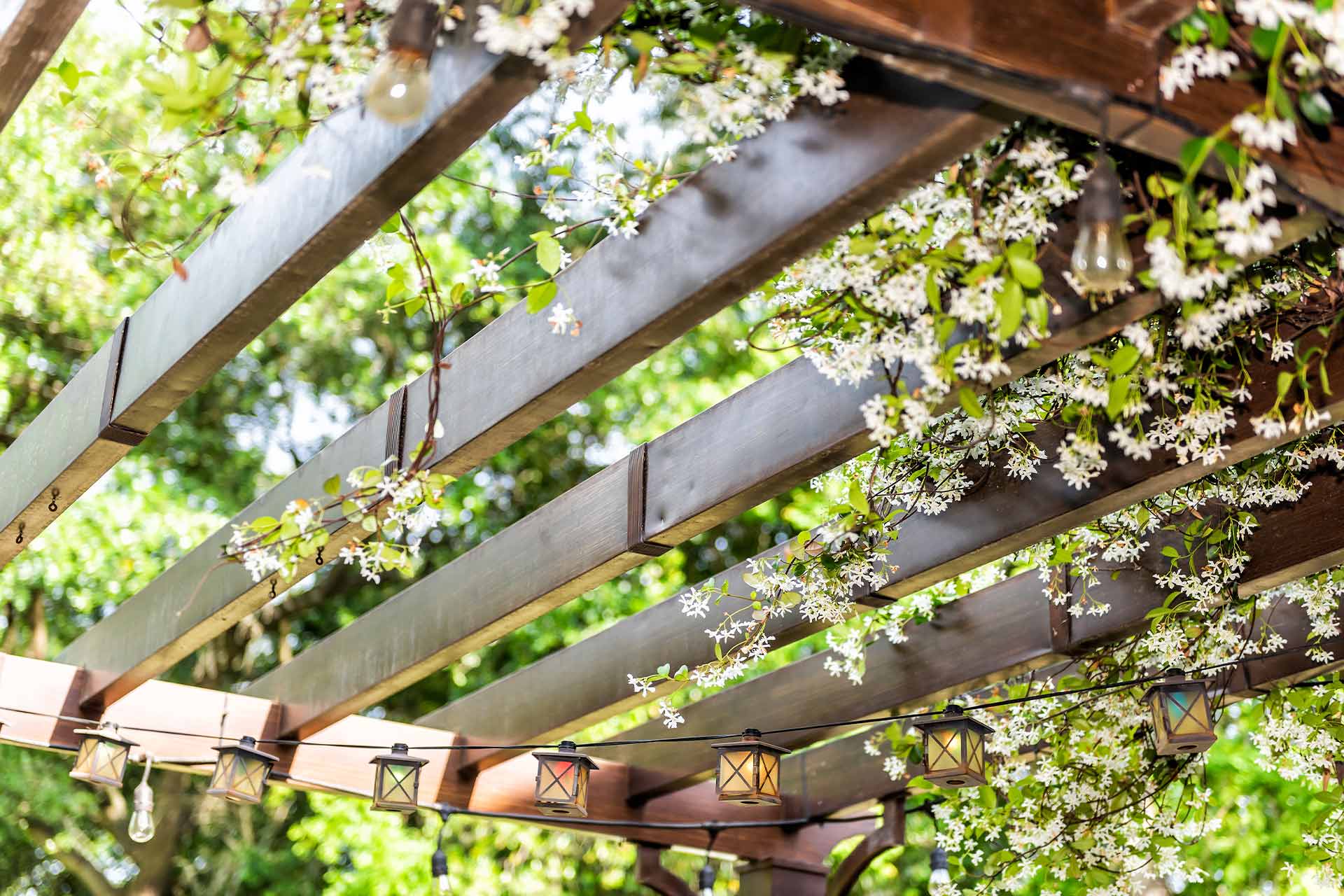 Building a pergola in your garden both adds a visual feature and can create a whole new space for you to use. They offer shelter and shade in the warmer months and act as an ideal climbing frame for climbing and trailing plants.
Pergolas come in a variety of styles and materials, meaning prices will vary depending on your preferences.
What is a pergola?
Homeowners commonly confuse pergolas and gazebos, and rightly so as the two can be very similar. A pergola is a structure most commonly made of wood and made up of a number of columns that support a slatted roof structure.
Pergolas are designed to offer partial shade and shelter from the elements, but are effectively an open structure that will let in light (and rain). They're most popularly used over patios and garden walkways, and are traditionally used to grow climbing plants that bring the pergola to life.
A gazebo, on the other hand, features a full roof and will very often have walls that provide much more shelter.
How much does it cost to build a pergola?
| Cost provided item | Average UK cost |
| --- | --- |
| Standard pergola | £2,500 |
| Luxury pergola | £10,000 |
| Labour (per day) | £250 |
In the UK, the average cost of a standard pergola is about £2,500. That said, prices range can vary quite considerably, from around £400 to £6,000. The costs for building a pergola will also vary according to season, location, and materials.
A high-end luxury pergola can cost around £10,000 with a much more complex installation, which will increase the pergola construction cost – potentially as much as £1,000 for labour.
The biggest cost will be the price of the materials for the pergola structure, with labour costs added to that. Average labour costs are around £200 - £300 per day, and it usually takes 1-2 days to build a pergola from scratch (with 2 days break for the concrete base to set).
The cost of the slatted pergola roof is part of the overall cost of the pergola, so you don't need to factor in any additional cost in for the roof.
The main factors affecting the cost to build a pergola are:
Size and style of pergola
Type and quality of materials
Time of year
Any prep work needed
Where you live
How much will it cost to build a 10×10 pergola?
If you're looking to build a 10×10 foot pergola, the average cost ranges from £600 - £2,300. The materials used and the labour time will be the biggest contributing factors to the total price you pay.
The design of the pergola can also affect the labour time involved, so the cost to build a 10×10 pergola with an elaborate design will be higher than a more simple pergola.
As with most pergola builds, it should take 1-2 days to complete the job.
See the tradespeople we've checked and recommend for your job
Types of pergola
With a wide range of pergolas available, you can choose between a number of materials for the main structure. Each one offers a different style for your garden.
Wood pergolas
Wood is the most common material used for pergolas in the UK – and, in general, wood pergolas cost less than other materials. It will either be softwood that's been pressure treated to ensure it lasts, or hardwood that is naturally durable and therefore doesn't need treatment.
Building a softwood pergola will cost less but hardwood pergolas, such as oak, are much more durable and so tend to last a lot longer – which arguably costs you less in the long run.
Brick or stone pergolas
Another popular material for pergolas is brick or stone for the columns. Wooden cross beams are then used to create the slatted roof of the pergola.
Using brick or stone gives a much stronger frame, which can take more weight than a wooden pergola structure. As such, a brick or stone pergola does cost more than wood. Ideally it's best to choose the same style brick/stone to match your house.
Metal pergolas
Metal pergola frames aren't as popular as wood or brick versions, however there are an increasing number of specialist manufacturers making beautiful metal pergolas.
Metal pergolas come in a kit that is then bolted together and either constructed as a freestanding structure fixed to the ground. Or, alternatively, attached to the side of your house in a lean-to style.
Why build a pergola?
There are a number of great reasons to build a pergola in your garden:
Add value to your home by creating an attractive, usable living space outdoors.
Upgrade your garden with a beautifully designed pergola covered in thriving plants.
Extend your living space outdoors with a pergola that complements your home.
Add shade and privacy to your garden.
Additional pergola costs
In addition to the pergola structure and labour costs, there are some other costs that it's helpful to consider when planning your pergola:
Any visual design work to create a custom-built pergola
Preparing the ground to build the pergola on
Removing or repairing any electrical or plumbing work
Planning permits, if needed
Adding special features to the pergola, e.g. trellis prices will add a cost
Does my pergola require planning permission?
In general, building a pergola (like most small garden structures) doesn't require planning permission. That is as long as they adhere to a number of rules:
It is a single storey with a maximum height of 2.5m
It has no raised platform
It doesn't cover more than 50% of your property's land
It is located to the rear of the property (pergolas built to the side of a property will require planning permission)
In conservation areas, the rules are slightly different and there is a maximum area limit of 10m2 for a pergola.
We would always recommend contacting your local planning office to discuss your pergola before starting any work on the project, to ensure you meet the local regulations.
How much does it cost to build an arbour?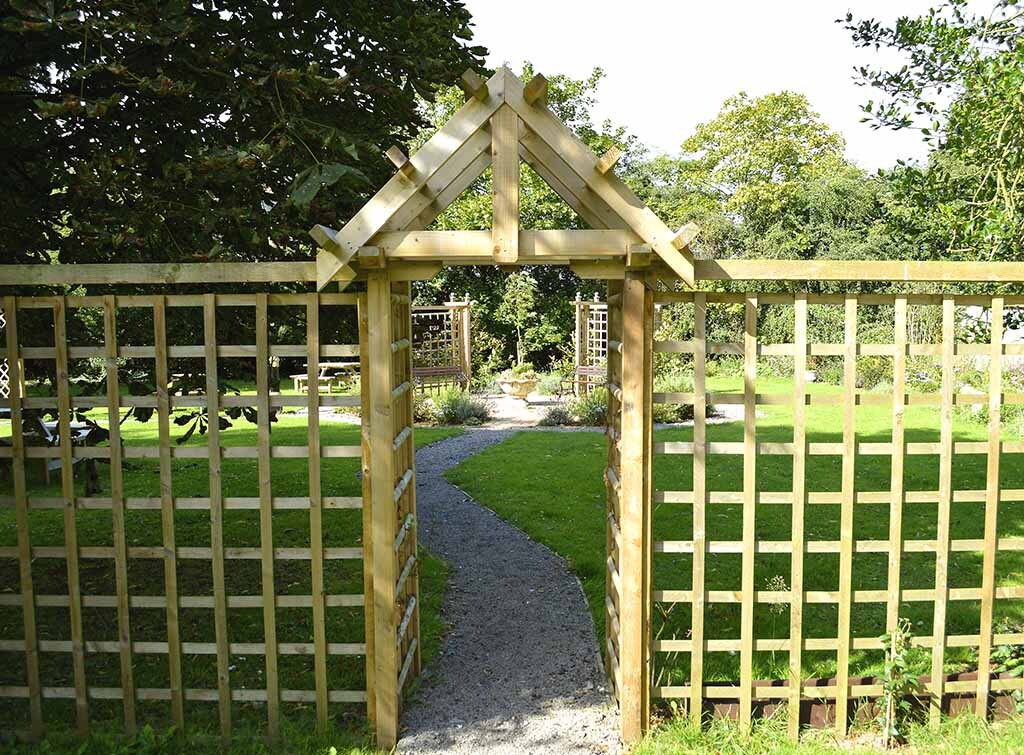 Arbours and pergolas are mistakenly thought to be the same thing, but they're not. Arbours are a wooden structure with a trellis on the sides.
They're used typically as a walkway or entrance into your garden or onto a path. They're even a style of garden seating you can create too – with the arbour structure and a bench in side of it.
On the low end of the pricing scale, an arbour costs £450, while at the high end, you can expect to pay up to £6,300. On average, though, you're looking at about £2,600.
An arbour is a detached, vertical construction or archway usually located in gardens, paths, entrances, and footpaths. It also works as a small shelter for a seating area or bench – it's a great way to add a touch of visual appeal to your garden.
What's more, arbours:
Create plenty of shade for outdoor parties
Provide shelter from bad weather
Offer an entranceway
Support climbing plants
Increase the value of your property
You can buy wood, metal, or vinyl arbours from most DIY stores, or construct them using a kit. If you want the job done professionally, have one custom-made by a carpenter near you.
Useful pergola checklist
First, decide what you want to use your pergola for – this will then help you choose the type of pergola you need and where it should be located in your garden.
Contact your local council to confirm if you will need planning permission
Speak to local pergola experts for professional advice and accurate costs
Shop around for fair and competitive prices
Always hire a professional tradesperson with suitable experience and the relevant qualifications or accreditations.
See the tradespeople we've checked and recommend for your job