How to build a summer house: Step-by-step
The number of people looking at how to build a summer house is on the rise. And that's because a garden house offers a lovely bit of extra space away from the main hustle and bustle of daily home life. As a result, many homeowners are opting to turn their summerhouse into an office, a shed, a break-out space, an entertainment room, and even an outdoor cinema!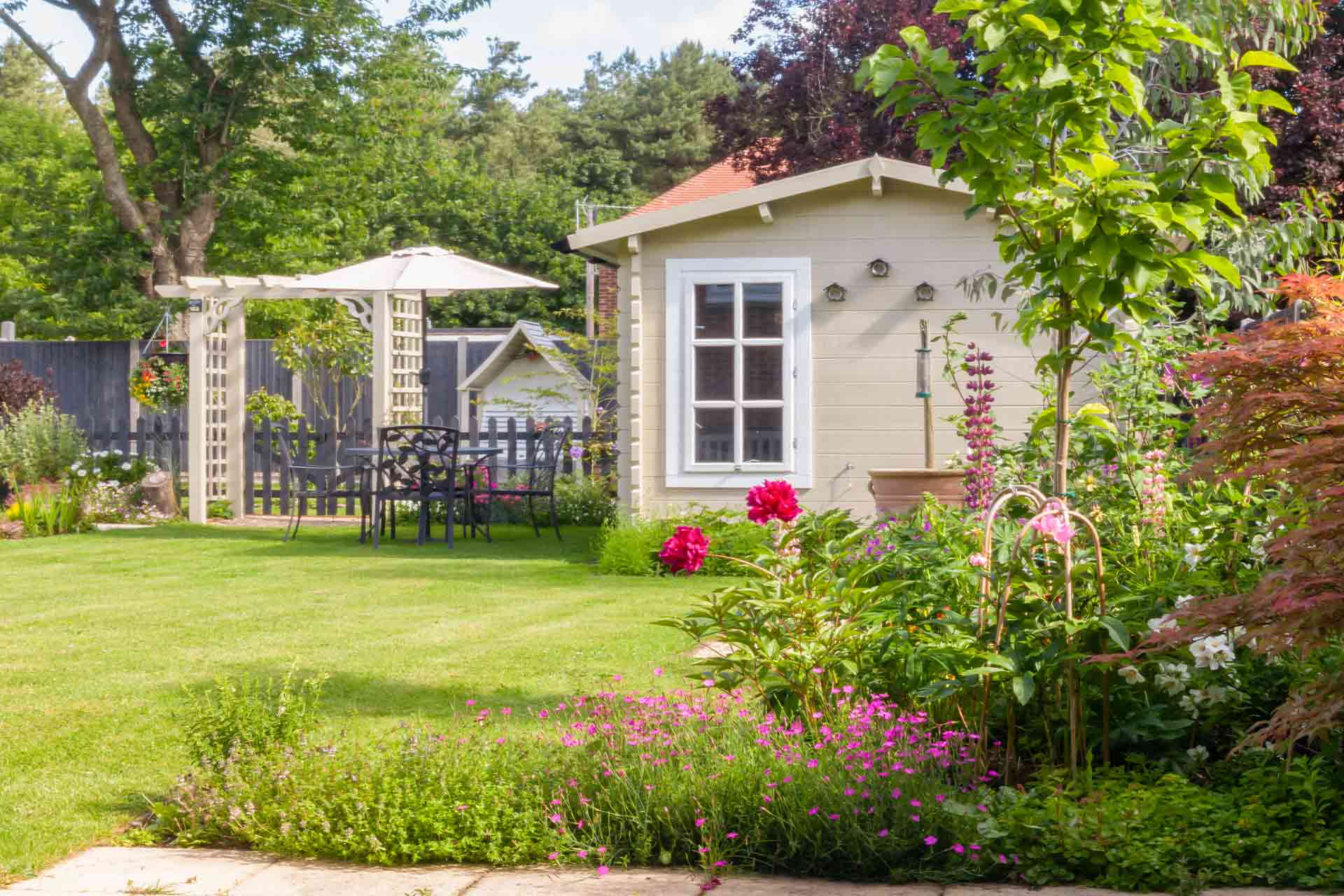 The number of people looking at how to build a summer house is on the rise. And that's because a garden house offers a lovely bit of extra space away from the main hustle and bustle of daily home life. As a result, many homeowners are opting to turn their summerhouse into an office, a shed, a break-out space, an entertainment room, and even an outdoor cinema!
This blog is going to focus on the main components of installing a summer house, including what to avoid, how to plan your project, and how to build a garden summer house on a budget.
Note: Buying a DIY kit might be easier when building your summer house on a budget. However, if you want to tackle the job yourself, keep reading.
How to build a summer house from scratch
Before you get started, find out whether you need planning permission. This avoids you getting into trouble with your local authority and grants you peace of mind.
It's worth noting that building your own summer house requires at least some basic skill when it comes to understanding the mechanics and foundations of the job. If you're in any way unsure, be sure to hire a professional who can build you a robust and safe summerhouse.
See the tradespeople we've checked and recommend for your job
Things to consider before learning how to build a garden summer house
Your square footage (how big or small your summerhouse will be)
The type of roof you want (flat, gable, pitched, Edwardian etc.)
Any lawn levelling required (you might need to hire a mini digger)
The kind of timber you'd like (we recommend opting for higher quality or reclaimed wood varieties)
What foundations you need (slabs, bedplates, wood, breeze blocks etc.)
What kind of windows and doors you'd like
The structural integrity of any summerhouse design you want to build yourself
Tools you need for the job
A combi drill and screws
Handsaws
Electric saws (i.e. Dewalt mitre saw)
A tape measure
Foundation slabs/wood
Insulation
Pressure wood treatment and preservative
How to build a summer house step by step
Level and measure your garden
Plot out the land you want to place your summerhouse and mark with chicken wire. Then, either dig or hire a mini-digger to level the area. Check for proper drainage and avoid using concrete for your summerhouse foundation. Incorporate gutters and electricals into your design if these are required.
Note: If you're building a larger, load-bearing summerhouse, digging trenches and installing breeze blocks is a good way to ensure a level and sturdy foundation.
How to build a base for a summer house
Lay your foundational wood planks and build your base. Use the tape measure to check the diagonals and make sure both sides are at even right angles. Once it's squared off, add 45-degree braces to the corners to keep it all secure. Getting this right from the start saves you a headache in the long run.
Treat your base
Unless you've used pre-treated wood for your foundation, now is the time to treat it with wood preservative. Paint it on and follow the manufacturer's instructions before moving onto the next step.
Attach the first spars and beams
Now your foundation is laid, it's time to stack your beams. Start with what will be the back of your summerhouse, where all the beams will be the same length. 'Toenail' the first beam to secure it in place, then measure, cut, and add the adjacent beams before coming around to the front and working out where your doors and windows will go. Then measure and cut the wood to size. (Double-check with step six).
Keep the studs close together
When adding the studs, keep them close together (but not so close you're just wasting money!) As a general rule, 20cm apart is fine. Be sure to screw them in the same places on opposite sides to ensure symmetry.
Top tip: Mark the dead centre of each spar to help line up the beams.
Build your roof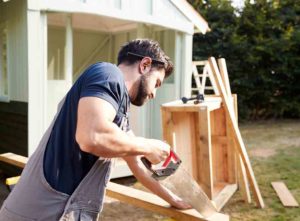 When the foundation is laid, it's a good time to build and measure out your roof. If you're going for a pitched variety, then using the foundations to mark and cut your roof beams is an easy way to measure the area and ensure a perfect fit.
Line your batten along the edge of your roof (against a wall if possible) to keep it straight, then lay out the other roof materials so you can use a pencil to mark the saw lines. Then cut the wood using a hand saw. Screw together and saw any uneven edges to create a smooth finish.
Note: You want some overhang to help with rain runoff, so be sure to factor in a few extra inches for that.
Top tip: Use V-shaped cuts to make the roof pitch. Alternatively, a flat or shed roof might be easier to measure and build instead.
Stack the panels
Now you're ready to duplicate the panels using the same method as before. Line the beams up and nail them down, mirroring the cuts as you go. Repeat for all sides of the summerhouse. The only time there are changes is when you're marking out the studs for the doors or windows.
Build frames for the windows and doors
Take measurements of the windows and doors you've planned for and then build their wood frames. You'll then need to create gaps in your summerhouse design for the windows and doors to fit. To do this, use the tape measure to line up the panels and work out the centre of the framework. Find the position for the studs and then cut the beams to size and secure them with extra panels. You should have two frames now – one for your window panel and one for the structural framework around the gaps. This should allow you to take the centre frames out and screw them in later.
Top tip: Add 5mm to the edge of your frames to ensure the fit isn't too tight.
Add supports where required
Check your frame for weaknesses and screw in offcuts where required. This helps keep the entire framework sturdy and secure. It also helps if you want to add cladding to your summerhouse at a later date. Add extra corner braces and any brackets required too.
Attach the roof
Once your framework is finished and the panels are all added, it's time to secure the roof. For this, you'll need to measure and cut the rafters (leaving some overhang) before securing them at the top with a ridge board (if you're opting for a pitched roof). Then, for structural integrity, screw down the battens atop the rafters. When securing this to the wall plates of your summerhouse (top of the structure), you'll need to add a joist to secure the ceiling and then screw it down. Purlin cleats and struts will help keep the roof sturdy and strong during bouts of bad weather.
Finish with wood protector and roof tiles
Now your summerhouse is ready for occupancy, all that's left to do is paint the wood with a preservative, lay the floorboards, felt and tile the external side of the roof, and secure OSB to the internal part of the roof (which doubles up as insulation!) Consider wrapping the summerhouse in waterproof plastic and securing it with batons to keep the sheets in place. Your cladding/shiplap will then go on top.
Top tips:
Add silicone foam around the doors and windows to make it weathertight.
Add feather wedges on the corners of the summerhouse for a natural and tidy look
Add roof fascias for a clean finish
Decorate your new summerhouse
Once everything has settled for a few days, it's time to introduce colour, furniture and a personal touch to your outhouse. Why not check out our summer house ideas for some visual inspiration?
Conclusion
If this all sounds overly complicated, then we recommend hiring one of our professional builders to help design and build your perfect summerhouse.
See the tradespeople we've checked and recommend for your job
FAQs
How to build a summer house from pallets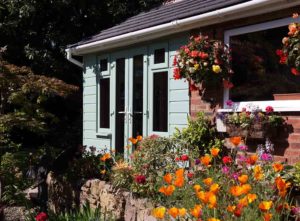 If you're looking for a more basic design, then using pallets is a great way to build a summerhouse on a budget. It's a cheaper and easier way to construct simpler designs and make the most of your free outdoor space. Merely measure, stack, cut, and secure the pallets using the relevant steps above. Just be sure to strengthen the walls with reinforced beams – especially around the door and window frames.
How to build a corner summer house
We recommend buying a DIY kit or using the above steps to measure out your space and ensure a perfect finish.
Should I hire a professional?
We always recommend hiring a professional when it comes to construction work. We recommend obtaining at least three quotes too – which you can do right here.