How to clean a carpet
Transform your home with our guide on how to clean a carpet. Get rid of old stains and nasty odours with our step-by-step guide.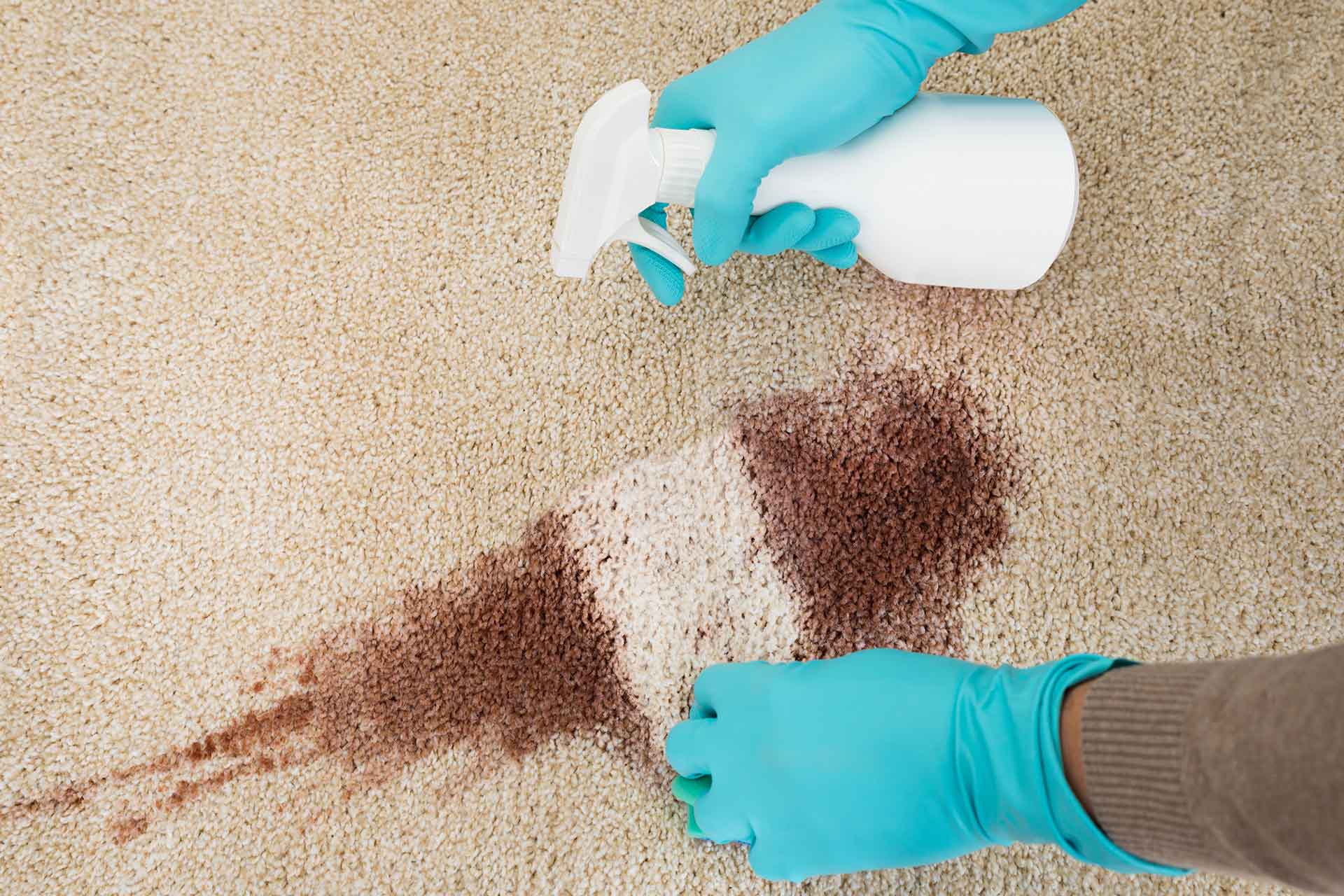 Carpet adds warmth, comfort and cosiness to any home but keeping it clean can be hard work. Whether it's pet fur, mud from your shoes or food and drink spills, your carpet is put through its paces every day and can become dirty and stained without regular cleaning. So, to keep your home looking great, today we'll be looking at how to clean a carpet.
We'll be covering how to clean different types of stain such as blood or vomit as well as different methods for refreshing your carpet. Plus, we'll explain how to clean your carpet using vinegar, shampoo, a vacuum, stain remover, a carpet cleaner or baking soda.
Before we get started we should point out that the material your carpet is made from and the type of dirt or stain will dictate the method you should use.
For best results, we always recommend hiring a professional carpet cleaner. They'll be equipped with all the right tools and experience to get your carpet looking its best.
How to clean carpet at home
If it's been years since you last cleaned your carpet, it'll likely be very dirty and stained (even if you can't see it!). Luckily, most carpets can be brought back to life with a bit of TLC. First, you'll need to gather the following tools and materials:
White vinegar
Salt
Baking soda
Microfiber cloths
Vacuum
Stiff bristled brush
Spray bottle
Here's how to clean a carpet by hand:
Start by moving as much furniture as you can out of the room before vacuuming your carpet thoroughly to remove any debris.
If you have a lot of pet hair on your carpet, you can also use a squeegee to pick up the hair.
Now, you'll need to mix three parts of water with one part white vinegar. Fill up your spray bottle with the liquid.
Test on a hidden part of your carpet to ensure the mixture doesn't stain.
Next, cover the entire carpet making sure it is damp before leaving for at least five minutes to work.
Use your microfibre cloth to absorb as much liquid as possible, also lifting the dirt from the carpet.
Keep rinsing the cloth when it becomes dirty to ensure you're picking up every trace of grime from your carpet.
You can then leave your carpet to air dry, trying not to walk on it in the meantime.
See the tradespeople we've checked and recommend for your job
How to clean carpet stains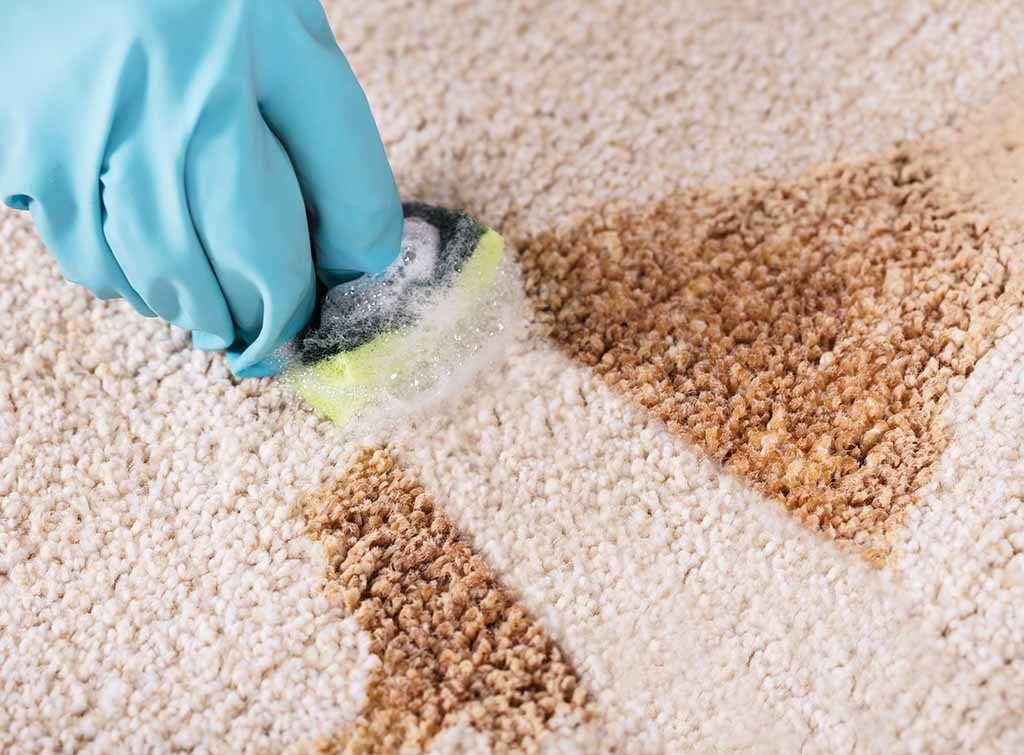 As carpet is so absorbent it's prone to staining, particularly if it's a light colour. Luckily, it's possible to clean carpet stains from all manner of spills and bring your carpet back to life. Check out the following tips for removing different types of stains:
How to clean vomit from carpet
Having children and pets means it's almost certain that you'll eventually need to clean vomit out of your carpet. We'd recommend dealing with this as soon as possible to prevent staining.
You simply need to cover the stain with baking soda, leave for 15 mins, vacuum, cover a cloth with a mixture of water, vinegar and dish soap, then blot the stain.
How to clean dried cat urine from carpet
Bringing a cat into your home can be bad news for your carpets. The smell of cat urine is particularly strong, so you'll want to address this sooner rather than later.
The best way to clean urine from carpet is to use a carpet cleaner liquid made for removing cat urine. Enzyme products are a great choice. You can also use vinegar or baking soda to eliminate any remaining odours.
How to clean blood from carpet
Accidents in the home are unavoidable and you may need to clean blood from your carpet. It's important to tackle blood stains straight away, if you can, to prevent further damage to your carpet.
To remove blood, mix a small amount of dish soap and cold water, then apply with a cloth. Blot the area and if this doesn't help you could try using ammonia.
How to clean milk out of carpet
Milk's less likely to leave visible stains than blood but can still start to smell over time if not dealt with. If you need to get milk out of carpet, start by absorbing as much liquid as you can. Next, mix a tablespoon of dish soap with two warm cups of water and soak up with a cloth. You can then blot the stain and if necessary, use ammonia to remove any lasting odours.
How to clean dog poo off carpet
Dog poo in your home is inevitable if you have a puppy or older dog so it's essential you know how to properly clean your carpet after any 'accidents'.
Firstly, remove any solid waste and dispose of it properly. You can then spray a mixture of dish soap, vinegar, and cold water over the stain. Blot with a cloth and finish by sprinkling baking soda over the area before vacuuming after 15 minutes.
How to clean red wine from carpet
Similar to blood, if you spill red wine on your carpet, it'll be hard to hide the stain. Don't panic though, there's a good way of getting red wine out of carpet. Try using white vinegar or dish soap, but if that doesn't work, we'd recommend trying hydrogen peroxide (just do a patch test first). Absorb the liquid then mix the peroxide with dish soap and blot with a cloth.
How to clean tea stains from carpet
While drinking a warm cup of tea is one of the best ways to relax, tea stains on a carpet can be a real issue.
To remove tea from your carpet, start by blotting with a cloth. Then add a little water to prevent further staining. Apply vinegar mixed with water or a carpet cleaning liquid to the stain and keep blotting using a cloth. Finally, rinse with cool water.
How to clean candle wax off carpet
If you accidentally drip candle wax onto your carpet, it can set into the fibres, making it hard to remove. However, you can get rid of the wax for good using an iron.
To start with, remove as much wax as possible with a blunt knife. Next, place a damp towel over the stain and hold the iron over the towel for 10 seconds. The wax should move from your carpet onto the towel.
See the tradespeople we've checked and recommend for your job
How to steam clean carpet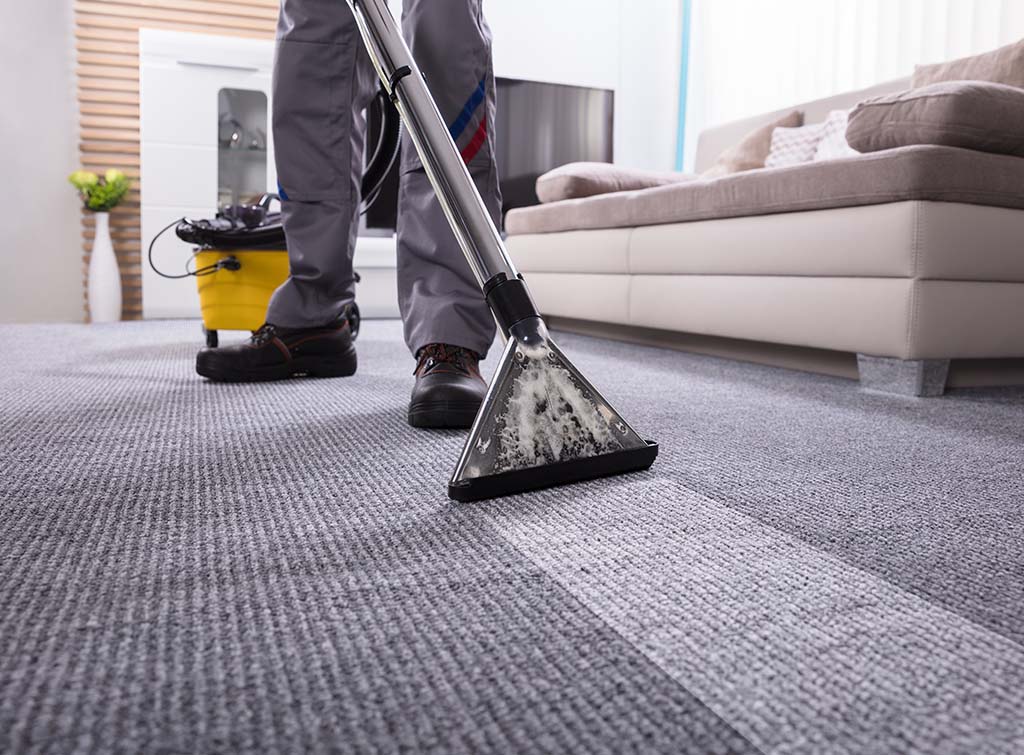 Another way of giving your carpet a refresh is to use a steam cleaner. Steam is great for lifting dirt out of a carpet and killing off any germs in the process.
Wondering how to steam clean a carpet? Use the following steps:
Move all your furniture out of the way and remove any dust from your skirting board.
Thoroughly vacuum the carpet to remove any dirt that may affect your steam cleaning.
Add water to your steam cleaner and if necessary, add dish soap or carpet cleaner (check the steam cleaner instructions for guidance).
Allow the machine to heat up.
Start away from the door and run the steam cleaner over the carpet in long straight rows. Make sure to overlap your rows to prevent any missed patches of carpet.
Try not to walk over the damp carpet before it has time to dry. This usually takes about eight hours.
How to clean carpet stairs
The carpet on your stairs sees a lot of foot traffic. This can mean without regular cleaning it can become especially dirty. Use the below tips to revitalise your stairs:
Make sure to regularly vacuum your stairs, lifting the carpet pile so it doesn't become flattened.
For best results use a carpet cleaner and carpet shampoo.
As stairs are narrow surfaces, make use of the attachments that come with your carpet cleaner.
Remember to clean the vertical surfaces of your stairs as well as the flat surfaces.
If you struggle to lift heavy objects, choose a lightweight cleaner.
You can also use a stiff brush to remove dirt that has become hard on your stairs.
How to clean wool carpet
Wool carpet is pretty easy to maintain and also repels stains, making it a great choice for busy homes. To clean wool carpet stains or spills, use the below steps:
Absorb as much of the liquid as possible using a clean cloth. Don't scrub the stain as this could make it sink deeper into your carpet.
Pick a cleaning spray that's safe for use on a wool carpet and spray onto a clean cloth.
Blot the stain until it disappears.
How to deep clean a carpet
If your carpet hasn't been cleaned in years, the chances are it'll need a deep clean rather than just vacuuming. If you're unsure how to deep clean a carpet, check out our guide on how to deep clean your carpets. It's also worth having a look at our carpet and upholstery cleaning tips.
Hiring a professional
Cleaning a carpet can be hard work and if you don't own a carpet cleaner, this can be a time-consuming job. To get the best results we recommend hiring a professional carpet cleaner. Take a look at our professional carpet cleaning vs DIY guide to see why.
How much does professional carpet cleaning cost?
The cost of professional carpet cleaning will depend on a number of factors including the type of carpet you have and the size of your room. Check out our carpet cleaning cost guide to price up your job.