How to clean grout in 5 steps
Discover how professionals clean grout in our guide to cleaning bathroom grout, including how to clean floor tile grout and how to remove grout.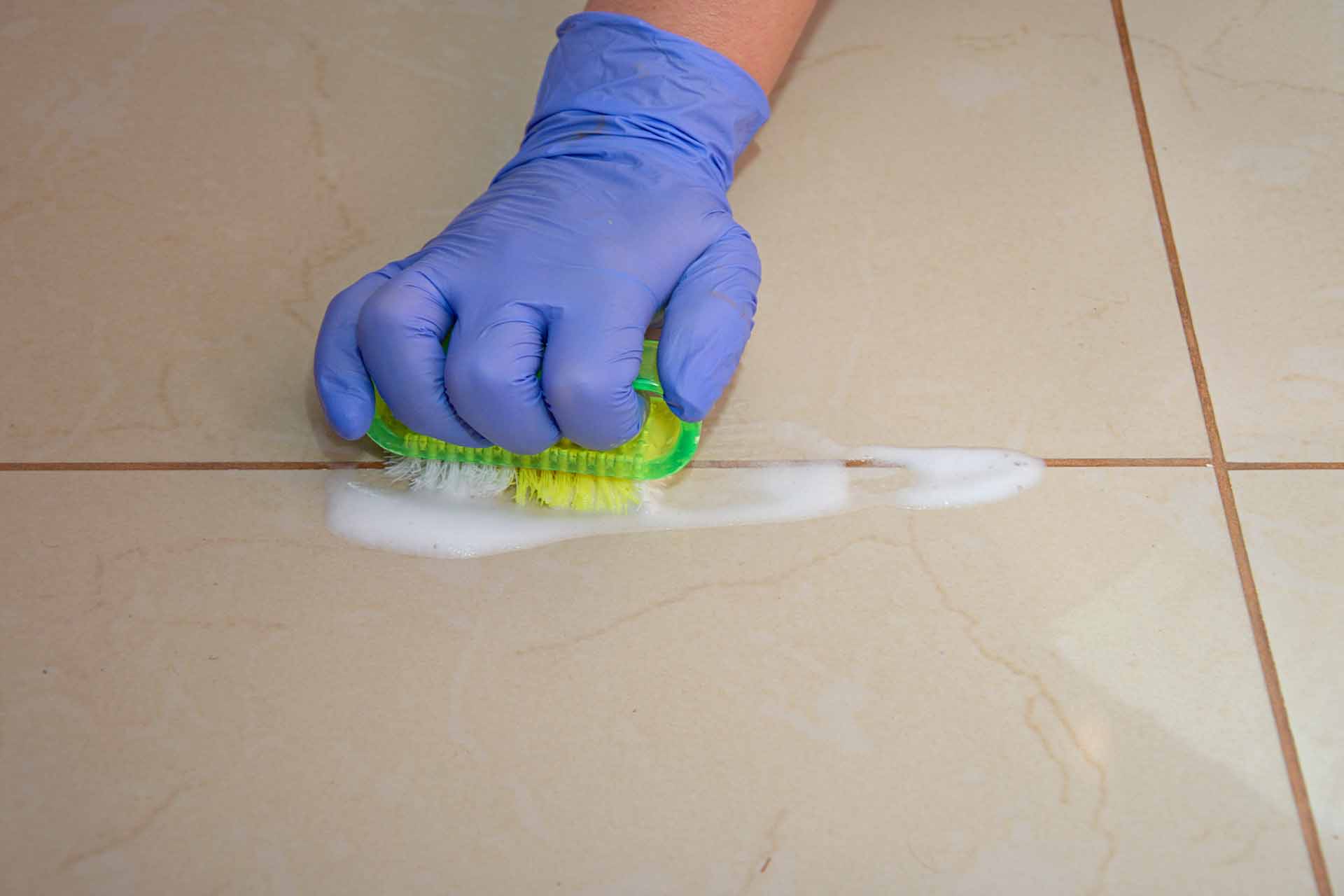 Cleaning grout is a tedious task, but it's an important part of keeping your kitchen or bathroom looking clean and fresh. This guide will show you how to clean dirty grout yourself without damaging it, including cleaning grout on floor tiles.
How to clean dirty grout
Whether in the bathroom or kitchen, grout has plenty of opportunities to attract dirt, with its porous nature meaning. And to top it off, grout (particularly white grout) stains easily. This staining can make it hard to bring grout back to its best, but it's possible to keep it looking bright with some elbow grease, a few household liquids, and a selection of cleaning cloths.
Here's what you'll need to clean your grout on your own:
Vinegar
Baking soda
Warm water
Grout cleaner (for really tough stains)
Stiff bristled brush (such as a toothbrush)
Spray bottle
Grout cleaner
Gloves
How to clean bathroom grout
In this step-by-step guide to cleaning grout, we'll focus on bathroom grout as that's most commonly in need of cleaning to remove mould. However, the technique below can equally be used to clean kitchen grout.
Fill your sink with warm water.
Grab your stiff-bristled brush, wet it and then rub the grout in a circular motion. Alternatively, fill your spray bottle with warm water, spray and brush in the same way.
Prepare a mix of equal parts warm water and vinegar in your spray bottle. Spray it onto the grout and leave for several minutes. Then scrub with your stiff-bristled brush and rinse with warm water.
If your grout is still dirty, create a baking soda paste with warm water and apply it to the grout lines. Spray on your vinegar solution and allow it to foam. Scrub with your stiff-bristled brush and rinse with warm water.
For really tough grout stains and mould, you can use a purpose-made grout cleaning solution. If applying grout cleaner, always follow the manufacturer's instructions.
If, after all of these steps, your grout is still stained or mouldy, then you may need to re-grout your tiles. You can find out more about the cost of this in our regrouting cost guide.
How to clean grout on floor tiles
Cleaning grout on floor tiles can be done in the same way as wall tiles. However, when cleaning floor tile grout there are additional safety aspects to take care of, such as creating a 'no-walk-zone' prior to cleaning to remove the risk of someone slipping over on the wet floor.
As floor tiles are subjected to more dirt particles from shoes, pets and food/drink spillages, it may be that you need to try a commercial or industrial strength cleaning product.
Hydrogen peroxide can be used to clean particularly stubborn dirt off of floor tiles, as can chlorine bleach, however, these chemicals should never be used together and should always be used sparingly. If you choose to use these products, follow the manufacturer's safety instructions and wear gloves, safety goggles and a respiratory mask as a minimum.
We recommend professional grout cleaning
Cleaning grout is a laborious and time-consuming job, so prepare to set aside a considerable amount of energy and hours to do the job to a satisfactory level.
When you factor in your time and equipment costs, it may be more cost-effective to get a professional in to do the job to the highest standard.
Check out the costs in our tile grout cleaning cost guide, and find local grout cleaning specialists by entering your postcode in the free search tool below.
See the tradespeople we've checked and recommend for your job
FAQs about cleaning grout
How do you clean grout off a tile?
If you're wanting to know how to remove grout from a tile surface, it's very simple to do, unlike cleaning grout itself!
In most cases, you can remove grout on tiles simply by using a hard plastic card to scrape it off, or by using a damp microfibre cloth.

How do you clean grout?
Cleaning grout is a tough job that takes time, but it is possible to do it yourself if you have the right tools and a whole load of patience.
Simply follow the steps listed above to clean your grout.
How do professionals clean grout?
Professional cleaners have their own tools and liquids/products they use to get the best results. Their trade secrets will stay secret, unfortunately.
But this step-by-step guide tells you how to clean grout using a variety of methods, depending on the severity of the mould and dirt embedded in the grout. You can follow these steps to achieve a good finish.
Using a specialist who cleans grout day-in, day-out, will always get the best results.
How do you remove grout?
First of all, you'll need safety equipment including gloves, a respiratory mask and safety goggles.
Second, lay a dust sheet down below the tiled area to catch all of the removed grout.
Using an electric multi-tool with a rotating cutting disc fitted, gently cut into the surface of the grout and remove as much as possible without touching the tiles.

With the bulk of grout removed, use a flat-head screwdriver to scrape away any remaining pieces and then vacuum with a hose and brush fitting to suck out all of the dust.