Last updated on July 20th, 2022
Regrouting cost guide
With helpful advice on the average regrouting costs for tiles and bathrooms, this guide is designed to help you budget for your project.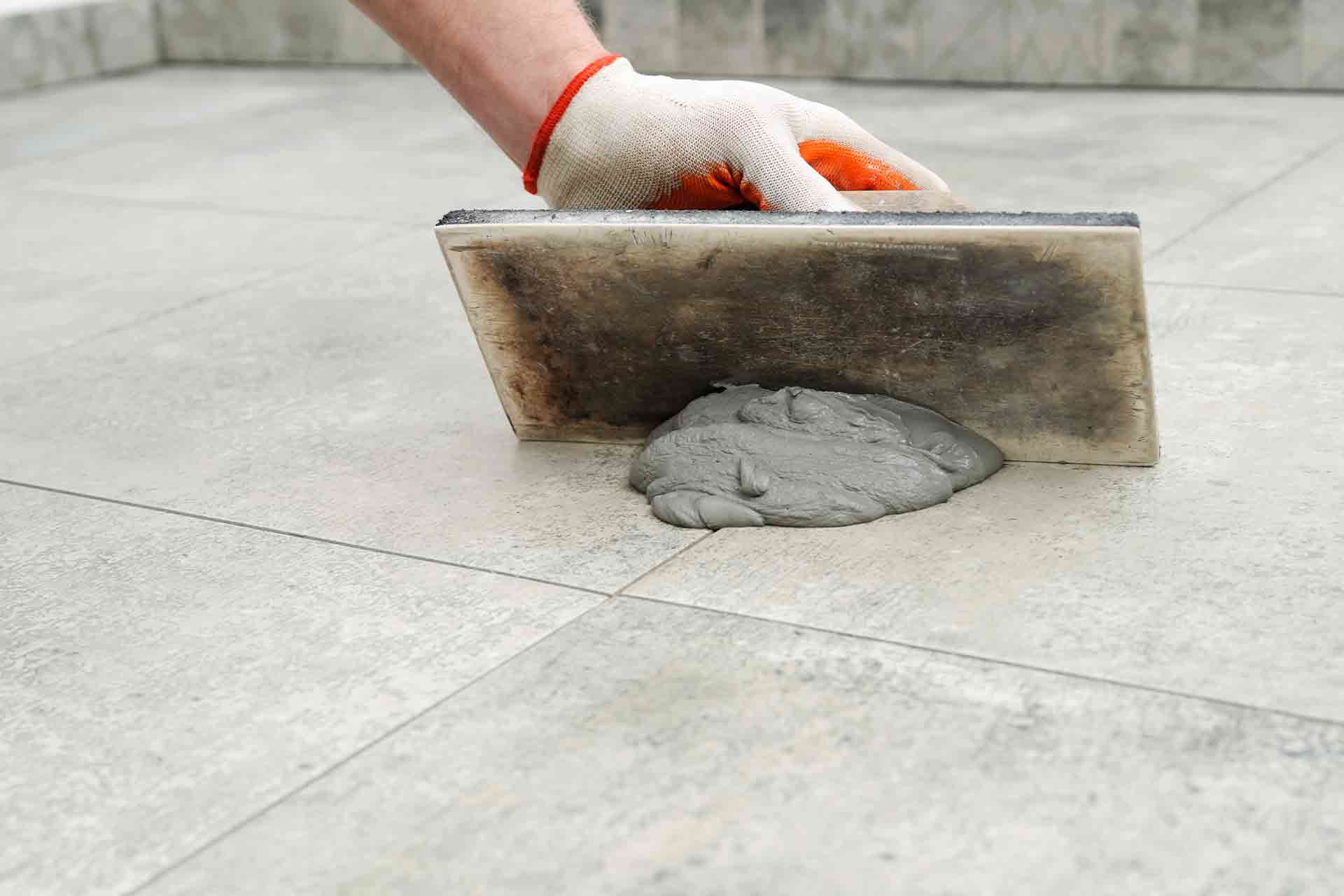 Why choose to regrout?
Regrouting can have a huge impact on the appearance of your bathroom walls and floors. When grout becomes cracked or damaged your bathroom is at risk of moisture seeping under the tiles.
This can cause water damage, damp and mould, and paying even a small amount to cover a regrouting cost can help solve these issues.
Another common reason to regrout is if your old grouting becomes stained, mouldy or dirty. This can completely change the aesthetic of your bathroom. It is always worth regrouting to revive and refresh your tiles.
Furthermore, it is not a great idea to grout over mouldy or stained grouting without finding the source of the leak. Otherwise, you will simply be trapping the moisture under the new grouting, causing the issue to set into your walls and degrade everything it touches.
How much does regrouting cost?
| Regouting costs | Average UK cost |
| --- | --- |
| Cost of regrouting (per m2) | £15 |
| Cost of wall and floor grout (5kg) | £15 |
| Regrouting - Labour (per day) | £320 |
| Cost of regrouting a bathroom | £380 |
| Cost of regrouting shower | £160 |
If you are budgeting for a regrouting job it is worth noting that the cost of regrouting is usually divided between the price of the materials and the labour cost. Of course, if you plan to complete the project as a DIY job you will not need to pay for labour, but this can lead to poor results.
The average regrouting cost is £15 per m2, including materials and labour.
Common types of grout
There are quite a few different types of grout, each with their own benefits. The right grout for you will depend on your requirements. For example, if you have issues with fungal growth in your bathroom, an anti-fungal grout would be perfect.
One of the benefits of hiring a tradesperson is that they can advise the best option for you.
Below are the most common types of grout:
Pre-mixed grout
Anti-fungal grout
Epoxy grout
Anti-bacterial grout
Unsanded grout
Finely sanded grout
Factors affecting the cost of regrouting
Unsurprisingly, it can be difficult to accurately calculate an accurate regrouting tiles cost due to the number of factors affecting the total price of the job. The following factors will have the most impact on the regrouting cost of your project:
Type of grout: Specialised grout such as anti-bacterial will more expensive than generic types.
Size of area: Larger areas to be regrouted will require more materials so will incur greater costs.
Time taken: The longer the job takes, the higher the labour price will be.
Current condition of grout: More degraded, mouldy grouting will likely let moisture collect under tiles. The damage from this will need to be fixed before regrouting can be done. In general, grout that is in poor condition will be more expensive to regrout due to water damage.
Accessibility: Difficult to access areas will mean longer labour times and greater labour costs.
Location: The location of your home can affect the cost of regrouting as tradespeople in different areas of the country have differing labour charges.
See the tradespeople we've checked and recommend for your job
Regrouting cost by type of job
Regrouting tiles cost
This cost will be similar to the general cost of regrouting as it can be broken into materials and labour. The average regrouting tiles cost will also be charged per 5kg bag of grout at £15 plus £320 per day of labour.
Regrouting floor tile cost
As with the previous section, this cost will be similar to that of basic regrouting. The average regrouting floor tile cost will usually fall around £15 per bag of grout plus £320 labour per day of work.
Cost of regrouting a bathroom
Regrouting a bathroom usually will involve regrouting the wall and floor tiles. Depending on the size of your bathroom and the previously listed factors, the average cost of regrouting a bathroom will be £380.
Cost of regrouting shower tile
It is possible to simply regrout the tiles in your shower if the rest of your bathroom grouting is in good condition. Despite this, the price for the grout itself is relatively low so it may be worth getting the whole bathroom regrouted if you are already paying for a day of labour.
The average cost of regrouting a shower is £160.
Can I do regrouting myself?
You may be leaning towards tackling regrouting yourself as it seems like an easy enough job on paper. The truth is that there is a knack to regrouting and unless you have years of experience, you are unlikely to achieve the results you hope to. It is worth considering the following before you come to a decision:
Learning to regrout takes years of experience and practice, plus a lot of patience.
When removing the old grouting with a drill or screwdriver, you could damage tiles and other bathroom fittings.
If the job is not done carefully, moisture can leak under tiles causing damp and mould.
You may need specialist tools and will definitely need safety equipment such as goggles.
It can be very difficult to achieve a high-quality finish.
After reading the above, unless you are confident in your abilities, we would recommend hiring a professional. To find a local, reputable, tradesperson in your area and get a personalised regrouting cost, use our free search feature.
FAQs
What if my grouting is damaged and water is seeping under tiles?
If this is the case, you will need to find the source of the leak and remedy this before continuing with regrouting. Once this has been done you should clear up any remaining moisture before regrouting.
Can I just grout over old, damaged grout?
While it is possible to regrout without removing the old grouting, it can mean you will not achieve a professional finish. Unfortunately, it may also cause moisture to be trapped under your tiles so if possible, you should remove the old grout first.
Useful regrouting checklist
Regrouting can give instant results, making your bathroom look new again.
Old, cracked grouting can give moisture the space to seep through and under your tiles.
There are many types of grout, such as anti-bacterial and pre-mixed grout.
The average regrouting cost can be very affordable, around £15 per m2.
You should always consider your experience and skill level before taking on difficult DIY projects.
See the tradespeople we've checked and recommend for your job