How to clean laminate floors in every situation
If you're wondering how to clean laminate floors, you've either spilt something on it, scuffed it, or want to restore it to its former glory. Whatever the situation, this guide has everything you need to know about cleaning your laminate flooring.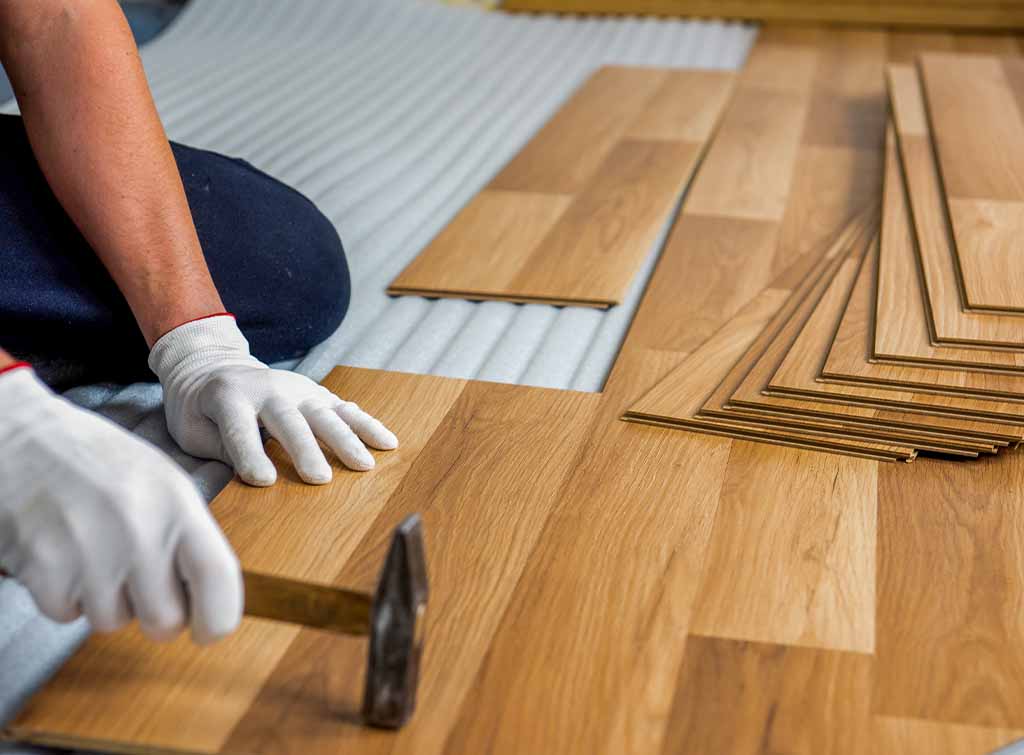 You might feel like there's a special science to keeping your laminate flooring clean. However,  it's actually quite simple. You just have to make sure you pick the right method for the best results. Read on for our how-to guide for each laminate flooring calamity.
How to clean laminate flooring
One of the main things to note before you clean your laminate floors is their propensity to scratch. Therefore, we recommend you only use soft-bristle cleaning tools and micro-fibre cloths to avoid unrepeatable damage. That means avoiding abrasive materials like scouring pads, steel wool or vacuum attachments with beater bard or rotating heads. These are laminate's worst nightmares.
The best cleaning products to use when cleaning your laminate floors
Prevention is better than cure, so consider laying down a doormat to stop dirt from being walked into your home in the first place. However, for the inevitable doormat-defying dirt, the best cleaning products to use are the following:
A solution of vinegar and water is perfect for most laminate floors. Simply mix one cup of household vinegar with one gallon of warm water.
Microfibre cloths or mop heads are soft and great at cleaning.
Vacuums with soft bristle attachments.
Laminate-friendly floor cleaners.
NB: The most important thing to remember when cleaning your laminate flooring is its lack of waterproofing. If you do mop it, be sure to only use a slightly damp tool to avoid water spots or warping over time.
See the tradespeople we've checked and recommend for your job
In the next section, we're going to focus on the common issues homeowners have when it comes to cleaning their laminate floors and our resolution for each of them.
How to clean laminate wood floors
Wood laminate floors are the most susceptible to warping, which is why you need to be extra careful when cleaning it. Whether you use the previously mentioned vinegar and water solution, a laminate floor cleaner, or a teaspoon of unscented and clear dishwashing soap in a gallon of water, make sure you don't soak the floors while cleaning them. To make extra sure, go over the floor with a dry and fresh teatowel or microfibre cloth. Repeat every two to three months to maintain your laminate and maximise its longevity.
If you do water stain your floor, read our guide on how to repair water-damaged floors for guidance.
How to deep clean your laminate floors
During your spring and autumn deep cleans, follow this method for the best results:
Sweep or vacuum your laminate to remove dust and debris – make sure any hard bristles or rotating components are switched out or turned off.
Use a microfibre mop with a removable sprayer and fill it with a hardwood or laminate cleaner (they're much of a muchness).
For a green cleaning alternative, make your own solution and follow these steps:

Dust baking soda on the floor and leave for 10 minutes.
Mix one gallon of water with one cup of vinegar and a teaspoon of clear, unscented dishwashing soap into your sprayer or a bucket.

Take your mop and lightly dampen it by spraying the solution on the floor or wringing it out from the bucket.
Start from one corner of your room and mop to the other to avoid trapping yourself in the wet area.
Dry the floors with a hardy kitchen roll or a soft tea towel.
How to clean high gloss laminate floors
For those who've chosen a high-gloss laminate, it's even more important to avoid harsh chemicals or scratchy materials when cleaning it. Although these floors are more water resistant and durable than their wooden counterparts, you don't want to lose their shine by using the wrong cleaning agents.
How do you clean laminate floors to make them shine?
One of the best tools on the market for high-gloss floors is a lambs-wool mop. They contain natural oils to easily buff and polish your glossy laminate floors, and what's more, you only need to use water!
How to clean plaster dust off laminate floors
The worst has happened, and your laminate is covered in plaster dust. You know it's a huge potential scratch issue, so you don't want to just clean it in case you end up with dull, dusty and scratched floors. However, fear not; there's a way to make sure you remove the plaster dust without having to replace your laminate.
Use a soft-bristled broom and gently sweep as much of the plaster dust as you can.
Use a dustpan and brush to clean up the piles you make, and repeat until you're left with nothing but a dull surface.
Take your vacuum and use the softest brush attachment and go over the laminate floor until there's no dust left.
Restore your floors by cleaning them with a damp mop and an eco-friendly solution of one cup of vinegar to one gallon of water.
Dry with some kitchen towel or a clean and dry cloth.
Consider using a laminate floor restorer to make it as good as new if you're still not happy with the result.
See the tradespeople we've checked and recommend for your job
How to clean laminate floors without streaks
A microfibre cloth is your best friend when it comes to deep cleaning and ensuring non-streaky laminate floors. It's always best to make sure you don't overwet the floors, as uneven drying times can sometimes cause streaks. However, if you do use too much liquid, make sure to dry the flooring after you've washed it straight away, which should avoid any potential issues. Finally, make sure you mix your liquids properly. Too much of one solution can leave streaks and marks that are hard to clean.
How to clean and polish laminate flooring
There is one tried and tested method that makes cleaning and polishing your laminate flooring a breeze.
How do you clean laminate floors without damaging them?
Sweep and vacuum the floors with a microfiber mop or a soft broom.
Prepare a laminate-formulated floor cleaner or an eco-friendly solution of one cup of vinegar to one gallon of water.
Spray a thin layer of the solution onto your floor via a spray bottle or your microfibre mop's sprayer.
Evenly mop the floor from one corner to the other to avoid standing in a wet patch.
Let the room air-dry before buffing any additional spots with a clean microfibre brush or cloth.
How to clean paint spills from laminate floors
For freshly spilt paint, use an ice cube to harden it and then gently scrape it off with a scraper. Don't press too hard, as you'll damage the laminate. After that, mix some rubbing alcohol, vinegar and water in equal measures into a spray bottle. Add a few drops of dishwasher soap until bubbles form, which means it's ready to do its job. Apply this to the paint on the laminate and let it do its job. It should 'lift' from the floor and dissolve the paint – especially if it's water-based.
Alternatively, go all in and paint your laminate flooring instead! Use our how-to guide for guidance.
Did you find the information helpful? If so, there's more where this came from. Read our blog for more how-tos, expert advice and inspiration.
See the tradespeople we've checked and recommend for your job