How to repair water damaged floors
Discover our water damaged floor repair guide to save your flooring after floods or leaks. With guidance to help you revive carpet, laminate and wood floors.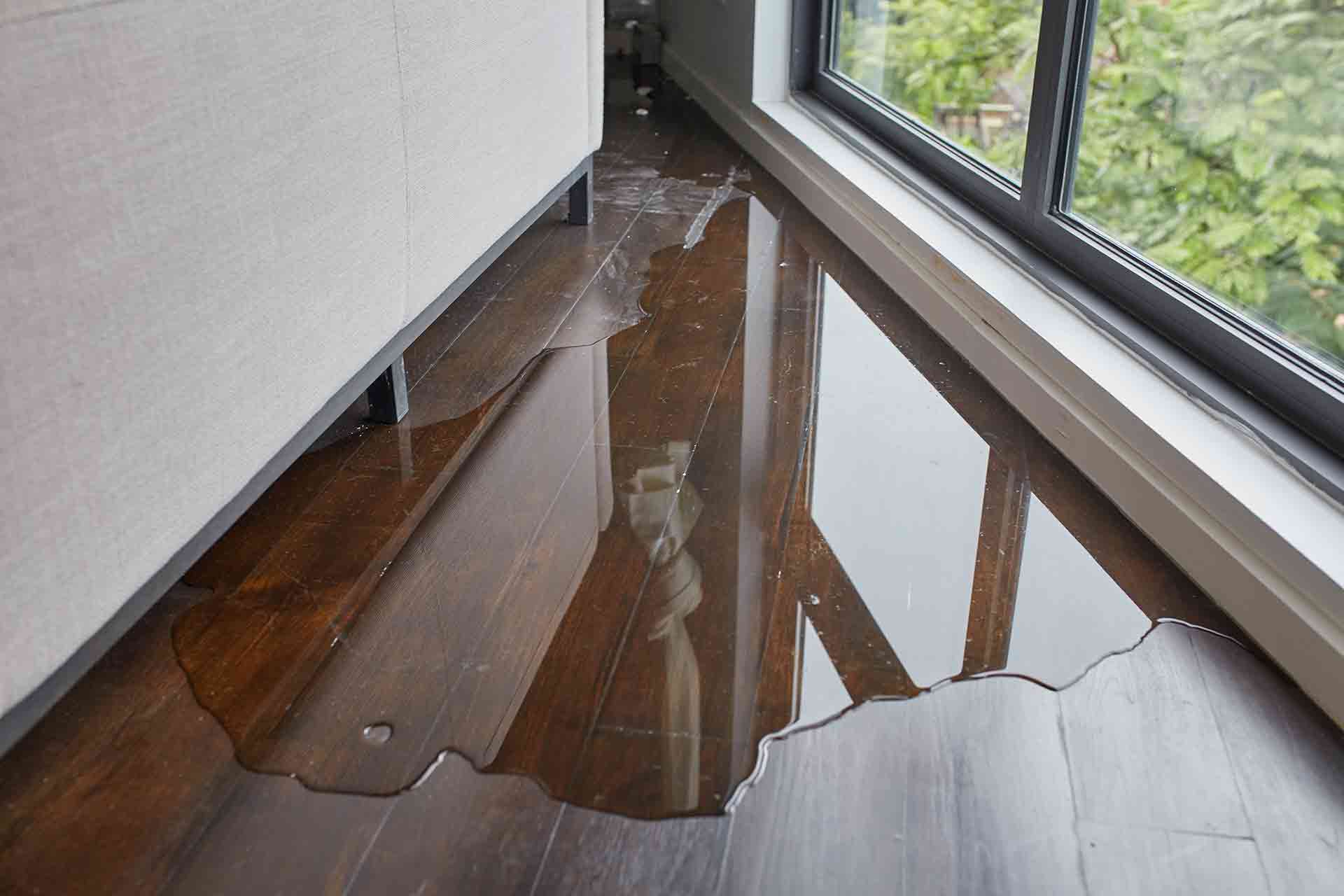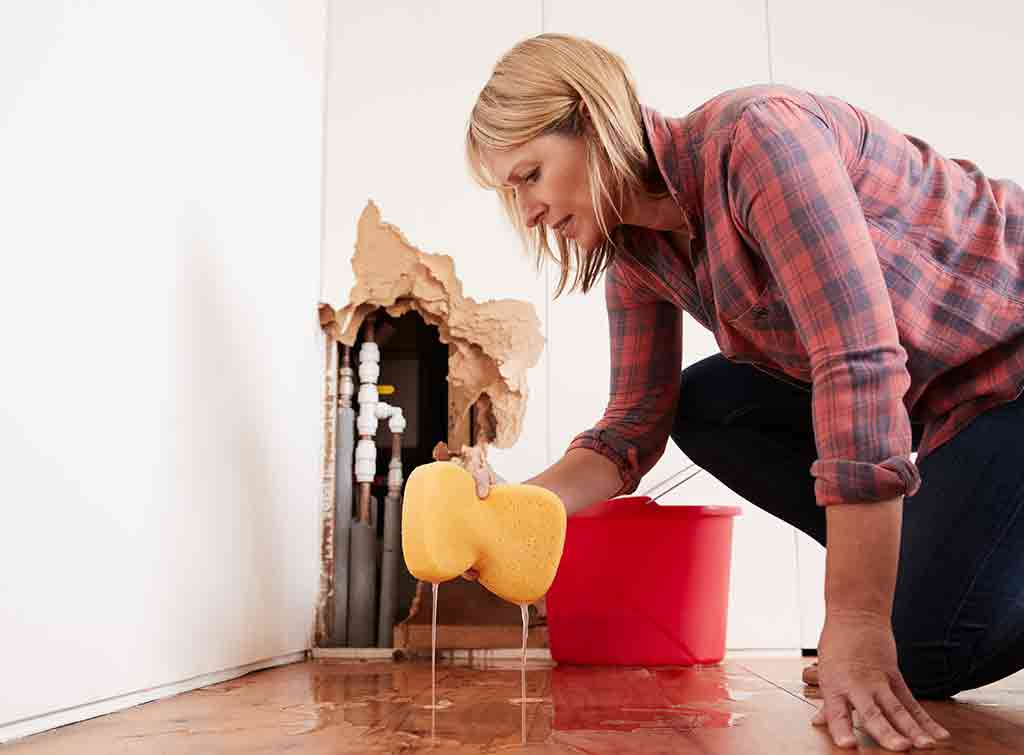 Flooring is designed to withstand heavy use and to stay looking in tip-top condition for years. But if your home is flooded or your pipes spring a leak, can your floors be saved? This water damaged floor repair guide is designed to help you through this stressful process.
We will also cover what the signs of water damage are, how to fix laminate floor water damage, how to repair a hardwood floor with water damage and more.
Signs of water damage
If you have noticed a leak in your home, it's important to identify whether or not your flooring has been damaged. This will help you know when and how to repair any issues.
Each type of flooring shows different signs that it has been affected by water. Below are some of the most important things to check for:
Carpet: Bad odours from mould forming and changes to the colouring.
Tiles: Discoloration and if the tiles have been loosened, they will sound hollow.
Laminate: Changes in colour, mould or mildew and warping.
Wooden: Bulging, planks separating from the floor and cupping.
See the tradespeople we've checked and recommend for your job
How to repair a water damaged floor
Before panicking, remember it is possible to repair water damage in many cases, you just need to know how to do a quality job. We will be going over water damaged floor repair for carpets, laminate, wood, bathroom and hardwood flooring so have got you covered no matter the type of flooring you own.
If you are unlucky enough to have a leak, it is quite likely your carpet will suffer the effects of water damage unless you take quick action. Start by removing as much of the water as possible using a dehumidifier and a carpet cleaning machine. These can both be rented for a reasonable price and we even have a guide on dehumidifier hire costs.
Once your carpet has completely dried, it is a good idea to hire a carpet cleaning expert to properly steam clean your carpet. This will prevent stains. Check out our carpet cleaning cost guide for more information.
How to fix laminate floor water damage
Water and laminate flooring do not go well together. If water saturates your laminate flooring it will soon show signs of water damage.
Learning how to fix laminate floor water damage isn't too complicated, but time is an important factor to consider here. The longer your floor is exposed to water, the worse the damage will be. Act quickly and follow the below steps to save your laminate flooring:
Completely remove or fix the source of water. Whether it's leaking pipes or natural causes, you will need to stop the water from coming into contact with your flooring.
Gather your tools. You will need laminate planks that match your current flooring, measuring tape, hammer, goggles, floor adhesive, utility and putty knives, underlay and solvent for cleaning.
Take out any water-damaged planks using your putty knife.
Clean the space and if necessary, trim and replace the underlay.
Install each new plank using the floor adhesive to hold them in place. You can also rest a weighted item on the planks to help the adhesive bond.
See the tradespeople we've checked and recommend for your job
How to repair water damaged wood floor
It's no secret that wooden floors do not like water, especially large amounts over a prolonged period of time. Depending on the type of wood flooring you have, it is likely the wood will absorb the water, so you should try to deal with standing water as a priority.
To repair a water damaged wood floor:
Remove the source of the leak.
Use a professional carpet cleaner to rapidly suck up any excess water.
Thoroughly clean the floor, disinfecting as you go, to remove any mould or mildew spores. Top tip: If you do spot any signs of mound or mildew, use TSP to kill off the spores.
Next, you will need to completely dry out your wood floor. Allow air to flow through your living space and use fans if necessary.
If cupping has occurred but isn't too severe, you can sand down the raised area of wood with a drum sander.
You can also nail any loose floorboards down.
How to repair bathroom floor water damage
When it comes to bathrooms, water is a given, but any leaky pipes, showers or baths can cause water damage to your bathroom floor. This is particularly true for any consistent leaks over long periods of time.
To repair bathroom floor water damage following the below steps:
Check for any mould or mildew growing in your bathroom. This will need to be treated before you continue. Top tip: If the mould infestation is severe or dangerous, it is always best to hire a professional mould removal expert to keep you and your family safe.
Clean and dry the flooring where the water damage has occurred.
You may need to replace the subfloor if the damage is extensive.
Remove any damaged tiles and replace with new tiles.
Use grout to set your new tiles in place.
See the tradespeople we've checked and recommend for your job
How to repair a hardwood floor with water damage
Hardwood floors are stunning and unique, often requiring a significant investment from a homeowner. As such, keeping your hardwood floor in excellent condition is essential. You can protect your floor to a certain extent using a polyurethane coating, but this will not prevent significant water damage.
Although water can be a real issue here, hardwood floors can be sanded down to about 1/4 inch to eliminate the appearance of cupping. Once the boards are fully dry, scraping away any mould is also a good option.
Top tip: If you do decide to replace your hardwood flooring, our wooden flooring cost guide is a great source of information and costs.
Should I repair or replace my water damaged floor?
While water damage can be catastrophic, in many instances it is possible to repair your flooring without the need to replace it. You will need to assess the damage and consider the following before deciding on the best course of action:
Severity: The more severe the damage, the harder it is to repair.
Water type: Black water comes from sewers and can be extremely dangerous. It is full of bacteria and contaminants that cannot simply be wiped away. If your water damage is from black water, you will need to replace your flooring.
Timescale: Repairing your flooring may be a long and arduous process. Therefore, if you do not have time to spare, hiring someone to replace your floor may be a better option.
Use: If your flooring is used heavily by your family, e.g., a hallway or landing, it may be a good idea to replace, rather than attempt to repair it. If you do repair heavy duty flooring it may not be durable and may need replacing soon anyway.
How much does water removal cost by a professional?
If you feel out of your depth or confused, there is no shame in hiring a tradesperson to repair your flooring. This will guarantee a high-quality job that's done efficiently and effectively. Why not use our free search feature to connect with a trusted professional near to you.
Another option, if your home is flooded or you have leaky pipes, is to pay for professional water removal. Our water removal cost guide covers the causes of water damage, prices to remove water and factors affecting how much you will pay.
In general, you can expect to pay the following amounts:
Water removal – £2,633.50 on average
Dehumidifier hire – £84 per week
Plumber hourly rate – £50