How to clean shower glass
Bring your bathroom back to life with our guide on how to clean shower glass. With tips for removing marks and limescale using vinegar, toothpaste and baking soda.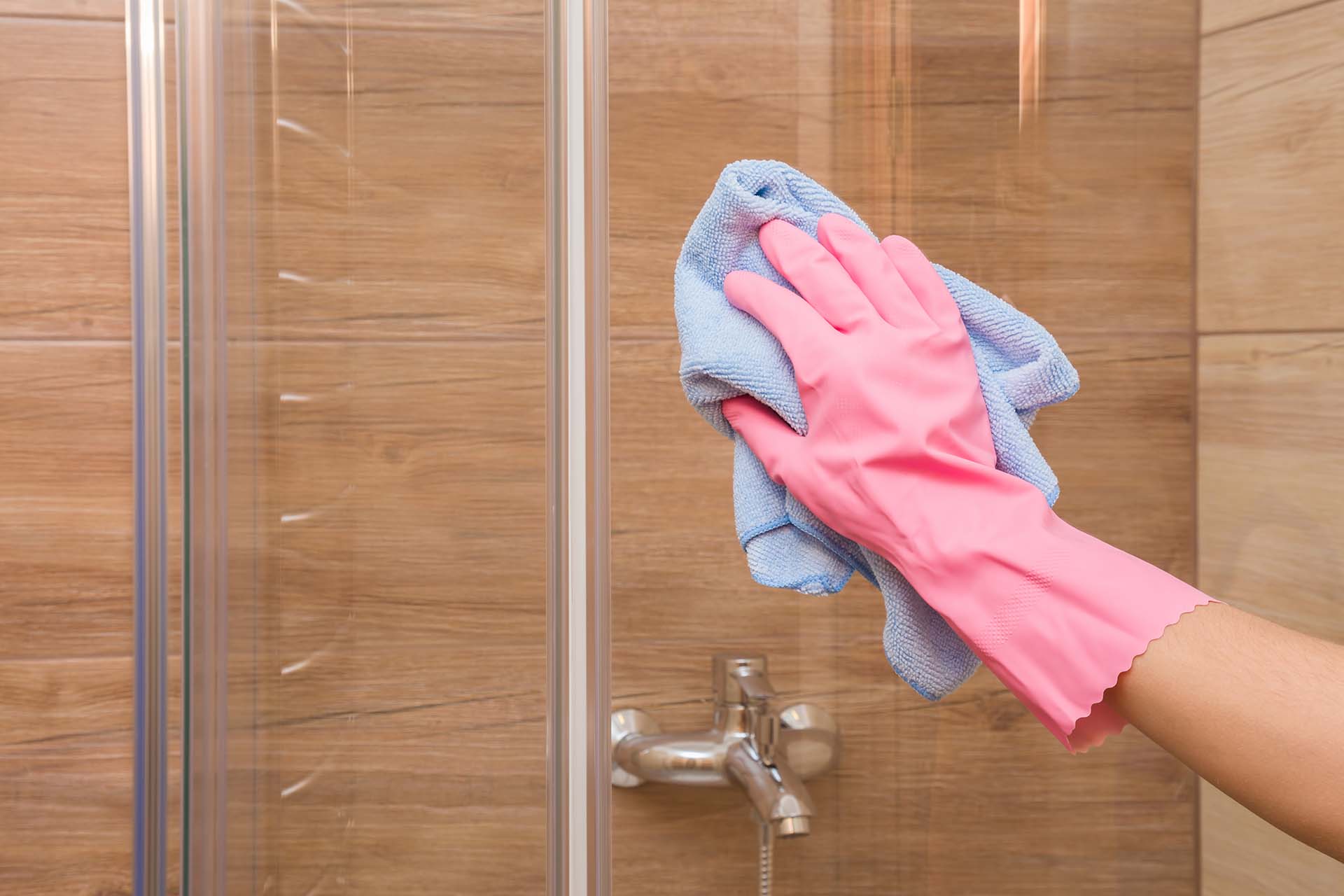 Replacing an old shower curtain with a gleaming, glass shower enclosure is a great way of modernising your bathroom. What's more, it's far more hygienic to use glass than material that can be affected by mould, mildew, and bacteria and thankfully, you can easily learn how to clean shower glass.
Keeping your shower glass clean not only looks good but is also beneficial for your health.
There are several ways of cleaning shower glass, these include:
Using vinegar
Using cleaning products
Using limescale remover
Using toothpaste
For best results every time, we always recommend hiring a professional. You can find cleaners that have been checked by us and recommended by your neighbours simply by entering your postcode.
How to clean glass shower doors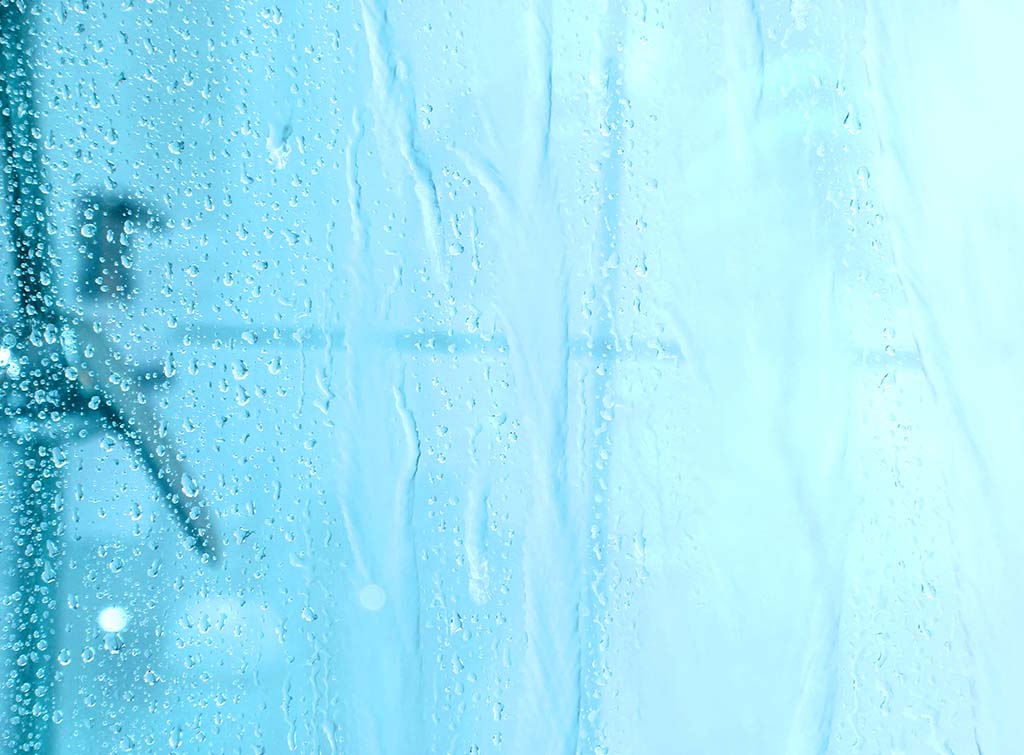 Glass shower doors are the most noticeable part of your shower and if they're dirty, they can make the space feel smaller and unhygienic. Properly cleaning shower doors can instantly improve the look of your bathroom.
Follow the below steps to learn how to clean treated glass shower doors:
Start by wetting your shower glass using a bucket of water
Spray white vinegar all over the glass, ensuring you don't miss any spots and leave it to work for a minimum of 10 minutes
Mix baking soda with a little water and use this to cover a sponge scrubber
Scrub the glass, going over any water marks and dirt until they are all removed
Next, rinse any remaining baking soda and vinegar off using water
Use a clean, dry microfibre cloth to buff the glass, giving a beautiful finish
How to keep shower glass clean
While it's possible to remove dirt and water marks from shower glass, this can be quite difficult and time-consuming. The better option is to learn how to keep shower glass clean in the first place. There are a few simple, quick ways of doing this that you can use each time you shower.
Consider using one of the following methods:
Spray a shower spray over all the surfaces of your shower straight after using it
Wipe the glass using a squeegee or clean cloth
Properly ventilate your bathroom after your shower, either by opening a window or installing an extractor fan
Spray the shower with a mixture of vinegar, water, and a small amount of dish soap
How to clean shower glass with vinegar
White vinegar is an amazing multipurpose liquid with lots of uses. Most people have vinegar around the house making it super easy to clean shower glass with vinegar.
We'd recommend spraying your wet shower glass with vinegar and allowing this to sit for at least 10 minutes. You can then wipe the glass clean.
How to clean water marks off shower glass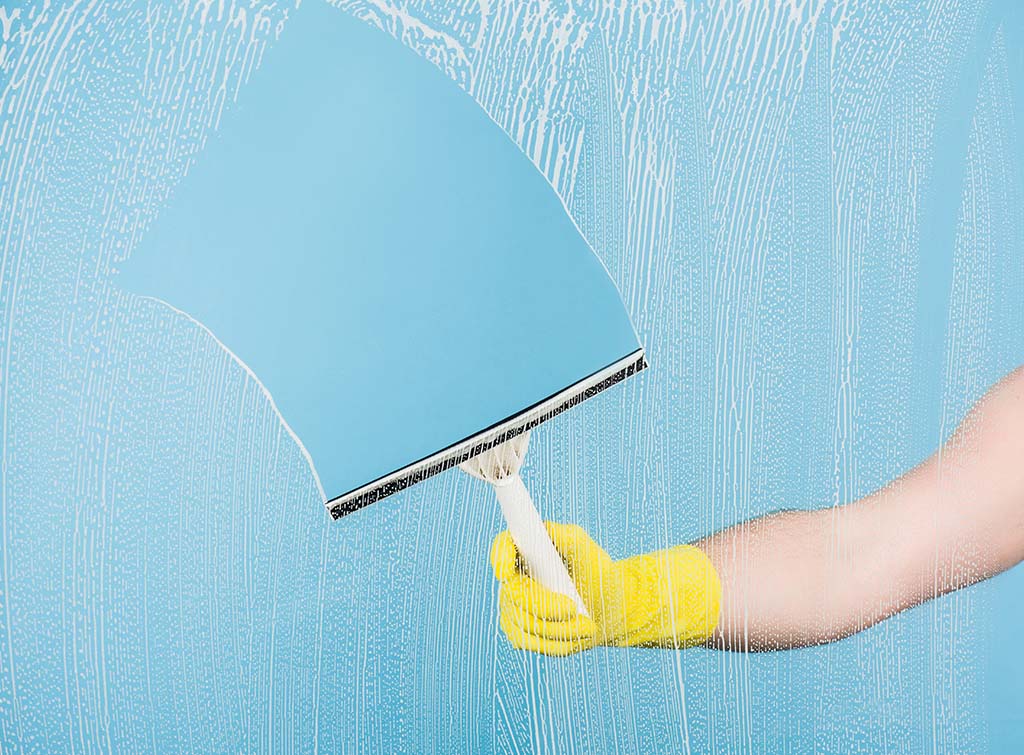 You may be wondering how water marks build up on shower glass. After all, water is clear, so it doesn't make sense for it to leave white marks behind, right?
Well, water marks are actually caused by lime and calcium deposits from your water supply. If left there for a long time this can lead to unsightly hard water stains. Rather than replacing your shower glass, it's often possible to remove these deposits and return your enclosure to its former glory. You can do this by:
Using vinegar and baking soda as described previously
Applying some cheap toothpaste to a damp scrubber and rubbing off the stains
Using a limescale remover to spray your shower glass, then wiping away with a squeegee
How to clean easy clean shower glass
If you're lucky enough to have easy clean shower glass you'll know that it's much simpler to keep clean than standard shower glass.
Wondering how to clean easy clean shower glass? On a daily basis, you'll need to wipe down the glass after each shower using a cloth or squeegee. In addition, once a week, use a cloth covered in vinegar and dish soap to clean the surface.
How to clean the plastic strip at the bottom of a glass shower door
The plastic strip along your shower door is often neglected and can also become dirty over time. It's important to regularly clean this strip to ensure it doesn't become stained or damaged and needs to be replaced.
Use the below steps to clean the plastic strip at the bottom of your glass shower door:
Firstly, remove the strip for easier access
Place in a bowl/bucket of water and vinegar and leave for about 15 minutes
Next, use a toothbrush to clean inside the strip, removing the bulk of dirt and limescale
You can then soak the strip in limescale remover for another 15 minutes
Finally, scrub again with your toothbrush to remove any remaining dirt and limescale
How to clean limescale from shower glass
Over time, limescale deposits can build up on shower glass, ruining the appearance of your bathroom. If your limescale problem becomes out of hand, there's still a way of saving your shower glass. You can clean limescale from shower glass in extreme circumstances following these steps:
Boil at least one cup of white vinegar in a saucepan
Allow the solution to cool a little before putting on rubber gloves for protection
You can then cover pieces of kitchen roll with the warm vinegar and place them on the entire surface of your shower glass
Leave this to work for about an hour, regularly spritzing the kitchen roll with vinegar to prevent it from drying out
Next, remove the kitchen roll and gently scrub the glass using baking soda
Finally, rinse the glass using water for amazing results
Professional shower cleaning
If you're struggling to get the results you want, it's worth hiring a professional to either regularly clean your bathroom or do a deep clean. Not only will this get you the best results and the bathroom of your dreams, but it will also save you time too. Find cleaners that your neighbours recommend by simply entering your postcode.
Installing a new shower
Once your shower glass is looking sparkling clean, you may notice your shower is looking a little worn, damaged or old. This is a great time to install a replacement shower to improve the look and experience of your bathroom. Check out our how to fit a shower guide to learn how to do it yourself, or alternatively, take a look at our shower installation cost guide and frameless shower doors cost guide to price up your project.