How to fit a shower
You may be wondering, for good reason, how to fit a shower on your own. While this may seem like a huge hurdle, with good DIY skills and a desire to learn, this is a task that you can accomplish. What's more, you will save on labour costs and add another feather to your DIY cap.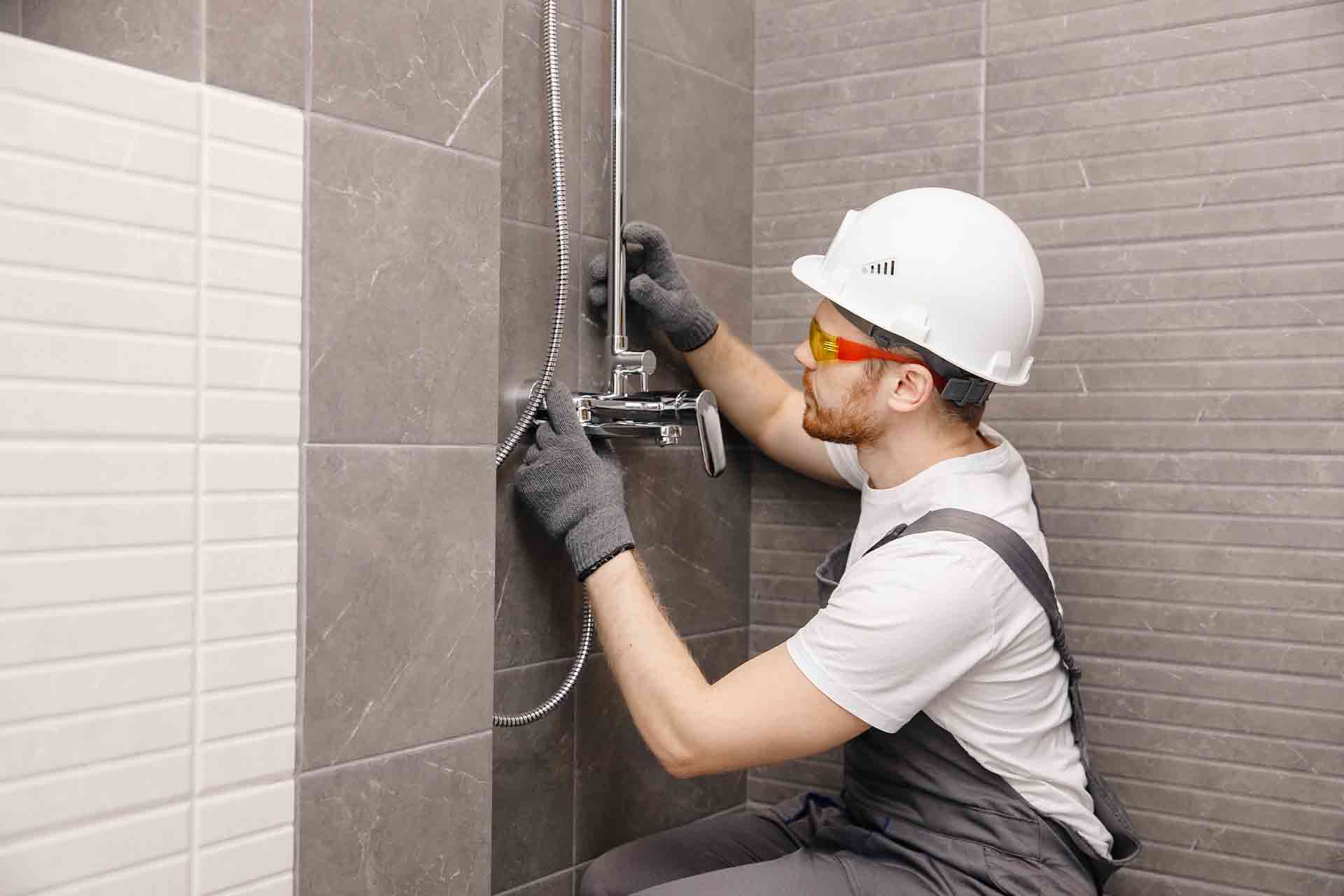 With showers being more convenient and time-saving than baths, it is no wonder so many people prefer them. This means having a properly fitted shower is essential to many homeowners, especially those who are short on time like parents and those with busy jobs.
Having said this, shower installation costs can be too expensive for a lot of people. Moving into a new home with only a bath, having an old shower beyond repair, or renovating a bathroom can all be instances where you need a new shower fitted. So why not take on the installation yourself?
You may be wondering, for good reason, how to fit a shower on your own. While this may seem like a huge hurdle, with good DIY skills and a desire to learn, this is a task that you can accomplish. What's more, you will save on labour costs and add another feather to your DIY cap.
See the tradespeople we've checked and recommend for your job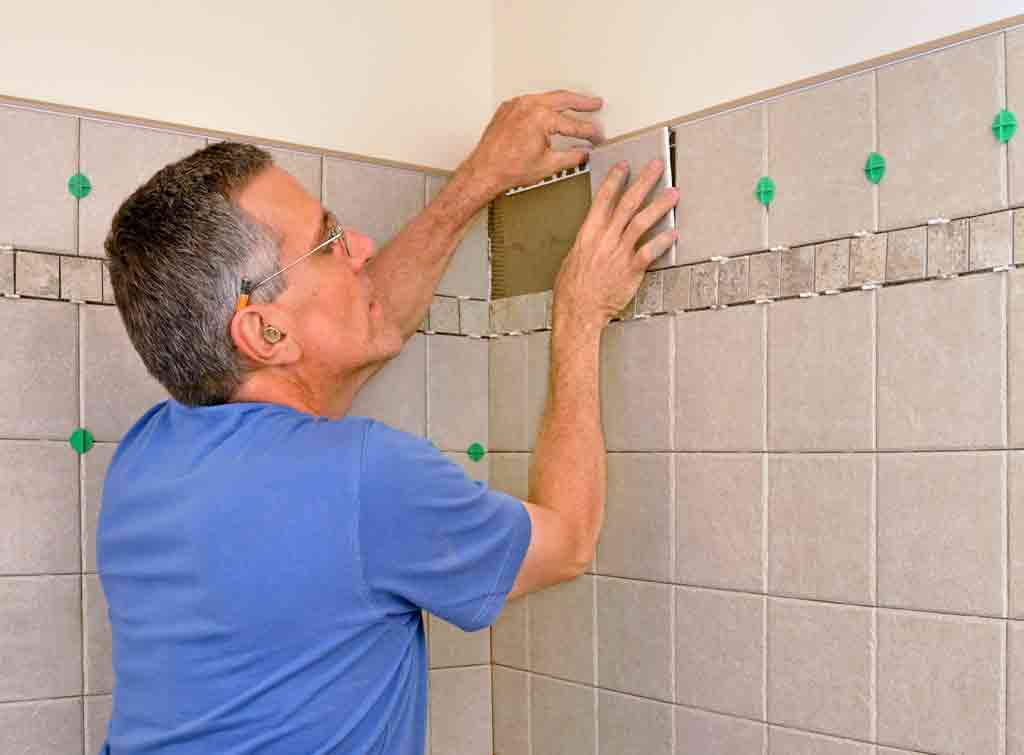 Guide on how to fit a shower
Tools and materials
Before beginning you will need to gather the following tools and materials to help your shower installation run smoothly:
Shower unit
Drill
15mm piping
Stud detector
Electrical cables
Pencil
Pull cord switch
RCD (residual current device)
Screws
Wall plugs
Silicone sealant
Sealant gun
Shower hose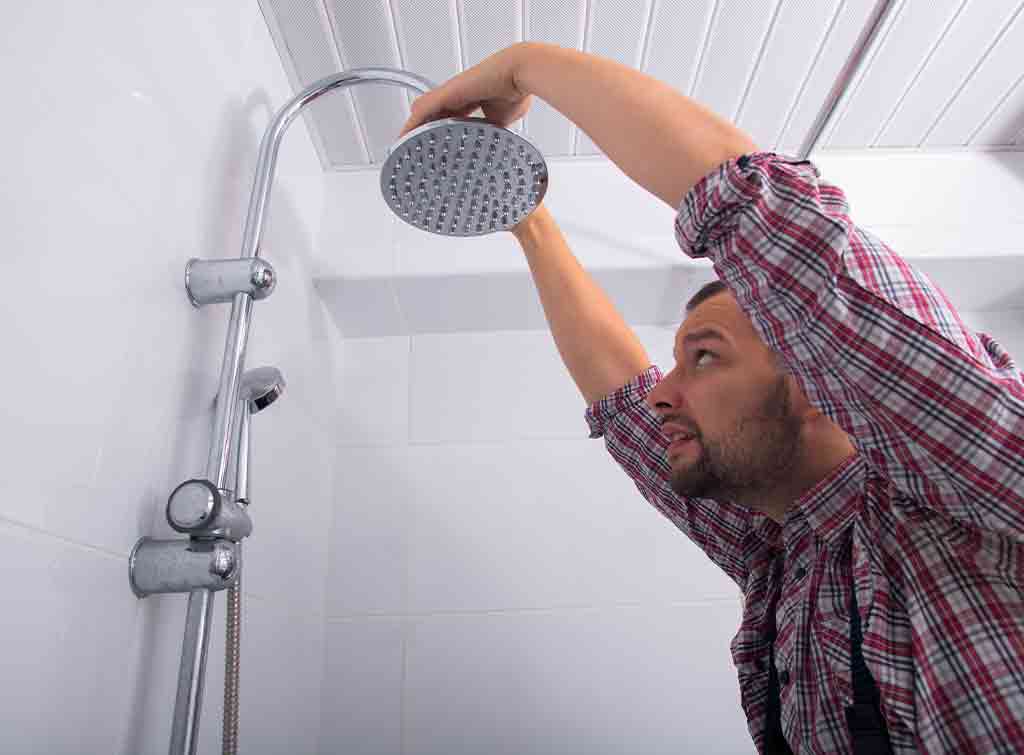 Step 1: Choosing your new shower
There are a range of different shower types available on the market today. From mixer showers to electric and power options. To choose the best shower for you we have summarised the different choices below:
Power shower: Great water pressure, needs both hot and cold water supply, and is perfect for homes with low water pressure.
Electric shower: Small, needs no hot water supply and is relatively easy to install.
Mixer shower: Requires both hot and cold water supply, plus needs good water pressure to function.
For more information about different shower types, please see our shower installation cost guide.
Step 2: Installation
It is possible to tackle the installation of most showers yourself, however, for the purpose of this guide, we will focus on electric showers. This is due to their easy installation process and popularity. Keep following the below steps and you will quickly learn how to fit a shower:
Location
Choose where you want to install your new shower. Over a bathtub or in a cubicle are the best options.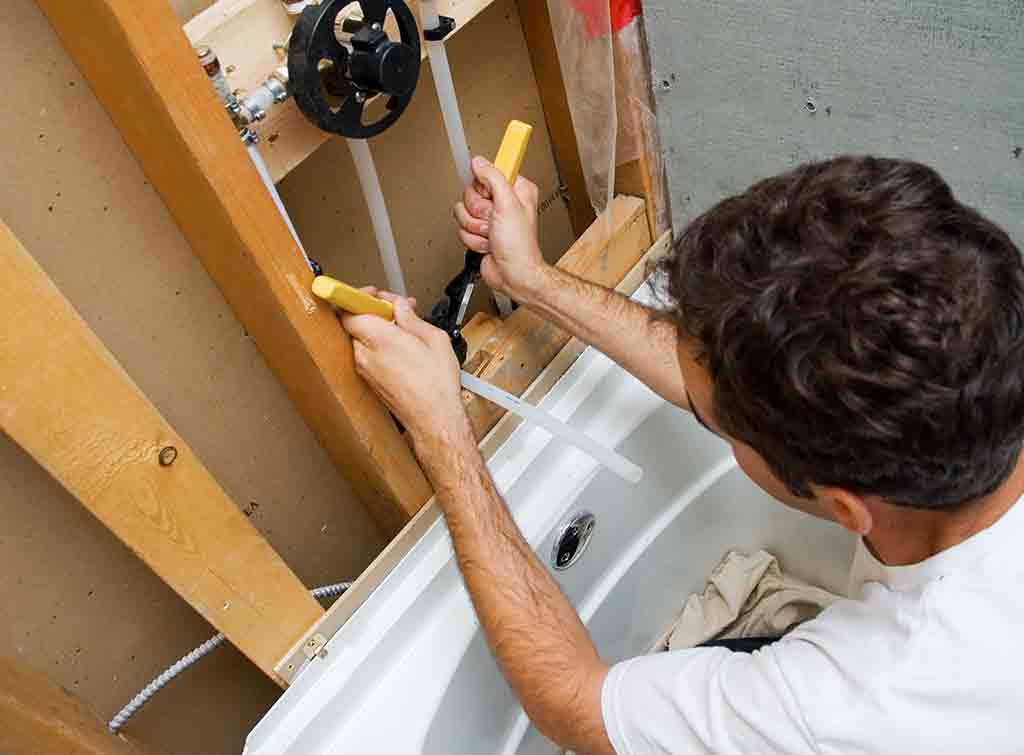 Piping
Locate your cold water supply (adjacent to your water storage tank) and lay a 15mm pipe, finishing at the location of your new shower.
Measure and use a pencil to draw where your shower unit will sit.
Before drilling, always use a stud detector to check for pipes and electrics.
Once you are ready, use a drill to install a pipe behind the wall where you have marked.
Electrics
Use the drill to make a hole for your electrical cable to reach your shower.
Install a pull cord switch onto the ceiling inside or outside of your bathroom. This is essential to keep you safe while using your electric shower.
You will need to hire an electrician to check your electrics are secure and to make the final connection. This is a legal requirement, so please see our electrician hourly rate cost guide to find out prices for this. If you feel unsure or confused during any stage of installing electrics it is always safer to hire a professional than muddle through.
Don't forget to use an RCD for safety.
Fitting the unit
Use your shower unit and a pencil to draw marks where you need to drill holes for fitting.
Drill holes in the tiles with a masonry bit.
Connect the shower unit to the previously installed electrics and piping.
Use wall plugs and screws to secure your unit to the wall.
It is also a wise idea to use sealant to ensure these wall plugs are fixed in place.
Attach the unit cover and the shower hose.
Test the connections.
Congratulations, you now know how to fit a shower.
How to fit a shower screen
If you are tired of using an old, stained shower curtain, now may be the perfect time to install a shower screen. There are many different styles and designs of shower screen, so finding the perfect option for you may take a little research.
You can choose from hinged, static and foldable options with a multitude of styles.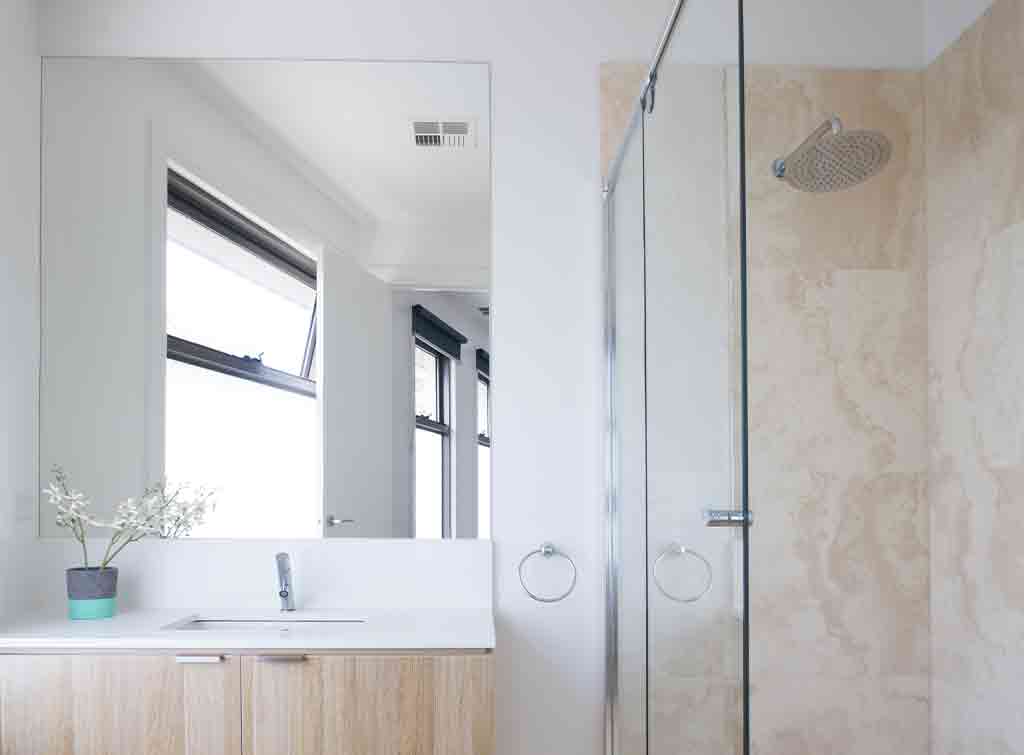 Tools and materials
Ensure you purchase the following before beginning:
Shower screen
Screws
Seal
Wall plugs
Wall channel
Hammer
Sealant gun
Silicone sealant
Drill
Pencil
Tape measure
Masking tape
Screwdriver
Stud detector
Spirit level
Fitting
Once you have chosen your preferred screen and gathered the above materials, follow the below instructions to learn how to fit a shower screen:
Line the wall channel up with where you would like to position your shower screen.
Using the pencil, draw marks on the wall where the screw holes line up.
Use the stud detector to check for pipes and electrical cables. Then drill holes into the tiles where you drew your marks.
Attach the channel to the wall using screws.
Fit the bath screen onto the wall channel.
Using a drill, make three holes with equal spacing through the screen and channel.
Use screws to attach the shower screen to the wall channel.
Attach the seal underneath the screen.
Finally, use your sealant to make a line along the edge of the channel.
How to fit a shower panel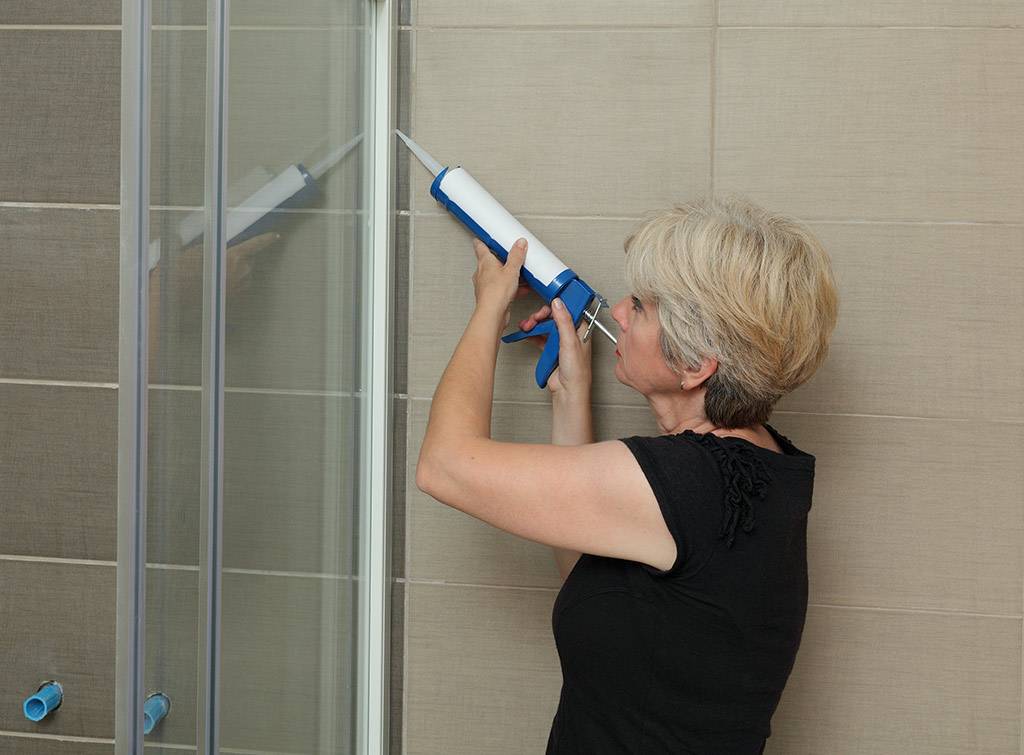 Shower panels create a waterproof surface to prevent water damage and mould from forming. These panels are easier to fit than tiles, affordable, easy to clean and don't need to be grouted. Below we will teach you how to fit a shower panel in a series of simple steps:
Measure the space where you want your panel to sit and measure again to be certain no mistakes are made.
Gather your supplies, including the following:

Shower panel
Chrome trims including corner trim
Safety goggles
Saw
Caulking gun
Sandpaper
Tape measure
Foam tape
Masking tape

Using masking tape, mark where the cutting lines fall on the shower panel.
Put on your safety goggles and saw the panel, then remove the extra material.
Sand down the rough edges where you cut, then lightly abrade the panel.
With a small amount of sealant, position the corner trim piece. Use tile spacers below the area where your wall panel will sit.
Use three long pieces of foam tape in parallel with each other and add sealant, ensuring a thorough spread.
Use sealant along the edge of the shower panel and trim. Line up the trim.
Apply sealant to your corner trim and take off the backing of the foam tape.
Line the panel up and fit to the corner trim piece. Do this at an angle to stop the foam tape from adhering to the bathroom surface.
Attach the other wall panels in the same way.
Make sure to remove any masking tape.
How to fit a shower cubicle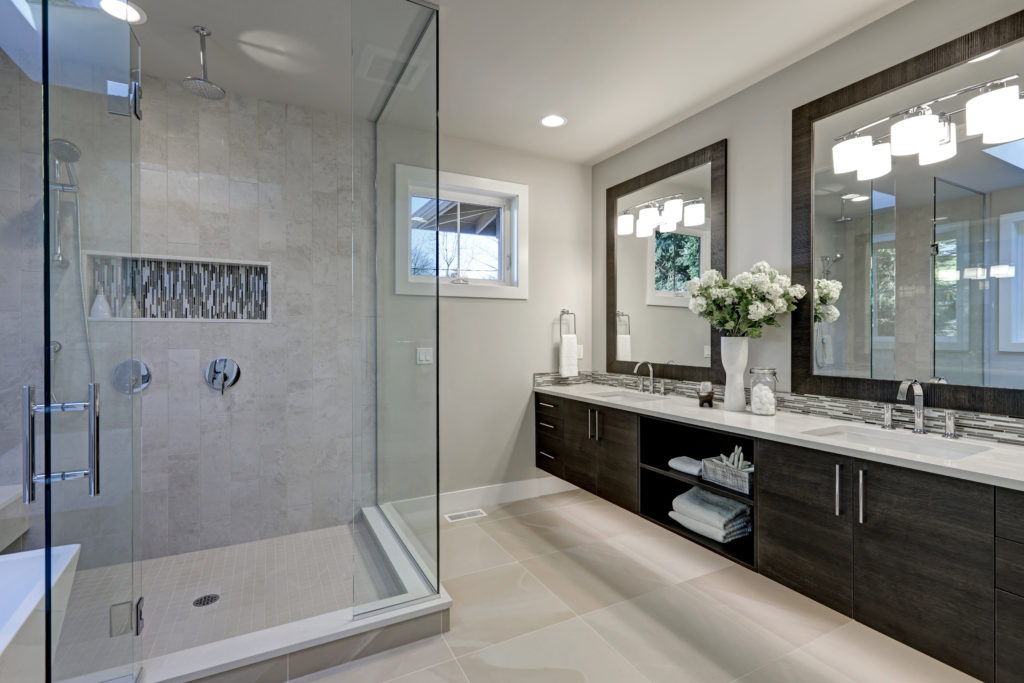 If you have the space and want to keep your bath separate, adding a shower enclosure can be the perfect solution. Shower cubicles help to keep your bathroom dry and, when properly installed, look fantastic.
They're great for elderly people where climbing in and out of a bath is dangerous, and perfect for busy households too. These enclosures have a lot to offer.
Learning how to fit a shower cubicle can be a rewarding and exciting process. To do so, follow the below steps:
You will need the following materials:

Shower enclosure including glass panels, door, frames, shower tray, tray waste, any handles, seal strips and shower channels
Drill
Adjustable wrench
Cement
Sand
PVA glue
Hammer
Jigsaw and hacksaw
Pencil
Spirit level
Sealant gun
Silicone sealant
Screwdriver
Tape measure
Fitting the shower tray
Draw a line around your tray in the position you want it to sit.
Use the jigsaw to make a hole for the shower tray waste.
Next, make a hole to use as an access trap.
Install the waste and join to the tray.
Dilute your PVA glue with water and cover the space where the tray will sit. Let the glue completely dry.
Combine the cement with the sand (using 4 times as much sand as cement). Spread a light layer over the space where the tray will sit.
Position the tray and use the spirit level to check it is flat and level.
Spread the remaining mortar around the outside of your shower tray. Allow it to dry.
Join the tray's waste to the outlet pipe.
Use the silicone sealant and gun to seal the perimeter of the tray.
Fitting the shower enclosure
Install the shower channels at the point where the corners of your cubicle will sit. Drill holes into the wall, insert wall plugs and attach the channels with screws.
Choose where you want your shower door to sit and insert the fixed side panel into the wall channel.
Insert the door panel along the adjacent wall channel.
Screw the panels into the channels with a screwdriver.
Attach any door handles you wish to use.
Carefully use the sealant gun to run along the outer edges of your new shower cubicle. Please note, do not apply sealant along the inner edges.
How to fit a shower screen seal
Essential to keeping water from leaking out of your shower, all showers screens should be fitted with a seal. Curious how to fit a shower screen seal? The below steps should help make this a quick and easy DIY job no matter your experience level.
First things first, check your seal fits your shower screen snuggly.
When you are ready to begin, run a hot, shallow bath and place the seal in the water.
Wait until the seal is malleable then remove.
Attach the seal to your shower door and make sure you hold it in position until its temperature drops.
It should now not move from its position and create a tight seal between your shower screen and your bath.
How to fit a shower door
Using a shower door instead of an old shower curtain can completely transform your bathroom. In fact, shower doors look fantastic in any style of room and are completely watertight. Learning how to fit a shower door is as easy as following the steps below:
Before beginning, measure the space where you want your shower door to fit.
Choose a door in the correct size and decide whether you would prefer a swinging or sliding model. For the purpose of this guide, we will focus on fitting a swinging shower door as this is the simpler installation.
Trim the base track with a hack saw and sand down the end.
Join the pivot bracket to the lower ledge. Screw into place and use silicone sealant to seal the inside edge.
Attach the base track with silicone sealant along the lower edge. Ensure you place the track with the higher edge on the outside of the shower. Then remove any extra sealant.
Join your pivot wall channel to the lower track. Ensure it is straight with a spirit level, then make pencil marks where the channels wall holes fall.
Drill into your tiles, as per the previous markings, and fit wall plugs.
Next, join the upper pivot bracket to the wall jamb.
Screw the wall jamb onto your bathroom wall.
Attach the door and the pivot clamps together.
Fit the shower door to the pivot bracket.
Finally, fit the magnetic jamb to the opposite wall jamb and ensure the door is completely flush and straight.
Feel that you're in over your head?
Don't panic, it is never too late to call in a professional to assist you with your installation. Installing a shower can be tricky and complex, especially for a DIY beginner. There is no shame in admitting defeat and using a tradesperson to finish the installation. In fact, hiring a professional means you can watch and learn, further building your skill base.
We have handpicked a selection of professional and trusted bathroom fitters who are highly trained in installing your preferred shower solution. Use our free search feature to find experienced and skilled professionals in your area.
Considering hiring a plumber? Our plumber cost guide is bursting with information and costs designed to help you.