How to clean vertical blinds: The ultimate guide
Blinds are a space-saving, modern, and stylish alternative to traditional curtains. However, many homeowners are unsure of how to clean vertical blinds. To bring you the latest dirt on keeping these items clean and dust-free, we asked our experts.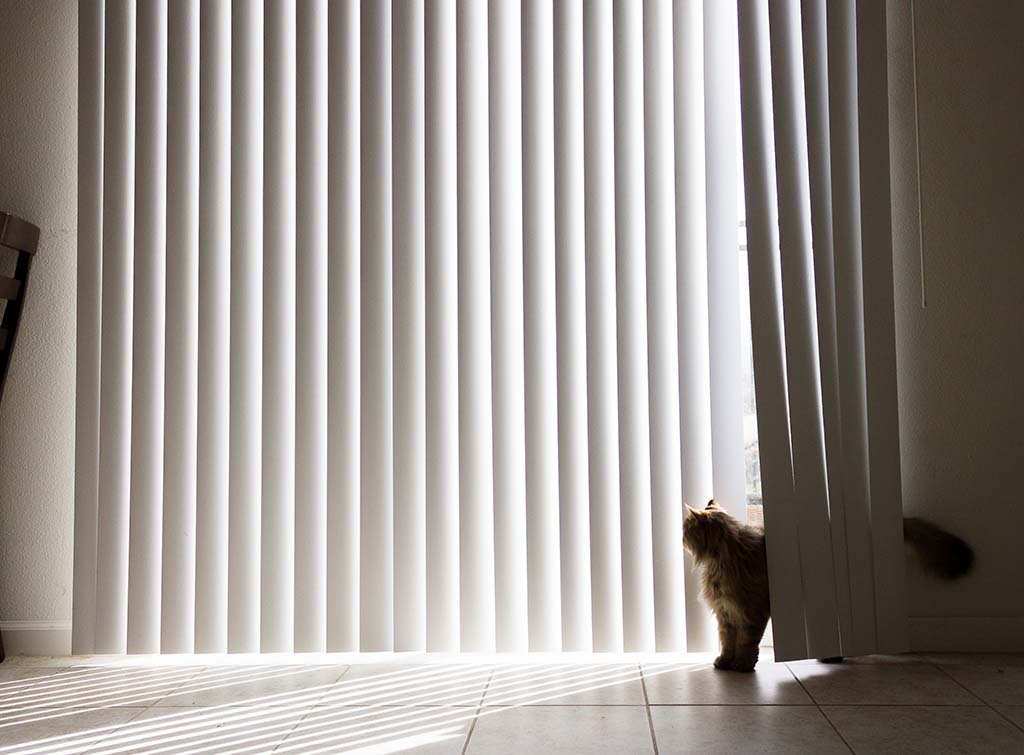 Blinds are a great space-saving solution with a modern aesthetic for homeowners who feel curtains just don't cut the decor mustard. However, if you're wondering how to clean vertical blinds, we don't blame you. They're trickier to manoeuvre than curtains, especially when they're fixed to the wall.
Thankfully, we've put together the ultimate guide to cleaning your vertical blinds. Keep reading for our expert advice and top tips.
Cleaning vertical blinds
Although vertical blinds aren't the easiest things to clean in your home, thankfully you don't need to scrub them as often as other household items. If you stay on top of a cleaning schedule with regular maintenance, you can go a long time in between cleans. In fact, deep cleaning your blinds is only necessary once a year if you stay on track.
Having said that, how easy it is to clean your vertical blinds will depend on whether your blinds can be removed or not. And that all comes down to the make and model of your blinds! Here, we'll split out vertical blind cleaning to look at the best way to clean vertical blinds for both fixed and removable products.
The best way to clean removable vertical blinds
If your vertical blinds can be removed, this will make them much easier to clean thoroughly. Here's some step-by-step guidance to help you restore your vertical blinds to pristine condition.
Step one: Remove your blinds from the headrail
Removing the headrail in your blinds is usually a matter of pushing, unhooking or unclipping the bracket tabs on either end of your rail. It should come away easily enough for you.
Once you've managed to do this, give the headrail a quick clean and consider spraying some silicone product into the grooves to keep it operating smoothly. Once this is done, make sure you dry the rail to avoid rust forming.
Step two: Soak your blinds in warm (not hot!) water
Fill up your bath, basin, or large bucket with warm soapy water. Consider adding some laundry detergent to give it some extra scrub factor.
It's important to keep your water under 30 degrees Celsius as most vertical hanging blinds are weighted at the bottom, which is held together with glue. Keeping the water under 30 degrees Celcius will help you avoid breaking or melting that seal.
Step three: Use a sponge to scrub off stains
Take a soft sponge or microfibre cloth and gently scrub your vertical blinds in gentle circular motions. Try to avoid letting your blinds soak in the water too long as they can shrink and lose their fire-retardant additive.
Step four: Lay blinds flat to dry
If you hang your vertical blinds to dry, they may stretch. Similarly, putting them in the dryer may shrink them or risk melting off important elements. Therefore, the best way to dry your vertical blinds is to lay them flat on the floor, preferably on top of several clean towels.
Top tip: Consider using a hair dryer on a low setting to speed up the drying process and avoid water marks appearing.
Step five: Rehang on the headrail
Once your blinds are completely dry, it's time to hang them back up, take a step back, and admire your handiwork.
Top tip: Putting your removable vertical blinds in the washing machine on a low heat setting is usually okay if you trust your washing machine. However, it's never okay to put them in the tumble dryer.
For more advice, read our guide to looking after your blinds, curtains and shutters. 
See the tradespeople we've checked and recommend for your job
How to clean vertical blinds without removing them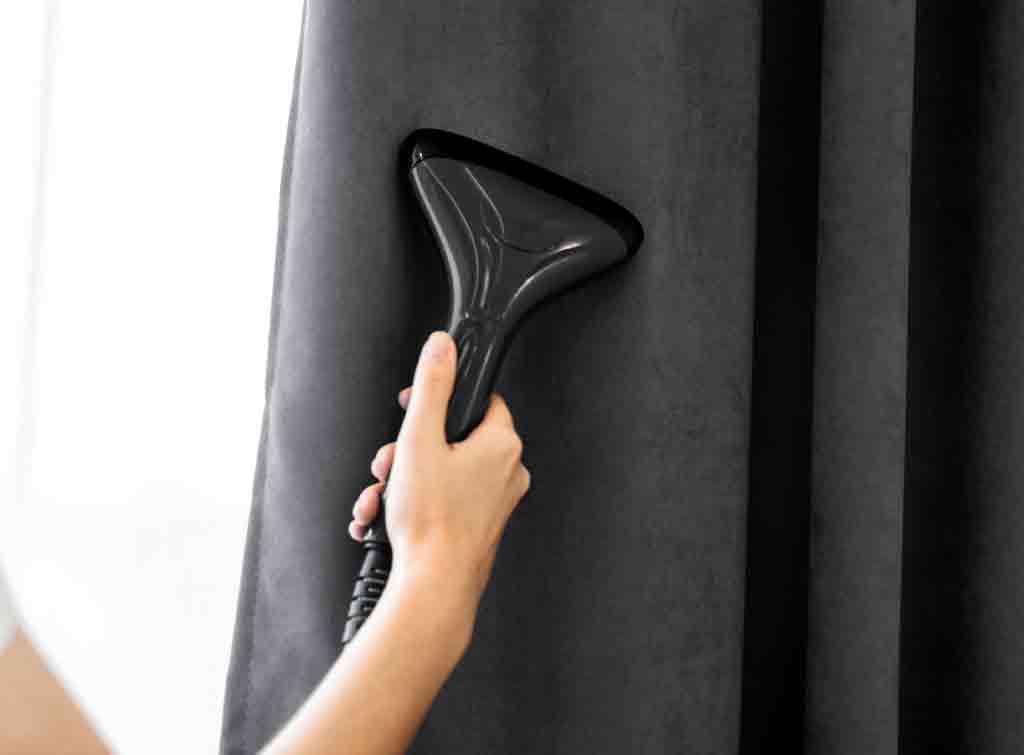 It's all well and good knowing how to clean vertical blinds if you're able to remove them. But how do you clean vertical blinds without taking them down? Well, there are a few options.
Dusting sprays
As long as the product is recommended for your blinds, you can use dusting spray to dislodge dust and dirt. Just watch out as dusting spray isn't recommended on some fabrics. Test a spot to make sure it won't leave a mark if you're unsure.
Compressed air
Use a soft brush or compressed air to dust down your vertical blinds and remove as much residue as possible. Compressed air is good for the muckier nooks and crannies you can't reach as easily. The short blasts are also great at 'blasting' off dust instead of moving it around like some feather dusters.
Vacuuming with an appropriate attachment
Put a soft brush attachment on your vacuum and use that to clean your vertical blinds. This is a great way to stay on top of their maintenance too.
Top tip: Work your way from the top to the bottom in vertical strokes to make sure you catch any dirt that dislodges as you work.
Light sponge bath
For stains or stubborn areas of dirt, a light sponge bath might be in order. Simply mix some laundry detergent in a bucket and fill it with warm water. Next, take your soft sponge, dip it in the solution, thoroughly rinse it out, and then wipe down the area until the mark disappears.
For more stubborn stains, you may need to use a gentle stain remover. Alternatively, mix equal parts baking soda and water to form a paste. Brush or dab onto the mark and leave it to do its job for half an hour. Wipe off with a damp sponge until the residue has all gone. Repeat as necessary.
Dry cleaning
Most people are prepared to pay a professional to come and dry clean their vertical blinds for them. Not only is this a great way to save time and energy, but it's likely to result in a more impressive finish too. It's especially great for those who don't have the option to remove their vertical blinds.
See the tradespeople we've checked and recommend for your job
How to clean vertical blinds with mould
Cleaning vertical blinds with vinegar is one of the cheapest and easiest ways to remove mould from your vertical blinds. Simply follow these steps:
Transfer one cup of white vinegar into a spray bottle and do not dilute it
Spray the undiluted white vinegar onto the blind
Leave on for an hour to let the vinegar break down the mould
Fill a clean bucket with warm water
Dip a soft sponge or microfibre cloth and scrub off the vinegar
Keep rinsing with warm water until the vinegar and mould have gone
For mildew, a good and eco-friendly remover is a natural lemon. Simply cut the lemon and rub it straight onto the stain, leave it for half an hour, and then rinse it off. Alternatively, squeeze the juice into a small amount of warm water to slightly dilute it for more delicate materials.
FAQs
How do I get my vertical blinds white again?
Bleach and its more eco-friendly alternative, hydrogen peroxide, are two agents that are great for restoring your white vertical blinds to their former glory. Simply add 2-3 cups to a cold bath of water and soak the blinds for around ten minutes (no more). Make sure all the parts are fully immersed and scrub any patches with obvious stains or dirt. Once clean, empty the bath and thoroughly rinse the blinds. Wipe down every slat, front and back, with a soft cloth before laying them flat on the floor to dry (preferably under some towels!).
Can you soak vertical blinds?
As long as the water isn't too hot and you don't leave them to soak for longer than ten minutes or so, submerging vertical blinds in warm or cool water is a great way to clean them.
What is the easiest way to clean vinyl vertical blinds?
Vinyl blinds are durable, hardy, and easy to clean, which is why they're so popular in the vertical blind world. All that's needed to keep them in top condition is some vacuuming with an appropriate brush attachment, a wipe-down with a microfibre cloth, and a homemade spray of diluted lemon and water to keep them smelling fresh.
Did you find this guide to cleaning vertical blinds helpful? If so, read our blog for more top tips! Alternatively, you might enjoy our article on blinds vs. curtains. Furthermore, if you have blinds that need repairing, why not find out the typical blind repair cost?