How to divide a room
Discover how to create a functional, unique home that works for you with our how to divide a room guide. With ideas for temporary and permanent dividers.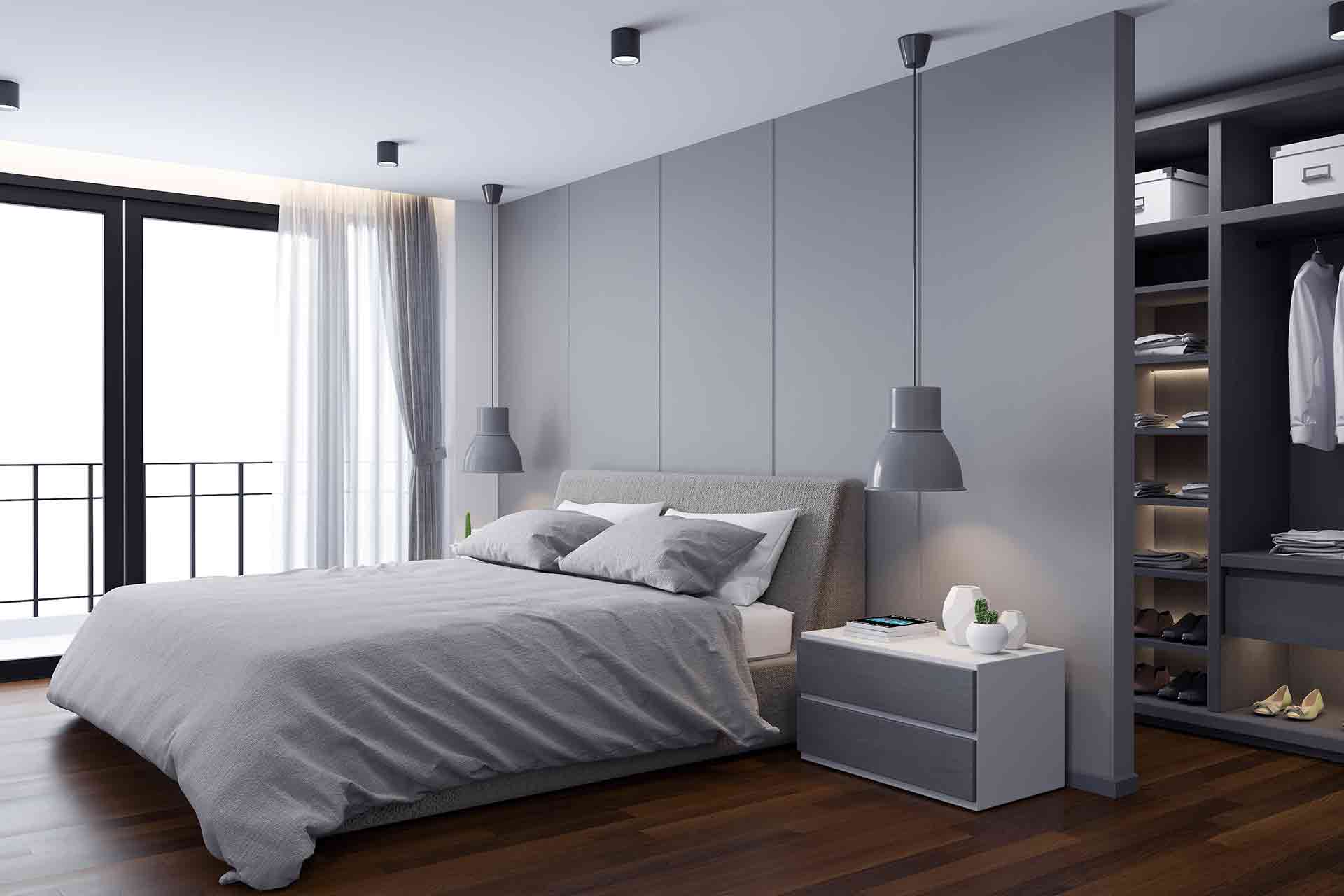 While open plan living is very popular and great for entertaining, sometimes this setup doesn't work for you and your family. For instance, having three large bedrooms when you have three children can mean each child won't have their own space. This is particularly important when they get older. Thankfully it's possible to learn how to divide a room, creating smaller, more intimate spaces.
Whether you're looking for more privacy in your home, hoping to create a new room entirely, or just need innovative ways to divide a room without building new walls, this is the guide for you.
How to divide a room
No matter how large or small your home is, creating a functional living space that suits the needs of you and your family is the most important thing. Knowing how to divide a room can help you to build a unique home that will bring you years of happiness.
There's a range of ways to divide a large room into two spaces, some more permanent than others. These include:
Bookcases: A great way of separating a room is to use a bookcase. Even if the bookcase isn't solid, it still helps to break up an area of your home.
Furniture: Positioning furniture can help to create different zones. You could add a desk and chair at one end of the room with a group of sofas at the other for a multifunctional space. This is a great option to divide a large room into two spaces.
Dividers: Designed for exactly this purpose, dividers are a temporary 'wall' that creates the illusion of separate living spaces.
Sliding doors: A more permanent option, introducing sliding doors in the centre of a room allows you the option of opening up space or sectioning it off.
Curtains: These can block off one half of a room from the other. A great option if you have two children sharing a room, a curtain down the centre of the space gives each child their own privacy.
See the tradespeople we've checked and recommend for your job
How to divide an open plan living room kitchen
If you love to entertain and often have large groups of people over, open plan living can be a great way of adding flow to your home. However, if you prefer to break your home into more intimate, secluded areas for relaxation and privacy, you'll need to know how to divide an open plan living room kitchen.
You don't actually need to add walls to your open plan home, there's a range of options to create the room of your dreams. Why not try:
Using different colour schemes to highlight different zones in your room.
Using rugs to show where one space ends.
Hanging a decorative divider from the ceiling to separate your room into different spaces.
Using different materials to define two different areas. For example, using timber on one side of the room and contrasting this with marble or sleek cabinets on the other.
Rearranging your furniture to section off a part of your room. For example, adding a dining table and chairs creates a clear zone.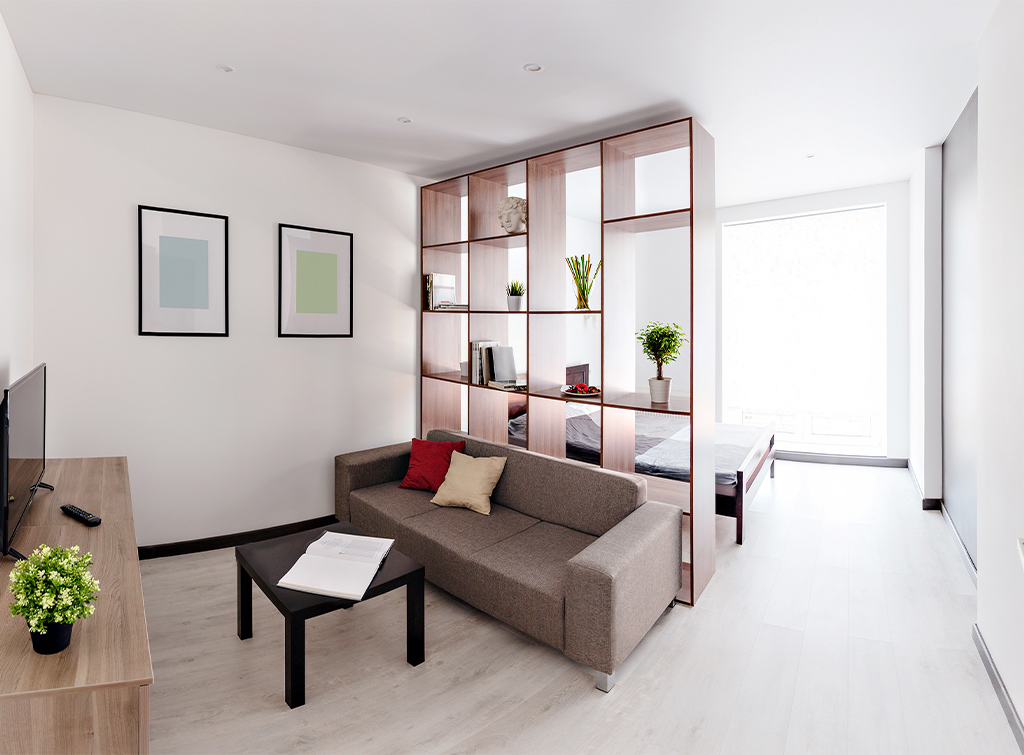 How to divide a room into two bedrooms
If your family is rapidly expanding and you don't want the hassle of moving to a home with extra bedrooms, learning how to divide a room into two bedrooms can be a brilliant solution. Giving each child their own room or space will give them privacy and allow them to personalise their room to their taste.
Thankfully, splitting a bedroom in two needn't be a huge renovation project, just use the following ideas:
Add storage to separate the room in two. You can install a wardrobe/shelving unit that opens on both sides allowing your children to each access their clothes while the unit's open and giving them privacy while it's closed.
Install a decorative screen down the middle of the room. It doesn't need to block off the entire room, just enough so that each child has a clearly defined space.
Sometimes splitting a bedroom in two can be challenging if the room is small. You can get around this by using different levels. Raising up a bed can make space for play or storage underneath.
How to divide a room with a temporary wall
Dividing a room in your home is a great way of making the space feel more peaceful and cosier, although having an adaptable space can be very convenient. For example, if you're socialising then an open plan space may work better than smaller rooms.
That's why knowing how to divide a room with a temporary wall can really come in handy. As such, consider using:
Curtains made of fabric or beads
Sliding walls
Shelving and storage
Hanging plants
Decorative panels
Screens
Plywood dividers
Dividing a large master bedroom
If you're lucky enough to have a large bedroom you'll likely want to make the most of the space. While having a huge open room can be visually striking, adding separate areas can help your room to reach its full potential. As such, dividing a large master bedroom is the perfect way of creating a functional, beautiful room.
If you have the space, why not divide your master bedroom by adding:
A walk-in wardrobe to properly display your accessories and clothes.
An ensuite bathroom for convenience.
A small sitting area to relax with a good book.
A dressing area for you to change and get ready for the day.
How to divide a large living room into two rooms
As with a large master bedroom, owning a large living room is the perfect opportunity to add separate zones or an entirely new room suited to your lifestyle.
Wondering how to divide a large living room into two rooms? Consider installing:
A home office to make working at home more comfortable and give you the space to work in peace.
A home gym so you can throw out your gym membership card, saving you money and the effort of driving to and from your gym.
A dining room for entertaining.
A pantry to give you more space in your kitchen.
A downstairs cloakroom so you don't need to walk upstairs every time you need to use the bathroom.

How to divide a room with furniture
Using furniture is one of the best ways to divide a room no matter the size. The furniture you choose can also be a permanent or a temporary fixture. In fact, you can truly make the most of the space you have available by learning how to divide a room with furniture. Some of the best options are to use:
Shelving or storage
Sofas and armchairs
Decorative screens
Solid room dividers
Dining table and chairs
Professional room dividing services
If you need further support when dividing your room, it's smart to hire a professional to guide you through this process. One of the best ways a professional can help is by building a partition wall separating your living space. Another option is to hire an interior designer, showing you exactly how to make the most of your home.
What's more, using our free search feature is the perfect way of finding a range of local experts. Just enter your postcode, hit search, and you'll be presented with interior designers near you.
See the tradespeople we've checked and recommend for your job
How much does professional room diving cost?
Working closely with a professional will give you excellent results completely customised to your needs and your living space. If you're considering hiring an expert it may be useful to know how much you'll need to budget. Our partition wall cost guide covers everything from prices to types of partition walls, making it an excellent resource.
Alternatively, our interior designer cost guide is bursting with helpful guidance, costs and tips. Finally, if you want to learn more about open plan living including average prices, please see our open plan living cost guide. Below are three of the main costs for these services:
The average cost for a timber frame stud partition wall is £60.
The average interior designer charges £100 per hour.
The average cost to remove a load-bearing wall is £1,250.