How to get rid of flies in the house
Is your house infested with horrid flies? Don't fret. We're here to help you rid your house of the nasty pests with this how to guide that offers quick and simple steps to a fly-free home.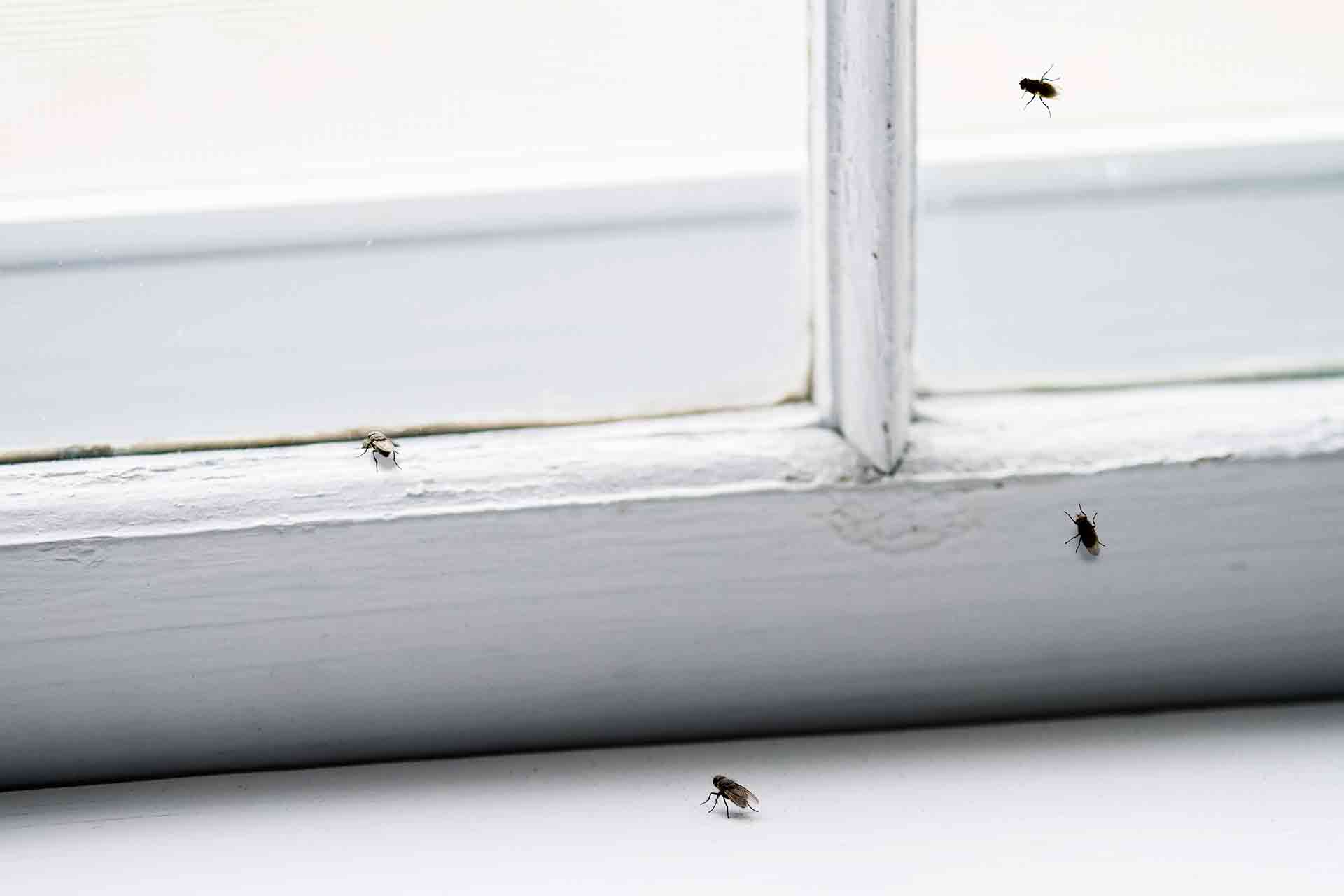 Flies coming into the house are a pain, particularly in the warmer months. They come indoors to find things to eat, so a good way to prevent them from entering is to cover food, particularly wet pet food, as well as keeping food bins closed.
House flies and blue bottles are the biggest nuisances as they carry diseases, such as gastroenteritis and salmonella, which they transmit through saliva and faeces. Itching yet? This 'how to' guide to getting rid of flies will have those pesky blighters out of your home in no time.
Read on to find out how to get rid of flies in the house in the UK. For more information on the cost of removing flies professionally, check out our pest control cost guide.
How to get rid of flies in your house quickly
Want to know how to banish flies fast? Here are some options:
Use sticky fly paper. It isn't the most attractive, but it's effective.
An electric, ultra-violet bug trap attracts the flies and zaps them when they land. The sound is very satisfying!
A spray insecticide is a quick solution but be sure to use it in well-ventilated areas and well away from babies, pets, food, and anyone with breathing difficulties.
Have fun swatting them with a cheap fly swat, or upgrade with an electric version that zaps them.
Don't want to kill them? Then hang beaded curtains or mesh screens on your doors and windows to prevent them from coming in.
See the tradespeople we've checked and recommend for your job
How to get rid of blue bottles in the house
Blue bottle flies are pesky and annoying, and if you do get an infestation, this is how to get rid of blue bottle flies in the house in the UK. Vacuum first, making sure to clean behind furniture and shelving because that's where flies like to hide; then wash down surfaces with a disinfectant spray or wet wipes to pick up any fly eggs.
How to get rid of fruit flies in the house
Fruit flies are less of a hygiene threat but it's still horrid to find them clustering around over-ripe fruit. A good prevention tip is to keep fruit in the fridge, but if it's too late and you have them already, follow these steps to get rid of them:
You'll need:
The rotten fruit you're about to throw out
A disposable container
Cling film
Steps:
Place the rotting fruit in a disposable container.
Cover the container with cling film.
Pierce some holes in the film and then place the trap where fruit flies hang out.
Wait for the flies to swarm inside the trap and then dispose of the container. Repeat until all flies are gone.
See the tradespeople we've checked and recommend for your job
How to get rid of thunder flies in the house
Also known as thrips, thunder flies are small, can jump quickly, and can be black, white, green or transparent depending on where you are in the world. There are many different types! They usually destroy garden plants but if they get inside your home, they will destroy indoor plants too. As they can bite, it's best to get rid of them as soon as possible. The simplest way to get rid of them is to spray them directly with soapy water or lay sticky fly traps.
How to get rid of sewer flies in the house
Also known as drain flies, once you've located the source of the flies, you can eliminate the nasty pests by removing or thoroughly cleaning the source.
You'll need:
An effective drain cleaner, such as bleach, as well as an anti-bacterial spray
Cleaning cloths
Stiff brush
Steps:
Thoroughly clean in and around any drains, sinks, or drain pipes, ensuring you clean down into drains with a long, stiff brush.
Clear any organic material, particularly around bins and dustbins.
Eliminate any standing water or moist areas, such as soggy areas around house plants.
If all else fails and you can't get rid of the flies, seek help from one of our trusted professionals.