How to lay block paving
If you're planning on laying your own block paving path, patio or driveway, you can use our step-by-step guide to ensure you get it right first time.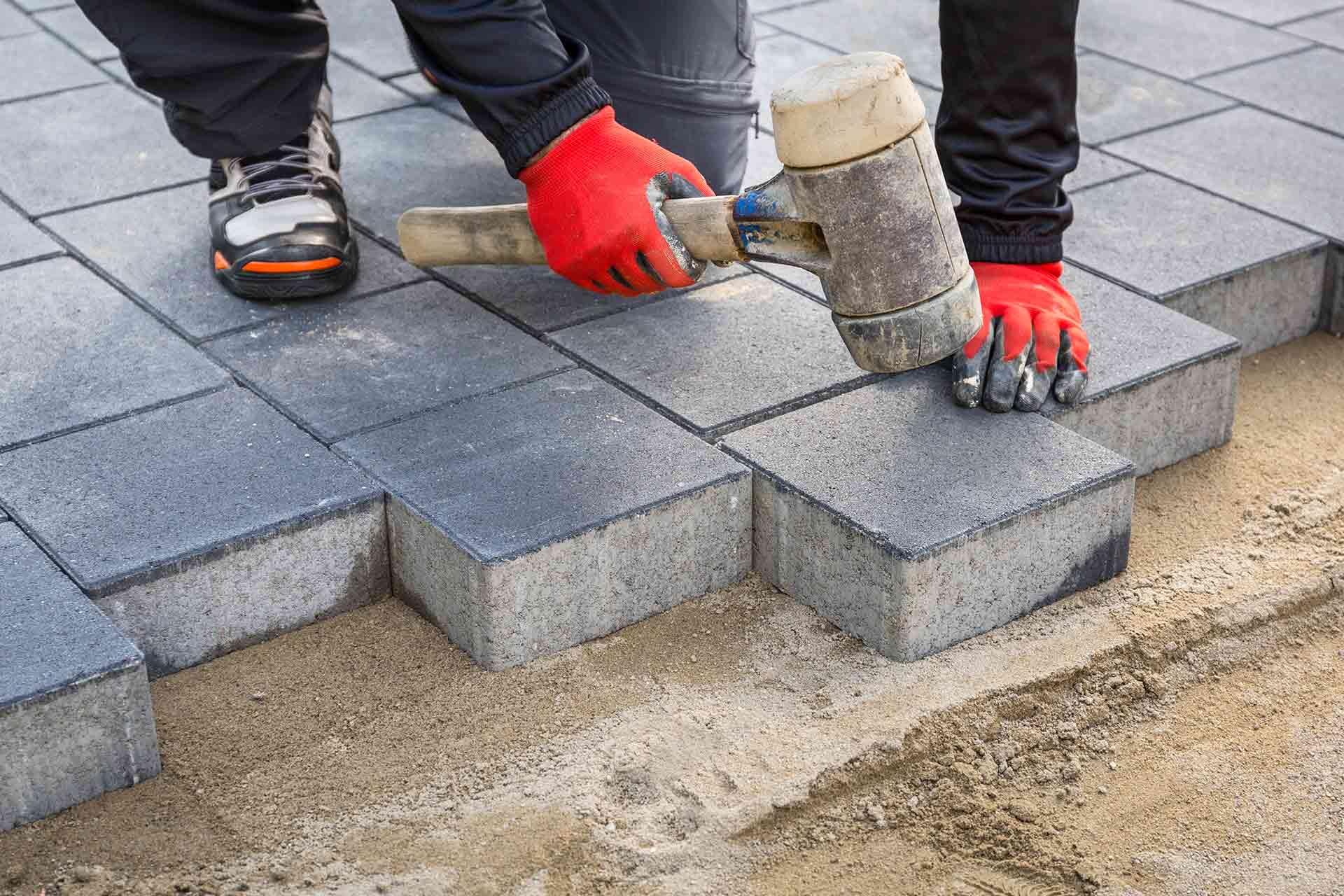 Block paving is a great choice for your outdoor space. It's not only stylish but versatile and durable too. However, in order for it to be durable, it needs to be installed correctly. So if you're looking to find out how to lay a block paving path, patio or driveway, this guide will take you through the key steps, from getting the materials needed to making sure you create a lasting, level, finish.
For best results, we always recommend hiring a professional paver.
How to lay block paving
Getting started
Before starting to lay your block paving, you need to create a design, measure up and gather the necessary equipment and materials.
First, grab a pencil and piece of paper and draw your area of paving, then measure the space to get the m² of paving needed, adding 10-15% for breakages.
Next, prepare your tools and materials, including a:
shovel
broom
rake
mallet
wheelbarrow
compactor
spirit level
tape
string
pegs
screed rails
You'll also need your sub-base, damp sharp sand, kiln-dried sand and paving stones.
How to lay a block paving path
Dig out – Using your spade, dig out the paving area to a minimum of 15cm below whatever is next to it and bear in mind that this could vary depending on how the land next to your paving area rises and drops. Build in a 1cm drop every 60cm to allow rainwater to drain.
Lay your edging – Knowing how to lay block paving edging is essential, and this needs to be done before you put down any paving. Set up a taut string line around the edge of your area at the final height of your paving. Create 10cm concrete foundations coming up to 3cm beneath the line. Sit the edging stones on top and lightly hammer with your mallet down to the level of the string.
Add your sub-base – Use hardcore aggregate and apply a sub-base layer to the paving area, at least 10cm deep. Use a compactor to pack down your sub-base.
Top with sand – Add a 5cm layer of damp sharp sand on top of the sub-base to elevate the area ready for your block paving. Use a compactor and remember to keep this level, especially on any slopes. Put a string line across the area at the final paving level (adding 3-5mm to allow for compacting).
Lay your blocks – Begin laying your paving blocks at the bottom of your slope and in a corner.
Sweep in your sand – With your paving laid, sweep your kiln-dried sand into all of the gaps. Compact it, add more sand and repeat until all gaps are gone.
How to lay a block paving driveway
Installing a block paved correctly is essential, considering the weight of the vehicles that will be driving and resting on it. The key to a successful driveway is compacting. Simply follow the steps above to lay a block paving driveway yourself, or check out our driveway paving cost guide to price up your job professionally.
Hiring a professional
Laying a block paving path, patio or driveway is something you need to get right first time, as mistakes can be costly in terms of both time and money.
If you're not confident in your DIY abilities, then we highly recommend hiring a professional. You can take a look at our block paving cost guide to get an idea of costs.
Simply enter your postcode below to find paving specialists that your neighbours recommend.
See the tradespeople we've checked and recommend for your job

FAQs
How do you lay block paving?
Laying block paving successfully involves a methodical step-by-step process that creates a solid base, secure edges and a final block-paved layer that's level and can stand the weight of usage. Follow the steps above to lay your block paving, and always consider the services of a professional to ensure your patio, path or driveway is completely perfect.
How do you lay permeable block paving?
Laying permeable block pacing is no different to laying normal block paving. Follow the instructions above to lay your permeable block path, patio or driveway.
How do you lay a block paving path?
As mentioned above, there are a number of steps to follow in order to create a long-lasting and usable block paving path. These include prep, digging, edging, creating a sub-base, adding sand and finally laying.
Use the steps above to lay your block paving path, and if you'd rather leave it to a professional, use the search form below to get quotes from local paving specialists.