How to lay decking
Decking is great for creating extra space in your garden. Whether you want a separate space for alfresco drinks and dining, for sunbathing or a space to put a hot tub, decking is a stylish and versatile option.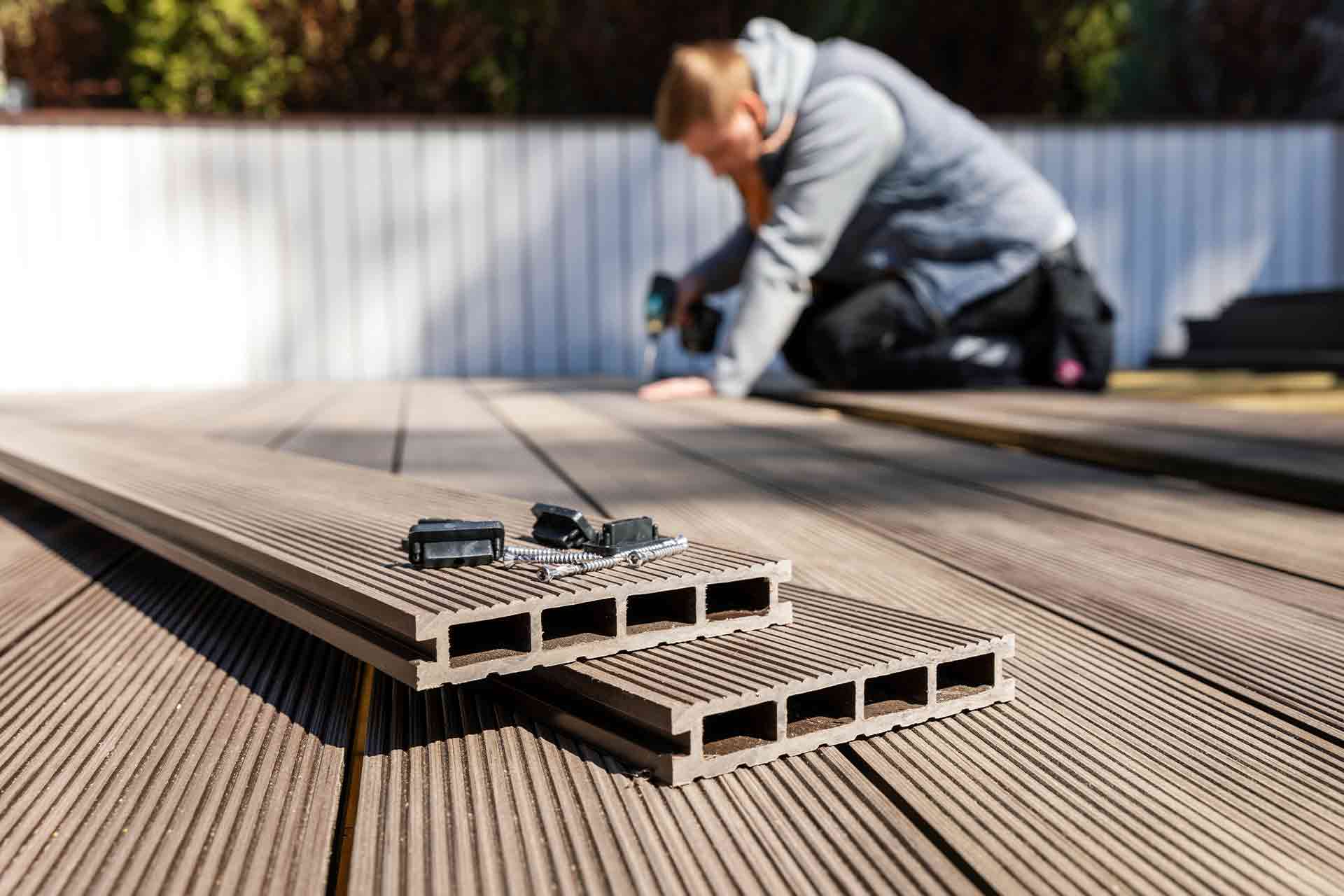 Decking is great for creating extra space in your garden. Whether you want a separate space for alfresco drinks and dining, for sunbathing or a space to put a hot tub, decking is a stylish and versatile option.
If you're looking to save money and do it yourself, then follow our step by step guide below to see how you can lay decking in your garden. However, if you don't feel confident taking on this job yourself, consider hiring a decking installer that your neighbours have recommended. To help you budget, take a look at our garden decking cost guide.
Still want to do it yourself? Read on for some expert advice.
How to lay decking
The most common type of decking is constructed using boards.
Tools and materials needed
Before you begin, make sure you have all of the following tools and materials ready:

Decking boards
Screws
Joists
Carpenters square
Nail gun
Saws (hand and circular)
Framing hammer
Spirit level
Tape measure
Weed membrane
Power drill
Chalk or builder's line
Concrete blocks
Pencil
Sleepers, spacers and shims if laying over a concrete patio
See the tradespeople we've checked and recommend for your job
Step 1: Preparation
Preparation is key when it comes to decking. Solid preparation will ensure your decking is stable, even and secure. Follow the below steps to properly prepare you to lay decking boards:
Clear the space by removing plants, weeds and large stones
Using the tape measure and carpenters square, measure the location where your decking will sit
With your chalk or builders' line, mark the outline of your deck
Now is a good time to use the weed membrane to prevent weeds from ruining your deck
Use a treatment to protect your deck boards before installing, unless they are composite, in which case, skip this step
Measure the joists and decking boards and measure again to eliminate human error
Using a saw, cut your boards to the required length
Step 2: Constructing the sub-frame
Once the area is prepared it's time to begin building the sub-frame, as follows:
If using concrete blocks, begin by spreading these over your decking build site. Ensure each corner of the deck is supported by a block
Attach the joists to each other forming the shape your new decking will take
Place the frame over the prepared decking area and ensure it is level
Step 3: Laying the decking
Now you are ready to begin laying your decking. Take your time here to make sure your decking is level and structurally sound, so that it lasts for years to come.
Begin in any corner of your lower frame and start laying your decking boards one at a time
Make sure each decking plank is positioned in the opposite direction of your sub-frame joists
Drill holes of roughly 7cm and attach the decking boards with screws to the joists
Always ensure you leave a gap of approximately 3mm for any expansion of the boards
Lay and attach one row at a time
You can use sandpaper at this point to keep the ends of your boards smooth
Finish laying the rest of your decking and ensure every plank and joist is properly and securely attached
If you find your skills aren't quite up to it, then contact a decking installer to lay the decking for you.
See the tradespeople we've checked and recommend for your job
How to lay decking on uneven ground
Although a little trickier, it is possible to install decking over uneven ground.
If your garden is sloped, you can use support posts to raise the lower end of the decking. If the ground is rough and uneven, then you may need to level the space before beginning. Follow the steps below depending on the type of ground you have.
Method 1: Using support posts
Use a strong digging implement to remove weeds, plants and rocks from the area
Dig holes for your posts. Going down one foot will ensure your posts remain stable and secure
Ensure you trim your posts to the correct height and set them in place using a concrete mix
Attach joists to the posts forming the outer sides of your decking area
Install your decking boards as normal
Method 2: Building a level base
Using a tape measure and chalk line, measure your decking area
Dig down to roughly 20cm lower than you want your new decking to be positioned
Construct your decking sub-frame
Use slabs of stone spread along the edges and middle of your frame
Lay the decking as described in our 'how to lay decking' section
See the tradespeople we've checked and recommend for your job
How to lay decking on grass
The problem with laying decking on grass is the instability of the soft ground. In this case, it is wise to properly prepare the space to ensure your decking is level and secure. Read on to learn how to lay decking on grass:
Remove any plants and rocks so you are left with only soil
Excavate the ground to roughly 5cm
Using a spirit level, ensure the ground is level
Lay a weed proof membrane to keep weeds at bay and ensure your decking is long-lasting
Spread gravel over the membrane to a depth of roughly 4 – 5 cm
Begin constructing your decking directly onto the ground
Top tip: It is also possible to use risers to create a floating deck.
How to lay decking on soil
If you're planning to lay decking on soil, then preparation is really important. Just follow these steps:
Completely clear all debris, turf and plants from the area. It is also a good idea to excavate turf down to roughly 5cm
Check the ground is flat and level
Consider using hardcore if your soil is not compact. This will keep your decking properly supported
You can also use a weed proof membrane here to protect your decking
For extra stability lay concrete slabs as a level foundation. These evenly distribute the weight of your decking to prevent sinking
Construct your decking frame and lay your decking as described in our previous 'how to lay decking' section
How to lay composite decking

Composite decking is a great alternative to wood that will save you time and energy when it comes to maintenance.
Composite decking is durable and sustainable and doesn't need to be stained, painted or sanded. Trex decking is a great composite decking option. For more information on Trex decking, take a look at our Trex deck cost guide.
Learning how to lay composite decking can save money on labour costs, just follow the below steps:
Begin by preparing the ground and laying your sub-base as well as any supporting posts or membranes
Leave an expansion gap of 6mm between composite boards with a 3mm gap at the ends
Using the relevant tools, fit the composite boards using the clever fastening system and secure in place
Top tip: Composite boards fitted adjacent to a wall require at least a 10mm gap.
See the tradespeople we've checked and recommend for your job
How to lay decking tiles
Decking tiles are a simpler alternative to decking boards. Most decking tiles will clip together, creating a strong, stable surface for your deck.
Follow the below steps to learn how to lay decking tiles:
Prepare the ground by removing debris and laying down any protective membranes
Ensure you measure the space carefully to ensure your base is the correct size for your decking tiles
Create a base for your decking using whatever method best fits your circumstances. For example, using a sub-base, concrete slabs or support posts
Start laying the decking tiles, beginning in one corner. Each tile should clip into the next, creating a smooth, flat surface
How to lay decking on concrete

Even cracked, uneven concrete flooring can be revitalised with the addition of decking. Follow the below steps for the best results:
Use a self-levelling compound to fill in any big dips or cracks so that you have a smooth, even base for your decking
Cut sleepers to size and lay out over your patio. Use spacers to create a level support for your decking
Once you are happy, screw them into place using a drill
Now you can lay out your decking and secure into place by screwing into the below sleepers.
Top tip: You can also use shims to tweak the heights of the sleepers.
How to fit decking handrail
The simplest way to install a decking handrail is by using support posts and attaching a handrail to these. Just make sure you cut it to the correct length and then sand, stain and screw it into place.