How to lay solid wood flooring
Want to enhance your home with beautiful wood flooring? Learn how to lay solid wood flooring on concrete, floorboards amd chipboard.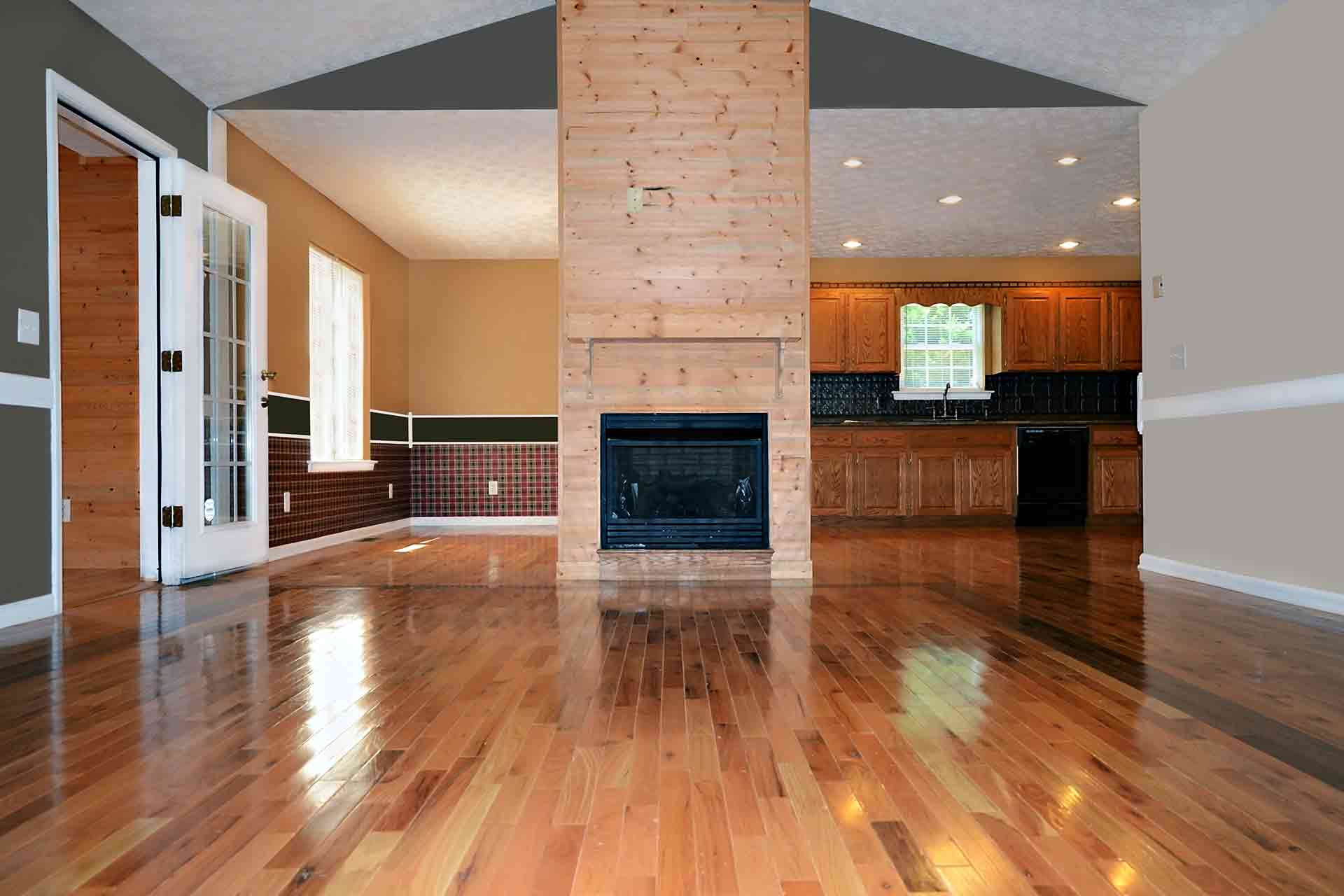 Frequently gracing the pages of interior design magazines, solid wood flooring not only last for years but it offers stunning aesthetics for any home. So, if you're bored of your worn-out carpeting or your dull vinyl, why not learn how to lay solid wood flooring?
Today we'll guide you through the installation process with step-by-step guides for a range of circumstances. We'll be covering a range of essential areas, including how to lay solid wood flooring on concrete, floorboards and chipboard.
Tools and materials
Before beginning, it's important to properly prepare your floor and gather the necessary tools and materials. This crucial step ensures the installation process goes smoothly with no nasty surprises.
Wondering how to lay solid wood flooring? Begin by collecting:
Measuring tape
Adhesive
Saws – Hand and electric
Pencil – For marking where to trim your boards
Jigsaw
Dust mask and safety goggles (for use with your jigsaw)
Workbench
Spirit level
Solid wooden flooring planks (buy 10% more than you need to allow for any mistakes)
Polythene
Underlay
Damp-proof membrane
Tape
See the tradespeople we've checked and recommend for your job
Preparing the floor and glueing the planks
Once you have everything you need, you must strip the floor of carpet or other flooring, underlay and debris. Always sweep away any dust or dirt before laying your new flooring. You should also check the moisture level of your floor using a square of polythene and tape.
Lay the polythene on the floor and tape around the edges leaving no gaps. Let this settle overnight then check it for moisture the next day. If condensation has formed, you'll need the help of a damp proofing professional before continuing. View our damp proofing cost guide, or search our database of vetted tradespeople.
If you're fitting your new floor onto old floorboards, check they are nailed down, and any screws aren't protruding. Also, fill any cracks or gaps with filler.
How to lay solid wood flooring on concrete
Laying a wood floor on concrete means the subfloor will be strong and durable, making a flat, even base. Wondering how to lay solid wood flooring on concrete? Just use the below steps:
Start by fitting your damp proof membrane. This will stop any moisture seeping through the floor. Ensure it covers your whole floor and tape any joints together.
Next, lay your underlay. There are a range of different options available so do a little research into the best type for your needs.
Always leave a 10 – 15mm gap for expansion around the edges of your room.
Your new wood flooring will need to acclimatise to the room. This can be done by leaving the flooring in the room where it will be installed. Make sure you wait 48 hours before continuing.
Begin laying out your floorboards and plan exactly where they will be positioned. Always stagger the boards for a beautiful finish and don't forget to leave gaps for expansion.
You can then trim the boards with a jigsaw to fit the space as well as around any pipes.
Top tip: If the final row of your floorboards is very narrow, it may be worth trimming the first row of boards, so you don't end up with a tiny slither of wood at the end.
Spread adhesive onto your subfloor with a toothed trowel. Only apply 2 board widths of adhesive to start with.
Next, you can begin sticking down your wooden boards.
It's a good idea to use spacers between the wall and your floorboards to keep a gap of about 10mm.
Continuing glueing down your floorboards as they were initially laid out.
Once you reach your doorframe, check that your door will open over the floorboards. You may need to trim the bottom of the door.
How to lay solid wood flooring on floorboards
Fitting solid wood flooring onto floorboards is quite different to laying it on concrete. For one thing, you need to check that the current floorboards are in good condition. Use a spirit level to ensure the boards are level, then you can use a moisture meter to check the moisture levels. If the reading is over 16% MC (moisture content) then you'll need to address this before laying your floorboards.
Once you're sure your subflooring is dry and level, learning how to lay solid wood flooring on floorboards is quite easy. The main thing to note is that instead of using adhesive to stick down the boards, you'll need to use secret screwing or nailing to keep the floorboards in place. Make sure you position these nails or screws about 30cm apart for best results.
How to lay solid wood flooring on chipboard
Another option when laying solid wood flooring is to lay on chipboard instead of concrete or floorboards. In this case, you can either glue the solid wood floorboards to the chipboard or create a floating floor. You should still use underlay as this improves the feel of your flooring.
If you're wondering how to lay solid wood flooring on chipboard, start by making sure the chipboard is level and dry, as described in the previous section. A good option for any chipboard floors that aren't level is to line the floor with plywood.
If you're planning to use adhesive to stick your wood floorboards onto the chipboard subfloor, then follow the steps in our 'how to lay solid wood flooring' section. If however, you would prefer to try another method, our floating floor over tiles guide will take you through the process of fitting a floating floor.
See the tradespeople we've checked and recommend for your job
How to lay solid oak wood flooring
Beautiful and atmospheric, oak wood flooring is a great choice for any home. The benefits of choosing oak flooring include:
Durability: Oak flooring is designed to last and is very hard-wearing.
Aesthetics: Suited to most interior styles, oak flooring offers incredible aesthetics to any room. The perfect finishing touch, this flooring looks amazing from day one.
Ageing: Only improving over time, well-maintained oak flooring will develop into a completely unique colour and grain.
Colour: Using wood stains to alter the colour of your oak flooring is a great way of giving your home an instant upgrade. Plus, oak flooring will absorb the colour well, with beautiful results.
Styles: Oak flooring is available in a wide variety of styles, grains and colours to suit any design scheme.
With all of these amazing advantages to choosing oak flooring, it isn't a surprise many people search for the term 'how to lay solid oak wood flooring'. If this stunning flooring is perfect for you, just follow the how to's above, depending on the type of surface you have.
How much to lay solid wood flooring?
Now we know the many benefits of solid wood flooring, it makes sense you would want to incorporate it into your home. If DIY fitting isn't for you, why not hire a professional to do the work instead? With flawless results in a fraction of the time, this is a great option for busy people.
What's more, our free search feature can match you with a variety of trusted tradespeople in no time at all. If you're curious about how much it costs to lay solid wood flooring, the average amount you can expect to pay is from £35 – £50 per metre square, plus the cost of the flooring itself. To learn more please see our wooden flooring cost guide.