How to paint a room
Transform and revitalise a dated room with a fresh coat of paint. Learn how to paint a room with fantastic tips and tricks for excellent results every time.
Painted walls are what makes a house a home. Many people choose to do this themselves rather than hiring a professional painter and decorator. This can be a rewarding experience but if not done properly could end in disaster.
What many people don't realise is that learning how to paint a room is a skill, one that needs to be practised and perfected over time.
If, however, you'd like to give it a go yourself, follow our step-by-step guide.
How to paint a room
Painting different types of room
Excited to find out how to paint a room? Before rushing out and buying your supplies, it is worth taking a step back and considering that different spaces will need different types of paint.
There are lots of types of paint available, including differing colours, textures and types with added features, so it is important to choose the best paint for your needs.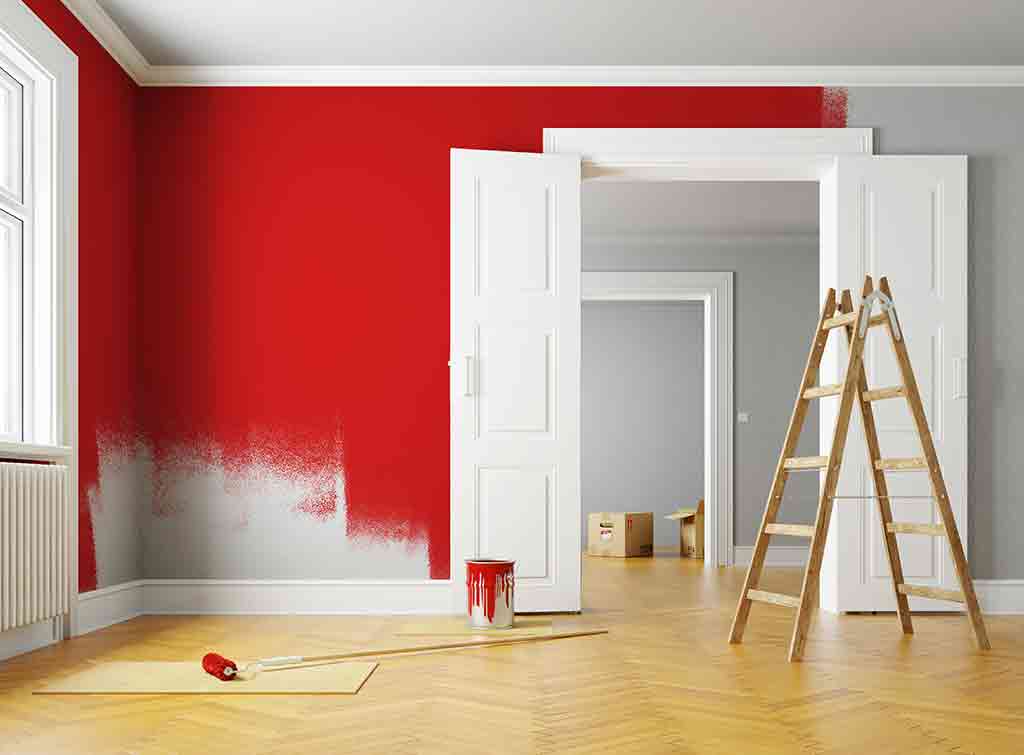 Below is a brief guide to buying paint for the different rooms in your home:
Bathrooms and kitchens are areas of high humidity and as such specialist bathroom or kitchen paint will be needed.
Areas of high traffic (hallways, stairways etc) will be more prone to scuffs and markings, so a hardwearing and durable paint will be needed.
Children's bedrooms, playrooms or confined spaces with poor ventilation will greatly benefit from a low odour paint solution.
Type and condition of surface to be painted
Once you have identified the best type of paint for your living space, you will need to look at the condition and type of surface you are painting. Consider the following points before beginning your painting project:
Holes, cracks and areas of damage will need to be filled and sanded prior to painting.
If the surface is uneven, or painted with an oil-based paint, it may need to be lightly sanded prior to priming and painting.
Walls will need to be cleaned with a mild detergent to remove dust and debris, being careful not to wet the walls too much.
Plain plaster is very porous and will require an appropriate primer to be applied before painting.
New plaster must be completely dry prior to priming.

Different types of paint
Not all paint is created equal and choosing the perfect option for your home can be a little confusing. The following are the most common paint types available and it is worth doing your research to ensure your paint works well in your home:
Emulsion: This is well suited to most walls and ceilings and is available in three different finishes including matt (non-shiny), satin (soft sheen) and silk (high sheen).
Gloss: An oil based, hard wearing paint that looks fantastic on woodwork such as doors, skirting boards and handrails.
Metalwork paint: For painting any metallic surfaces. It is available in gloss (glossy, hard wearing) and satinwood (less glossy, hard wearing).
Eggshell: With a flatter sheen.
Important note
Prior to starting, please note that painting may require working at heights, using ladders or working in open doorways. Extreme caution must be taken to follow equipment safety guidance and prevent the risk of falling and injury.
You will also be working with chemicals, so, always follow manufacturers' safety guidelines. Plus, you should ensure the room you are painting has good ventilation, particularly when working with solvent or oil-based paints.
How to paint a room – steps to follow
Ok, so you are ready to begin. But painting a room needs to be carefully planned out to ensure you get the best results.
Our how to paint a room step by step guide below should help you to achieve a brilliant finish every time. So, follow these instructions for a room to be proud of:
Planning
Before doing anything else, it is worth taking a little time to plan how you want your finished room to look. If you are using white paint for the whole room this isn't as important but for any colours of paint you will need to ensure they go well together.
There are apps that you can use to help visualise how your paint will look or alternatively, put together a mood board. Even a quick sketch will help, and also prevent any clashing of colours or regrets you may have further down the line. Remember different colours will alter the feel of your space so should be carefully considered.
Gather tools and materials
You will need a range of different tools and materials for painting every component of your room. See our comprehensive list lower down for everything you will need when painting each aspect of a room.
Preparation
Preparing your space is essential to getting flawless results and begins with cleaning your room. Follow the steps in our 'how to paint a room professionally' section to ensure your home is well prepared.
In addition, remember to keep safety in mind. Make sure the room has adequate ventilation and you wear appropriate safety equipment.
The best order to paint a room
Start with the ceiling. In general, with most paint jobs it is worth beginning at the top of a room and working downwards. Please see our 'how to paint a ceiling guide for a more in-depth look.
Then work through the remaining items in the following order:
Walls
Windows and doors
Radiators
Skirting boards
More detail on each of these areas is below.
Clean up
Finally, properly clean everything up. This means thoroughly removing paint from rollers and brushes as well as removing any masking tape and putting furniture back in place.

Tools and materials
When you are planning to paint every aspect of a room, you will need a wide range of different tools and materials. While buying these may seem expensive, it is essential you follow the proper instructions to achieve the best results.
Items needed include:
Paint
Primer – White is a great option for most painting jobs
Paintbrushes
Paint rollers
Paint pads – Great for getting into corners and awkward spaces
Paint trays
Brush cleaner
Cloths/wipes – For spills (white spirit will be needed for oil-based paints)
Steps/ladders – To reach high areas
Protective clothing – To prevent staining. If using paint remover, it is also worth wearing gloves and goggles for safety
Dust sheets
Masking tape
Soapy water
Vacuum cleaner
Filler
Filling knife
Sandpaper or sander
You should also consider access equipment. A step ladder is normally sufficient for a domestic project. If you are painting a vaulted ceiling, a small collapsible scaffold tower may be required. These can be purchased in larger DIY stores or hired from your local hire shop.
How to paint a ceiling
Painting a ceiling requires accessing the ceiling safely.
For a step-by-step guide to ceiling painting as well as tips and answers to your frequently asked questions, please see our how to paint a ceiling guide.
How to paint a wall
Getting a flawless finish on your walls may not be as easy as it sounds. However, as your walls are fundamental to your interior design, it is worth putting in the effort.
Learning how to paint a room's walls will involve different techniques and ways to prepare the surface so should be done cautiously. Why not use our how to paint a wall guide to get the best finish possible?
How to paint woodwork
Beautifully painted woodwork can be the perfect finishing touch to any home. You can use neutral colours for a subtle effect, monochrome shades for a modern finish or bright colours for a sunny feel.
Woodwork refers to anything made from wood, including but not limited to skirting boards, doors, windowsills and more.
As with any type of painting job, the woodwork should be properly prepared before starting.
Begin using sandpaper to smooth out the surface then wipe away any dust, dirt and debris with a wet sponge.
Also use masking tape to protect your walls and other fittings before starting.
Apply a layer of primer to create an excellent base for painting.
Paint in the direction of the grain of the wood and apply two coats for a great result.
How to paint a radiator
Radiators can be painted to stand out or blend in, but they strongly influence the feel of a room. Unfortunately, many people worry about painting radiators due to the confusion surrounding whether you should remove the radiator for painting purposes or not.
If you are concerned or unsure where to begin, please see our informative how to paint a radiator guide, bursting with tips and all the answers you are looking for.
Preparing a room before painting
We've said it before and we will say it again, preparation is the key when painting. If you are wondering how to paint a room, then preparation is where to start. You will need to:
Remove all the furniture you can
Put down dust sheets
Use masking tape
Fix any cracks and dents with filler
Sand any rough or bumpy areas
Wash and clean the surface
Dry and dust to finish
A step that many DIYers choose to skip is using primer. Primer is great for preparing the walls before painting and will give a better finish. Using high quality paint, brushes and rollers will help you to achieve a more professional finish.
How to paint a room fast
Unfortunately, painting rapidly can also mean painting badly, and unless you are a skilled expert, it is better to take more time. Having said this, there are other ways to save time when painting a room.
Follow the below tips:
Fill any cracks or holes with quick-drying filler for a lower waiting time.
Save washing up time by covering your paint trays with foil before starting.
You can avoid wasted time using dangerous ladders by purchasing extendable rollers for higher up places.
Consider using builders' paper instead of dust sheets for a more effective, hassle-free floor covering.
Finally, if you are planning to use your rollers or trays the following day, wrap them up to prevent the need to wash them out at the end of the first day.
FAQs
Do I need to use primer?
It depends. Although it isn't essential, primer will give you a better starting surface for applying paint. So, if you want to get professional results then primer is a great starting point.
How should I choose the right paint?
Firstly, look at where you are painting and what kind of performance you want your paint to have. If you are painting an area with high humidity, choose bathroom/kitchen paint. If you are painting a door, use durable oil-based paint. Alternatively, if your house is affected by mould, choose an anti-mould paint.
Also, you will need to look at the different finishes available like satin or gloss. Confused? Why not use paint samples from a DIY store to check how different paints would look inside your home at different times of day.
What colour paint should I choose?
This is often down to your personal preference as well as the style of your home. Small rooms will benefit from lighter colours or if you want to make a large room feel comfortable, dark paint may be the best option for you. What's more, bright colours will open up dark spaces and using shades of navy, grey and white will suit a minimalist space.
How long will a paint job last?
This depends on how the paint is treated. Small children and pets will definitely reduce the life of paint thanks to sticky hands, claws and dirt being brought into the house. There are however types of paint that are wipe clean and more durable than others which will extend the of your paint. In general, a paint job should last at least 5 years.