How to put up curtains
With several designs and materials on the market, knowing where to start when learning how to hang curtains can feel overwhelming.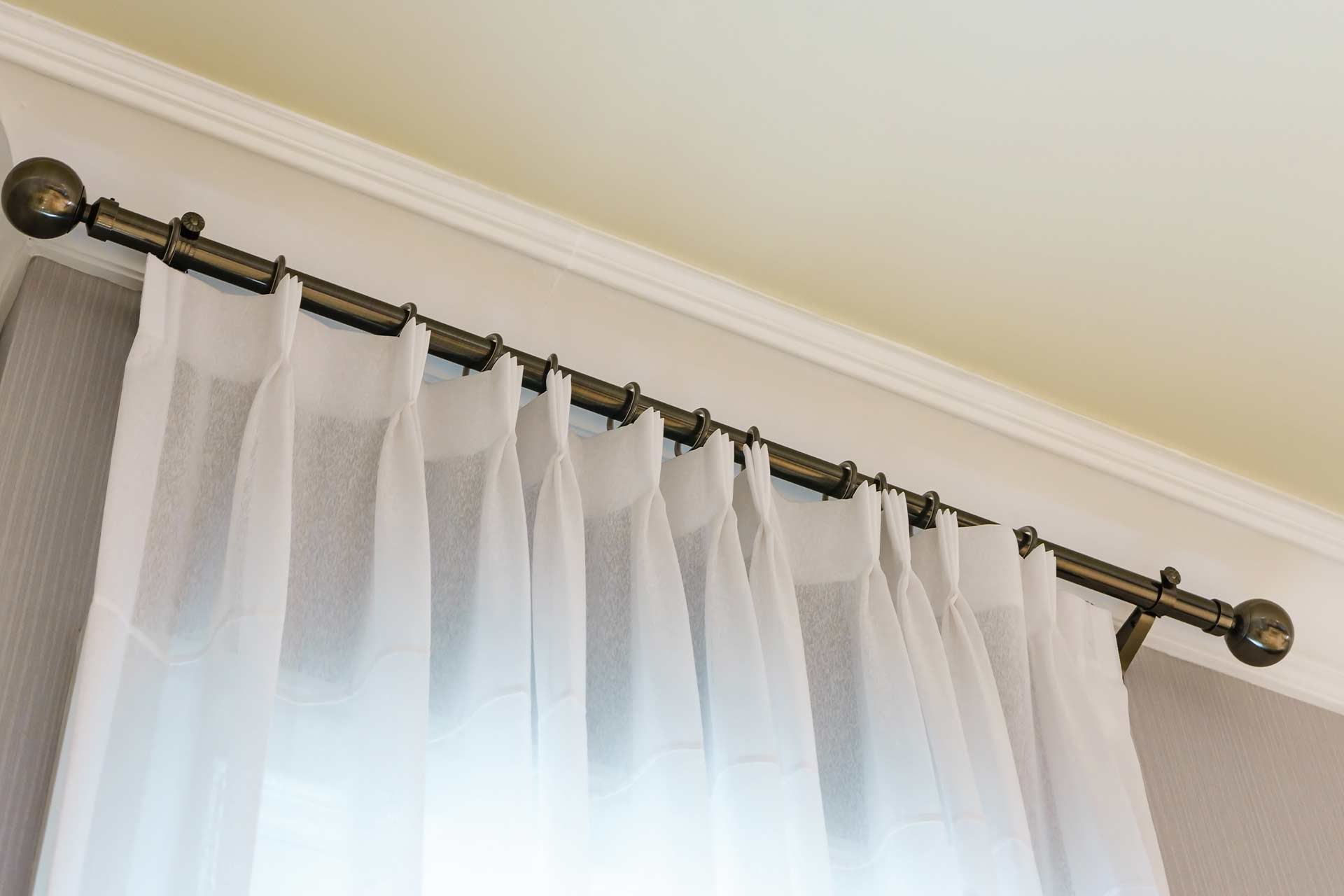 With several designs and materials on the market, knowing where to start when learning how to hang curtains can feel overwhelming. Thankfully, there are several methods that make hanging any type of curtain easier. However, if you're looking for a crisp and professional finish, we recommend hiring one of our trusted experts to do the job for you.
Curtains block out light and give you more privacy. However, they're also an interior design aesthetic that can transform a room. And not just the colour or fold of your curtains – the tracks and poles come in various options too, which gives you lots of scope when it comes to finding the right design for your tastes.
Check out our guide: How much does curtain fitting cost? for more information. 
Safety tips for putting up curtains
If you're looking for ready-made curtains, make sure you choose your design before purchasing your track or pole. That way you know what track, pole, or fitting you need to buy before you drill into your wall. Don't forget to check for pipes and cables using an electronic detector, and avoid drilling directly above or below light fittings and power sockets.
It's worth noting that looped blind cords are potentially hazardous to babies and small children. Make sure you fit a safety device to the cord that is taut or out of reach on a chain break connector, cleat, or P-clip. Also, don't place a cot, highchair, or any furniture near the curtain that a child could climb onto to reach the cord.
See the tradespeople we've checked and recommend for your job
How to hang net curtains
There are two common ways to hang net curtains:
Using a curtain wire; or
Using a tension rod
The most common way to hang a net curtain is to use curtain wire. It's cheap, cost-effective, and easy to cut to the right measurement you need. Curtain wire is good for lightweight curtains like nets and voiles but isn't great for heavyweight alternatives.
Attach the curtain wire to your window frame using the following steps:
If you have a wooden window frame, screw a small metal eye to the inside of the frame.
Next, screw a matching metal hook into each end of the wire. These can now screw into the metal eyes you've already attached to the frame.
The curtain wire inside the plastic casing will stretch slightly and offer some give to support the weight of the net.
For uPVC windows, avoid using a metal hook. Instead, purchase small self-adhesive pads with end supports included. This lets you attach the metal eyes to each end of the curtain wire and hang it from the end supports.
If you've opted for heavier net curtains, consider using a tension rod. They're a sturdier and easy way to hang curtains and work well if you have a wide window. Tension rods work by holding themselves in place on either side of your window frame. Therefore, there's no need for extra fittings or fixtures. They also come in various shapes, designs and sizes. All you have to do is twist it until it fits across your window and hold itself in place.
How to hang pencil pleat curtains
Pencil pleat curtains tend to have headings with three rows of 'pockets' where you insert plastic hooks. They're then hung on curtain poles via rings with each hook threading through the top row of pockets so they hang just below the ring.
Top tip: To avoid any unnecessary gaping, evenly space the hooks across the width of the curtains.
Before hanging your curtains, measure the width of your pole to get the right measurement. Each curtain should be half the width of the pole.
Iron your curtains on the side with the lining to avoid accidents.
Tie the cords in a slip knot at each end before gathering up the curtain.
Put the hooks in the top, middle, or bottom pocket (not the cord!) between every third or fourth pocket.
Maintain your pleats by supporting the weight of the curtain when hanging it.
Attach the hooks to the rings on your pole.
How to hang eyelet curtains
If you want a fuss-free option, eyelet curtains are your best bet. They're easy to hang and a perfect choice if you're looking for a quick and simple project.
Thread your pole through the loops on the eyelet holes or 'tab top' curtains.
To anchor your curtains and stop them sliding all the way across your window, keep one tab or eyelet on either side of your end bracket.
Once you've hung your eyelet-headed curtains, they will pleat themselves into generous folds, which means you don't have to dress them or fix their pleats.
Ideally, tab top curtains are best used as dress curtains. They might benefit from a pair of tiebacks to keep them away from the window, but they're generally a low-maintenance option.
See the tradespeople we've checked and recommend for your job
How to put up curtains on uPVC windows
uPVC is able to support larger glass windows, which means hanging nets or curtains without using hooks or drilling into the uPVC frame is difficult. However, there are several ways to get around this issue and avoid damaging your frame.
Picture hooks
Using picture hooks above the window frame avoids causing damage to the uPVC, coupled with some no-nails glue to fix the hooks above the window. Another option is to use picture hooks to hoist the middle of the wire the net runs across and stop it from bowing in the middle.
Extendable rods
Another option that avoids damage to the uPVC is to use an extendable rod. As both ends of the rod push into the walls on either side of your window, the tension support allows your net curtains to hang from it with ease. Just make sure that when you buy a rod, it's 1-2cm bigger than the window. This just means the tension is strong enough to ensure the rod stays up. To add the net, simply feed the rod through the top pocket. Reattach the rod and then gather the net along the pole until it looks how you want it.
Top tip: Consider a spring-loaded rod, which tends to have greater levels of tension that better supports the net.
Right angle hooks
Although these are tricker than picture hooks and rods to install, they're effective if installed properly. For this, you need a steady hand and a keen eye, and the trick is to make sure the hooks don't go too far in and cause damage. Once they're secured, a rod can sit on the hooks and hold up your net or curtain.
Install a uPVC window that supports curtain poles
Some makes of uPVC windows come with net curtain poles already glued to the frame. So, if you know you're the kind of person who's always going to want curtains or nets, make sure your installation includes this handy feature.
See the tradespeople we've checked and recommend for your job
How to hang pinch pleat curtains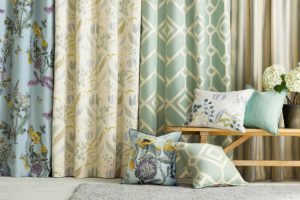 To hang pinch pleat curtains, either use a regular curtain rod or opt for a traverse rod with gliders. Then, follow these steps:
Insert a hook into a curtain ring and measure the distance between the bottom of the hanging hook on the rod and the top of the curtain track/pole. This lets you determine how low the hooks need to be inserted to cover the rod from view.
Lay the curtain flat and attach curtain hooks to each panel that corresponds to the measurement you just took. Place one in each pleat and at either end. Test the panel by hanging the curtain and making sure the hooks are inserted at the right level. Adjust accordingly. Make sure the hooks are the same size and equally tight so the curtains don't droop when you hang them.
Fold the space between each pleat before you hang the curtains. 'Pinch' and bunch the pleats as you. When you reach the end, use a ribbon to tie the curtain together and keep the pleats in place.
Hang each hook from the rings or gliders. Be careful and make sure you match every hook to its right spot. Support the curtain as you go to avoid breaking or damaging the hooks or rings.
How to hang curtains on a pole
Hanging curtains on a pole is usually a matter of threading them through eyelets or hooking them onto pockets or rings. Our guide: How to put up a curtain pole has everything you need to know about how to install a pole for various types of curtains.
How to hang curtains without drilling
If you're looking for a way to hang curtains that doesn't involve drilling, consider these options:
Use picture hooks or 3m command hooks
Opt for Kwik-Hang curtain rod brackets
Try a tension rod
Add a magnetic rod to a metal door
FAQs
Should I hire a professional?
If you're wondering whether you should hire a curtain hanging expert or do the job yourself, we recommend assessing the job at hand and working out whether it requires a thorough or simple solution. If you're looking for a professional and clean result, it's worth hiring an expert to do it for you.
When you hire one of our trusted professionals, you're able to see their profile and view their customer reviews. Even better, those reviews are from your neighbours and checked by us to make sure they're legitimate.
How do you hang curtains for beginners?
The best way for beginners to hang curtains is to opt for an eyelet design, which is by far the easiest type of curtain to hang.
How can I look after my curtains?
Regular cleaning and maintenance can keep your curtains looking their best. Take a look at our handy guide for expert advice.