How to remove green algae from a pond
Knowing how to remove green algae from a pond is the difference between clear and murky waters. Thankfully, we've put together this how-to guide to make sure you and your garden reap the benefits of a well-kept pond.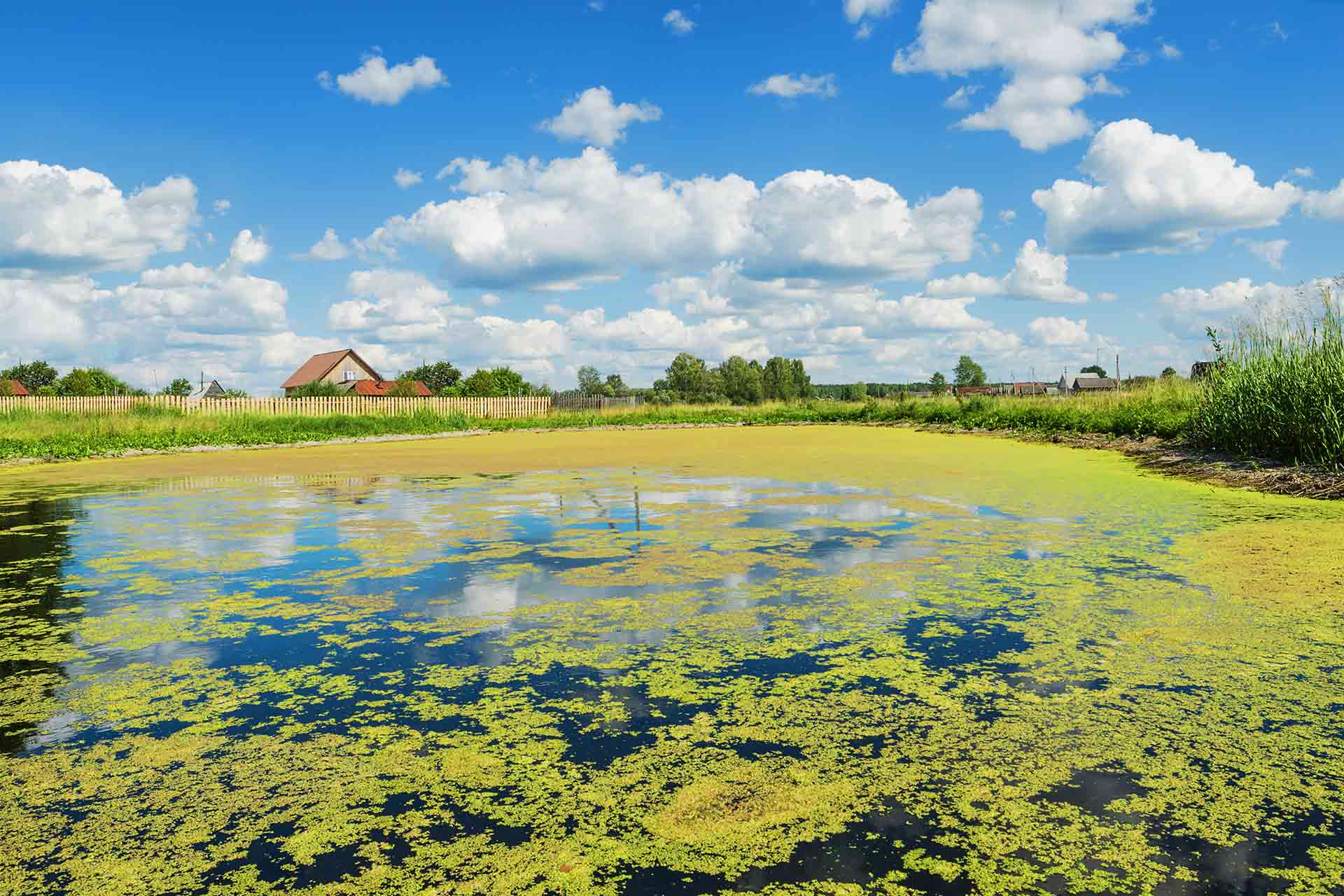 Knowing how to remove green algae from a pond is the difference between clear and murky waters. Thankfully, we've put together this how-to guide to make sure you and your garden reap the rewards of a well-kept pond.
The environmental benefits of a garden pond are numerous, which is why they're a popular addition to most UK households. However, keeping them clear and free of algae is a matter of introducing three key elements:
Circulation
Filtration
Aeration
Keep reading for more information about how to remove green algae from a pond.
What are green algae?
Green algae are a type of microorganism called Chlorophyta. They are microbes that resemble and act like plants, which means they manufacture energy from the sun. However, their green colour comes from the large amount of chlorophyll content they possess.
There are two main types of green algae: Greenwater and Blanketweed. Greenwater is problematic due to sunlight causing oxygen bubbles to form on fish's skin and hurt them, while blanketweed suffocates and strangles them. For fishless ponds, green algae are less problematic, yet are still generally regarded as unsightly.
See the tradespeople we've checked and recommend for your job
How to remove green algae from a pond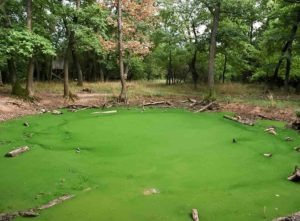 Although green algae is a rich source of food for some aquatic organisms, ponds without proper circulation, aeration or filtration are quickly overrun by this nuisance microbe. Green algae thrive in light and nutrient-rich water. In nature, this balance is provided naturally. Therefore, creating a similar environment in your garden pond is key to keeping the algae under control.
So, how do we do this?
Method one: Add some aquatic plants
Plants are a fantastic way to get green algae numbers under control. They do this by:
Creating patches of shade, which limits the sunlight algae need to thrive
Purifying the water and thereby removing the food sources algae need to survive
Releasing allelochemicals in the water, which is a natural defence against algae and stunts its growth
Also, consider adding water lilies and oxygenating plants that cover a third of the pond.
Method two: Use rainwater to fill your pond
Using rainwater eradicates the nutrients found in tap water that feed algae. Consider replacing your pond water with rainwater to avoid green algae forming or thriving. Even if you already have algae, don't touch the water until it dies off. If you add tap water regularly, the fresh nutrients will consistently feed the algae. If you want to top up your pond, only do so with your harvested rainwater.
Method three: Manually remove the green algae
If you really can't stand the sight of the green algae, the best way to get rid of it is to manually remove it. This method is particularly effective if you have blanketweed and are worried about your fish.
Top tip: Leave the algae by the side of your pond for a few hours before disposing of it. That way, any aquatic creatures caught in your algae haul will crawl back in.
Method four: Introduce some barley straw
Barley straw is a natural and effective way to control green algae. Simply buy some and place it in the pond. As soon as it makes contact with the water, it breaks down and releases peroxides that chemically fight the algae. In small quantities, barley straw is safe for fish. However, proceed with caution to avoid upsetting the delicate balance of your pond.
Method five: Add nature's cleaners
Nature constantly finds a way to balance itself. So, why not add some of nature's warriors to help keep your green algae in check? For example, Daphnia are water fleas that turn algae infested waters crystal clear in no time. Sadly, fish see them as a tasty snack, so they aren't a suitable method for fish ponds. Ramshorn snails are another option, as they like to graze on algae attached to the sides of a pond.
Method six: Add a fish-friendly filter
Once your algae are under control, a longer-term solution includes installing a pond filter, pump and UVC (ultraviolet clarifier) filter. This combination will ensure your pond remains clear, clean and free from green algae. For those with fish, adding a biological filter to help keep the water quality high is recommended.
Better yet, use a combination of all these methods for total algae annihilation!
If after reading these steps, you're still looking at your pond wondering where on earth to start, fear not, you can hire a professional to help you out.
How to remove green algae from fish ponds
When it comes to removing green algae from fish ponds, we recommend the above measures, with caution taken when it comes to using the barley straw method. We also don't recommend introducing critters to your fish pond without checking they won't be eaten first. This will save you money in the long term.
See the tradespeople we've checked and recommend for your job
FAQs
How do I get rid of algae in my pond without killing the fish?
Use the manual method, a modest barley straw method or the plant method described above.
Should I remove algae from my pond?
If you want a pond that looks good, is environmentally beneficial, and keeps your fish happy, then keeping green algae under control is advised.
How do you get rid of green algae?
By following one of our safe and natural ways listed above. We recommend the plant method first. Add lilies and lotuses on the surface, submerge oxygenating plants beneath the water, and add grasses for extra protection.
Does vinegar kill algae in ponds?
Vinegar does kill algae when used as a pond cleaner in an empty pond, but it's not recommended if you have any form of aquatic life present, including plants, water, fish or other microorganisms.
Hiring the professionals
If you are at all unsure on where to start with your algae ridden pond or are worried about harming the fish and other wildlife in it, then we would strongly recommend hiring a professional to take on the job. Not only do they know the best methods to suit your pond, but they will also be able to get the job done quicker than if you were attempting it yourself. Enter your postcode in the search bar to find a pond maintenance specialist near you.
If you're looking for further garden pond inspiration, take a look at our garden pond ideas and raised garden pond ideas blogs.