If you're looking for some raised garden pond ideas to introduce to your garden, you've come to the right place. We've got oceans of inspiration for you to dive right into. Wet your whistle by checking out our 'raised garden pond ideas' in the carousel content below.
Raised garden pond FAQs
How deep should a raised garden pond be?
If you're planning on keeping fish, your garden pond needs to be a minimum of four feet deep. Anything shallower risks the pond freezing during winter and killing off the fish. Some ways to avoid that include installing a pump or waterfall.
However, if you're just keeping aquatic plants and encouraging some biodiversity into your garden, you can get away with a shallower pond.
Should a garden pond be in sun or shade?
To avoid stagnation, your pond should be in a sunny or part-shaded area. To keep the water fresh and clean, you'll need to fill your pond with oxygenating plants, which need sunshine to survive.
How much does it cost to build a raised garden pond?
The cost of a pond installation varies on design, size and depth. Check out our garden landscaping cost guide for more information. Or contact our pond installation specialists to ask for some quotes. Alternatively, buy a small ready-made pond online.
See the tradespeople we've checked and recommend for your job
Like what you see? There's more where this came from. Check out Checkatrade's blog for more tips, ideas, how-tos, and inspiration.
Raised garden pond ideas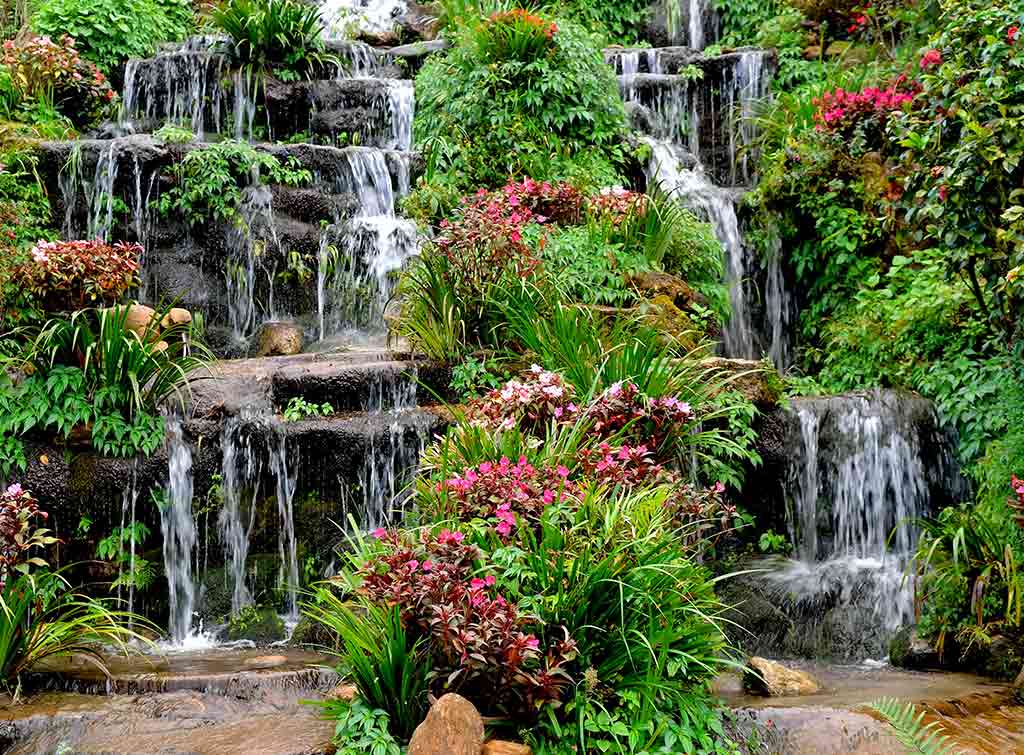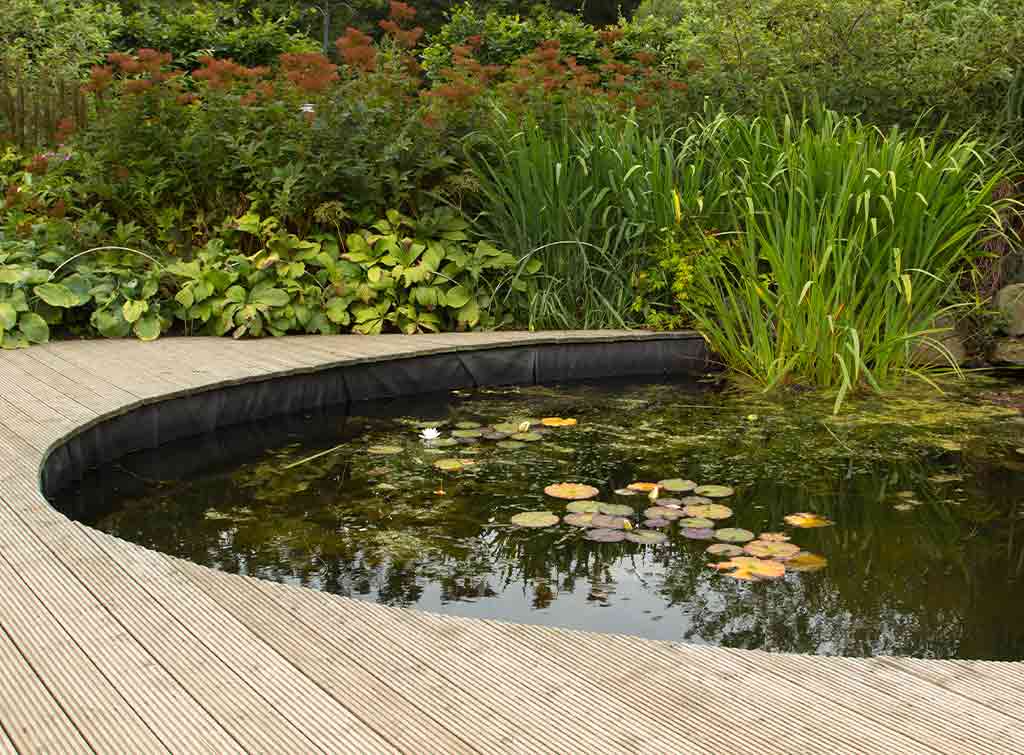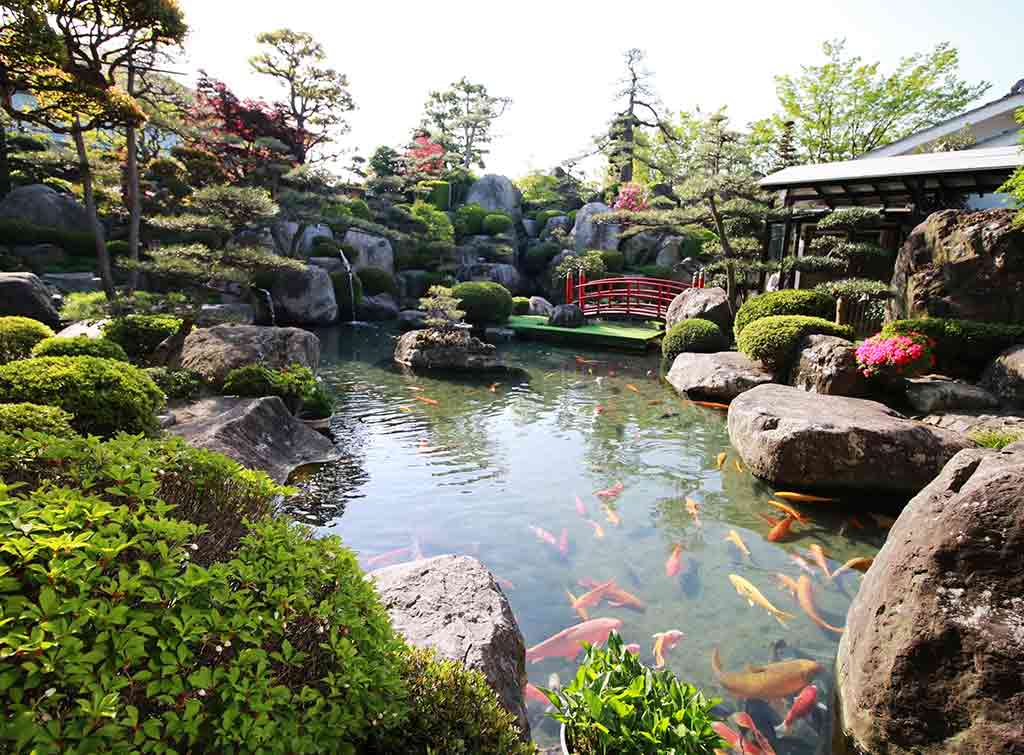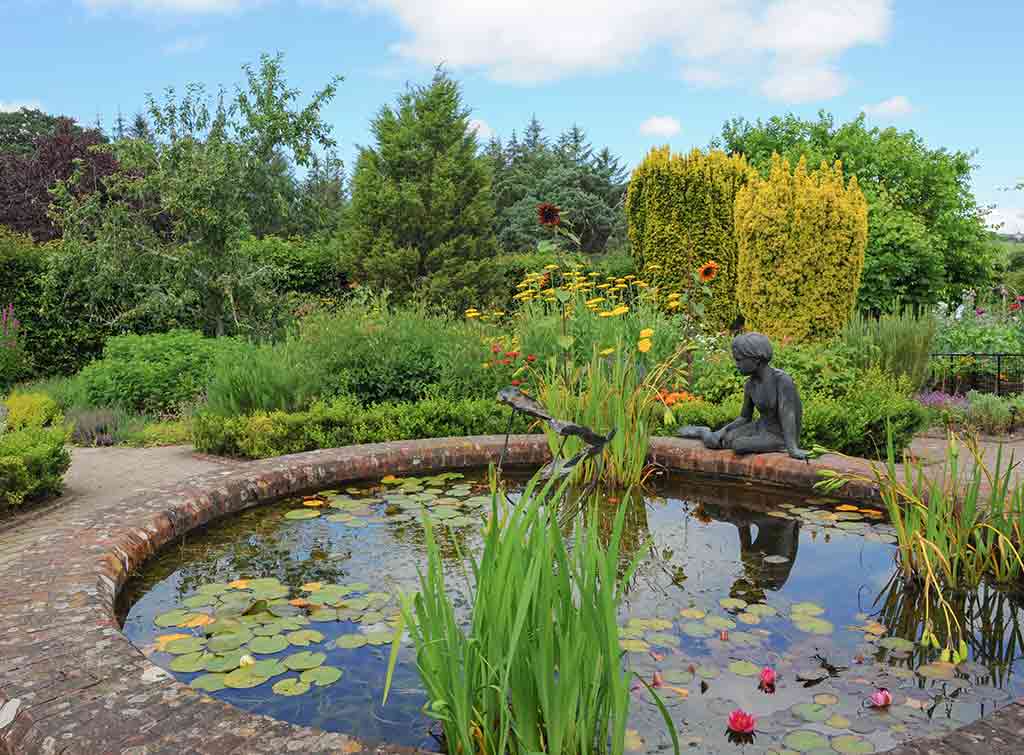 Raised pond ideas
There's nothing more quintessential than a circular fountain pond in a rural pat of England. If you've ever frequented a National Trust garden, you'll have seen such a specimen before.
We adore this brick-edged pond design, with waterlilies and sweet flags decorating the water's surface. The pond itself is cut into the garden's gravel path and parallel sharp-edged lawn, framing its shape.
The classic stone fountain finishes the look, making us certain this pond features in various selfies across the internet.
Raised garden pond ideas
The waterlily fountain is the first thing you see when you look at this pond. The water trickles off the petals into the water below, making it stand out in all the right ways.
Next, you notice the shape and curves of the concrete pond, which makes what could be a rather drab material a little more interesting.
Get the look by hiring one of our professional landscapers to install a similar design!
Raised koi pond ideas
This small concrete pond design houses a small fountain (that doubles up as a filtration system), flamingoes, and koi fish!
Surrounded by moisture-loving perennials dug into a gravel and mulch plant patch, they offer some protection and visual interest for the koi.
Also, if you look closely, you can see the oxygenating aquatic plants that keep the water fresh and the koi happy.
Raised fish pond ideas
The simple stone design is elegant and effective. The heron fountain provides a decorative way to keep the water circulating, while the sweet flag and creeping jenny plants offer much-needed oxygenation.
The stone mosaic border is a good example of how to make a simple design pop. Not only does it add texture and interest, but it also protects the koi from land-based predators – including children, dogs and cats!
Raised pond waterfall ideas
Although this elaborate design might be a little out of budget for most people (unless you happen to have a very steep edged lawn), it gives you a good idea of how natural textures and aquatic plants complement each other.
If you're looking to add large boulders and a running waterfall, consider including colourful, water-loving plants such as cardinal flowers, pickerel, mosaic, and blue iris, which will help your design pop – especially in the summer.
Raised wooden pond ideas
Carving a pond into the edge of your raised decking is a great design trick for adding interest and character. This pond can either work as a biodiverse haven or a fish pond. It has all the elements for both.
Plenty of space
Aquatic life
Surrounding protective shrubbery
Why not get the look by hiring one of our professional landscapers?
Stone fish pond idea
This gorgeous Japanese fish pond design is a koi fish haven. The huge boulder rocks and various water depths give the fish plenty to do and see, while the foliage and aquatic life pairs with their surroundings perfectly.
One of the wonderful facts about fish is how they remember you and know when you're coming to feed them. When you house them in such a beautiful habitat like this, you have several orange and white friends for life!
Brick bordered pond design
There's something magical about this classic pond design. It could be found at any moment in time – the same statue of a child overlooking it regardless of the era.
This is because brick is an ancient material that's been used to build ponds, wells and fountains for centuries. It's robust, safe and effortlessly shabby-chic! And when paired with flowering water lilies, sweet flag, and blue irises, we'd sit out here forever too.
See the tradespeople we've checked and recommend for your job
Tell us what you think
What others think of this article:
Need More Information?
Related posts