Whether your home is large or small, installing a downstairs toilet, or cloakroom, is an exciting and practical choice. This is especially true for large families or those with disabled or elderly members.
If you already have a cloakroom or are looking to install one, these downstairs toilet and cloakroom ideas will help you create a unique and functional space.
Even small spaces can be transformed into beautiful cloakrooms. And, by using lighting and decoration you can make a compact room feel spacious and open. No matter whether you are looking for lighting, how to maximise small spaces, or want luxury cloakroom inspiration, read on to dive deeper into this fascinating world.
How to get started with downstairs toilet ideas
Planning to install a new cloakroom? Check out our installing a downstairs toilet cost guide for prices, considerations and tips to get you started.
Whether you want funky downstairs toilet ideas or more modern downstairs toilet ideas, the perfect design for you can be achieved. The following are a few different cloakroom ideas to look into when renovating or adding a new bathroom:
Toilet and sink: Essential for any cloakroom.
Storage: Including cabinets, boxes, drawers and cupboards.
Heating: What would better suit your needs, a radiator or a heated towel rail?
Shelves: Look to adding storage higher up in a small room without much floor space.
Lighting: Spotlights, recessed lighting and pendant lights are all great choices.
Cloakroom ideas for small spaces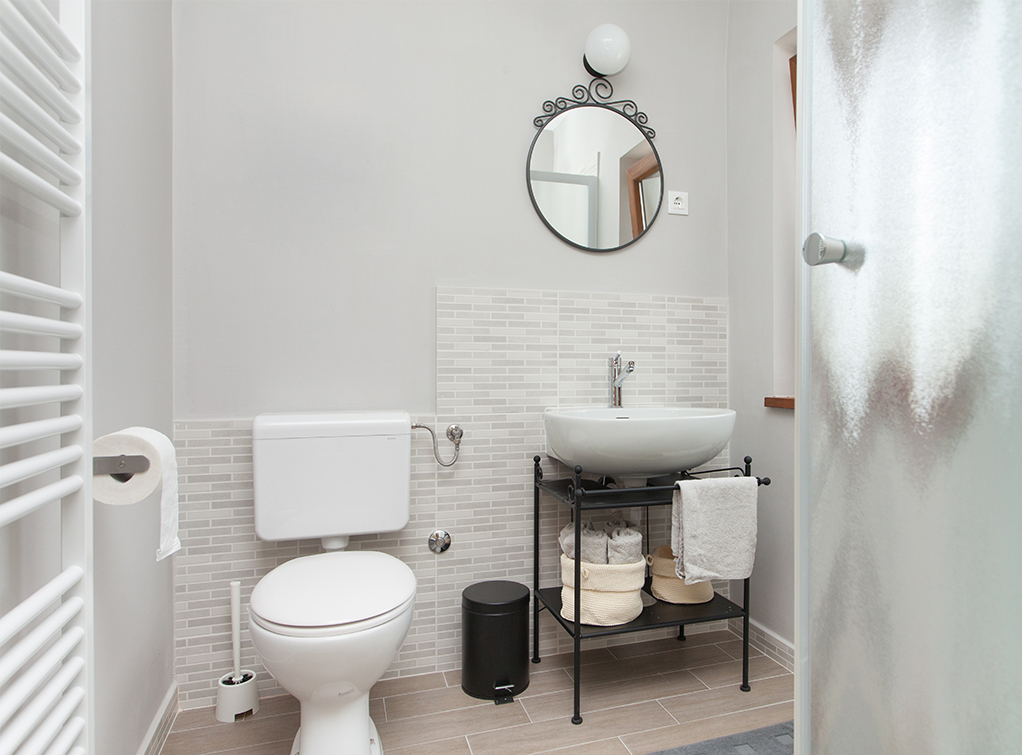 While large cloakrooms can look incredible, it is possible to build a cloakroom in the smallest of spaces. We hope you'll agree that the small downstairs toilet ideas in this article really make the most of the space.
These compact bathrooms can be fully functional as well as visually striking, making a great feature and future selling point for your home.
Below are a few excellent cloakroom ideas for small spaces:
Find streamlined storage options like shelves and cupboards. You can still keep the width of the storage but with less depth, perfect for small areas.
Use the same tiles for the walls and flooring to create a cohesive, open space.
Choose slimline toilets and sinks, or even floating options to save floor space.
Awkward corners can be perfect for a toilet. You won't need much headroom and toilets can be installed in the most difficult of spaces.
Luxury cloakroom ideas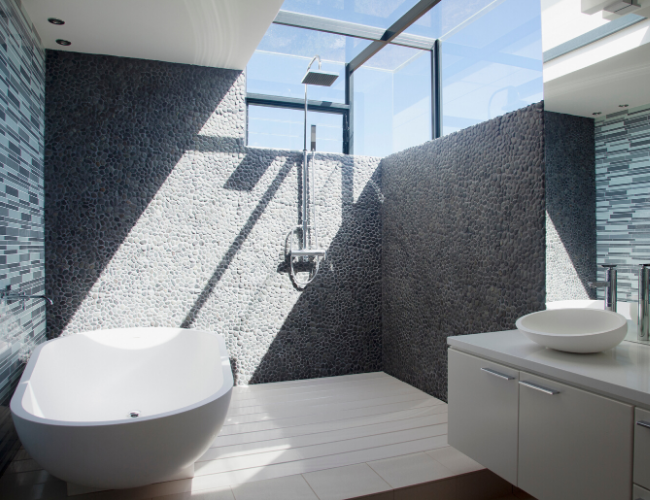 No matter how large or small your new cloakroom is, it is always possible to inject elegance and sophistication into the room. It is also worth investing in high-quality fixtures and fittings in order to achieve a luxurious space.
For more luxury cloakroom ideas, consider:
For an expensive finish, consider making your cloakroom seamless from the walls to the floor. Use similar tiles and colours throughout the room.
Use clever lighting to highlight specific areas of the room. Well placed lights can bring an influx of class to any area.
Finishing touches like blinds and coordinated hand towels will help tie together your cloakroom.
If done carefully, a luxury cloakroom will even increase the value of your home.
See the tradespeople we've checked and recommend for your job
Cloakroom lighting ideas
Adding lighting to any room or space in your home is key to elevating the space from dull to interesting and stylish. The following cloakroom lighting ideas can help to showcase certain areas of your bathroom while creating a light, open space:
Windows
Spotlights
Mirror lights
Recessed lighting
Wall lighting
Downstairs cloakroom decorating ideas
Once your new downstairs bathroom is built, you will need to carefully plan and implement any decoration to finish the space. The final decorating will really complete the room while adding personality and charm.
Stuck for downstairs toilet ideas?
Consider the following downstairs cloakroom decorating ideas:
Wallpaper, tiles and paint all have different benefits and appearances. Wallpaper and tiles allow you to play with different patterns and styles, while paint can have a beautiful effect with different colours and finishes.
To create an immersive experience, choose a theme for your cloakroom like nautical, modern or traditional.
Look into different flooring options like tiles, carpet, vinyl, laminate, concrete and wood.
If you have a very small space, such as needing understairs toilet ideas, then make sure to include slimline furnishings and store anything non-essential elsewhere.
Our new bathroom cost guide goes further into these options.
Cloakroom ideas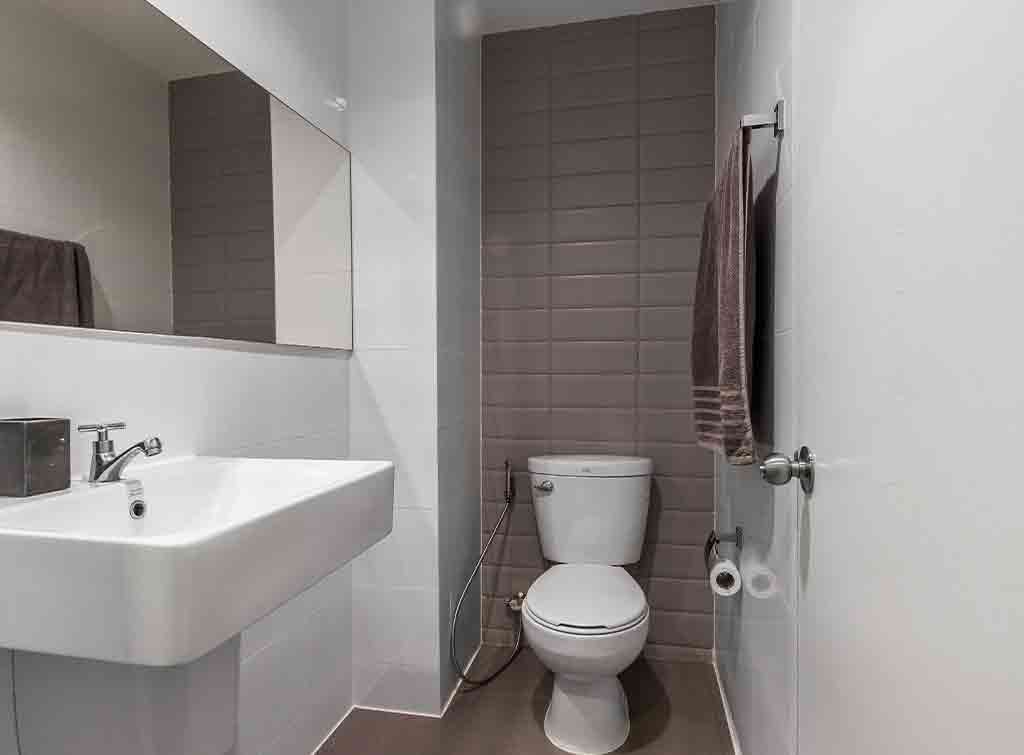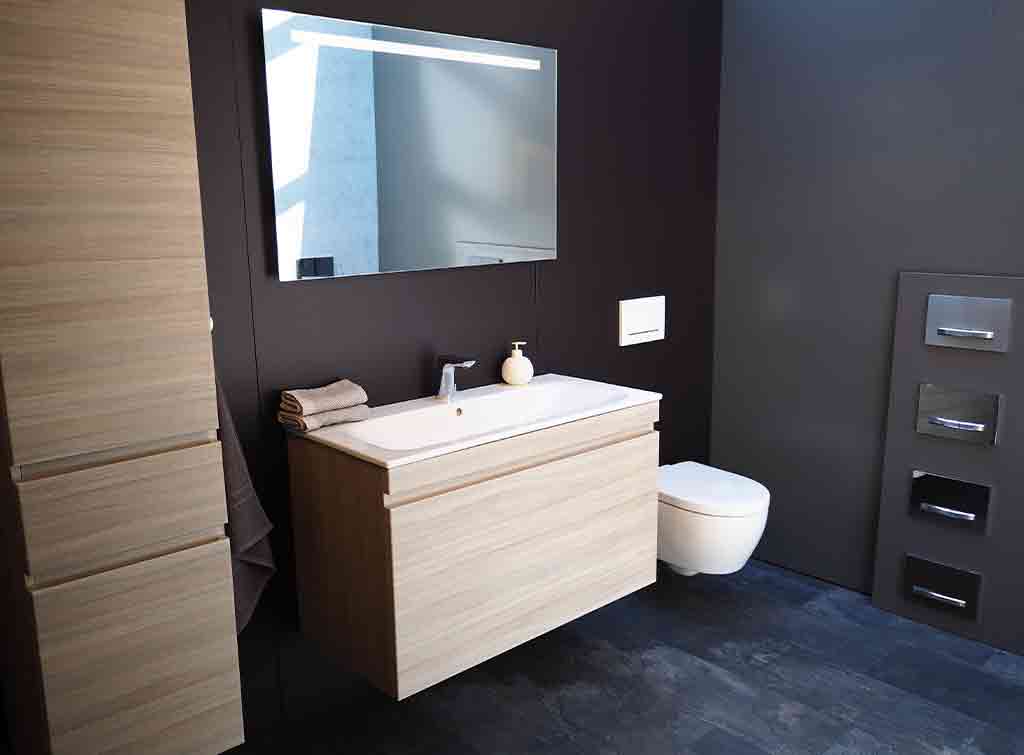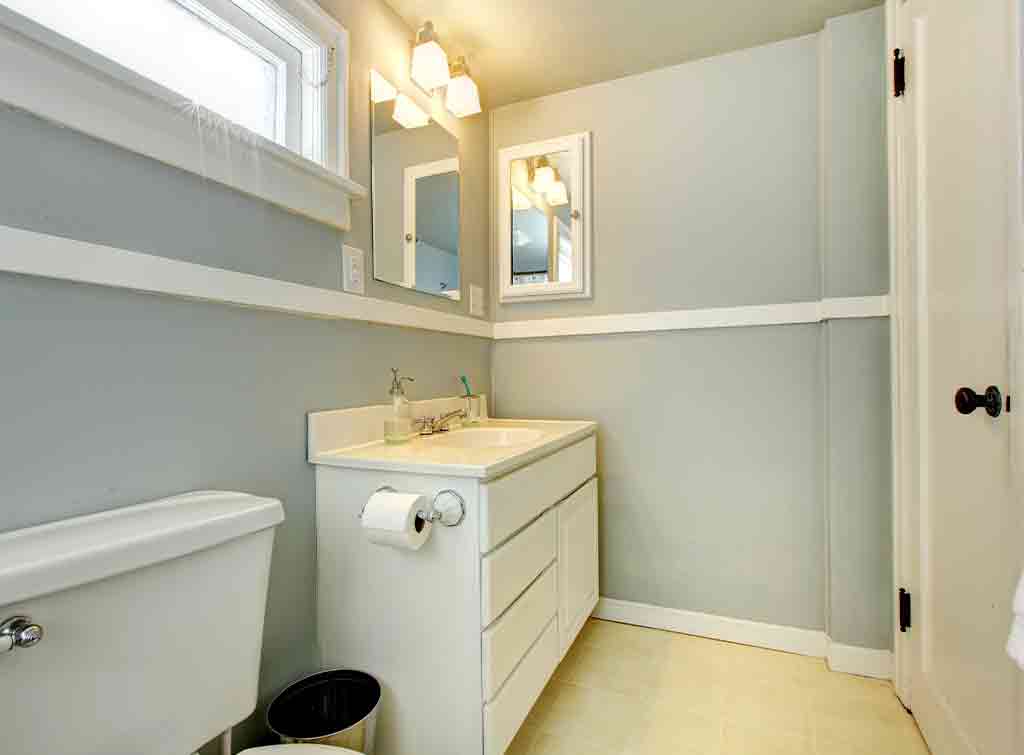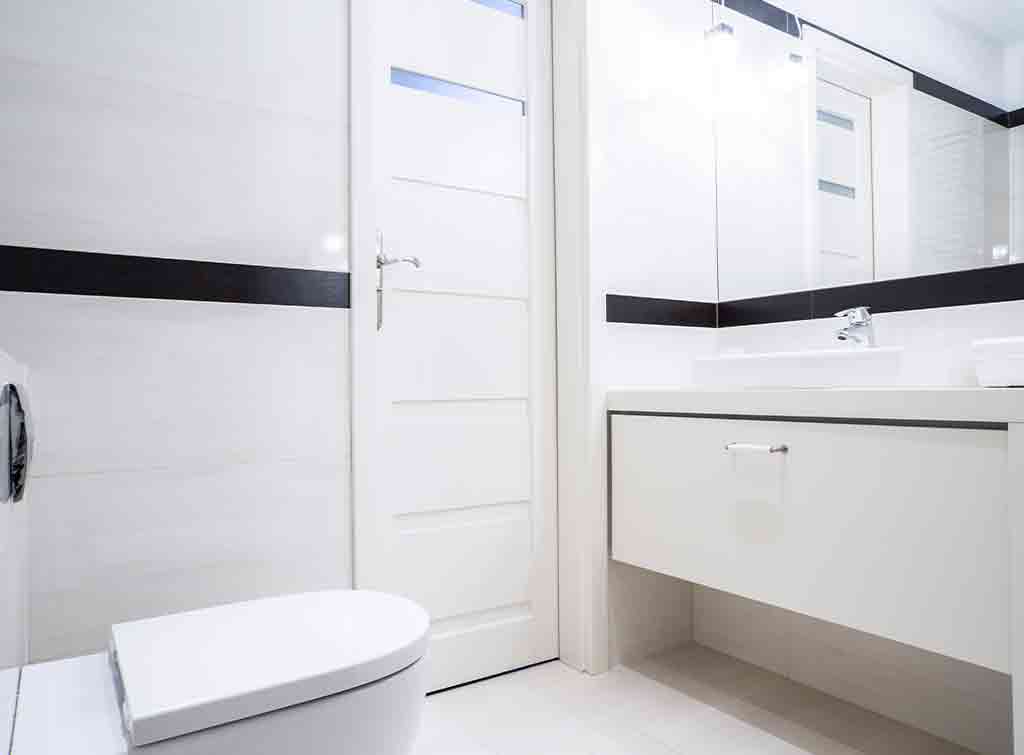 Tiny downstairs toilet idea
It is surprising just how stunning this small cloakroom looks. With light grey and white shades used, this bathroom is airy and open despite its compact size. The floor and back wall have been finished in grey, creating a cohesive appearance and a wide mirror has been installed to create the illusion of space.
High end cloakroom
This luxurious cloakroom manages to convey a feel of elegance while also fitting into a relatively small area. Dark and dramatic greys and navys have been used to highlight the beautiful light wooden accents and the pristine toilet. Plenty of storage has also been added, as well as a mirror for practicality and spacious design.
Clever and bright cloakroom lighting
Lighting is essential to create a warm, inviting space as well as illuminating areas of a home. With options like recessed lighting, strip lights and spotlights, there are so many ways to complement a room.
Here two impressive pendant light have been used to highlight the basin and mirrored area. Add in the light finish to the room and you have a fresh, bright space.
Small downstairs toilet idea
While choosing the fixtures for your new cloakroom is important, the step of a renovation that has the strongest visual effect is the decoration. This bathroom is light, while still retaining a cosy, warm environment.
Light grey and cream contrast beautifully and the white toilet and basin only add to the spacious feel of this small cloakroom.
Modern downstairs toilet idea
Whites, greys, and blacks are the corner stones of a modern style. In this bright cloakroom, white has been predominantly used with small black touches to add definition and drama. With an abundance of white and no clutter, this room feels clean and modern.
Plus, the large mirror and basin trick the mind into believing the space is larger than it is.
See the tradespeople we've checked and recommend for your job
Tell us what you think
What others think of this article: