Last updated on November 23rd, 2022
How much do LED lights cost to run?
One of the main reasons people replace their light bulbs with LED lighting is to save money. LED lights indeed cost more to buy upfront, but they last much, much longer than standard light bulbs.
An LED bulb can last up to 50,000 hours, compared to just 1,000 hours for an incandescent bulb. And as well as lasting longer, they're also cheaper to run. This can save you money on your energy bills.
In this guide, we'll look at how much LED lights cost to run – including those twinkly LED Christmas lights.
LED light bulb running costs
The cost of running LED lights depends on three key things. These are the wattage, how many bulbs you have in your home and how many hours a day you have them on. But regardless of these factors, you'll usually find that LED bulbs are significantly cheaper to run than other types of lighting.
| Cost provided item | Average cost |
| --- | --- |
| Cost of running 3W LED bulb per hour | £0.001 |
| Cost of running 3W LED bulb per year | £3.72 |
| Cost of running LED Christmas lights | £2 |
For example, it'll cost you around £3.72 a year to run each 3W LED bulb (based on 10 hours a day, 365 days a year). This shoots up to around £14.89 for a fluorescent bulb. This is partly because you'll need to factor in the cost of replacing it after around 1,000 days or so – as it has a shorter lifespan.
Light bulb running cost calculator
The best way to work out how much it'll cost you to run LED lights in your home is to multiply the following:
The average running cost per hour – this is around £0.001 per hour for LED lights
The number of LED bulbs in your home
The number of hours per day you typically have the lights on for
You can then work out how much it'll cost to light each room or your whole home per day, week, month or year.
How much do LED Christmas lights cost to run?
If you're planning the most cost-effective way to add some twinkly sparkle to your Christmas decorations this year, LED lights can help you save money on your energy bills.
It can cost from just £0.62 (for a Christmas tree) to £9.30 (for an outdoor light installation) to run LED lights for a whole Christmas. This depends on the wattage, as well as how many Christmas lights you have and how long you run them for.
Christmas tree running costs
1,000 compact LEDs rated at 6W
On for 8 hours per day
£0.34/kWh X 0.006kW X 8 hours = 2p per day
= 62p for the whole of December.
Outdoor light installation
15W X 4 lengths of netting lights = 8m X 2m = 800 LEDS = 60W
40m of string lights = 300 LEDS = 15W
4m of cluster lights = 300 LEDs =5W
20m of icicle lights = 1000 LEDs = 30W
That is on for eight hours a day, you can expect to pay:
£0.34/kWh X 0.11kW X 8 hours = 30p per day
= £9.30 for the whole of December.
Find out more about the cost of Christmas light installation.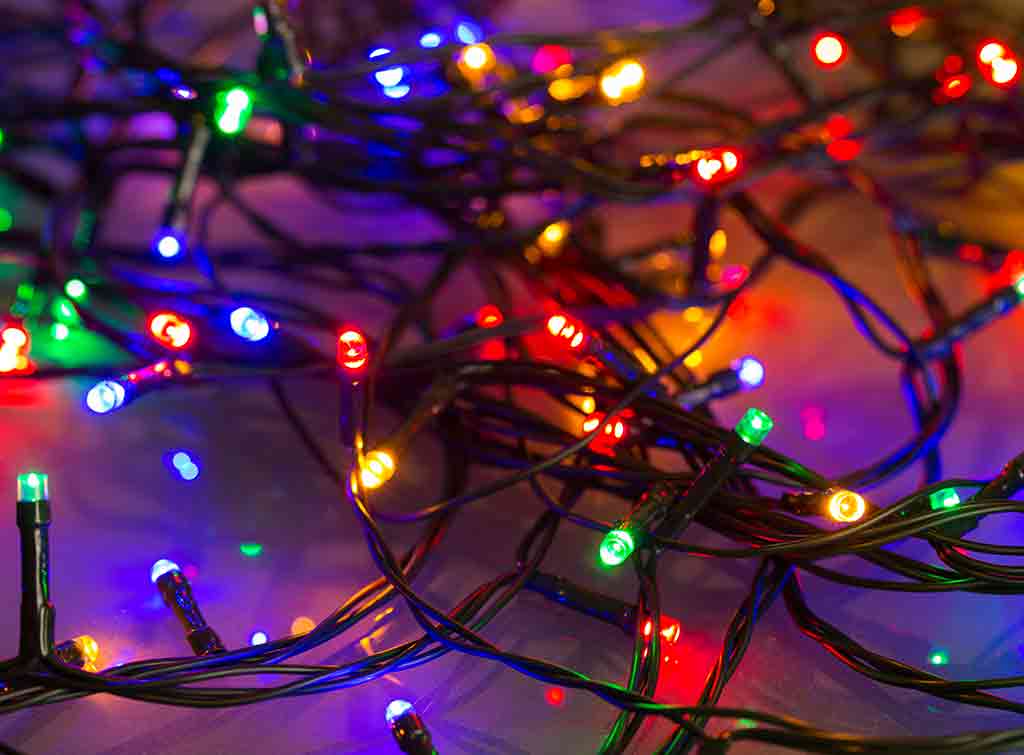 FAQs
How do I choose the right wattage of LED bulb?
Instead of focusing on wattage, look for how many lumens the light bulb is. This indicates brightness – the higher the number of lumens, the brighter the light.
Are dimmable LED bulbs an option?
Yes, you can buy dimmable LED light bulbs, but you'll need to make sure you have a compatible dimmer switch.
Can I buy smart LED bulbs?
Yes, there are lots of smart LED lights available in a choice of colours and styles. Many include features which allow you to control multiple lights remotely, using an app on your smartphone, via a smart home assistant or with just your voice.
See the tradespeople we've checked and recommend for your job