Last updated on July 19th, 2022
Installing a downstairs toilet cost guide
Increase the value of your home with the help of our installing a downstairs toilet cost guide, containing prices, information and tips for adding a second toilet.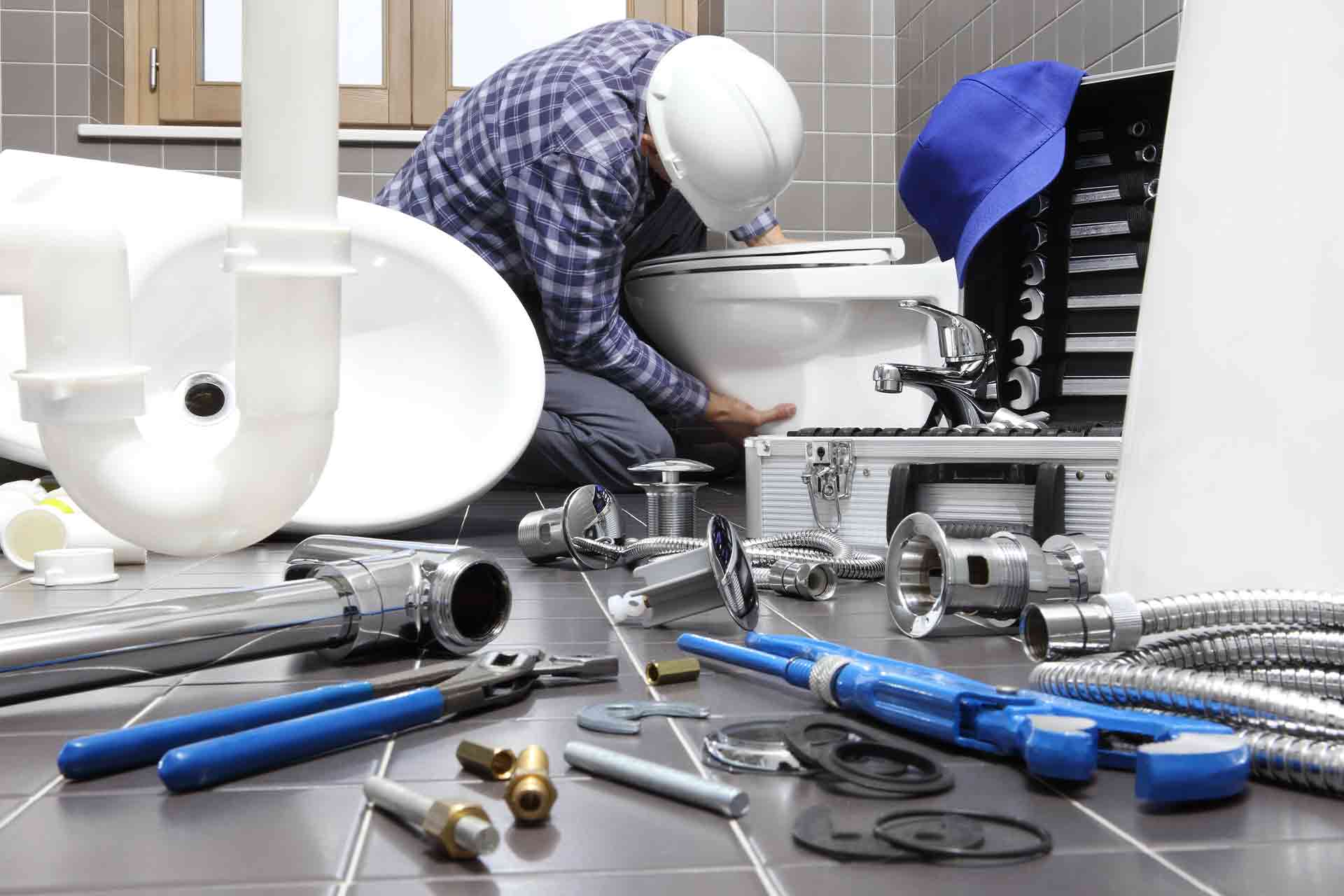 Why install a downstairs toilet?
Installing a new downstairs toilet is not only practical but can add nearly 5% value to your home.
Perfect for growing families, a downstairs toilet can prevent waiting times and accidents for young children.
Investing in an extra toilet can create a tranquil, stylish space that will wow guests and is a must for those who regularly entertain. In fact, nearly 50% of future buyers agreed that having more than one toilet is essential when choosing a new home.
Downstairs toilets are also incredibly helpful for the elderly and disabled, preventing the need to climb steep staircases and adding a convenient, easy to access bathroom.
In addition to this, a downstairs toilet can also prolong a person's time in a property before finding another home.
From explaining how much to build a downstairs toilet extension to the cost to build a cloakroom, we've got you covered.
How much does installing a downstairs toilet cost?
Adding a fancy new bathroom can be pricey, however, installing a downstairs toilet needn't be overly expensive. If you have a small space and are looking to create a simple, basic bathroom you can save on many of the usual costs such as baths or showers.
Cost provided item
Cost + VAT
(Range low - high)
Average UK cost
Installing a downstairs toilet (materials)
£800 - £1,100
£950
Installing a downstairs toilet (labour)
£1,200 - £1,800
£1,500
Toilet cost
£50 - £200
£250
Sink cost
£50 - £250
£150
Downstairs toilet extension cost (per m2)
£1,900 - £2,500
£2,200
Downstairs toilet extension cost - within existing building (per m2)
£800 - £1,000
£900
For a breakdown of each cost, we spoke to the online estimators at B3 Cost Consulting – a team of professional Estimators and Quantity Surveyors. But just how much does it cost to fit a cloakroom?
The average cost to fit a cloakroom is £950 for materials and £1,500 for labour.
Please note, groundworks may add a cost of around £300 and you should allow £100 for soil removal also.
Ways to reduce the cost of downstairs toilets
Installing a downstairs toilet needn't be too costly if you are careful with your budget.
Below are a few ways you can keep costs low:
Keep fixtures as basic as possible, e.g. just adding a toilet, sink and lighting.
Consider the layout of your bathroom and reduce plumbing costs by installing fixtures as near as possible to existing waste and water lines.
Think about stripping the space yourself before having the toilet installed. You can then either dispose of the materials at your local tip or hire a skip.
Consider tackling painting and flooring yourself if you are skilled in DIY.
Things to keep in mind
While it can be exciting to undertake a renovation, it is important not to rush ahead without considering the following:
Building regulations: You must always comply with building regulations. In particular, by adding ventilation, the safe installation of lighting and obtaining an electrical safety certificate for any electrics.
Additional costs: Don't forget there are always extra costs when embarking on a home project such as the cost of flooring, storage and mirrors.
Wheelchair accessibility: If a disabled person will be using your new bathroom, it is crucial the space is accessible. Doors must be wide enough to accommodate wheelchairs and there must be space to manoeuvre. In some areas of the country, it is compulsory that bathrooms are made to be accessible.
Space: You may think you do not have space for a downstairs bathroom but even the smallest areas such as utility closets or an under stairs space can be converted into basic bathrooms.
Drainage: Always ensure your builder or architect knows drainage levels and can get adequate flow from the new location to existing drains.
See the tradespeople we've checked and recommend for your job
Factors affecting downstairs toilet costs
The cost of a downstairs toilet is strongly influenced by the following factors:
Size of bathroom: Larger bathrooms will take longer to install and require more materials, so will be more expensive than smaller options.
Quality of fixtures: The quality of toilets, sinks and other fixtures will impact the total cost of your new bathroom. Higher quality options are more durable and look amazing but will be more expensive.
Flooring: Don't forget to budget for flooring when you are installing a new bathroom. Depending on the type of flooring you choose, e.g. vinyl, tiles or carpet, the total price will vary.
Tiles/paint: As with flooring, tiles and/or paint are an integral part of any bathroom as they protect the plaster and walls from moisture in the air. Each type of tile or paint will be priced differently.
Ventilation: Adding windows or extra fans is crucial but will incur extra costs.
Ease of access: Small, difficult to access areas will require longer labour times and will be charged accordingly.
How much to build a downstairs toilet extension?
Some homes may simply not have any extra space to fit a new bathroom, in which case, adding an extension can be an excellent option.
Although this can be expensive, a high-quality extension will increase the value of your home as well as add a convenient new bathroom.
The average downstairs toilet extension cost is £2,200 per square metre.
In addition, you will need to pay for the bathroom fittings. As an example, the average cost of a new toilet is £250 and a new sink is £150. View our house extension cost guide for more details.
Can I install a downstairs toilet myself?
Most jobs can be taken on as a DIY project. However, unless you are skilled in the field, you are unlikely to get a professional finish and the job will not be completed to the same standard as an experienced tradesperson would achieve. Consider the below before embarking on this installation project:
Whether you can tackle this job depends on your plumbing, electrical and carpentry experience.
You must adhere to building regulations and in rare cases, such as extensions, you will need planning permission.
All your measurements must be accurate otherwise your bathroom will not fit together properly.
Toilets and sinks can be very heavy and difficult to install.
Tiling, flooring and electrics can be very complex to add.
Mistakes could lead to personal injury or water damage to your home.
To ensure your bathroom is installed to a professional, high-quality standard, we would recommend hiring a professional.
To find a local, reputable, tradesperson in your area and get a personalised downstairs bathroom installation quote, use our free search feature.
FAQs
What are the additional costs to consider?
Earlier we mentioned extra costs that may pop up during your renovation project. In summary, don't forget to plan for the cost of the following:
Sinks
Mirrors
Towel rails
Storage
Decoration – paint, tiles, flooring etc.
Plumbing and electrics
Extractor fans
Underfloor heating
Drainage – especially where the water leaves the property, and if there is enough fall to pick up existing sewers.
How long does it take to fit a downstairs toilet?
This really depends on a variety of influencing factors such as the size of the bathroom, what fittings you have chosen and whether you choose to add tiles and flooring. Based on this, most downstairs bathrooms will be completed in 4 – 10 days.
Useful downstairs toilet checklist
A downstairs toilet is practical, convenient and can add value to your home.
Your installing a downstairs toilet cost should be around £950 plus £1,500 for labour.
You can save money when installing a downstairs toilet by using simple fittings and stripping the space yourself.
It is not recommended to attempt to install a bathroom yourself.
Don't forget additional costs for extras including storage, mirrors and flooring.
The overall cloakroom fitting cost will depend on the style and design you choose.
See the tradespeople we've checked and recommend for your job