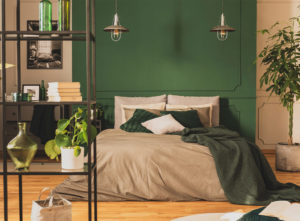 When it comes to interior design trends, green is the new grey – and these green bedroom ideas are going to show you why.
Green is mother nature's canvas. She owns the Copyright. That's why our association with this colour evokes serenity, peace, health and wellness. And because of this association, we're seeing a huge increase in its popularity.
Perhaps the sudden interest in sustainability and the environment have something to do with it? Or perhaps we're starting to understand that incorporating some green bedroom ideas is good for the soul and the planet.
Either way, we're featuring stylish interiors and complementary decor to inspire your next bedroom make-over. What shade will you choose, and what accessories will help bring your bedroom to life? From royal emerald to forest sage, a green bedroom can make for a peaceful haven perfect for relaxation and rejuvenation.
Scroll down to browse through our favourite green bedroom design ideas.
Got an idea of what you want but not sure how to execute it? Call in some help from one of our trusted interior designers.
The benefits of green bedroom designs
"If you're looking for sleep oasis, look no further than the relaxing palette of green," says Deirdre McGettrick, founder of furniture search and discovery engine ufurnish.com, and co-host of The DnA of Home Interiors podcast.
"Not only do colours contribute to the overall design of a room, but they can also influence our thoughts and feelings. Accessorise with this natural hue or colour your entire bedroom in lime, forest, emerald or pastel shades of green. Its versatility on the colour spectrum adds tranquillity to any bedroom.
There are numerous theories behind the meaning of colours. From a decorating perspective, green is associated with invigoration, comfort and tranquillity. It is, therefore, no surprise that bedrooms decorated with this calming colour often help relieve people from stress.
If you're feeling brave, bold green walls teamed with brown furniture adds depth to any sleep space. Alternatively, accessorising green with shades on the same side of the spectrum such as pastel pinks, golden yellows or bold blues will complement one another to create a mellow environment."
Like what you've read? We've got plenty more where that came from. Check out our blog for more ideas, how-tos, tricks and tips to help inspire your next renovation.
Green bedroom ideas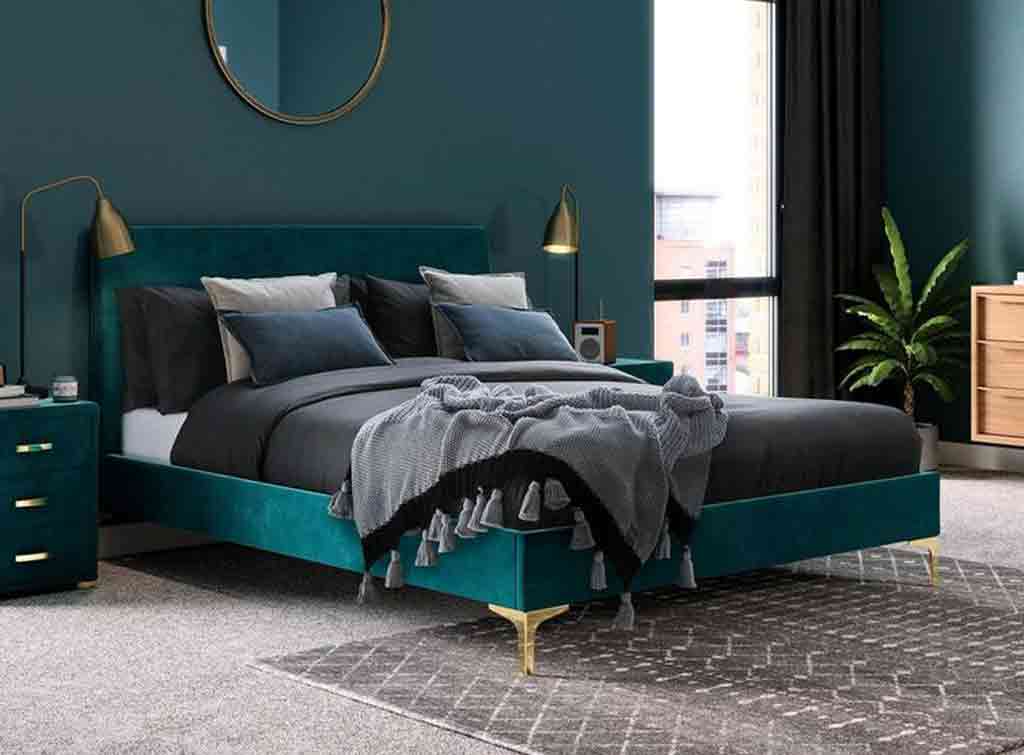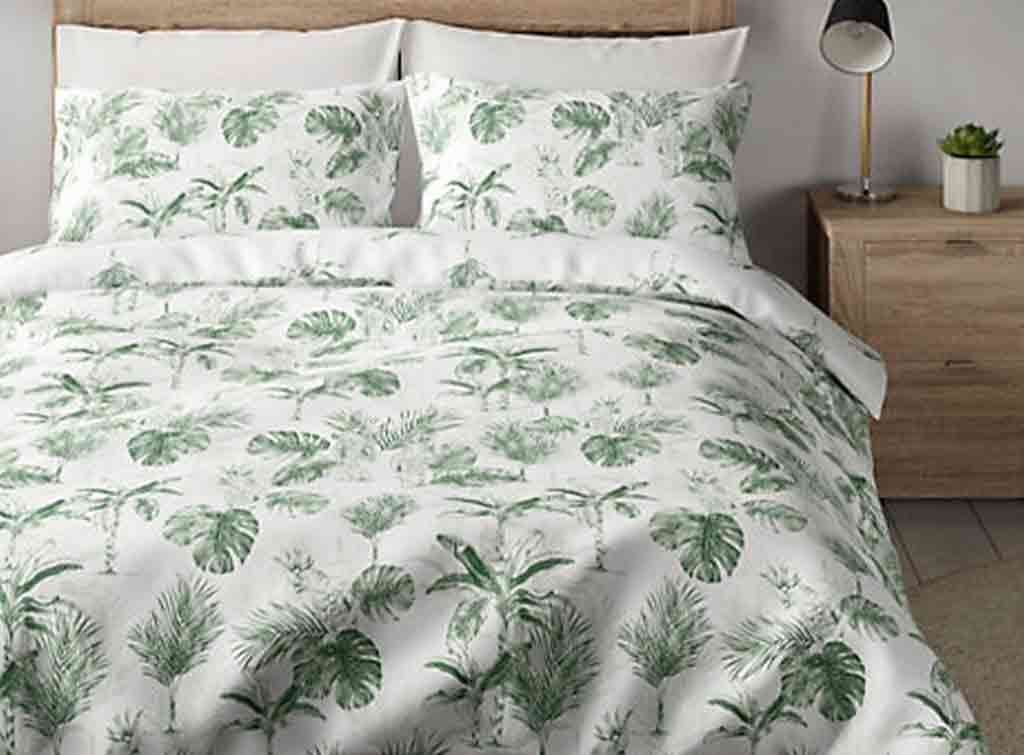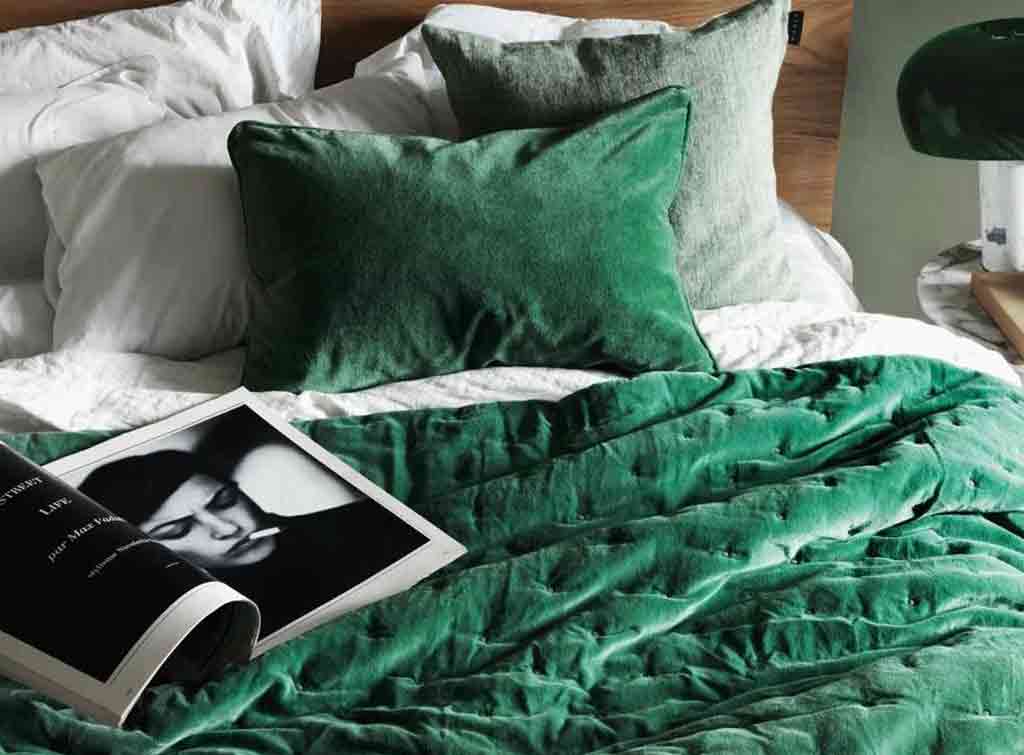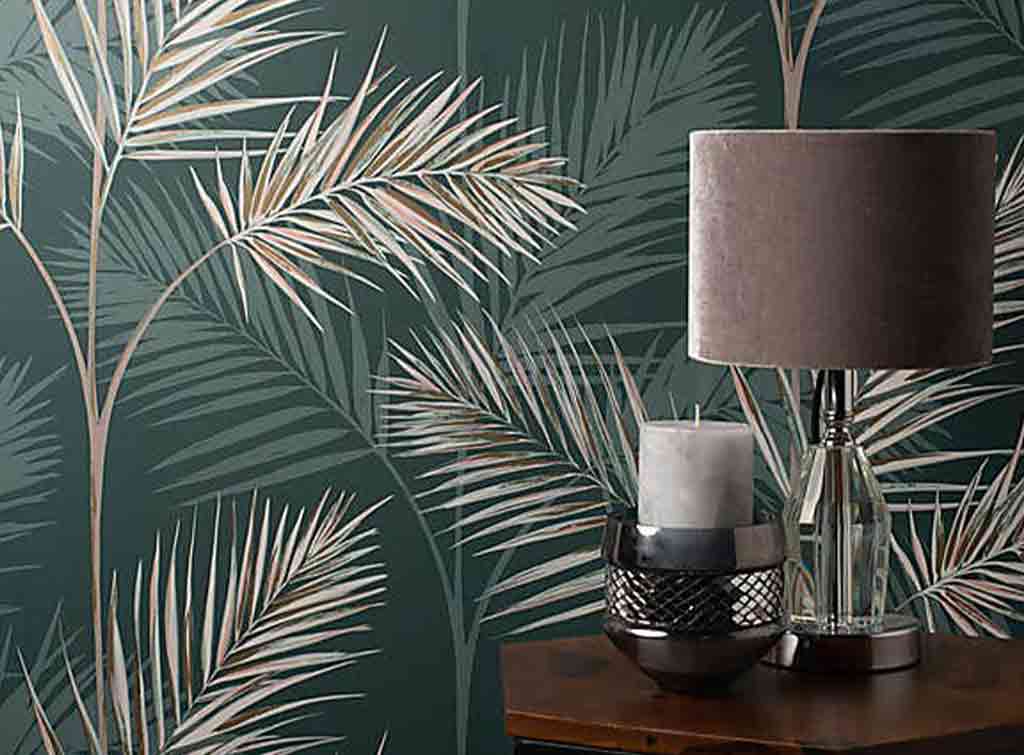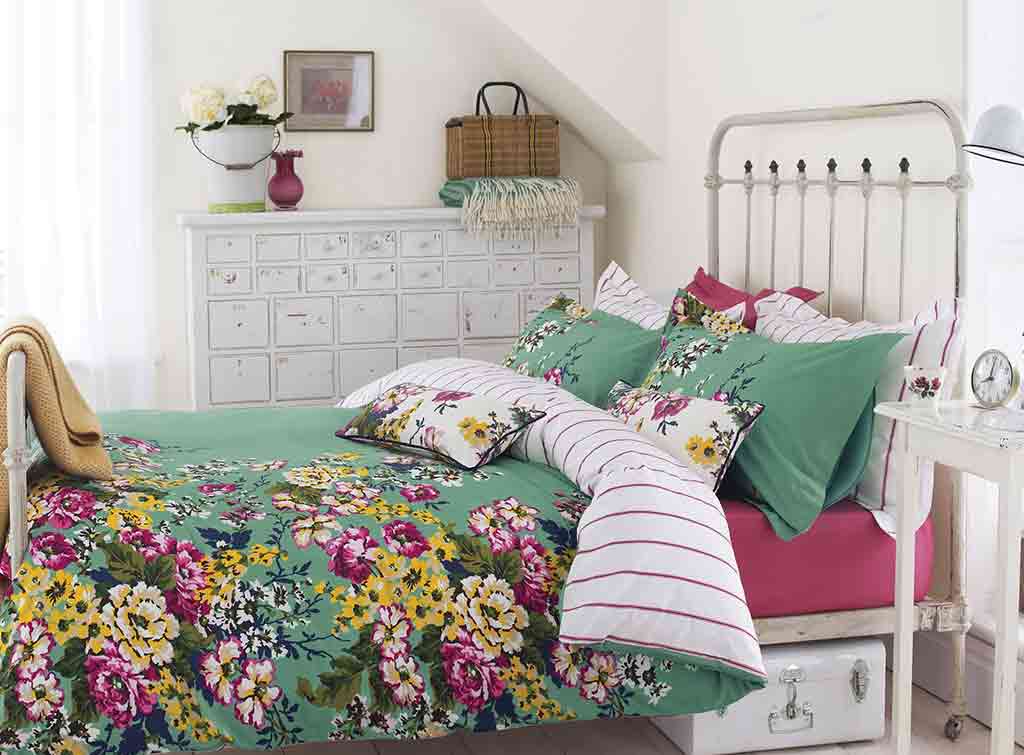 Green bedroom ideas
Dark teal or forest green works well with bronze accessories such as these bedside tables, lamps and floating mirror. Entirely opulent and regal, the darker tones of this room work well with the lighter grey and white soft furnishings.
Introducing some plants and wooden furniture completes the look, with the contrasting textures of a velour bed, polished gold and deep pile rug a warm and inviting space.
To avoid any gloominess, we recommend this look for rooms that get more light.
Sage green bedroom ideas
Sage is a quaternary colour made up of citron and slate, meaning it goes well with lime and greys. However, for 2020, we suggest opting for the 'less is more vibe' and keeping your sage to a pattern or two.
We love this beautiful bedspread, found at ufurnish by Marks and Spencer. The accompanying white floating shelves, beech furniture and stonewashed wooden floors make us feel like we're stepping into a tranquil forest retreat. Let the muted colours calm you as you listen to the rain and disappear inside your favourite book.
Mint green bedroom ideas
Mint evokes a cool breeze atop a mountain. It's a breath of fresh air and a first kiss. When we think of mint, not only does this verdant colour come to mind, but we can almost taste it on our tongue.
That's why this sensory colour is a stylish addition to any bedroom. Use it generously on items such as throws, curtains, lampshades or bedspreads. We love this example at unfurnish.com by The French Bedroom Company.
Casual and elegant, this deep mint is a 2020 staple.
Olive green bedroom ideas
Olive transports us to Spanish vineyards where we sample wine and eat its namesake from small porcelain bowls.
There's a sophistication associated with olive that not everyone call pull off. You need to go all in with this rich shade and fully commit to its theme to avoid it looking bland.
Pair olive with colours like champagne and cream to really bring out its tasteful side. This gorgeous floral wallpaper is a statement in itself, and with block colour accessories and furniture, works beautifully as a feature wall or entire room!
Lime green bedroom ideas
Lime might not be your first thought when you think of green bedrooms, but hear us out. We're not talking about the neon type of lime, we're talking about the scurvy-busting fruit that sailors and interior designers alike can appreicate.
Take this lime green duvet cover for example. It's bold and citrusy, bursting with botanicals for a bedroom that makes a meadow full of wildflowers look drab.
What's not to love?
See the tradespeople we've checked and recommend for your job
Tell us what you think
What others think of this article:
Need More Information?
Related posts