House design ideas are few and far between. As a result, we tend to focus on transforming our living space and ignoring the hub that shelters us. We relegate it to 'practical improvement only' status and miss an important opportunity to maximise our kerb appeal.
It's not our fault. The internet is awash with interior design ideas. There's an infinite spring of inspiration to dive into, which leaves our heads spinning and bank balances woefully insufficient. Consequently, we overlook our home's exterior and put up with what we have – inherited or otherwise. However, some small changes can create a big impact. For example, replacing or updating cladding, windows, doors and/or roofs might be all you need to transform your house.
So, who might benefit from our inspiring house design ideas?
Anyone looking to renovate, clad or redesign their home's exterior aesthetic – and even those looking to build a house from scratch.
Not you? Well, read on anyway – especially if you're curious about the various house designs available on the market and how they came to be. For that, we're going to take a trip through architectural history.
See the tradespeople we've checked and recommend for your job
Historical house design ideas
The Tudor Thatched (1485 –1560)
Originally inspired by 16th-century continental architecture, these charming timber-framed thatched houses have stood the test of time. Nowadays, they're mostly found along sprawls of England's quintessential countryside.
The Catholic Stuart (1603–1714)
Half timber-framed with strong Catholic influences, these sharp-edged and rigid houses began dabbling with bricks and stones in the 17th century.
The Symmetrical Georgian (1714–1790)
Elegance infused these Palladian style houses, with famous architects of the time designing symmetrical facades adorned with Greek motifs and ornate decorations. Consequently, Georgian townhouses remain popular among discerning homebuyers to this day – especially homes that retain their original features.
The Victorian Gothic (1839–1900)
These houses feature heavily in ghost stories. However, it's only because the Industrial Revolution came to town and revived Gothic architecture – a defining feature of the Victorian era. As a result, bricks became commonplace, along with pointed patterns, arches and features that embraced a 'lavish and elaborate' aesthetic – all in an effort to show off a homeowner's wealth.
The Queen Anne Timber Hood (1880–1990)
A distinct style was born during this epoch, which was heavily influenced by Dutch design trends. However, the style mainly took off in London, where gorgeous timber-framed hoods gave a nod to old farmhouses. Materials like terracotta tiles and panels started to appear, which saw red bricks growing in popularity too.
The Bright Edwardian (1900–1918)
The era that introduced electric lights and a not-so-coincidental desire for cleanliness also transformed architecture. As a result, Edwardwardian houses are notable for their lighter and brighter designs. Above all, they were inspired by the late 17th-century Baroque style, which is defined by its elaborate and colourful carvings and patterns.
The Affordable Addison (1919)
In the years following World War I, the working class revealed a greater need for affordable yet decent housing. Thus, Addison houses were born. Their designs were based on countryside cottages that allowed for lots of natural light. Therefore, tall windows and dormers grew in popularity.
The Art Deco 20s, Semi 30s, and Airey 40s
It was a period of experimentation – a time for architects to have fun and introduce new building materials, ideas and motifs. Pebble-dashed walls, mock timber frames, porches, hipped roofs and bay windows all started to emerge alongside the experimental art deco styles. However, these contrasted with the stark concrete and metal Airey houses that went up in response to the booming housing demand.
The Heated Terrace (1970s)
Terraced houses were another affordable addition to the housing market, and particularly popular due to the sought-after central heating and garage provisions. Weatherboarding and hanging tiles also offered enough character to satisfy modern design trends.
The Traditional New Build (1990s)
Somewhat ironically, 1990 new builds wanted to revive traditional housing trends. Features such as mock timber framing and rendered walls added interest, while the growing popularity of double glazing and insulation kept these houses firmly in the 20th century.
The Modern Minimalist (Present)
Eco house designs are on the rise. Eco-friendly and minimalist living favours homes with copious amounts of sunlight, energy efficiency and sustainable materials. That's why glass, steelwork, solar panels and reclaimed woods are materials growing in popularity.
Like what you see? There's plenty more where this came from. Discover more ideas, inspiration, tips and how-tos via Checkatrade's blog.
House design ideas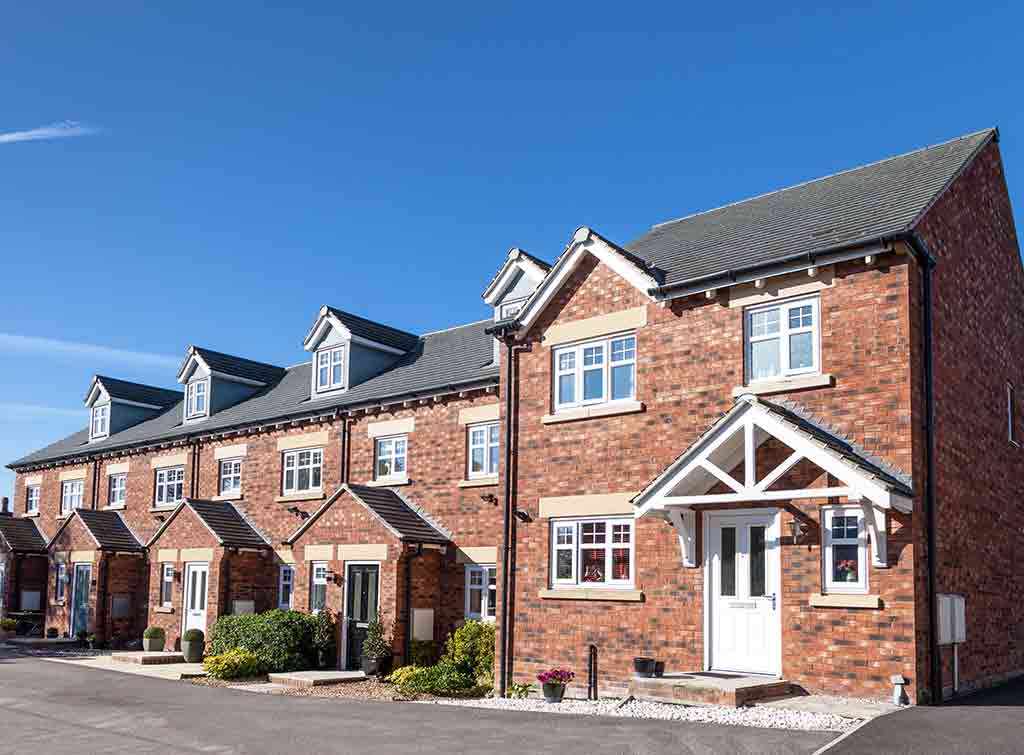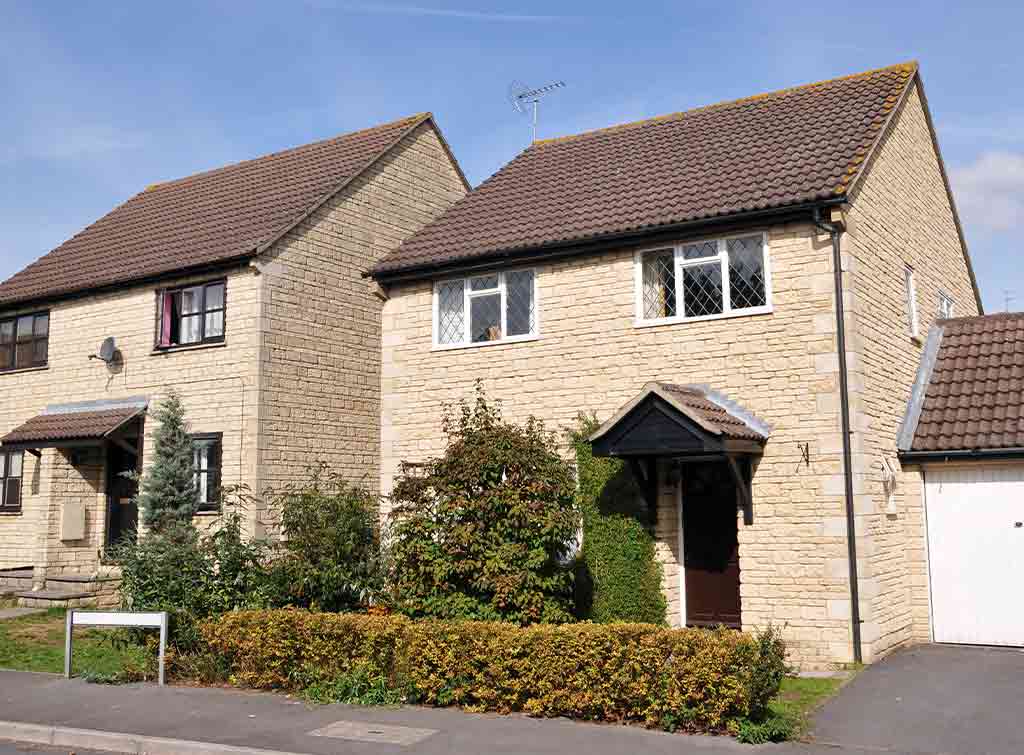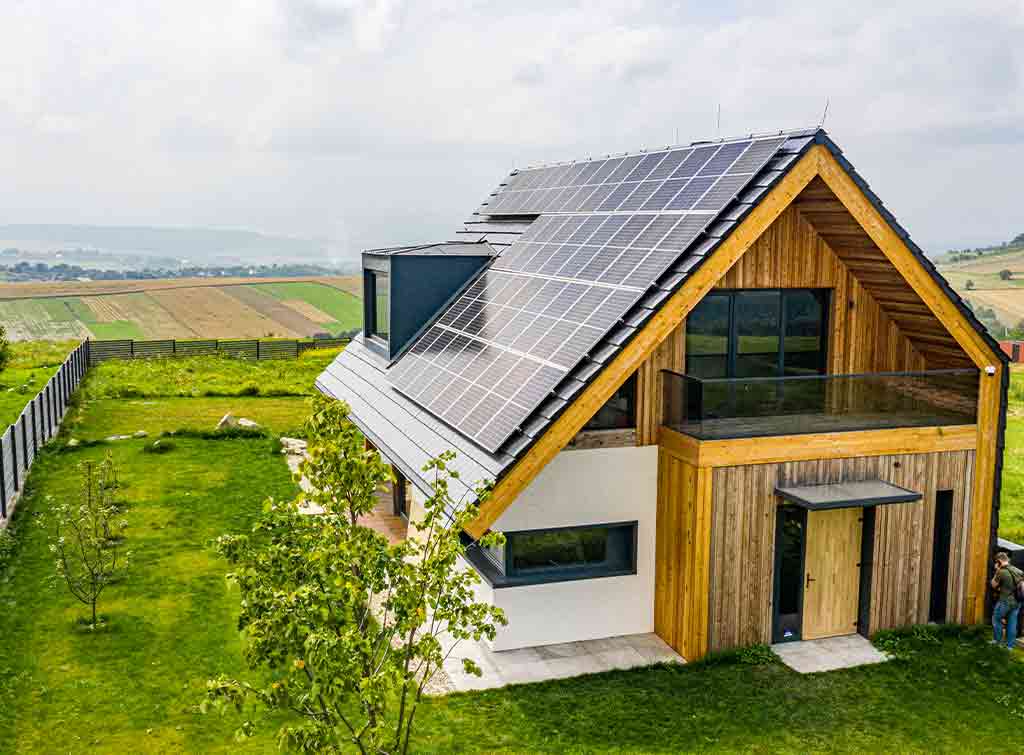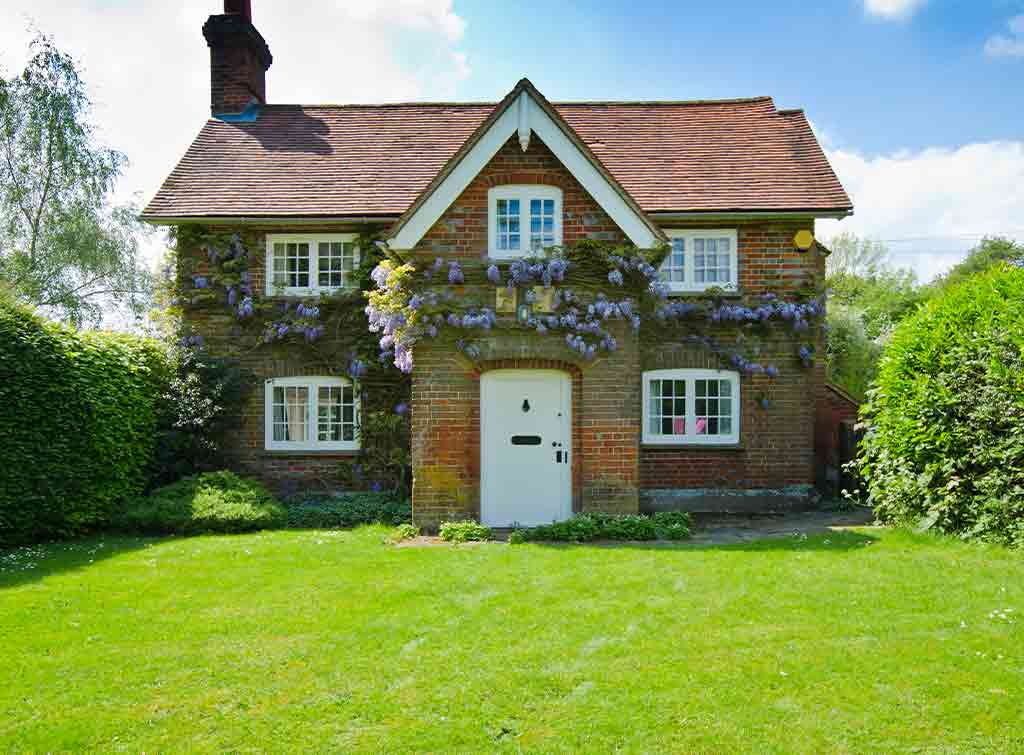 New house design ideas
New builds often come with a variety of materials and aesthetics to choose from. Often, it's dependant on your street and local building regulations. However, that doesn't mean you can't get creative (within reason).
These checkered red and black bricks offer a striking visual that works well with the slate tiled roofs. We also like how the pitched roofs and porch stoops offer extra interest.
Despite the uniformed symmetry of this street, the occupants are still free to choose what doors, windows and gardens they want to complete the look of their homes.
Small house design ideas
When it comes to small houses, adding interest is all about the finer details. For example, what shape roof you want, what cladding options work best, and whether a porch overloads or enhances the overall aesthetic.
This end-of-terrace house, which is sat on a quiet suburban street, is a charming example of how Tudor slate tiles and stone wall cladding work in harmony to create a traditional yet striking effect. The faux Tudor lattice windows are a small yet telling detail that adds a sense of character without overwhelming the modest build.
Terraced house design ideas
If you live in a terraced house, you might find your options for creativity are limited. However, like this gorgeous row of houses prove, being the same doesn't mean boring.
Connected by their shared grey shingle roofs and dormer windows, lower-ground bay windows and upper-floor casement windows, they've opted for separate door colours, wall paint and front-garden foliage.
Consider focussing your creative flair onto your perennials. Stand out by putting a floral stamp on your property – just like the blue house on the right.
Summer house design ideas
There's nothing like an English summer to really water your plants. However, during the days where the sun shines and you get to enjoy the great outdoors, why not retire to your summer home in the countryside and reap the benefits of all that fresh air?
A garden is as much a part of your property as your house is, and bees adore wildflowers that keep them busy and happy. We love this Swedish-style summer house for so many reasons. Firstly, the traditional roman tiles on the triangular roof hug the half-timber framed walls and wooden cladding like an oversized hat. And secondly, the charming front porch with its own pitched roof is teeming with life, as hanging baskets and surrounding shrubs cuddle up to the walls of this cottage to breath life into this slice of Eden.
Eco house design ideas
The design of an eco-friendly home is just as important as the materials used to build it.
Firstly, the triangular roof, with its steep angles and timber-framed design, is a great option in regards to durability. Due to the living space being predominantly at ground-level, these roofs are able to withstand heavy snow and also stay cool during the hotter months. Learn more about roof designs here.
Secondly, the solar panels are another great addition, powering the home through sustainable energy absorbed from sunlight.
Lastly, the reclaimed wood and decorative cladding, sheltered glass windows and surrounding land for growing food offer this lucky homeowner a great opportunity to live sustainably.
Discover more green home ideas here.
Victorian house design ideas
This modest two-storey Victorian cottage is characteristic of its time. The traditional red bricks, steep gable roof and matching porch entrance, subtle ornate gables and casement windows are a gentle nod to the gothic architecture of its era.
The sweeping lush grass and creeping wisteria add a note of whimsy to the aesthetic, while the white door with its brickwork frame is a classic design element that offers a clean finish.
Stone house design ideas
This ground floor, triple-gabled house is a converted Victorian design, updated to reflect contemporary trends. We love the floor to ceiling windows, modern gables, grey shingled roof, and cream stone cladding, which are perfect examples of how to match materials and avoid feature-clashing.
When deciding on house upgrades, be sure to match all the design elements so they work in decorative harmony. For example, red slate roof tiles would look out of place on this house.
See the tradespeople we've checked and recommend for your job
Tell us what you think
What others think of this article:
Need More Information?
Related posts