Roof terrace ideas are booming. Perhaps the 2020 lockdown has fired up our need to create a retreat, or maybe spending so much time at home makes outdoor space a new and exciting commodity. Either way, a roof terrace is all about creating a sky sanctuary full of unique design elements.
Think about adding trees and shrubs that withstand windy conditions. Introduce outdoor furniture for casual evenings beneath the stars. Add raised beds, water features, fire pits and solar panels for some extra green benefits. Whatever you do, do it with style.
With views that stretch on for miles, consider your square footage and how to best to utilise the space. Aim for maximum character and playful textures to transform your environment and reap the rewards.
However, before you start work on your roof, remember that these sorts of terrace renovations need planning permission. Make sure you have the appropriate paperwork in place before you start your project.
Got an idea of what you want but not sure how to execute it? Call in some help from one of our trusted interior designers.
Benefits of a roof terrace
A versatile entertainment space
Here's one for your roof terrace ideas: Imagine an evening of al fresco dining with friends, the scene softly lit with lantern lights and wraparound festoon lights. You've enjoyed three courses as the sun sets behind you, and now it's time to retire to your rattan furniture and finish off the evening lounging around the fire pit. Doesn't that sound heavenly?
Extra living space
Especially worth it for small flats or houses in urban areas, a rooftop terrace offers an extra area for recreation or relaxation (depending on your mood, square footage and budget).
An amazing view
The main draw of a roof terrace is the view. Even if yours doesn't offer anything grand, it's still worth it for the stargazing benefits. Watch the sunrise and sunset in style and let your imagination do the rest.
Green-fingered and eco-friendly
Rooftop terraces offer the perfect space to grow food, partake in some gardening, and help the environment. Plants help reduce pollution and limit flood damage by catching rainfall runoff. With the right roof terrace design idea, they can help reduce energy bills.
Like what you've read? We've got plenty more where this came from. Check out our blog for more tips, tricks, how-tos and inspiration for your next renovation.
Roof terrace ideas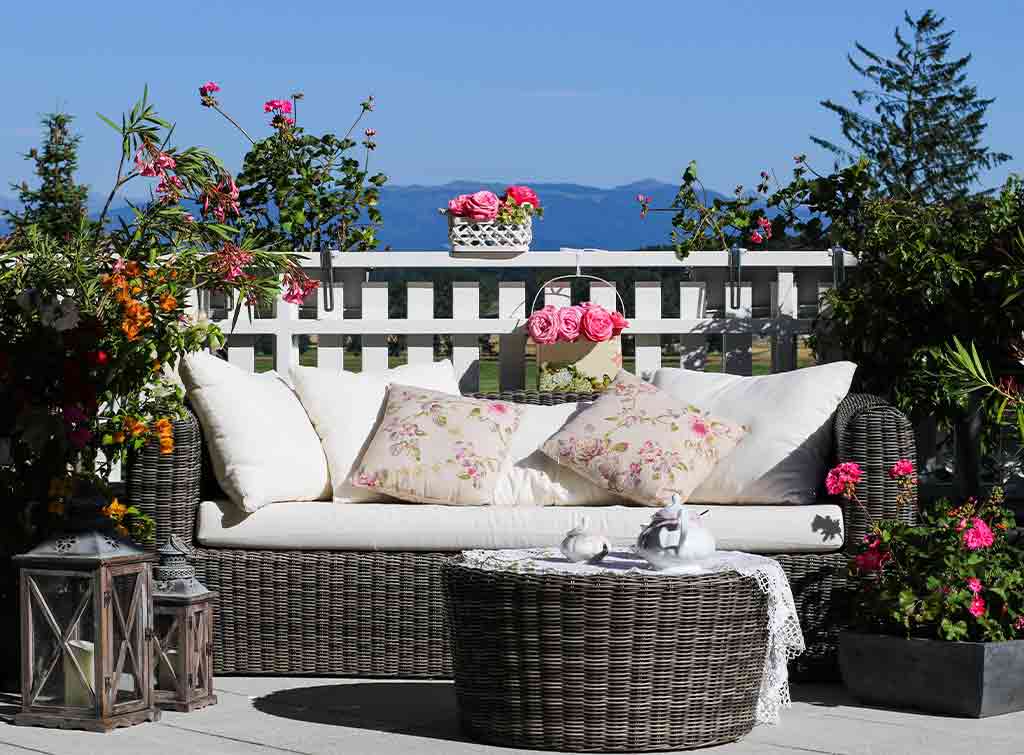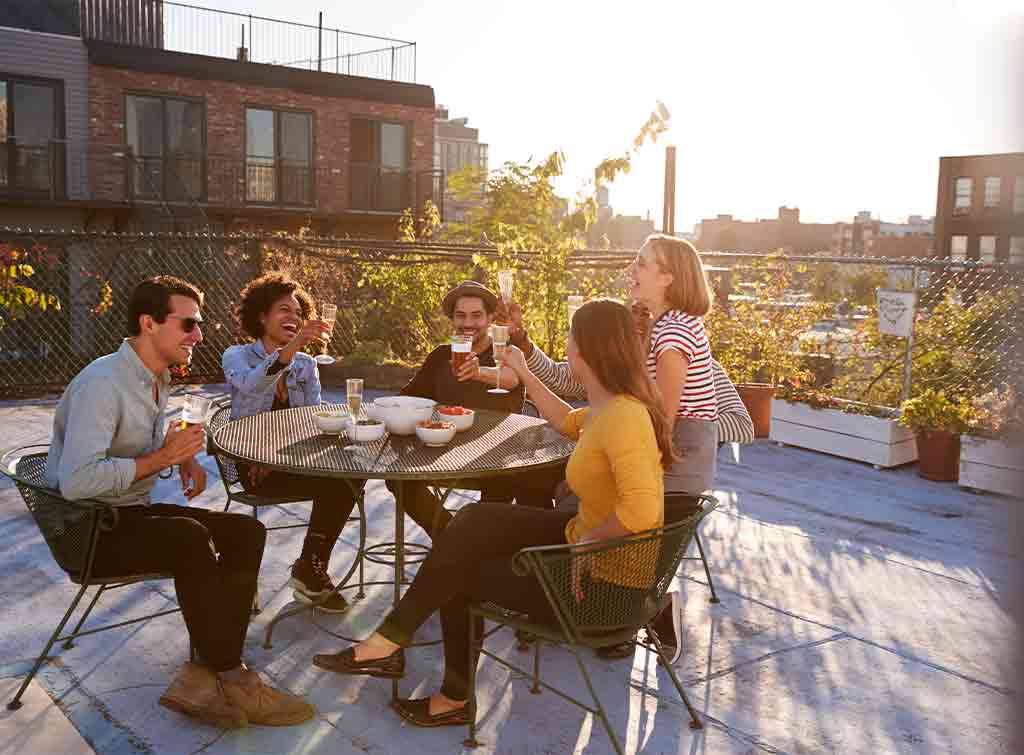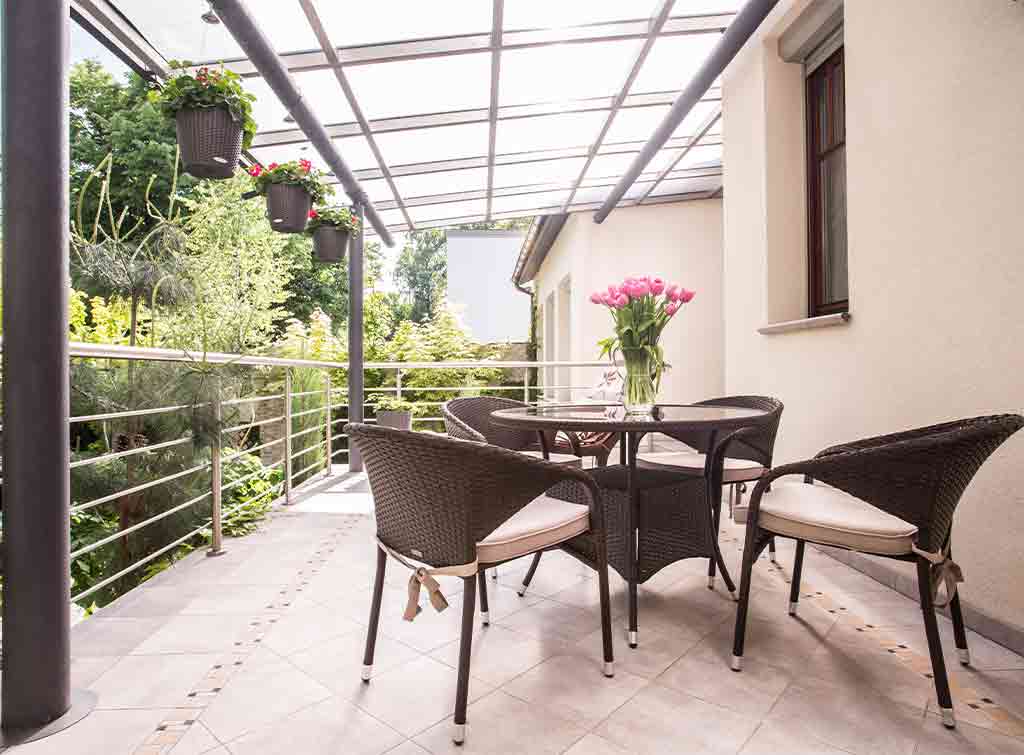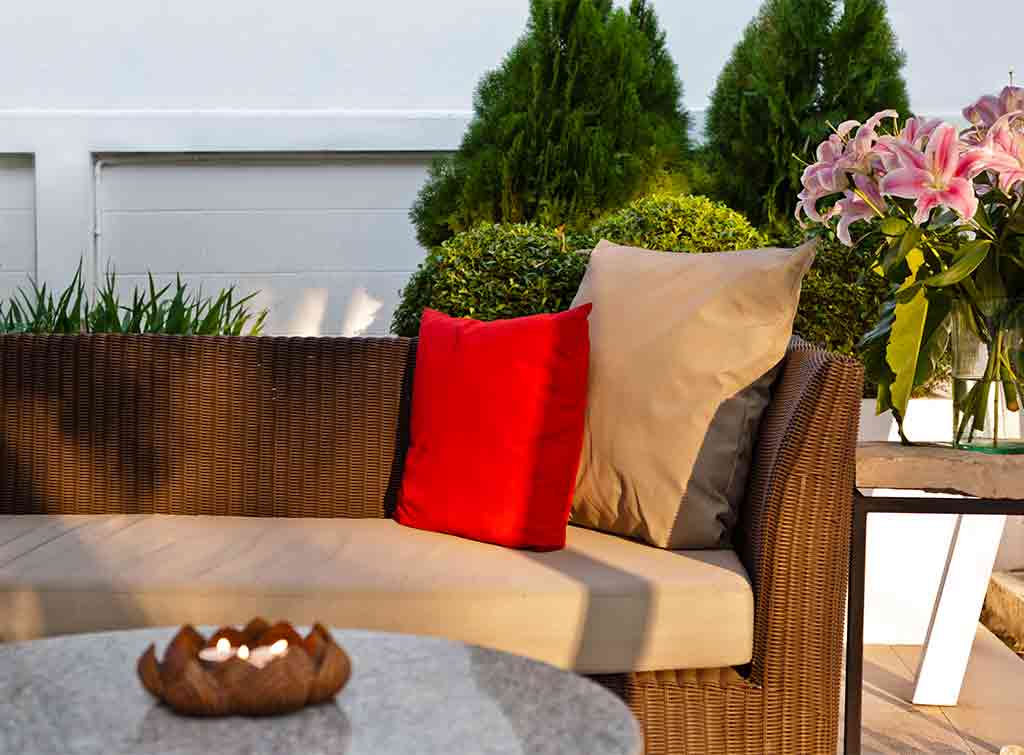 Extension roof living ideas
Convert your extension roof into a minimal and open-plan space fit for some moonlight bathing.
Small bistro sets are perfect for roof extensions, as are hardy plants and bushes for windy conditions.
There are even ridged roof furniture designs that let you use the space, regardless of its angle!
Flat roof extension living ideas
We love rattan furniture sets. Versatile and effortlessly chic, they're weatherproof and stylish.
Think about putting a lounge set on your flat roof, setting off the mood with large floor lanterns and warm throws for chillier evenings.
Garage roof living ideas
Work with your space when dressing a garage roof. Putting up walls will help with health and safety, but think about adding some periphery planters and hardy plants for extra character.
Again, we suggest a sturdy furniture set that you can secure onto your garage roof to avoid it blowing off. Heavy, metal-framed furniture works well.
Another idea is to create a sun trap with a minimalist theme, adding a pair of sun loungers for maximum tanning potential.
Roof terrace ideas
If you're lucky enough to have a dormer roof conversion that opens onto some outdoor space, then the world is your decorative oyster.
You can keep it fresh and relaxed, with tables and chairs, parasols and plants, or you can lay decking, artificial grass or gravel to spice up the space and turn it into a relaxing retreat.
Consider a water feature, fire pit, sculpture/s or outdoor BBQ. Dress the space as lavishly or minimally as you want. Just be sure to make it work for you.
Outdoor living roof ideas
Having a rooftop is a blessing – especially for urban or city dwellers – so it's only natural you'd want to show it off.
That's why creating the ultimate entertainment space is essential. Festoon lights and large outdoor cushions create a cosy hub, while wooden table benches and LED strip lights turn any rooftop into your own personal pub garden.
How very Shoreditch!
Conservatory roof ideas
Conservatory roofs are excellent nurseries for growing food and your favourite plants. They're also great for heating your house and letting you stare at the stars – even on winter evenings!
Decorating your conservatory roof with shrubs, perennials and climbers is the perfect way to utilise your space. It also creates a great aesthetic that herb boxes and planters full of hardy plants only accentuate.
Your furniture choices can soften in conservatory rooftops too. You can get away with hanging chairs and padded seating decorated with throws and cushions of any variety. Your flooring is also less weather-dependent, meaning wooden decking or stone tiles are less likely to suffer from weather-induced wear and tear.
Green roof terrace ideas
Green home improvements are the latest 2020 trend, especially with the Green Homes Grant coming into effect.
Materials for a green rooftop include repurposed wood or sustainable alternatives like bamboo, and artificial grass that reduces pesticides and eradicates garden waste.
Other than the materials used, a green rooftop is all about creating a sustainable sanctuary with eco-friendly designs and air purifying qualities, which is especially important for those who live in polluted areas such as cities.
See the tradespeople we've checked and recommend for your job
Tell us what you think
What others think of this article:
Need More Information?
Related posts