Killer tips to become your own best salesperson
As with any new business, sales are going to be key to its success. But how can you become your own best salesperson to get your new business off to the right start? We explain the four key areas to focus on to help you do just that.
In this article, we'll cover:
Your approach
We've all heard the saying, 'people buy people'. And never a truer word spoken, especially when it comes to tradespeople.
Homeowners need to feel they can trust the tradesperson they're inviting into their home. They need to have confidence in the trade's ability to provide an excellent service.
There are a number of ways you can help to make a connection with your potential new customers and build a rapport.
1. Always be authentic, honest, and act with integrity
This means:
Don't try to sell people things they don't need
Never lie or be misleading
If you say you're going to do something, do it
2. Be confident
If you have confidence in yourself and the services your company provides, it'll make your customers feel more confident in your services, too.
3. Have a positive energy about you
You're an expert in the services you're offering. Make sure this comes across in your approach by being passionate, enthusiastic, and knowledgeable. These attributes will make you more reputable in your customers' eyes.
4. Be resilient and adaptable
In an ideal world, you'd receive a consistent volume of sales at a pace you can manage.
However, in reality, sales can fluctuate and you must be able to adapt your approach as and when needed.
A good salesperson returns to the drawing board to think about how they can generate more sales. For example:
Your customers
Gone are the days of forcing sales that people don't need or want. It's not about your needs, it's about the needs of your customer and how you can fulfil them.
The secret to being a good salesperson
Listen to your customers' needs
Ask questions to understand and identify how your services can meet those needs and/or offer a solution.
Preempt objections and plan how to handle them well. For example, if the customer says they've received a cheaper quote elsewhere. How would you respond to this?
Follow up with the customer to ask if they have any further questions, or if they've received your quote ok, with the aim of 'closing the sale'.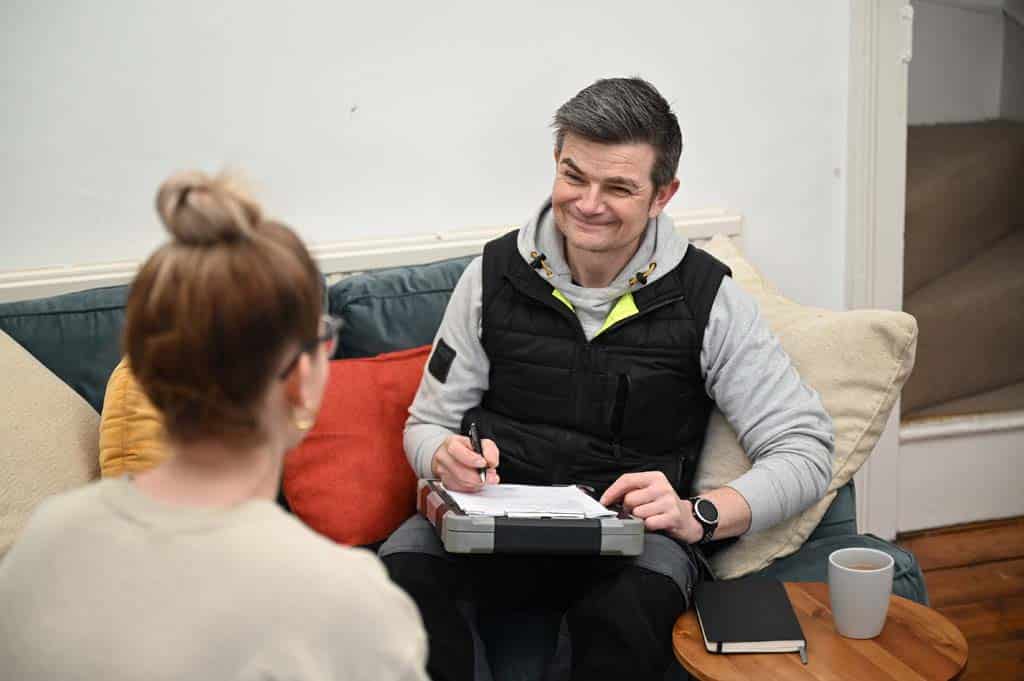 Setting up your business in the right way
Consider ways you can work efficiently and help your business to stand out from the competition to encourage sales.
Setting your business up to sell itself is easily the best way to sell.
Position your business as a legit one
Your business needs to be seen as trustworthy – it'll make your life easier when it comes to selling. A customer will come to you knowing you're the real deal.
How do you build trust with a customer when they haven't even chatted to you yet?
Isn't that the million-dollar question. Here's a few ways.
Associating your business with trusted brands
Your trade business can build trust instantly in a few ways.
Having qualifications and marks of trust:
How does Checkatrade build customer trust?
When homeowners need work done to their home, where do they look?
Checkatrade.
Why?
Because we check all our members. That's a nice little bit of security and a confidence boost for your customers.
Checkatrade is the most well-known sign of quality vs other leading directory brands*. Checkatrade is the quickest way to confirm to homeowners that you're the real deal. In fact, 8 out of 10 people would choose a trade endorsed by Checkatrade compared to one that isn't endorsed**.
You really can save time and money building your brand's trust. Find out more in the below blog.
1. Start growing the number of reviews you have
Having people rave about your level of service and quality finish is gold dust for your business. Customers saying you're great is literally the best sales tactic a business can have.
It's one of the oldest tricks in the book, and it has a name in marketing – it's called social proofing. Basically, it means using the opinion of real people who have worked with you to persuade other people to work with you. Helping you get leads and more work.
People listen to other people's opinion, which is why social proofing is so important. We have an entire blog post on it, which you can read here.
Social proofing uses the 'bandwagon effect' to encourage customers to choose your business over your competition. And one of the top ways to social proof your business? Customer reviews!
2. Embrace technology
Checkatrade members use our app to manage their directory listing on the go, easily update photos of recent work within their profile, and encourage customer reviews with the touch of a button.
The Checkatrade profile is a really straightforward and effective way to demonstrate your skills and showcase the services you can provide, which is really important because 1 in 4 homeowners using Checkatrade are checking quality credentials before going direct*.
Checkatrade members also receive a range of benefits, including a free finance app so they can prepare and send professional quotes and invoices to customers quickly and easily.
What's the Checkatrade Trades App?
Only members can use it, but it's a great little tool to get you more work
Find out more
Know your market
If you're to be successful in sales, you need to understand your market, by doing the following:
1. Being competitive
In order to stand out from the competition, take time to research your market to develop an understanding of your business's unique selling points (USPs).
Of course, communicate this to your prospective customers to help them see why they should choose you! This could be based on your level of expertise, areas of specialism, qualifications, or accreditations.
2. Marketing your business effectively
First, you need to understand your customers. Then you can market your business effectively.
Do you know where they hang out?
Do you know where they search when they need support or inspiration?
Probably on Checkatrade… oops, that slipped out.
As a new business, a profile on the #1 trade directory will get you in front of homeowners looking for your services and give you an instant boost of credibility. 8 out of 10 people would choose a trade endorsed by Checkatrade compared to one that isn't endorsed**.
You must first pass our checks to become an Approved member, after which you can flex your membership month-to-month as needed to suit the volume of leads you wish to receive.
Build a profile to help you sell
Being on Checkatrade puts you in the best place to convert leads into real jobs
About our profiles
*Claims are sourced from a survey conducted by Deep Blue Thinking on a nationally representative UK sample in November 2021.
**Claims are sourced from a survey conducted by Deep Blue Thinking on a nationally representative UK sample in November 2021.
***Claims are sourced from a survey conducted by Deep Blue Thinking on a nationally representative UK sample in November 2021.