How to instil trust with customers
Trust forms the foundation of the relationship between your business and your customers. It equals credibility, more work, and more recommendations. So how do you build that all-important trust to give your business a competitive advantage?
In this article, we'll cover:
Why is it important to build trust with customers?
Adobe's Future of Marketing research, conducted in August 2021, reinforces the importance of knowing how to instil trust with your customers, and making this a cornerstone of all your business activity.
A large proportion of the customers surveyed (70%) said they'd stop using a company altogether if their trust was broken. However, the data also showed the rewards a company can reap if they get it right.
The research showed that when a customer trusts a brand they:
Make more purchases (67%)
Recommend to friends (63%)
Join a loyalty programme (42%)
Post positive reviews or comments on social media (34%).
If you want these things for your trades business (who wouldn't?), read on to learn how to build trust with customers in just a few simple steps.
How to instil trust with your customers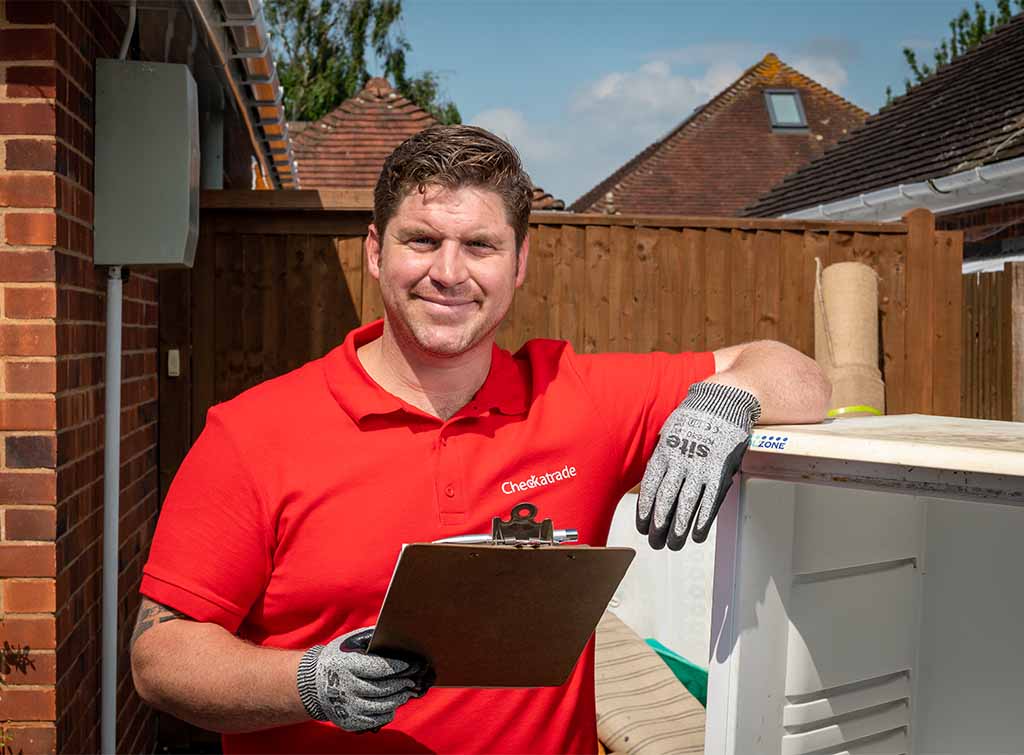 How to build trust with customers online – in 3 easy steps
We all know how important it is to instil trust, and we've seen the evidence in black and white, so now to the good stuff. Here's how to build customer trust and loyalty in three steps:
1. Be consistent with your marketing messaging
All this means is to make sure all your marketing materials are branded and carry the same messaging. This reassures the customer they've found the business they were looking for, their expectations have been met, and trust is instilled.
For example, if a customer sees your advert in a local magazine and visits your website, then they'll expect to see the same branding and messaging on your website as they've seen in your advert.
The language you use should be similar, both in terms of your tone – how you speak to customers, and the words you choose to describe your services.
Your branding should be consistent – the imagery you use, the colours, your logo, and the font.
Any offers advertised should be the same across any platform that a customer could find you, whether it's on your Checkatrade profile, your social media, website or local magazine.
2. Share customer reviews and testimonials
Us humans are pack animals. We work together to help each other and to increase our chances of survival.
While we've long evolved from the need to physically behave with a pack mentality, these principles still form the basis of many consumer decisions today. This is known as social proofing.
Essentially, if the group is doing something, it provides reassurance that it's the right thing to do, and encourages others to act in the same way. For your business, when potential customers see that others have had a positive experience with your company, it makes them more likely to want to hire you for the job.
One of the most effective ways to social proof your business is to include customer reviews and testimonials on your website, on your Checkatrade profile, and on your social media channels.
In fact, don't be shy about using customer reviews across any of your advertising avenues. You've worked hard to earn them, so use them to your advantage!
Read our top tips for getting customer reviews for your trades business.
3. Join Checkatrade
You may think this one is just a massive brag, but associating your business with a credible brand or association increases the trust that people have in your business.
8 out of 10 people would choose a trade endorsed by Checkatrade compared to one that isn't endorsed**.
Checkatrade is the most well-known sign of quality in the trade industry***.
To join Checkatrade, tradespeople must pass our rigorous checks. This provides additional proof to homeowners that your service is legitimate and trustworthy.
Read more about using the Checkatrade tick to your advantage.
Get the tick that people trust
8 out of 10 people would choose a tradesperson we've checked over one we haven't*
Start our checks now
How to build trust with customers over the phone
We know how to build trust in your brand online, but what about over the phone?
Follow these 5 tips to instil trust and you're onto a winner:
Always respond to customer enquiries in a timely and professional manner.
Where possible, reply to an initial customer enquiry in the same way they contacted you. If they send you a text message, message them back.
Where appropriate, refer to other work you've done in the area to help to instil greater trust.
Let the customer know where they can see examples of your work, perhaps you have some 'before and after' photos on your Checkatrade profile or social media channels. This not only helps to build trust but shows you take pride in your work.
If you're a Checkatrade member, let the customer know about the Checkatrade guarantee.
Quick summary
Trust and loyalty go hand-in-hand. Tradespeople who work hard to earn the trust of their customers and value maintaining it are rewarded with a lifetime of customer loyalty.
Once trust is broken it is incredibly hard to rebuild.
Businesses that fail to build trust with their customers risk losing their customers forever and increase the possibility of receiving negative feedback online and via word-of-mouth.
Get the tick that people trust
8 out of 10 people would choose a tradesperson we've checked over one we haven't*
Start our checks now
* Deep Blue Thinking 2021 Trade Perception Survey
**Deep Blue Thinking 2021 Trade Perception Survey
*** Deep Blue Thinking 2021 Trade Perception Survey