How to get customers to leave you a review
Reviews are crucial for your business. They're often the key in making any homeowner go from a potential customer to a paying one. Here are the best ways to get your customers to leave you a glowing review.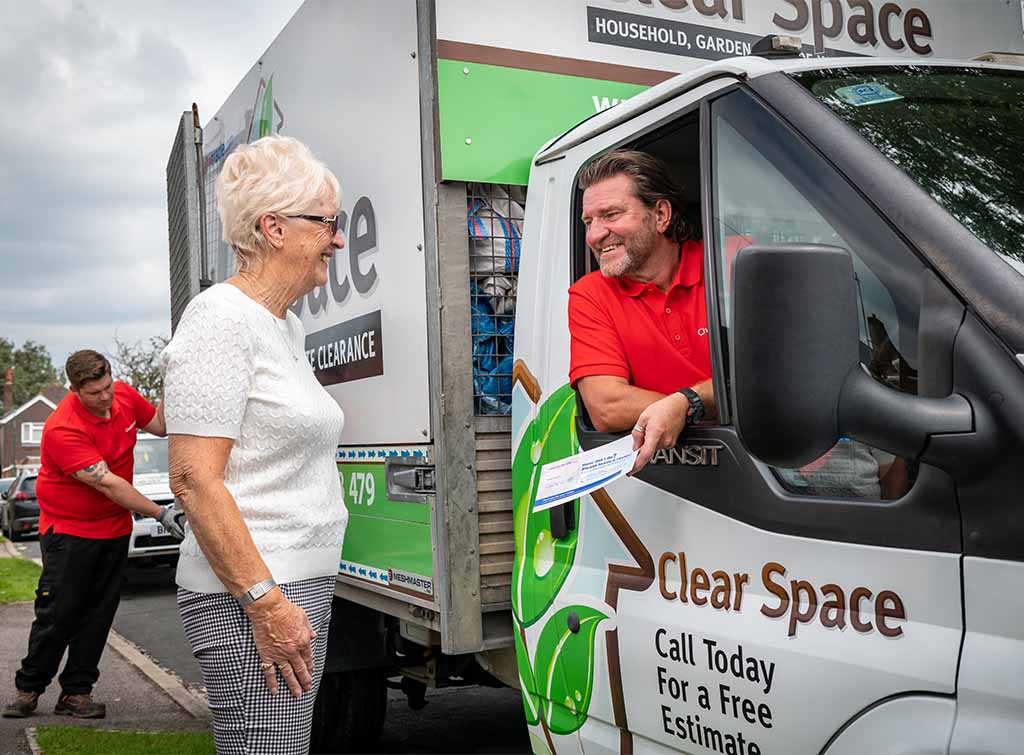 Your online presence and reputation are essential to getting more work. There are many online marketing tactics to choose from, but there's one pretty simple thing that businesses forget. And that's reviews.
According to the latest research, 98% of people read online reviews for local businesses before buying a product or service. This stat alone shows customer reviews are an essential part of growing your business.
There's not many better ways to show how great your business is than letting someone else do it for you. That's why customer reviews are essential.
To grow your online business profile, it's important to focus on getting a regular flow of customer reviews.
Building your brand with Checkatrade
It isn't new. Marketers have been using reviews to build a brand's trust for years.
Customer reviews on Checkatrade is the new word-of-mouth recommendation. It's one, trusted place for homeowners to see which tradespeople their neighbours recommend.
And rightly so, you want to use it to your advantage as a Checkatrade member.
We all love happy customers, but getting them to leave a review can seem as challenging as the job you just completed for them sometimes!
Let's answer the big question, how do you get customers to leave you a review? Even those customers who forget to do it right away.
How to encourage reviews
First, do a great job
This goes without saying. For all of our guaranteed Checkatrade members, we have every confidence in you!
Customers who enjoy the experience of working with you, are chuffed with the end result, and have grown to like you or your team will be happy to leave a positive review.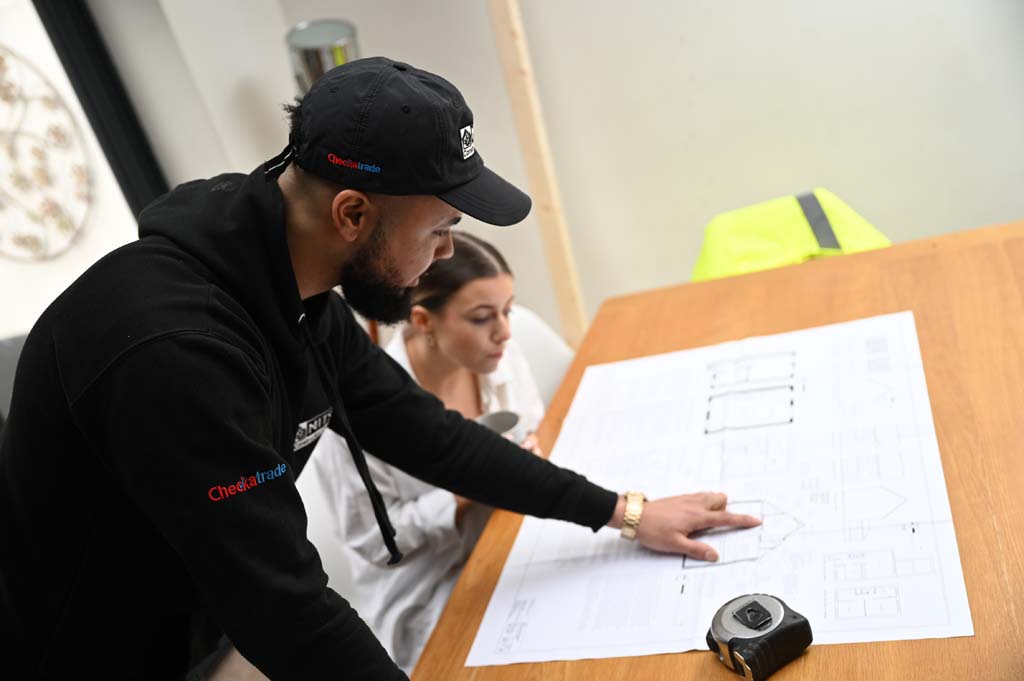 Second, provide the best possible customer experience
Here's a reminder of the top tips for keeping your customers happy:
Don't leave your customers in the dark – keep them updated on how the job is going.
Respect your client's home – keep your workspace tidy, leave the area spotless and make sure everything is put back where it should be.
With their permission, take before and after videos or photos of your work to really show your customer the difference you've made. It can go a long way when trying to impress them.
Don't cut corners – you don't want to let a customer down with sloppy work.
Always communicate with customers in a polite and friendly way.
Make sure you're on hand to answer any of their questions before, during and after the job.
Don't forget the aftercare advice – it's a good idea to give maintenance tips and check in with the customer after the work is complete.
By providing the best possible experience, your customers will want to leave you a review, rather than feeling compelled to leave one just because you've asked them to. That's the position you want them to be in.
For more handy tips on building client relationships, check out our guide here.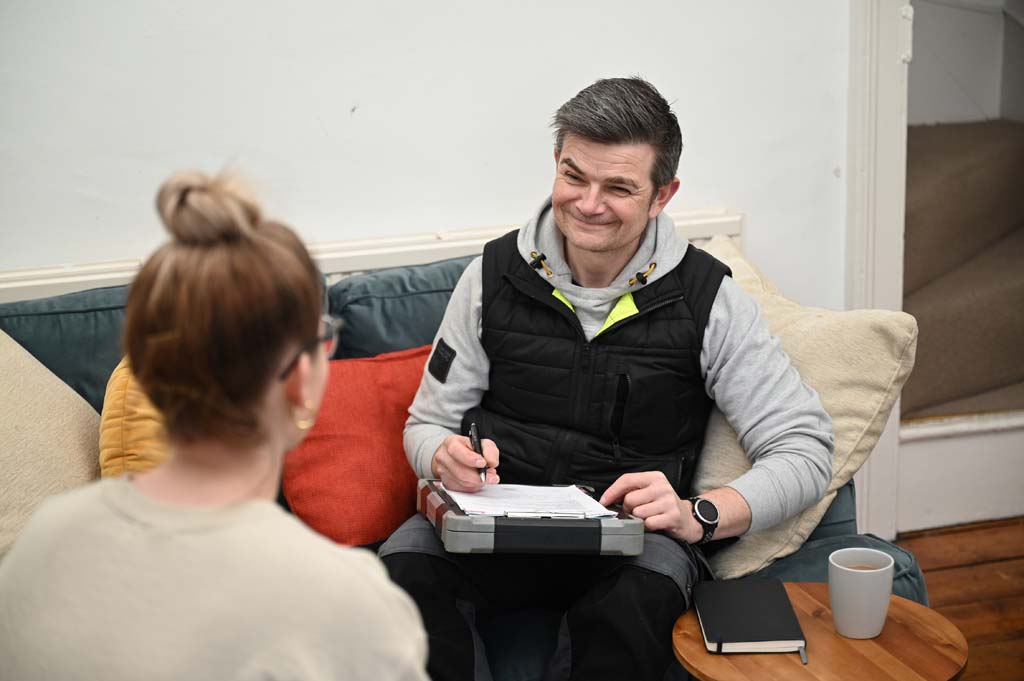 Clever ways to ask customers for a review
There are several ways you can ask for reviews from your customers, and it's a good idea to try out each of these to find out what works best for your business.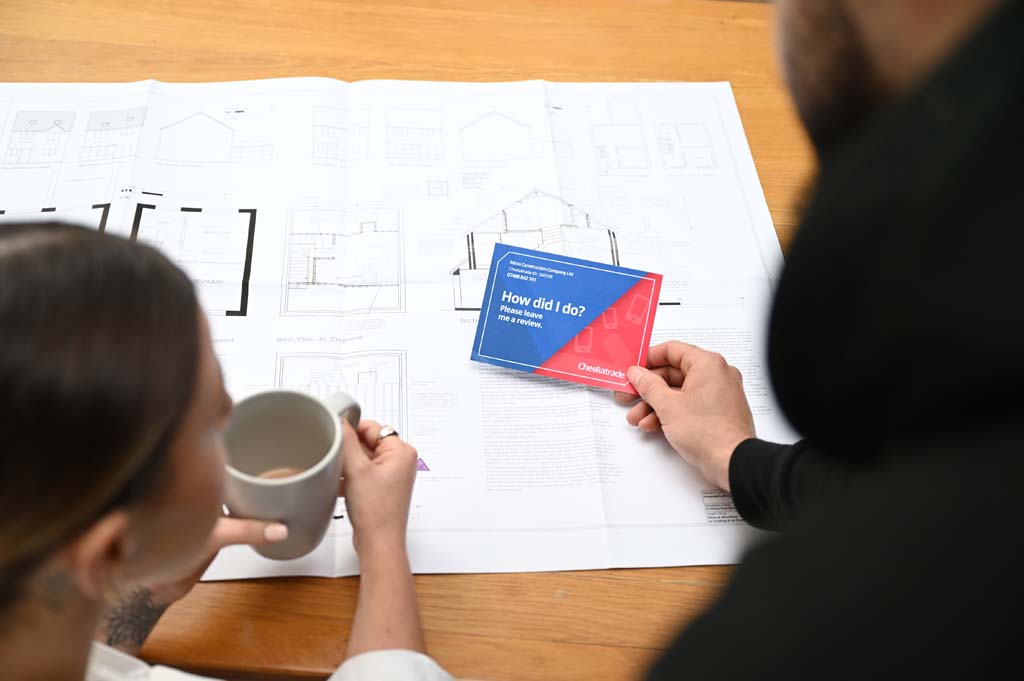 Here are some effective approaches to try:
Before you start any work, keep Checkatrade on their mind
You've got the job and you arrive on your first day. The chances are you mentioned you're on Checkatrade, or they found you on Checkatrade. Either way, it's good to mention it.
Homeowners are aware of Checkatrade and what it stands for – honest reviews. With that in mind, it already makes them think about reviewing you once the work is complete.
Top tip: Don't ask for a review before you've started the work.
Leave them your Checkatrade review card
It's your last day; the work looks amazing. As you start tidying or finishing your last cuppa, pull out a Checkatrade review card and mention that you'd really appreciate it if they could leave you a review.
It's a nice tactful way of asking for a review. You don't need to say too much as the card says everything you need to.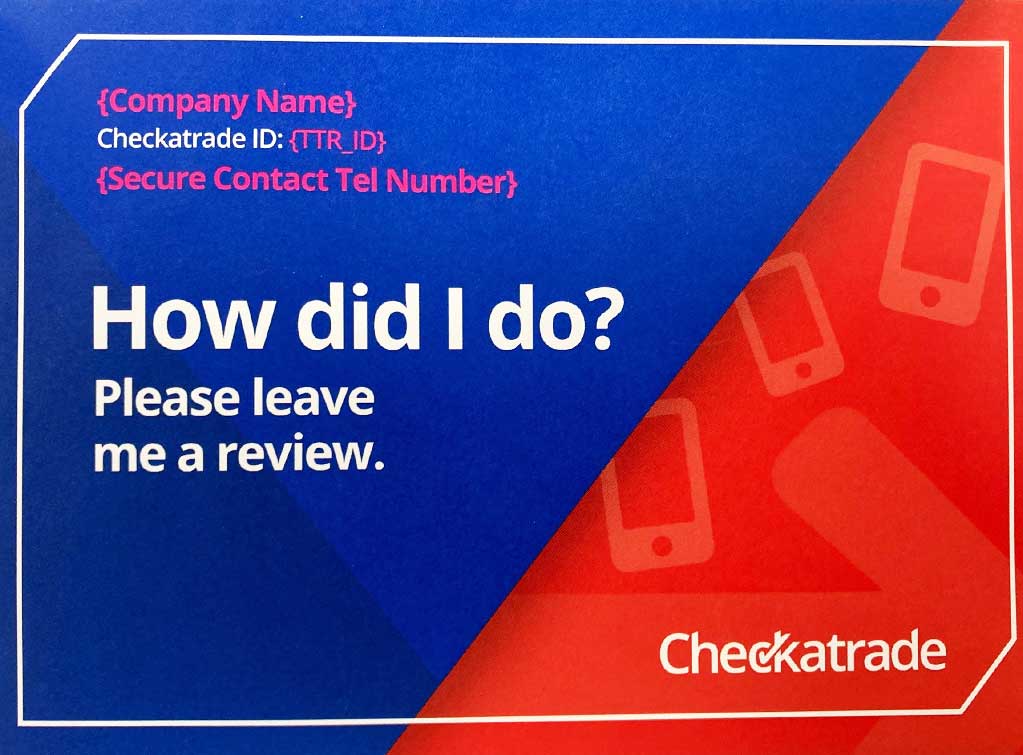 These cards are personalised to each member so you can be assured that your feedback will be recorded against the correct tradesperson.
As a member, you can also ask for feedback through a Checkatrade-provided link which can be sent via email or SMS.
Send your customer a final email to sign-off and mention the review
You may follow up a finished job with an email to see if the customer has any feedback and generally say that you enjoyed working with them.
It's at this point you could encourage them to use your unique feedback URL to leave you a review on your Checkatrade profile.
Did a customer tell you in person or via text they love what you did?
This is the perfect opportunity to thank them and ask for a review.
Hand them the review card if in person, or link them to your Checkatrade profile and say you'd really appreciate their time to leave a review.
Include a call to action on your invoices as a reminder to leave a review
When you send over the final invoice, this is another opportunity to drop a note in about leaving a review.
It could be part of your sign off in an email, or you could even add it into your invoice if you have an editable version.
Do customer reviews increase sales?
The answer is most definitely yes. Customer reviews build trust. When a consumer reads a positive online review, they are far more likely to choose that company over others with fewer or no online reviews.
In 2022, online reviews are one of the most important parts of growing your business. When you want to boost your sales, enhancing your online profile is essential.
What to do if you asked for a customer review, but they haven't left one
People are busy, it's as simple as that. When people are busy, they don't want to feel under pressure or nagged to do something.
Getting reviews from busy people could be considered an art, but here are some tips for you to get that precious review:
Follow up a couple of weeks down the line
You could drop the customer a text or email to see if everything is ok. Ask how they are, show interest in them, and see if they're still happy with your work.
At this point, you can slip in the point of getting them to leave you a review. Mention the review card you left them and ask them when they have a spare minute or two if they could leave you a review.
You can even mention the importance of their review for your business. But don't get too heavy on them; they don't want to feel pressured. You need them to want to leave you that review.
Let the Checkatrade app nudge them for a review
One of the great features of the Checkatrade app is that it can send customers a reminder to leave you a review.
Sure, the app is mostly known as a way for you to manage your customer leads, messages and profile page on the go, but you can send customers a reminder for feedback by both email or SMS.
Make sure to check out the Checkatrade app on the App store (iPhones) and Google Play Store (Android).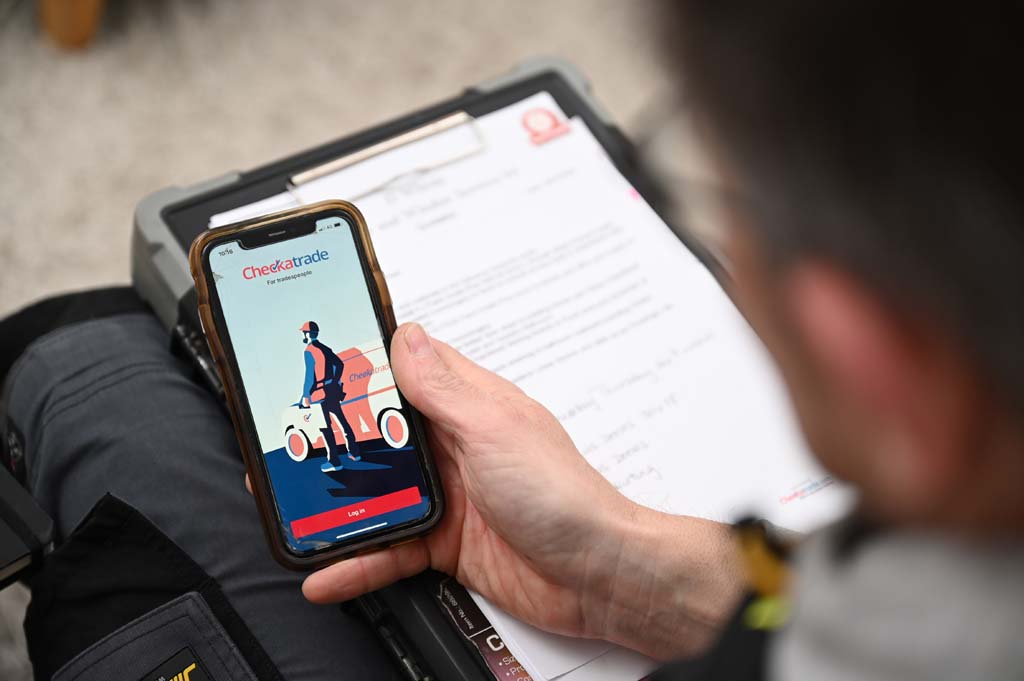 Wait, you're not a member?
What are you waiting for!? Start building your reputation
Join Checkatrade now
After you get the review
Before you do anything else, thank the customer for taking the time to leave you a review.
Then start shouting from the rooftops about your hard-earned testimonial.
How do you promote customer reviews?
As your business gains customer reviews, it's important to promote these not only to enhance your reputation but also to encourage other clients to do the same.
Here are the best ways to showcase your feedback:
Being on Checkatrade means you have a great platform to show off your customer feedback. It's a great way to attract potential customers and turn them into paying customers. Did you know that 8 out of 10 people will choose a tradesperson we've checked over one we haven't*.
If you have a website for your business, this is the perfect place to show your customer reviews. It lets people know that you're a quality and trusted tradesperson. Make sure to link to your Checkatrade profile to show it's a legitimate customer rating.
Post your review on social media. Create a nice, standout graphic to make sure everyone pays attention to your post. You could even ask the customer to share the review on their own profile to get the word around about you.
When communicating with clients over email, it's worth having a signoff that includes either a review snippet of your Checkatrade rating or a couple of your best reviews. This way, you help create a positive image as you build your customer relationship
Why reviews are important for small businesses
Small businesses are highly competitive. When a consumer does an online search for local businesses, they'll probably get back at least 10 results of companies close to them.
When several businesses offer almost identical services or products in the local area, the deciding factor will often be their online reviews.
Online reviews work in a similar way to word-of-mouth recommendations. People trust people, so positive reviews help to build a company's reputation.
How can you deal with bad reviews?
Negative reviews are, unfortunately, something that most businesses will have to deal with at some point.
Although bad reviews are certainly not good for business, the way you deal with negative reviews is extremely important.
When you receive a negative online review, how you respond is paramount. Things to consider when responding to bad reviews include:
The speed of your response.
Apologise and always be polite and professional.
Never take it personally.
Offer to rectify any mistakes (this could turn your bad reviews into a 5*).
Always be honest and open.
Offer compensation where appropriate.
If you feel, however, that a bad review is untruthful or inaccurate, you can contact the platform manager to get the review removed.
How do reviews affect SEO?
Google search results are generated using a complex algorithm created at Google HQ. In December 2021, the local search algorithm was updated to place more importance on a company's location. This update was designed to give users more relevant search results in their local area.
Alongside narrowing down results based on location, Google's aim was to provide users with the best possible results for each search.
According to 2021 research by Bright Local, factors affecting Google search results can be broken down into these category shares:
On-page optimization (25%)
Links (22%)
GBP (21%)
Reviews (12%)
Behavioural (9%)
Citations (7%)
Personalization (5%)
Although online reviews only represent a small share of the ranking factors, they should not be underestimated. Positive reviews do more than just affect SEO, they directly influence on-site behaviour.
Why do Google reviews affect search ranking?
Imagine you're Google for a moment – you have a list of businesses, and you've got to pick the best one and put them in order. How on earth can you do this? You can't do it blindly, you need evidence.
Google, unlike customers, has access to a lot of information. But one thing that Google and customers can get access to is customer reviews. This is a great way to see how good a business is.
An internet user wants to find the best product or service available. A search engine has the same goal: to provide the best, most relevant results for each Google search. Therefore, review signals directly influence the search results of every Google search.
When a consumer reads 4 and 5 star reviews, they're more likely to go on and do more in-depth research on a company website. That initial score from a business's reviews, however is essential – it can make or break someone's opinion.
It's no different from Google! If a company has a lot of consistently good ratings and reviews, Google is going to favour those.
What impact do reviews have on SEO ranking?
Reviews can impact SEO ranking in several ways.
When online reviews are factored into Google's local search algorithm, the following metrics are considered:
Number of reviews
Frequency of reviews
Diversity of reviews
Positive reviews vs negative reviews
Reviews on different platforms
Relevant product and service keywords within reviews
All these factors affect how reviews will impact SEO ranking. For a comprehensive SEO strategy, it's important to consider all factors to maximise ranking.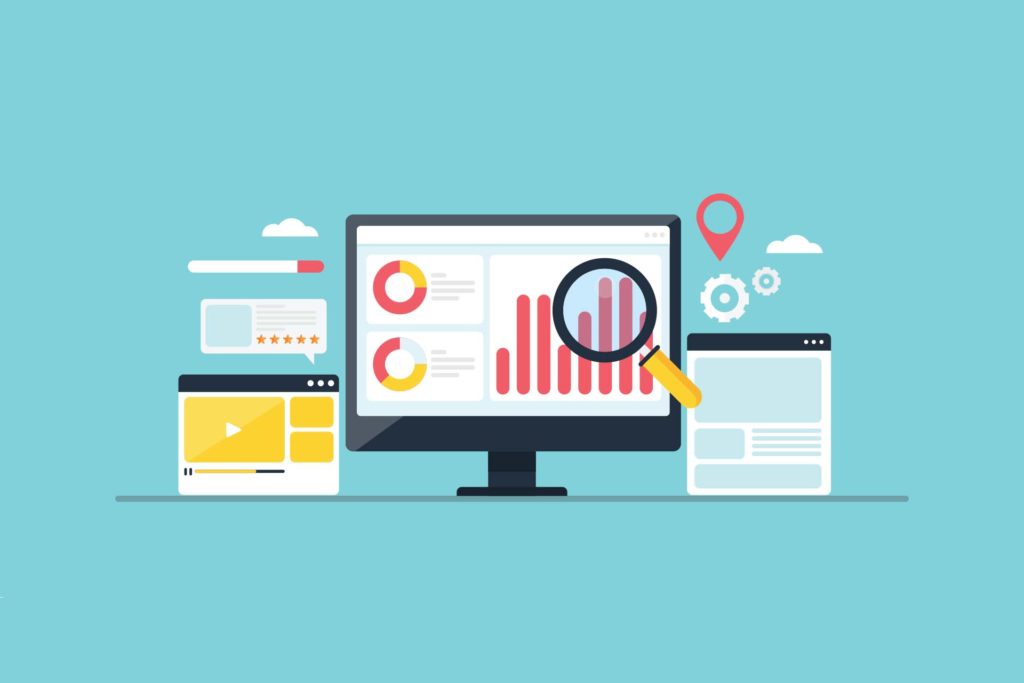 Which review sites affect Google Search?
The top three most used review sites are generic platforms, including Google themselves. Facebook and Yelp are up there too.
When conducting research for a specific product or service, however, consumers are increasingly likely to look for reviews on a product or service-specific site.
For example, if you're looking for a holiday, where do you go to check a hotel's reviews? Tripadvisor maybe?
And if a homeowner was looking to hire a tradesperson to complete renovations in their home, they'll likely come to Checkatrade!
Wait, you're not a member?
What are you waiting for!? Start building your reputation
Join Checkatrade now
FAQs
What are the best review websites for tradespeople to list their business on?
For tradespeople, there's one that comes to mind straightaway – Checkatrade.
There are numerous review sites on the internet. Some have millions of hits every day. Others are far more niche.
Google reviews, including Google My Business (GMB) are one of the most high-profile review sites.
Facebook business reviews and Trustpilot reviews are also highly viewed and well-trusted.
These review sites, however, have one thing in common – they review any and every product or service imaginable.
Sometimes, to maximise your online profile, it's better to have customer reviews on an industry-specific review site:
For holidays and days out, Tripadvisor is an excellent choice.
For choosing the latest technology, Techradar is well-respected.
While for trade businesses, well, it's Checkatrade.
Really focus on building the reviews on no more than three different review websites.
Your customers are unlikely to leave you multiple reviews on different review websites where you're listed. This is why you've got to pick out which one is the best one to grow your reviews and really build your online profile.
How do you politely ask a customer to leave a review?
If you're a Checkatrade member, then your life is a little easier when asking for reviews. You can either leave a review card or give them a little reminder through your membership via web app or mobile app.
We recommend you leave every customer the Checkatrade review card to complete a review at their earliest convenience.
It's essential to get the timing right. Ask for a review soon after you've completed a job if the customer seems happy with your work.
Requesting feedback while you're still on the job can come across as pushy and make a client more reluctant.
Where do I find my unique URL?
When you receive your Checkatrade review cards, your unique URL is clearly shown on the reverse of the card.
Why are reviews so important?
People listen to other people. If someone else says you're great, then other people who read that will want some of the action. It's a marketing technique called social proofing.
Your online reviews are a record of your outstanding service and work quality. They are a great opportunity to attract new potential customers.
*Deep Blue Thinking 2021 Trade Perception Survey – this is compared to a trade that isn't endorsed.