Digital marketing tips for tradespeople
To stand out from the crowd in today's digital world, tradespeople can no longer simply rely on word of mouth to keep them in work - they need to get digital marketing savvy and have a good and more importantly, an active online profile.
In this article, we'll cover:
A great way to do this is by joining a reputable online directory like Checkatrade, but there are other ways you can build your online reputation. As you start your journey with online marketing it's best to be focused and start with just a few actionable steps. This will help you start growing your online presence and ultimately your reputation which in turn will keep quality work rolling in.
Create a user-friendly customer journey
What we mean by a user-friendly customer journey is how easy it is for your potential customers to get what they want (e.g. see your previous work and contact details) before becoming an actual customer of yours.
So, if you've got your own website, you'll need to make sure that the layout and design are not only good to look at, but that it's also functional and easy to use. Ultimately, you want your website to drive conversions, so consider how clear and obvious the path to your contact or quote page is for users and how easy it is for them to find the information they need.
Some good tips to make your website easier to use include:
Using breadcrumbs – these are the links at the top of a page that allow you to navigate between the pages you've visited.
Lots of clear call to actions – make sure there are plenty of opportunities for a potential customer to get in contact.
A clear contact page – provide all the relevant details that someone needs to get in touch.
Relevant content – include lots of information and pictures/videos that showcase your services. This includes previous customer testimonials.
By having a user-friendly site with the features above, you're likely to see more leads. It's well worth hiring a professional web design and development team to create an optimised site for you.
Please note: You could have the best website in the world, but if it doesn't have good SEO behind it, then no one is going to see it. Take a look at our boosting your SEO guide for some top tips.
Have an effective business website
Your website performs a few key functions. It is your 'shop window', a contact centre, brand vehicle and communication medium.
Get social media savvy
Social media is a part of our everyday lives and it's a great place to reach your potential customers.
Instagram
Instagram is a great place to show off your work not just with photos, but by making use of its features such as stories and reels. This can keep your followers highly engaged as well as giving new followers the chance to discover you and your work. Tie this in with the use of location tagging and hashtags and people will be able to easily discover you.
We love this example of an Instagram post from Just Wood Flooring showcasing some of their recent work.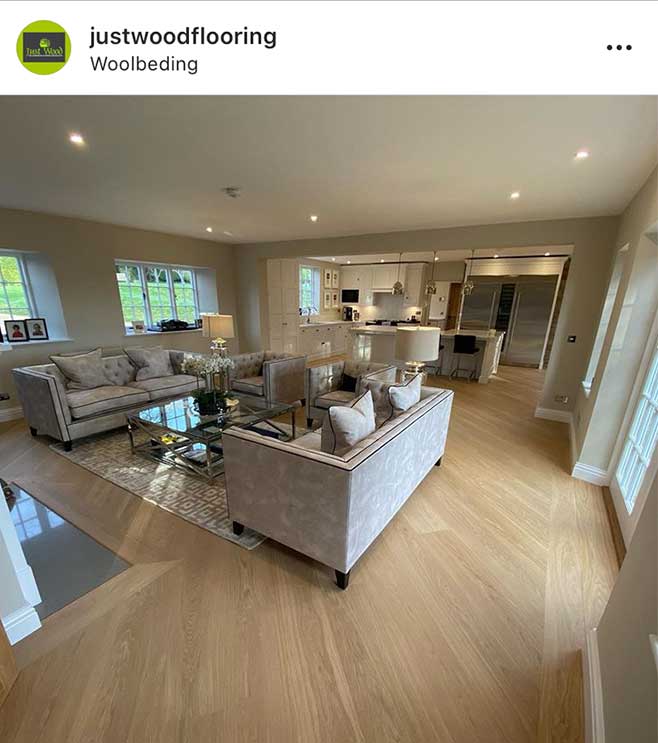 With any social media platform, the idea is to grow your audience – so a sensible place to start is joining relevant social groups and following influencers in your industry, which will naturally extend your reach.
You should also take every opportunity to engage with your audience by liking and responding to comments in a professional way – even the negative ones.
Have a PPC and SEO strategy
PPC (pay per click) marketing is a great way of getting leads fast. The catch? It can be expensive. To find out more, check out our guide to PPC.
SEO, on the other hand, takes time, but once you've got your website ranking highly for relevant search terms, then you're onto a winner. Find out more about SEO and how to boost your site with our handy guide.
As you can read in our free Accelerate! eBook, there are some fundamental rules about online marketing that don't change, such as the rules surrounding 'on-page SEO'.
'On-page SEO' refers to the basic structure and content of your website. It basically means building a good site, putting content in the right places and keeping it up-to-date and busy.
Google prioritises web pages it sees as authoritative, safe and accessible, and it has a few methods to discover which websites are better than others. If you create a website through a recognised website builder such as those listed above, then you can be sure the building blocks of your site are in the right place. It should pass all Google's basic tests.
For example, it will be readable on all common devices like desktop computers, tablets (iPads and Kindles) and smartphones.
The next most important aspect of a popular website is its content. Google likes a lot of content and it prefers articles that are rich and thorough. As a general rule, it prefers longer articles over shorter ones and it likes pictures and video.
When it assesses your site – a process that happens automatically – it will weigh up what's there: are there lots of pages, is the content thorough and varied, is it being shared and talked about online, and do people value what they have seen?
To get higher up in search engine rankings your website will have to answer all of these questions with a big 'yes'.
Tell Google where you're based to get more business
Google knows the location of many of its users, which means it's important to state clearly the area you operate in. If someone in Manchester searches for a plumber, it will often prioritise local businesses over ones further away.
Here's a nice introductory paragraph from Checkatrade member Heron Carpentry in Bromley, taken from our free-to-download Accelerate! eBook, which helped take it to page one of Google in a local search for 'carpenter':
"Welcome To Heron Carpentry With 16 years' bespoke carpentry experience in Bromley, we specialise in kitchen-fitting, new windows, window refurbishments, wooden and tiled flooring, garden decking and garden structures, built-in units, shelves, property restoration/maintenance, and first and second fix carpentry.
Our qualified carpenters specialise in bespoke kitchens and all carpentry work in Bromley and London… Skill, creativity, honesty and reliability are all qualities that make a good carpenter.
Once your project is completed, I am confident that you'll want to use Heron Carpentry's services again. Speak to one of our bespoke carpenters in Bromley for more information."
There are seven references to carpenter or carpentry, leaving search engines in no doubt as to the business's area of operations. There are also references to 'experience', 'qualified', 'honesty' and 'reliability', which help visitors to the site understand its priorities.
There are also testimonials, examples of completed work and clear contact information. All this makes for a website that search engines will be comfortable pointing customers to.
Mastering your online marketing (it's easier than it sounds)
As we explain in our free-to-download eBook Accelerate!, there are some fundamental rules about online marketing that don't change, such as the rules surrounding 'on-page SEO'.
'On-page SEO' refers to the basic structure and content of your website. It basically means building a good site, putting content in the right places and keeping it up-to-date and busy.
Google prioritises web pages it sees as authoritative, safe and accessible, and it has a few methods to discover which websites are better than others.
Check out Chapter 3 of our free eBook to learn more about maximising your SEO.
Get listed on Checkatrade
Want to boost your digital presence? Then it's a no-brainer joining Checkatrade. With our digital marketing strategy and strong online presence, we make it easier for customers to find you.
And as long as you pass our 12 checks, you'll instantly be seen as a trusted and guaranteed business to your potential customers. With the Checkatrade tick by your name, it makes your marketing just that little bit easier, as 85% would choose a trade endorsed by Checkatrade, compared to one which isn't**.
Put our good name to yours
Being a Checkatrade member will boost your digital presence
Sign up now
Case Study – digital marketing for Barn Glass
Alongside its reputation for high-quality glazing installations on domestic and commercial properties, Barn Glass is known for its patent glazing bars, roof lights, windows, bi-folding & sliding doors. In this article, we caught up with the company's Business Manager, Donna Delaiche, to learn more about the firm, as well as how Checkatrade is helping the company grow into new markets.
Entering into the third generation of family ownership, Barn Glass is a prominent glass and glazing company serving Surrey, London and the Home Counties. The company has been operational for over 70 years, developing a reputation for outstanding customer service and quality workmanship. What's more, the firm's patent glazing bars, roof lights and bi-folding doors have become a staple choice for architects and specifiers. The products are popular on high-end properties, allowing developers to achieve stringent performance requirements, while also delivering excellent aesthetics.
Donna told us:
"As a company, we have built our name on an ability to design and produce bespoke systems of glass and glazing. We produce our own glazing bar system, which has been in the family for many years and is a favourite amongst leading architects. In turn, this means we get a good level of repeat business. We used to have a store on Worcester Park High Street which generated a lot of 'walk-in' business. Unfortunately, due to the differing demands of customers, we shut the store and lost our high-street presence. Losing the shop meant we also lost many residential property jobs in the local community."
After the company was taken over by her husband Steve Delaiche and brother-in-law Mark Delaiche in 2017, it looked to attract more residential jobs. The new owners decided it would be best to focus on growing the company's online presence.
To achieve this, the team decided to advertise the firm's services on Checkatrade.
Skilled tradespeople get your business started
Join Checkatrade today
Donna continued:
"We shut down our Worcester Park store and moved the company's glazing operation to a warehouse on Kimpton Road. As expected, the move led to a drop in the levels of 'walk-in' business. We didn't want this trend to become a long-term issue, so we started to look at alternative measures to get our name in front of residential homeowners. After some discussion, the rest of the team and I decided that Checkatrade would be the best option. At the start of 2019, we signed up to the service and haven't looked back since."
It didn't take long for Barn Glass to start receiving jobs through the site. From small-scale window replacements to full glazing renovations on homes, the firm received a new boost of residential projects. To best grow its profile, the company quickly identified the importance of getting positive reviews from its Checkatrade customers. At the end of every completed job, Barn Glass' installation teams have started to hand out review cards. The feedback that the firm has received has been excellent, receiving a near-perfect average score on the site.
Donna told us:
"In terms of getting our services in front of residential customers, Checkatrade has been a huge help. We're a company that's always prided itself on our strong levels of customer service, highlighted by our ten-year guarantee on installations. The platform works well for us, especially as we get a lot of good reviews. Our fitters are all armed with their review cards, and we make sure to encourage them to hand them out when a job has been completed. All in all, joining Checkatrade been a smart decision, which is helping us grow our business and find new jobs."
*Deep Blue Thinking 2021 Trade Perception Survey
**Deep Blue Thinking 2021 Trade Perception Survey