The magic number of Checkatrade reviews to help increase your contacts
You've heard and read about the importance of collecting reviews for your trade business. But just how important are they? And how many do you need for them to make a difference in customers choosing you for their work?
We all know that reviews are important. But just how important are they? And why?
There's no better way to answer your questions than with data.
Our Data Insights team has reviewed (pun intended!) our internal review data on checkatrade.com to understand just how much of a role reviews play in helping customers decide which trade businesses to approach on Checkatrade.
Now we've got a good idea of how many customer reviews and ratings could make a difference to the number of contacts you get.
Just how important are reviews for tradespeople?
Being able to show prospective customers glowing reviews of your work is a great way to increase trust and encourage homeowners to choose your business.
The number of reviews that could make a difference to you getting more calls and messages
By getting just one review, you could increase your conversion rate by 26.9%
Collect 2 more reviews (so three altogether) and you could increase your conversion rate by another 9.2%
Collect another 2 reviews (so five altogether) and you could increase your conversion rate by another 12.4%
As you can see, reviews play a massive part for your customers and whether they choose to work with you.
The sweet spot of reviews to get more contacts
In our data, there's a correlation that by collecting 11 to 20 reviews, you can double your conversion rate compared to having no reviews.
But don't stop at 20 reviews
If you manage to hit 20 reviews, keep on collecting them.
Customers want to see reviews from your most recent work. Reviews are dated, so if you have reviews from last year, this could hurt your contact rate.
How to take control of your reviews and get to the magic number
Given how important reviews are for winning you business, the last thing you want to do is sit there twiddling your thumbs and hoping that homeowners review you.
You'll need to be proactive in reaching that magic number of reviews to start winning more jobs quicker!
The best thing to do is put a plan together to keep yourself on track. Here are some things you should do.
Ask every homeowner to leave a review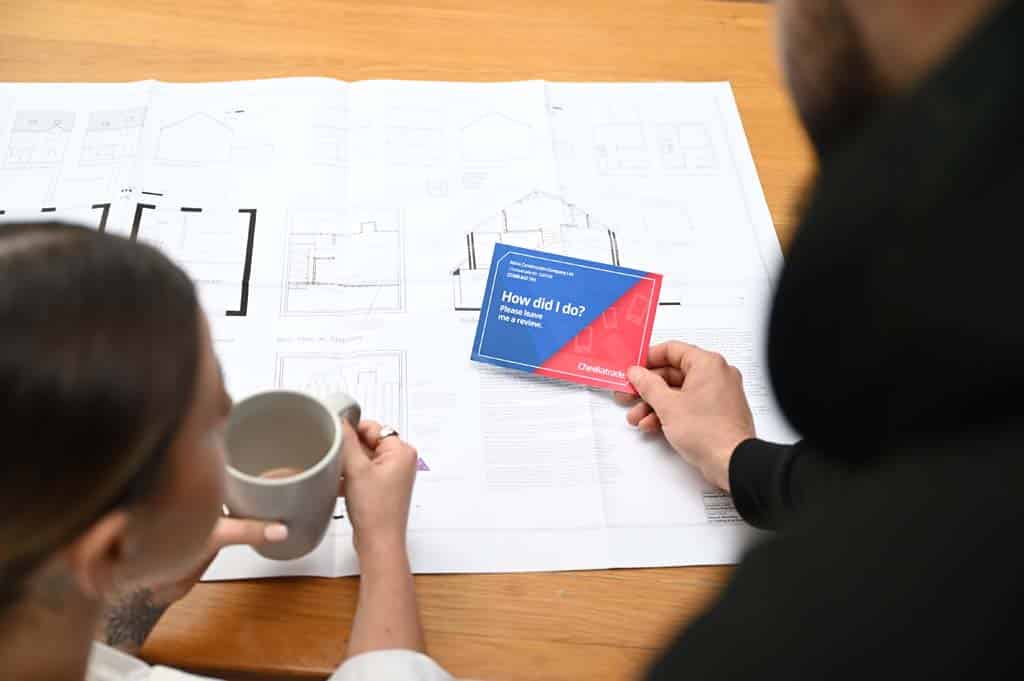 First things first, make sure to ask every homeowner to leave you a review after you've completed a job for them.
Homeowners are most likely to review you while your services are still fresh in their minds. So, it's best to ask them in person to leave you a review once you've finished your work and they've confirmed they're happy with the result.
However, there's no harm in sending a follow-up message to remind them if they don't review you within a few days.
Check out this helpful guide on how to ask your customers to leave you a review.
Cheeky tip – you can remind customers to review you using the Checkatrade Trades app
At the tap of a button, you can remind customers to leave you a review on Checkatrade.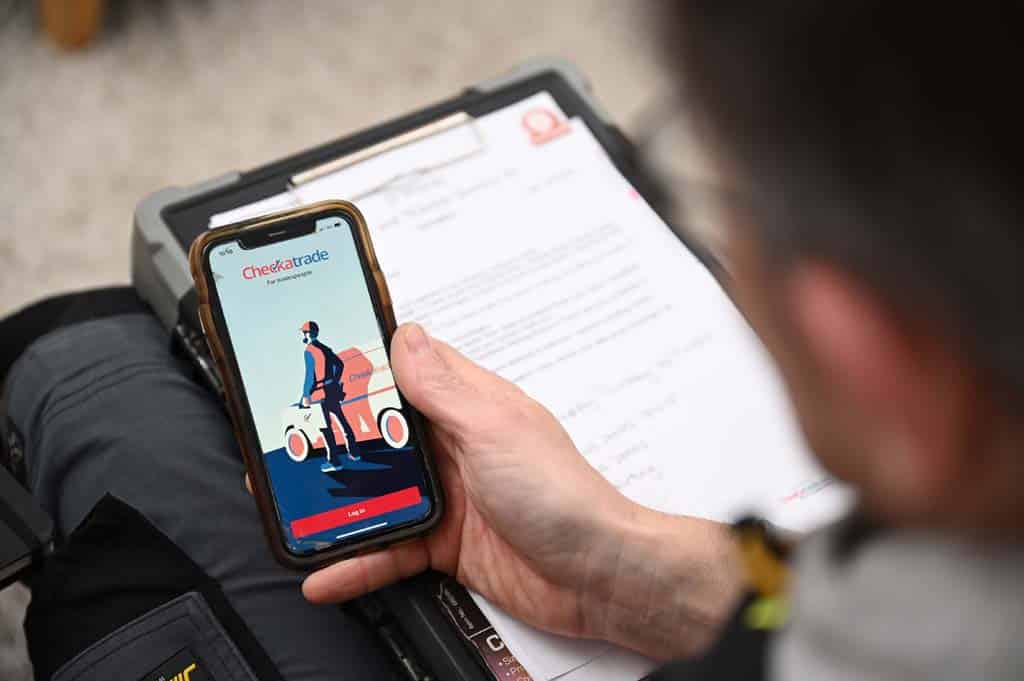 Choose review sites to focus on
Homeowners won't normally review your services on more than one site. So, you'll need to decide where to direct them when you ask them to leave a review.
We'd recommend choosing just one or two sites to focus on. Otherwise, you'll be spreading your reviews across so many sites that it will be much harder to reach the magic number of reviews on any one site. And it's much easier to make a strong impact with lots of positive reviews in one place.
Once you have a decent number of reviews on the sites you initially choose to focus on, you could explore adding more sites to your arsenal.
Checkatrade is industry-specific, so it's a great place to display reviews for your trade business.
Millions of people use Checkatrade to search for trades like yours every year.
Maximise the impact of positive reviews
You need to make sure that the positive reviews you receive have as much impact as possible. So, consider how you can use them fully.
For instance, you could feature positive reviews on your website, get business cards printed that display some positive reviews or even feature some good soundbites on your work van using van vinyls.
Respond to any negative reviews
Negative reviews can be upsetting –  especially if you've tried your best and if your version of events differs from a homeowner's. However, it's helpful to remember that how you deal with negative feedback can say just as much about your business as the feedback itself.
If you receive a negative review, it's best to write a reply that shows off your excellent customer service skills. This will help to make sure other homeowners look at your business favourably.
If you receive a negative review on Checkatrade, we give you seven days to try to resolve the issue before publishing it. If the issue can be resolved, we'll let the customer edit or remove their review – happy homeowner, happy business owner!
Put your reviews to good use with Checkatrade
Millions of homeowners search for trades like yours on Checkatrade every year. By becoming a Checkatrade member, you can make sure your business is one of those they find. And by directing homeowners to Checkatrade to leave reviews, you can make sure your profile makes an impact!
Alongside your fantastic reviews, you'll also benefit from the 'tick people trust.' In fact, a whopping 8 out of 10 people would choose a trade endorsed by Checkatrade compared to one that isn't*.
*Claims are sourced from a survey conducted by Deep Blue Thinking on a nationally representative UK sample in November 2021.