Working at height – what you need to know
Working at height is something that you should never take any risks on. Here's everything you need to know about keeping safe.
Working at height poses many risks, so be careful. It remains one of the biggest causes of workplace injuries. In the UK, The Work at Height Regulations 2005 was put in place to prevent death and injury caused by a fall from height. These regulations apply to all employers. It also applies to those in control of employees working at height.
How do you comply with the regulations of working at heights?
All employers and those in control of work at height activity need to follow the guidance from the government. They'll also need to ensure all work is appropriately planned.
The regulations state that the work needs to be carried out by competent people with the right type of equipment. They also must be fully supervised. Employers and those in control must also assess the risks linked to the job. They must also factor in the height, duration and frequency of the task. This includes analysing factors that distinguish the surface being worked on.
Visit the Health and Safety Executive website for more information on The Work at Height Regulations 2005. Both are useful resources to ensure you are fully compliant with the law.
The importance of scaffolding when working at height
The Working at Height Regulations 2005 state that where possible, working at height should be avoided. However, in instances when it can't be, you need to "use the best practicable means of ensuring the safety of those working at height."
As you know, fixed scaffolding is used as a temporary and secure structure to allow workers to reach higher parts of a building. This type of fall prevention is used for industrial, commercial and residential work. It should be assembled according to the manufacturer's instructions, while in keeping with industry guidelines.
Competency is key
An employer should always ensure that scaffolding is not used until a competent person has inspected it. It's also vital is to make sure that workers have had the correct training for the particular type of scaffolding they are working on.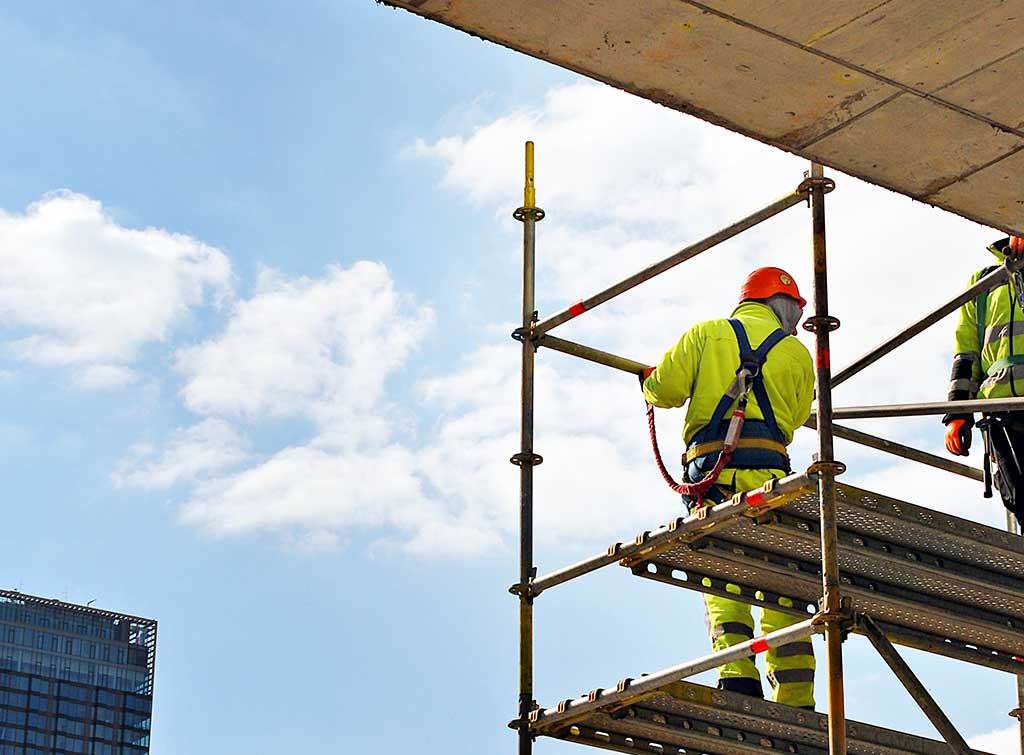 Scaffolding and roof safety equipment
When using scaffolding to work at height, workers must wear at least the minimum safety equipment, including:
Safety helmets within UK safety regulations
Protective gloves
Protective footwear
Safety harness
Other safety measures to follow
This includes using edge protection, scaffguard and econo-guard when applicable. Edge protection is required for many jobs and for use with roof scaffolding. It requires a main guard rail to be at least 950mm above the edge.
Similarly, there must be a toe board and a brick guard to prevent objects from being kicked off the edge. Also fundamental are guard rails or suitable alternatives with gaps of less than 470mm.
When would you need to use roof scaffolding?
Roof scaffolding is used for several jobs such as chimney work, roof repairs and fitting new windows. For example, if you're fitting a roof window, you will be cutting holes into a roof at height, so you must have scaffolding in place to carry out a safe and secure installation.
For further information regarding the regulations that must be followed when working at height, visit the government website.
Reach new heights
Join the UK's #1 trade directory
Sign up now