How to start a welding business
Welding is a centuries-old trade, but there are still plenty of new and exciting business opportunities for those looking to make their mark on the industry. Using both advanced equipment and traditional hand-held tools, welders work on a vast range of different projects. You could find yourself working on the outside of a skyscraper or crafting delicate ornaments.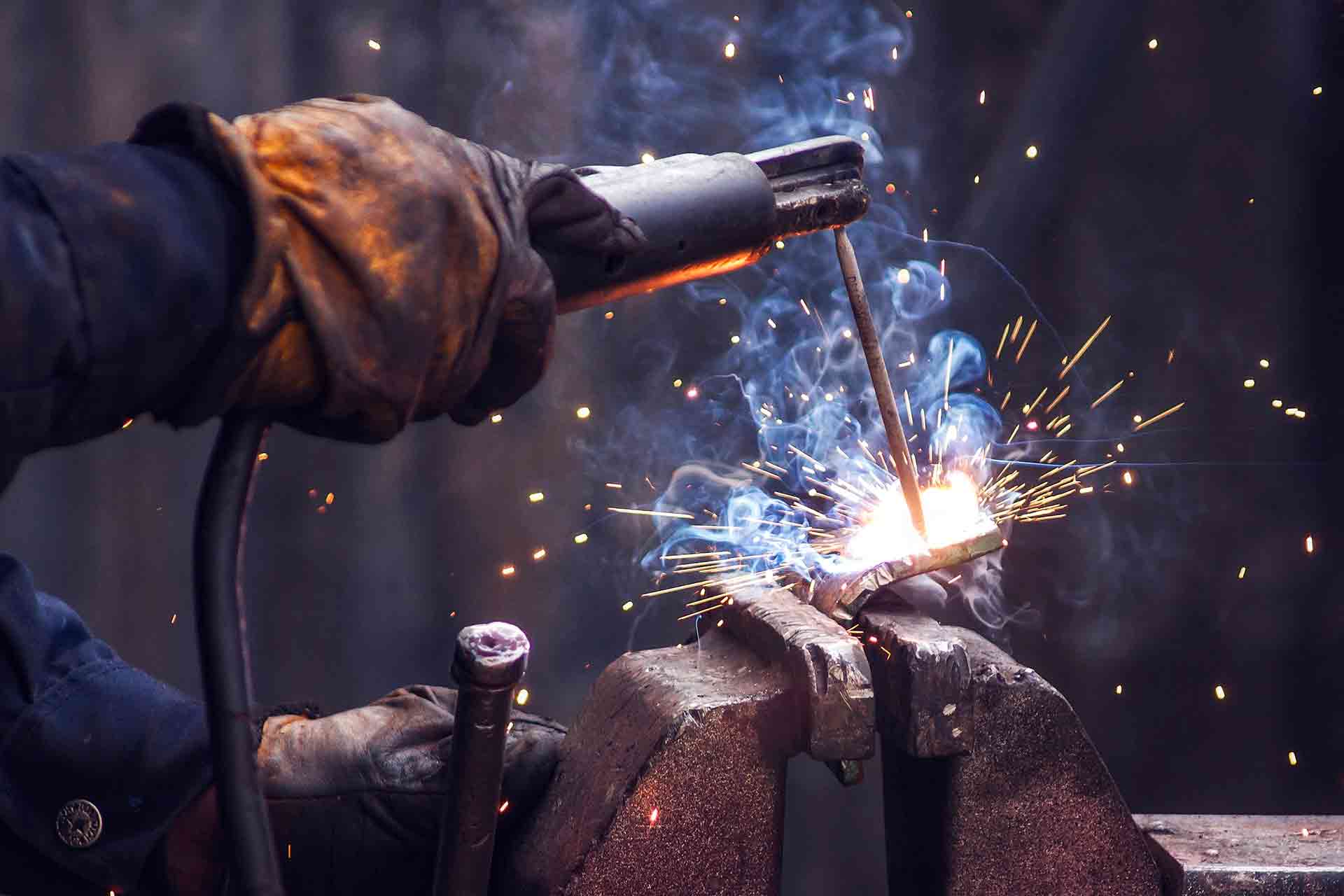 In this article, we'll cover:
Becoming a self-employed welder means you'll enjoy the freedom of setting your own working hours and who you work with. What's more, you can run your business on your own terms and work in the areas you enjoy the most. This guide will equip you with everything you need to know to take the next step in your career and start your own welding business.
What qualifications do I need to be a self-employed welder?
While hands-on experience is important, formal qualifications are usually needed to work in the welding industry. That's why they're essential for proving your expertise to potential clients. Make sure you possess one of these qualifications:
Intermediate apprenticeship in Welding
Advanced apprenticeship in Fabrication and Welding
Level 2 Award in Welding Skills
Level 3 Diploma in Fabrication and Welding Engineering Technology
T Level in Structural Steelwork
If you have experience in a field similar to welding, such as engineering, construction or pipefitting, you can become fully qualified through short training courses provided by The Welding Institute. These courses are also offered to experienced welders to sharpen their skills within certain areas of the trade.
The Welding Institute also offers membership to experienced welders. This not only provides industry recognition of your expertise but also provides benefits such as business support and worthwhile connections.
Completion of the Client Contractor National Safety Group (CCNSG) Safety Passport Scheme is recommended for self-employed welders too. Contractors are unlikely to hire your services without this certificate.
Skills
There are a range of skills needed to provide exceptional service and run a successful welding business:
Attention to detail
Problem solving skills
Practical thinking
Dexterity
Numerical skills
Technical thinking
Physical fitness
Ability to lead and manage
Equipment
When starting your own welding business, having the right tools will be equally as important as having the correct skill set. It's crucial to own a full inventory of equipment so you're ready to take on any job. Here are the essentials every welder needs:
Welding machine
Marking tools
Angle grinder
Welding wire
Welding magnets
Squaring tools
Chipping hammers and hacksaw
Welding clamps and vices
Fire extinguisher
PPE
Depending on the work you undertake, you may need to invest in certain advanced equipment. It can often be worthwhile to buy second-hand or hire these tools to reduce start-up costs.
Starting a welding business
Once you're fully qualified and armed with a trusted set of tools, you'll be in a great position to go about setting up your welding business.
Registration
To formally launch your new business, you'll need to register it. This process also requires you to decide whether your business operates as a sole trader or a limited company. There are numerous differences so you should weigh them up and choose the structure which suits you best. For more information, read our guide here.
Finances
The process of purchasing equipment, buying supplies and getting insured means start-up costs for your business can be high. Taking out a business loan can help finance these initial overheads.
While you'll need to stay in control of your expenditure, setting a competitive pay rate for the work you do is equally important.
Insurance
As a welder, you'll be working in dangerous conditions. That's why insurance is essential for protecting yourself and your business. Here are the different types of insurance you should consider:
Business Insurance
General Liability Insurance
Workers' Compensation Insurance
Planning your welding business
The success of your start-up will rely heavily on devising a solid business plan. Welding is a varied sector, so there are a range of niches you can specialise in. You should organise your business around your personal expertise and provide clients with the services you are most skilled at.
Here are some of the most common services offered by welding businesses:
Heavy Stainless-Steel Fabricating
Aluminium Welding
Heavy Haulage Trailer Manufacturing
Steel Construction Fabricating
Underwater Welding Services
Some businesses may choose to offer a broader range of services, and this can be useful at first for maximising opportunities. However, specialising within a field allows you to develop a unique selling point. For example, creating wrought iron fencing could help you establish a niche. More information on this can be found here.
Conducting research to establish and understand your business's target market is highly recommended. This will help you maximise demand and gain an edge over the competition.
Starting a mobile welding business
A mobile service is a great way to earn income as a small welding business. It gives you the ability to be versatile, and you'll often be employed on a 'when-needed' basis. This makes for profitable work, as clients will highly value your flexibility along with your expertise. For example, if a driver has damaged their car and requires a welder at short notice, they'll often be willing to pay a marked-up price.
Keep in mind that, to start a mobile welding business, you'll require a reliable van and a generator welder that can handle your workload.
Starting a welding side business
If you want to enjoy the freedoms that come with self-employment while still receiving a steady income from other work, starting a welding business on the side is another possibility. To do this, you should focus on the work you enjoy doing most and that you're most skilled at. This could be creative metal sculptures or bespoke furniture to sell on, or you may want to take on smaller welding repairs for local businesses and tradespeople.
Before you commit to setting up your side business, make sure to check the terms of your current employment contract.
Marketing
As a skilled tradesperson, your reputation should be your bestselling tool, so a lot of your business may rely on word-of-mouth recommendations. However, having an effective marketing strategy is vital for maximising opportunities. Signing up to Checkatrade can open up your business to millions of potential clients every month and really boost your online presence. You'll also benefit from free marketing materials and discounts on business essentials.
For more tips on marketing, check out our trade start-up guide here.
FAQs
What license do I need to start a welding business?
To start a welding business, you'll need to obtain the necessary business and trade licensing required by your local authority. These differ across the UK, so you'll need to find the relevant licensing for your area.
How much does it cost to start a welding business?
It generally costs between £2,000 and £10,000 to start a welding business. However, it will depend on the size of the business and the services offered.
How much does a welder earn?
The average salary for a welder in the UK is £26,000. Going self-employed presents an opportunity to charge your own rates and offer highly valued services. As a result, you could earn even more.
Is a mobile welding business profitable?
Mobile welding businesses can be very profitable as they offer flexibility that larger firms may not be able to provide. This can make your service very much in demand.