How to write a business plan – Free guide included
A business plan is key to success. We've got all the tips you need to get you started, plus we've got a free business plan template you can download to put your plans into place.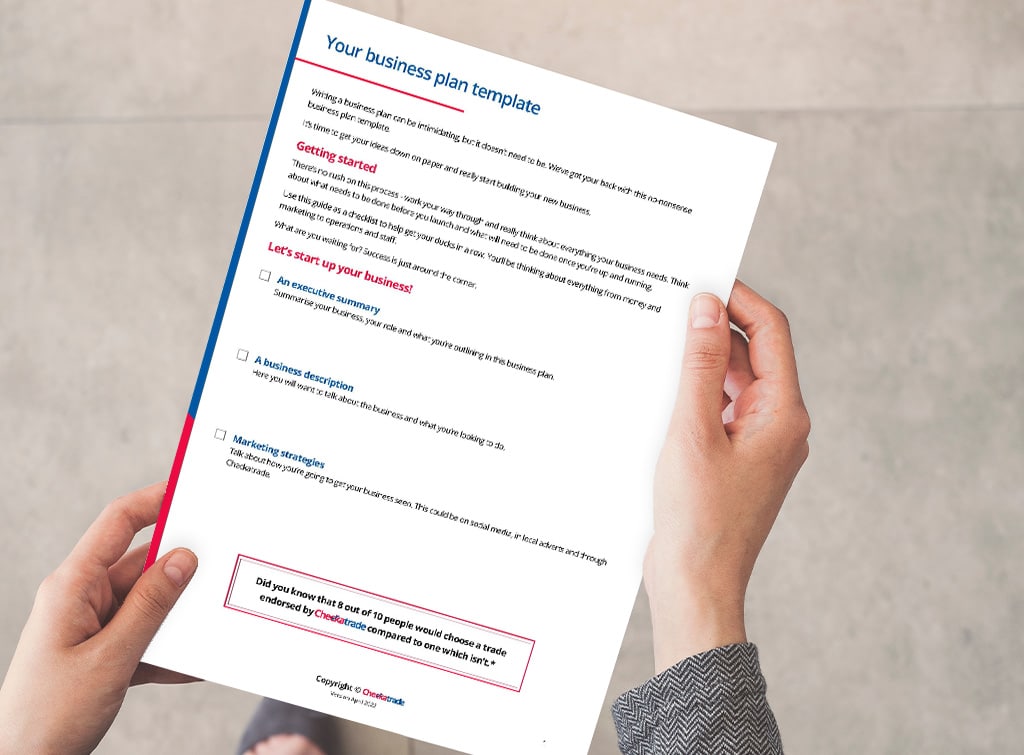 Start building your business plan with a free business plan template here:
Why use a business plan template for a small business?
Every business, large or small, should channel their ideas into a business plan template.
A business plan is a written document that outlines where you are now, where you want your business to be in the future, and how you're going to get it there.
A clear business plan will allow you to:
Clearly set out your business idea, goals, and objectives.
Be well-organised and make informed decisions.
Make more efficient and productive plans.
Understand how your business is performing against your targets.
Avoid costly mistakes.
On your business plan template, consider diversifying
A lot of successful businesses start out doing one thing and end up doing another.
This is because the owner or a member of staff spots an opportunity in a related field where there's better scope to earn revenue and grow.
Tradespeople are not excluded from this opportunity and there are several ways in which businesses in this sector change tack or expand into new markets.
One is simply bolting on additional services as you grow. This gives a business a 'full-service' edge, allowing people to book your team to work on bigger, more complicated projects.
To learn more about this topic, read a snippet of the free Accelerate! eBook here?
Or download – for free – the whole eBook here.
How to put together a business plan in 7 steps
A business plan is split into a few key areas, which we'll cover, below, and again in our free business plan template, which you can download below.
Your business plan should include:
1. An executive summary
This is one of the most important parts of your business plan as it's the first part that will be read.
If you're looking for funding or investment, initial judgements can often be made on the basis of the executive summary alone.
The executive summary is an introductory overview of your business. It should state what your business is and why it'll be successful. This is your opportunity to set your stall out and give your 'elevator pitch'.
Nervous about money in your business?
Before investing in tools, check out our cash flow advice
Be clever with money
2. A business description
In this section, you can include more detail about your business and why it exists.
Remember, your business plan should be concise and easy to read and understand. Use an appendix if you need to add more information, for example, financial forecasts.
3. Competitor analysis
Your competitor and market analysis is a place to take a look at the market you're entering and the competitors within that space.
Clearly define the segment of the market your business intends to target. Depending on the product or service your business offers, you may wish to target a particular geographical area, customer demographic, or industry niche.
With your target market set, you must also research the competitors already trading within that space. It's often helpful to do a SWOT analysis, noting down the strengths, weaknesses, opportunities, and threats for both your business and your competitors.
4. Your services
What type of jobs will your business be taking on, and what size jobs are realistic with the resources you have, both now and in the future?
Does your business offer a range of services, e.g. building and construction, or will you provide a niche service, such as insulated conservatory roof panels?
What makes your service different, and what benefits does it offer the customer?
5. Marketing plans and budgets for your new business
Your marketing strategy will include how you're going to promote your business, and how you'll stand out from the competition.
It's important to create a website as part of your business plan and/or social media accounts for your new business, as many consumers research tradespeople online.
Save some effort on digital marketing by registering your business with Checkatrade
When you join Checkatrade, you not only get to advertise your business on the #1 trade directory, but you can also stretch your budget by saving money on the essentials needed for running your business.
Checkatrade members receive discounts with our carefully selected partners across:
Insurance and finance
Work vehicles and fuel
Tools, materials, and workwear
Training and certification
Health & safety accreditations
Checkatrade membership also gives you access to our exclusive members' area.
6. Operations and management plans
This section on your business plan template should focus on the operational resources and the structure of your business both now and in the future.
Some of the questions to ask yourself include:
Who works in your business? Is it just you, or will you have a small team?
What roles does each person take on and do they require specialist skills in bookkeeping or sales, for example?
How many employees do you need to offer the services you intend to offer as you scale up, and will any training be required?
Will you or your team require training to expand the services you offer?
Will you need business premises to work from or store materials?
What technology do you need to operate your business effectively? If it's just you, a mobile phone with a few apps might be all you need. If you employ other people, you'll need to consider things such as payroll.
This part of your business plan will help to keep morale high with your investment in growth and training, while also assisting with your decision-making, and your ability to mitigate risks.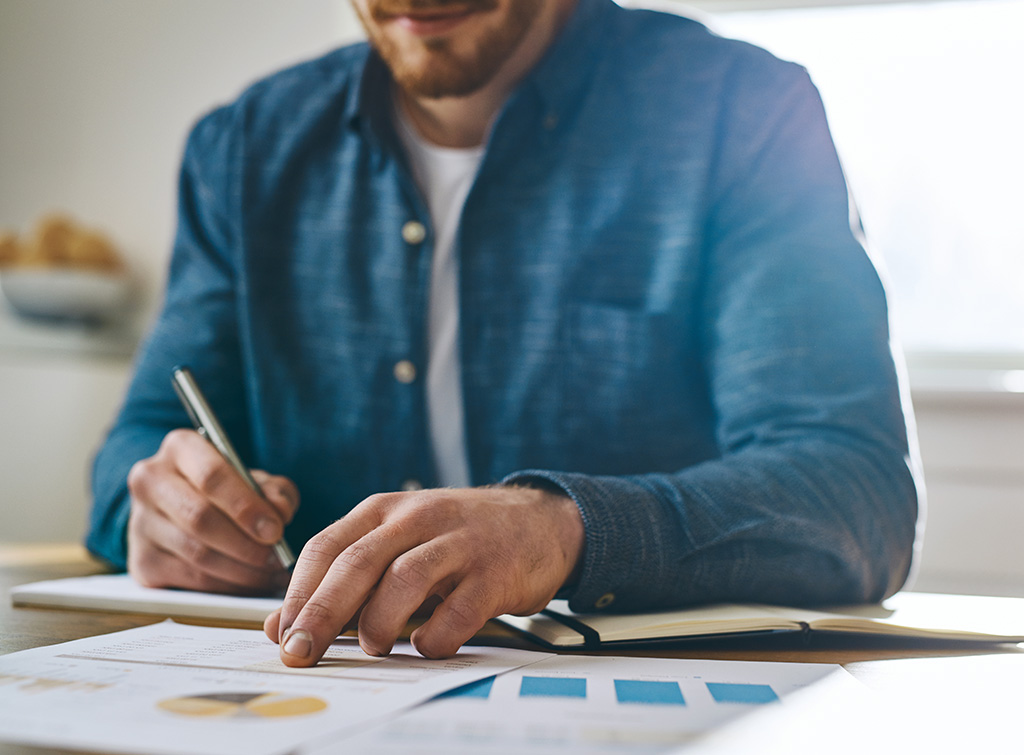 7. Finances
"Money makes the world go round", and never has a truer word been spoken when it comes to new business.
Poor cash flow management is one of the main reasons for startups failing, so make sure you have a cash flow forecast. This allows you to plan for what's ahead and develop a strategy to manage it.
Some of the other essentials you need to tick off the list include:
Opening a new business bank account
Getting the right new business insurance
Knowing how to set up wholesale accounts
Setting up and running a business is costly. You have fixed overheads to contend with plus the cost of all the essentials for your business operations, for example, tools, materials, and workwear, so it's important to budget for everything you might need.
A must-read:
Quick summary
A business plan is essential to define your objectives and plan how you'll achieve your business goals.
It is broken down into 7 key areas:
An executive summary
Business description
Competitor analysis
Your services
Marketing plan and budget
Operations and management plan
Finances
Not sure where to start? Use this free business plan template to speed things up
Whether you're a startup, self-employed, or small business, this free business plan template outlines everything you need to create your business plan with confidence.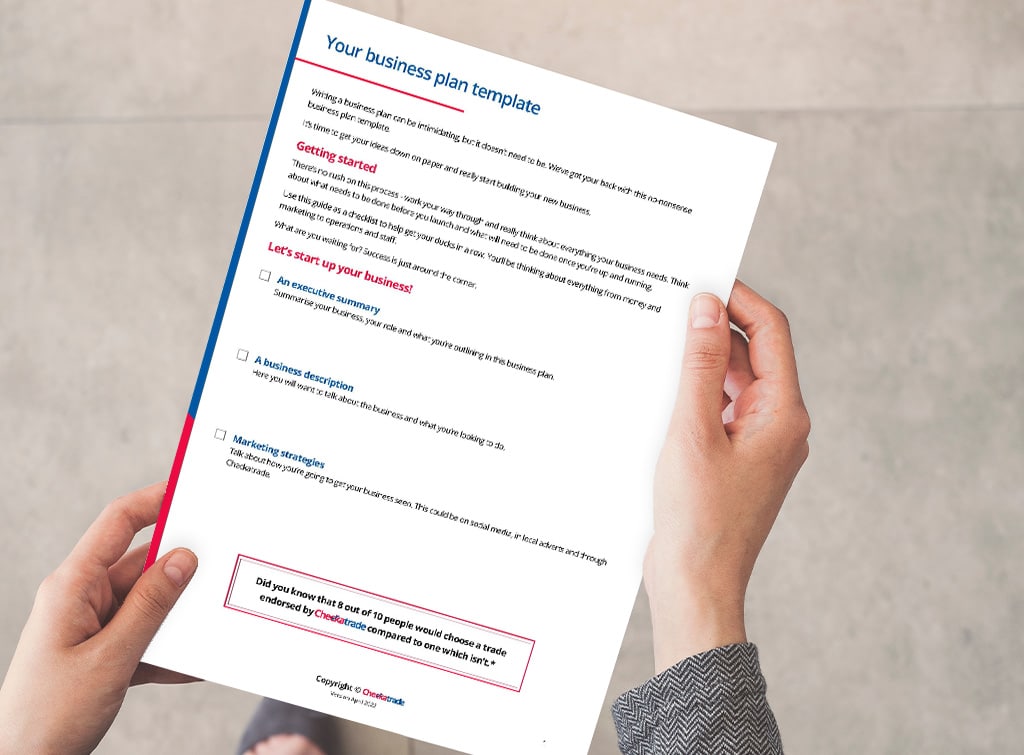 Download our free business plan template here:
FAQs
How much should you spend on advertising a new business?
As a rule of thumb, small businesses spend between 3-5% of their revenue on advertising. This is dependent on a number of factors including how quickly you want to grow and how competitive the market is.