The easy-to-use web app to manage your business online
Technology. Love it or hate it, one thing's for sure - it helps to make life easier for business owners. When you run your own trade business, time is money, and efficiency is a must. That's where our revamped web app can help you. Whether you're good or not-so-good with tech, read on to find out how the web app can benefit your business.
The Checkatrade web app is the place for tradespeople to get an overview of their business stats with Checkatrade.
This means once you're a Checkatrade member, you can go to the web app on your computer, laptop or tablet and manage your business on Checkatrade.
Best of all, it's been revamped to be used by any trade, no matter how skilled or unskilled they are with using tech!
What can the Checkatrade web app do?
The Checkatrade web app is where you can set up and manage your Checkatrade profile and respond to customer leads and enquiries.
It's also the place to:
Add a description about yourself, your business and the services you offer.
Upload photos of your latest work.
Manage your customer reviews.
Control where your business will appear when people in a certain location in the UK search for trades near them.
If we were talking bricks and mortar, your Checkatrade profile would be your 'shopfront' to entice potential customers in.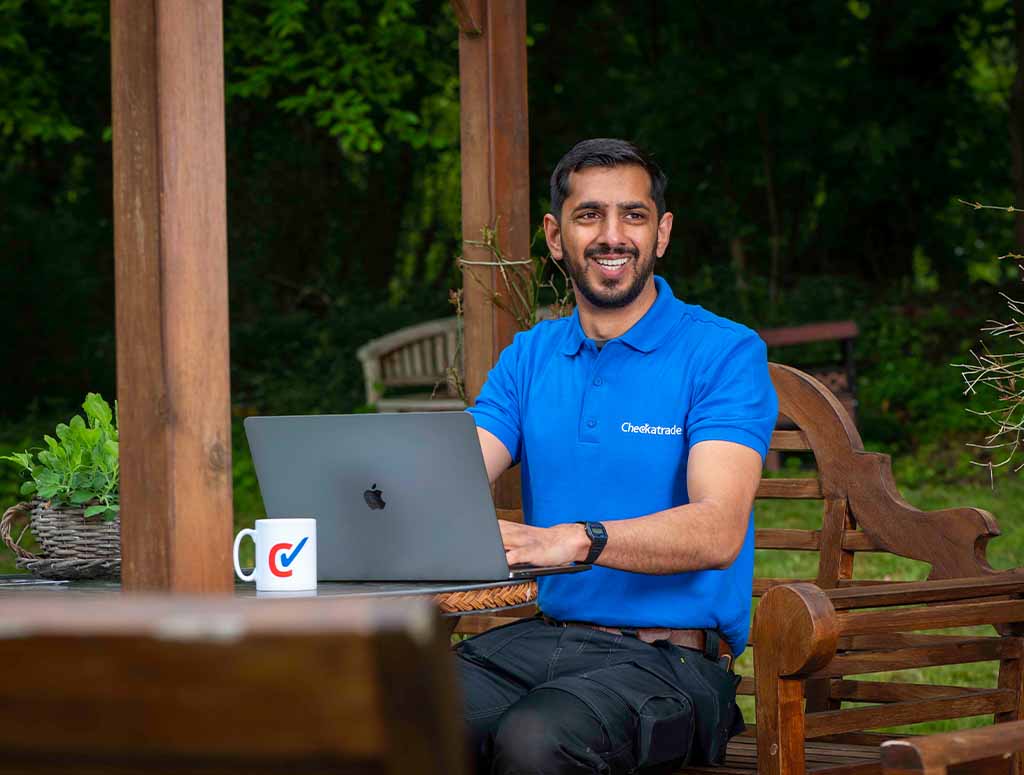 Why you can't afford not to use the Checkatrade web app
We want our members to have the best-looking shopfronts on the street to attract lots of customers. But we know that mucking about with technology can be time-consuming and if we're honest, sometimes, a tad challenging.
So, we tasked our tech team to give the web app a revamp. We asked them to give us all the same invaluable features, but make them really easy to access, navigate, and use.
We also wanted to make sure that all the functionality of the web app, which many people access using their smartphone, was available on a laptop or computer too. So if you like to keep your phone purely for calls and messages, you can still enjoy all the benefits of the web app by logging on at home.
The snagging is finished and we're pleased to say the renovation of the web app is complete.
The wiring's been updated, the walls have been skimmed, and there's a watertight roof. Want to know what it can do?
Like the sound of our new app?
Only our members can use it. You'll have to pass our checks to benefit.
Start our checks now
Revealing all the benefits of the new web app
With the newly revamped web app, you'll find:
Everything you need to manage all aspects of your Checkatrade profile is in one handy place
It's incredibly easy to maximise the potential of your profile, attracting more leads to your business
It's really intuitive and user-friendly, whether you're accessing it on a smartphone, a laptop, or a home computer
There are brand new pages with greater functionality, including the profile page, membership screen, and the invoicing page (for members on Zuora billing)
The 10 main features on the new Checkatrade web app
1. Home page
When you log in to the web app, you'll arrive at the home page, or 'dashboard'.
From here, you can:
View tips for how to strengthen your profile, which can help to encourage more leads
Check items that need your attention – expired insurance, for example
Access the messages in your inbox, including those from customers requesting a quote
See how your profile is performing, including search appearances, reviews, and number of contacts
2. Messages
This is one of the most frequented pages on our web app.
Our members use this page to view messages from potential customers who have used our 'Request a quote' feature.
From the messages page, members can:
View message content, customer details, and add notes
Choose to accept or decline jobs
Amend your settings
3. Reviews
We all know the importance of reviews in helping to turn leads into new business.
The reviews section allows you to:
See all your published reviews
Query reviews
Share reviews on Twitter
Send reminders to customers who are yet to leave a review
Receive a notification when a new review is posted
4. Photos
Adding photos to your profile is one of the best ways to showcase your skills and expertise. It can also be a great way to inspire potential new customers too.
Sort projects into separate albums, as shown in the image below
Easily rearrange albums by dragging and dropping them into position
5. My account
What we love about this section is that everything you need is in one place. No more riffling around for paperwork; this part of the web app puts you in full control. It's divided into five subsections:
This is what a customer sees when they click on your Checkatrade listing.
From here, you can add information about you, your services, your skills and experience, the location you cover, and any other information that'll encourage a customer to get in touch, for example, an association with a trade body.
Checkatrade now has different levels of membership to suit your needs. Your membership can also be flexed up when you want more leads, or down if you've got plenty of work in the diary.
In this section, you can check your membership status, and get in touch to speak to one of our membership advisors.
Learn more about flexible membership here.
All Checkatrade members have to show proof of public liability insurance before they are listed in our directory. You can easily upload your PLI documents in this section. And if you forget to renew your insurance, the app will remind you.
With the simple click of a button, you can add the accreditations, skills, and services that make you and your team stand out from the crowd.
Whether you're on the Gas Safe Register, in the Federation of Master Builders, or have City and Guilds qualifications, give your business the edge by adding them to your profile.
Order marketing materials
8/10 people would choose a trade endorsed by Checkatrade over one that isn't*. If you're a Checkatrade member, use the trusted tick to your advantage.
In this section, you can quickly order marketing materials, such as stickers and feedback cards, and find approved Checkatrade images you can use on your own website.
Like the sound of our new app?
Only our members can use it. You'll have to pass our checks to benefit.
Start our checks now
6. Grow my business
Find out about advertising in our directory via the app, and browse all the offers and discounts exclusively available to our members.
7. My billing
For ultimate convenience, view and pay invoices within the billing section. For members on Zuora billing, you'll notice brand new pages in the invoices section.
8. Community
Ask questions and make connections through the Checkatrade community, or find out more about hiring an apprentice.
9. Help & Support
Here you'll find all your Checkatrade useful documents, such as indemnity forms, job sign-off forms, and our member standards. You can even use this section to alert us via the Whistleblower form.
10. Settings & Privacy
To update your settings, contact preferences, or read through our T&Cs, visit this section of the app.
Are you already a member and want to try the new web app?
To give the new web app a try, log in to your membership area and click 'try now'.

If you're not yet a Checkatrade member, but want to find out more, please click below.
Like the sound of our new app?
Only our members can use it. You'll have to pass our checks to benefit.
Start our checks now
*Deep Blue Thinking 2021 Trade Perception Survey.