How to set up a carpet fitting business
The UK has a shortage of experienced carpet and flooring fitters, which means there has never been a better time to set up your own business and benefit from huge market demand. To find out what's involved, and how to set up a carpet fitting business, read on.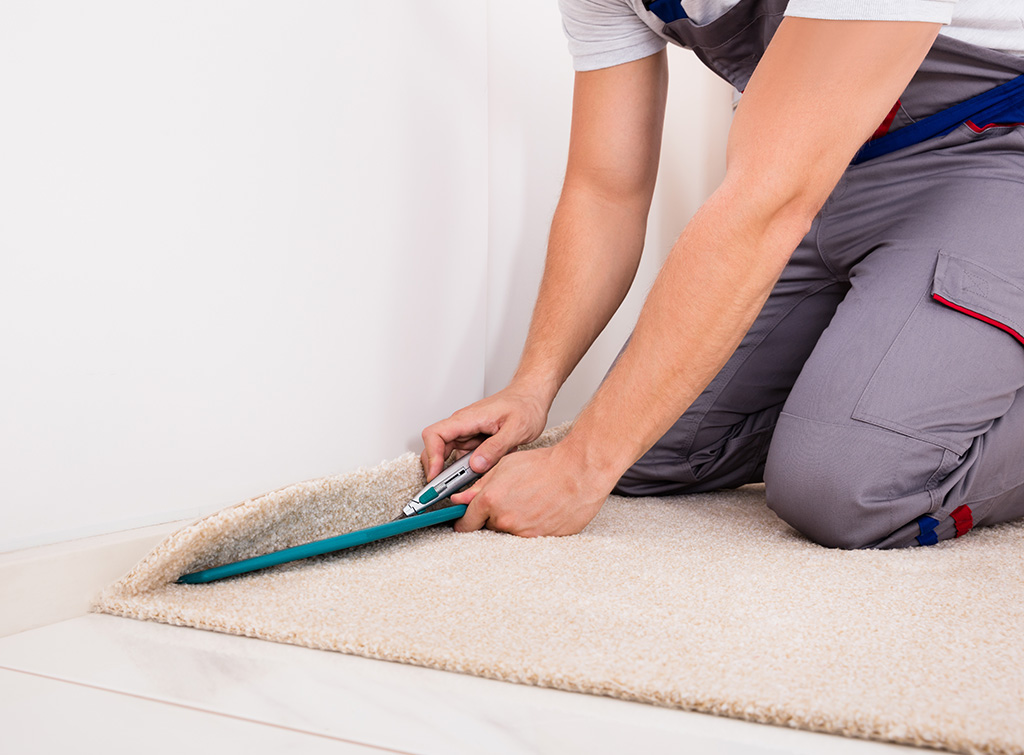 Want to know how to set up your own carpet fitting business? Great. Being the boss gives you the freedom to choose your working hours, maximise your earnings potential, and puts you in control of your career.
If you're currently working for a carpet fitting firm or coming to the end of your apprenticeship, you may be wondering how much does a carpet fitter earn when self-employed? And whether it's the right move to go it alone.
A carpet fitter running their own business as a sole trader could earn an average salary of around £59,001 per year (before tax).
As the owner of a carpet fitting firm trading as a limited company, there's the potential to earn a salary in the region of £71,200 per year (before tax).
Curious to know how to set up a carpet fitting business of your own? We share everything you need to know, from marketing and finance to insurance, tools, equipment and more.
Prefer to jump straight in?
If you've not got time to read this article in full now, sign up for our 'Become the Boss' series for practical tips to help get your carpet fitting business started.
You'll receive eight emails, each with actionable tips, featuring fellow tradespeople who were once in your position with their top advice. At the end of it all, you could be the founder of your new business.
Simply enter your email to make the most of this free business advice:
Create a business plan for your carpet fitting business
Good organisation is key for such a big step in your career, and the first step is creating a business plan. This will outline your goals and set out how you intend to achieve them. It will give you focus and help you to make informed decisions.
Your business plan will identify your area of expertise and your target audience. For example, if your experience lies in carpeting homes, you could develop a niche in this area, targeting domestic clients. Or perhaps you want to tap into the lucrative commercial sector.
Having a specific selling point for your business will help you gain an edge over the industry competition, so consider this within your business plan too.
You'll also need to work out your pricing to make sure you cover costs, make a profit, but remain competitive within the marketplace.
Not sure where to start? Enter your email address to get your free business plan template:
Training and qualifications
You don't need formal qualifications to become a self-employed carpet fitter, but experience (for example, through on-the-job training or an apprenticeship) is essential.
There are also lots of carpet fitter courses at local colleges that will sharpen your skills and widen your knowledge base. Being able to show these qualifications will increase your credibility with customers.
If you're taking your first steps into this industry and wondering how to become a carpet fitter, The Flooring Industry Training Association (FITA) is a great place to start. They offer professional courses and can also help you to find work as a trainee.
Other useful skills and attributes
Having the skills to fit carpets is one thing, you'll also need to be able to run a business. To succeed at both, you should have the following:
Numeracy and problem-solving skills
Attention to detail and highly organised
Interpersonal skills and great customer service
The ability to lead and manage and have conviction in your decisions
Patience, fairness, integrity, and self-awareness
Enthusiasm and endurance
Physical fitness
Dexterity
Health and safety awareness
How to set up a carpet fitting business – step by step
By this stage, you've hopefully got some experience under your belt, and have a good understanding of what it takes to be the boss of a successful carpet fitting business. But what about the practical steps you need to take to physically set up a business?
Register your business
Decide on a name for your business and register it
Choose a business structure. Decide if you'll be a sole trader or a limited company. Remember there are different tax implications for each
Register your business with HMRC. You'll need to understand your tax, VAT (if relevant), and national insurance liabilities
For help and advice, hire a professional accountant.
Carpet fitting insurance
You might be tempted to skip the insurance, but it's more important than you might think.
Firstly, when you're the boss, you are your livelihood. If you can't work, you don't earn, so a form of income protection is wise.
Similarly, if your tools, equipment, or work van were stolen or damaged, you'd be unable to earn. Without insurance, you'd need to cover the cost of replacement to get you back on your feet, which could be financially crippling for a new business.
Thirdly (and this is compulsory for Checkatrade members), is Public Liability Insurance (PLI). This covers your liabilities toward your customers, members of the public, and third-party property – which you are working in all the time as a carpet fitter. Again, if something goes wrong, you'll personally foot the bill for damages if you don't have adequate business insurance.
Finances
Having a tight grip on your finances is essential for running a successful business.
You'll need to cover your initial start-up costs, such as a work van and equipment, and ongoing overheads, such as insurance and fuel. Make sure you crunch the numbers, so you know how much you need to earn to break even and, importantly, make a profit.
Checkatrade members receive exclusive member discounts on tools, vans, fuel, insurance, and more, saving on average, £470 a year*!
We have a number of articles that will help with your business's finances:
We do recommend hiring an accountant for help and advice.
Tools and equipment
As you know, from experience, having the right tools and equipment is vital as a carpet fitter.
The following list covers all the most important tools to get you started:
Blades for cutting carpets to size
Bolsters and chisels to attach the carpet to grippers and stair treads
Cutters, scissors, and shears to ensure a professional finish with low wastage
Door cutters to ensure doors move freely over carpet
Hot melt guns to quickly attach the carpet to the floor
Nails, tacks, and staples to attach underlay and carpet
Power stretchers to ensure a snug fit
You'll also need a work van. As a Checkatrade member, you'll receive exclusive discounts on van leasing.
Get your new carpet fitting business off to a great start
Join the best trades on the UK's leading trade directory
Start our checks
Marketing
You've decided to go for it and have set up your carpet fitting business, but what now? It's time to put your marketing plan into action to create and maintain a steady flow of customers.
Traditional marketing
Word-of-mouth marketing is an excellent way of growing your customer base, with referrals from one customer to the next.
This is a simple, but cost-effective form of advertising. Do a great job, and provide exceptional service, and your customers will generate the work for you, creating an enviable reputation.
However, it wouldn't be good business sense to rely solely on referrals. You need to actively promote your services too.
One way to do this is through direct mail. A great way to reach customers in a particular area.
Checkatrade members have the opportunity to feature in our leading trade directory, which is delivered to homeowners around the country.
Digital marketing
Digital marketing is the umbrella term for the many different ways you can promote your business online. This includes:
A company website
Social media. It's free and can help you reach a range of prospective customers
A dedicated trade directory such as Checkatrade
Save money and time marketing your business
With our digital marketing strategy and strong online presence, becoming a Checkatrade member makes it easier for customers to find you.
With a Checkatrade membership, your business profile not only appears on Checkatrade.com, but it appears high up on Google as a website would. Something that can take months, if not years, to achieve otherwise.
As a member, you can demonstrate the quality of your service by sharing customer reviews, testimonials, and examples of your work on your profile page.
You'll also receive free marketing materials to help build trust and credibility for your new business.
With the Checkatrade tick by your name, it makes your marketing that little bit easier, as 8/10 people would choose a trade endorsed by Checkatrade, compared to one which isn't**.
Why pay more for your business essentials?
Enjoy on average, £470** worth of savings on van leasing, fuel, insurance and more with a Checkatrade membership
Tell me more
Quick action: Sign up for our 'Become the boss' series
You could get your carpet fitting business started with the help of our 'Become the Boss' series.
To get trade business insider secrets sent to your pocket, put your email address in the form below so we can help you to get started:
How to grow your carpet fitting business
If you're keen to learn how to grow your carpet fitting business, read on.
In this next section, we'll cover what we mean by 'business growth', and the various ways you can achieve it.
Get your new carpet fitting business off to a great start
Join the best trades on the UK's leading trade directory
Start our checks
What does business growth mean?
There are a number of different ways to grow your business, so it's worth thinking about what 'growth' means to your business. What does it look like to you?
Getting more work?
Increasing your revenue?
Developing a bigger team?
Expanding your services?
You can also 'grow' by minimising costs and making sure your business runs efficiently in order to maintain your profit margins.
Once you've identified the growth targets you're aiming for with your business, you can start to plan how to achieve them.
Business development strategy
This is where you outline your plan for achieving your goals when it comes to business growth.
If you don't know where to start, take a look at the article below. It'll guide you through what information to include and also contains a FREE business development strategy template for you to use too.
How to create a business development strategy – Free template included
To help you flesh out your business development strategy plan, we've outlined a number of ideas as to how you can work towards your growth targets:
1. Growth target: want more work?
If you want to secure more work, you'll need to attract more customers. How do you do this? Marketing!
You've probably tried a number of different marketing tactics, but here are a few suggestions for both traditional and digital marketing:
Traditional marketing
Digital marketing
Check out our FREE marketing planning guide and checklist to help create a clear list of marketing tactics and responsibilities. It'll help to make sure the plans are put into action!
You need a marketing plan now more than ever – Free marketing planning guide included
2. Growth target: want increased revenue?
In the most basic sense, to increase your revenue, you'll need to make more sales/ higher value sales and keep your profit margins tight by watching your costs.
We've picked some useful articles to help sharpen your sales toolkit and increase your revenue:
3. Growth target: want to develop a bigger team?
On your own, there's a limit to how much work you can take on. If you're struggling to keep up with your workload, it's time to take on a team.
As an employer, make sure you understand your responsibilities. For example, it's a legal requirement to have employers' liability insurance.
You'll also need to understand company payroll and learn about holiday pay. Perhaps one of your hires will be a part-time admin officer to help with these tasks, freeing you up to generate new business?
Here's a selection of articles to help you through the hiring process:
4. Growth target: want to expand your service offering?
If you work on residential properties, could you broaden the scope of your offering to include other floor coverings, for example, hardwood?
Could you subcontract your carpet fitting services to contractors in the new build housing sector, or to contractors in the commercial sector, fitting out offices, retail, and hospitality venues?
Perhaps you could tap into the opportunity to get work from local authorities, carpet fitting for social housing.
Whatever option/s you choose, investing in training and the best equipment you can afford will help you to offer a professional and efficient service.
To help achieve your growth targets, make sure they're S.M.A.R.T
Specific – what does the task involve?
Measurable – how will you quantify success?
Achievable – is this attainable given the resources, knowledge, and time available?
Realistic – is the target realistic to the confines of your job and your existing responsibilities?
Time-bound – when should the target be achieved by?
Four final considerations for business growth
There are a couple of other important considerations to make when planning your business growth.
Check out our tips on growing your trade business.
Grow your carpet fitting business with Checkatrade
It takes time, money, and effort to launch and run a successful trade business.
Getting your business started, generating awareness, getting customers and planning for future growth is no mean feat.
If this all seems overwhelming, consider a Checkatrade membership, so you can work smarter, not harder, and see real results.
Here are just a few reasons to launch and grow your carpet fitting business with a Checkatrade membership:
Secure more work
Checkatrade is the tick people trust*. As an approved Checktrade member, you'll benefit from our reputation, helping you to win more business.
Save money on business essentials
We know what it takes to get a trade business up and running. And we know that you need to keep costs low, especially during the start-up phase. Checkatrade members save on average £470 per year each** on everything from van leasing, insurance, workwear, fuel, and more. These exclusive discounts on business essentials help to keep your profit margins sharp.
Why pay more for your business essentials?
Enjoy on average, £470** worth of savings on van leasing, fuel, insurance and more with a Checkatrade membership
Tell me more
FAQs
How long does it take to become a carpet fitter?
It is likely to take two years or more to become a fully trained carpet fitter, through a mixture of carpet fitter courses and on-the-job experience.
How much do carpet fitters earn?
A carpet fitter can expect an average starting salary of £19,200, with the highest salaries for experienced carpet fitters exceeding £45,000.
How do I train to be a carpet fitter?
Most training is on the job, but you can also get flooring industry training at local colleges, or as part of an apprenticeship.
Are carpet fitters self-employed?
Most carpet fitters are self-employed but often have close relationships with carpet shops and other retailers in the local area, who will refer work to them.
Get your new carpet fitting business off to a great start
Join the best trades on the UK's leading trade directory
Start our checks
*Claims are sourced from a survey conducted by Deep Blue Thinking on a nationally representative UK sample in November 2021.
**Year runs from April 21' to March 22'. Spend based on 12,505 members. Discounts differ depending on the partner. Products range from low value items to high value items. Total amount spent on Selco is estimated at £42,380,838 by 7,298 members and based on average savings per member from 2020/21. 10% discount. Some exclusions will apply on products.