What's best for marketing as a tradesperson: Checkatrade or Google?
We all want a good, steady stream of work to keep the diary nice and full, both now and in the future. But without a magic wand (wouldn't that be nice), how can you help to make that happen? In this post, we'll guide you through two of the most popular ways for tradespeople to generate customer leads and offer some clarity in what can often feel like a marketing minefield.
A steady pipeline of work is one of the most important factors in maintaining a successful business.
But with so many different ways of marketing your business, it can feel confusing and a bit daunting knowing which option to choose to help generate those all-important leads.
We've created a library of content on this blog that shares our expert tips on how to start, grow, and market your business effectively.
But this post is about one of the conundrums that tradespeople face; is it better to pay for a Checkatrade membership or Google advertising?
We'll explain the difference between the two (minus the jargon!), which option might offer you the most value for money, and which could be best suited to your business.
Getting your business to appear in Google search
If your strategy is to attract customers via your company website, you need an understanding of how Google search works.
Understanding Google search
Google search is the way in which people can find the information they're looking for online by the power of the search engine giant, Google.
There are other search engines, such as Bing and Yahoo, but to keep things simple (and because Google dominates the market with an 80% share) we'll focus on Google.
When homeowners search on Google for a tradesperson in their local area, a plumber in London, for example, they'll be presented with a list of websites and paid advertisements. And those results will likely be from plumbers in their local area (London in this instance) who they could contact. These are known as the 'search results'.
And in the search results, you have the top section, which is usually Google advertisements (Local Service Ads and Google Ads), followed by the organic search results (which link off to websites and blogs/articles).
For your website to appear without paid advertisement, you'll need to do SEO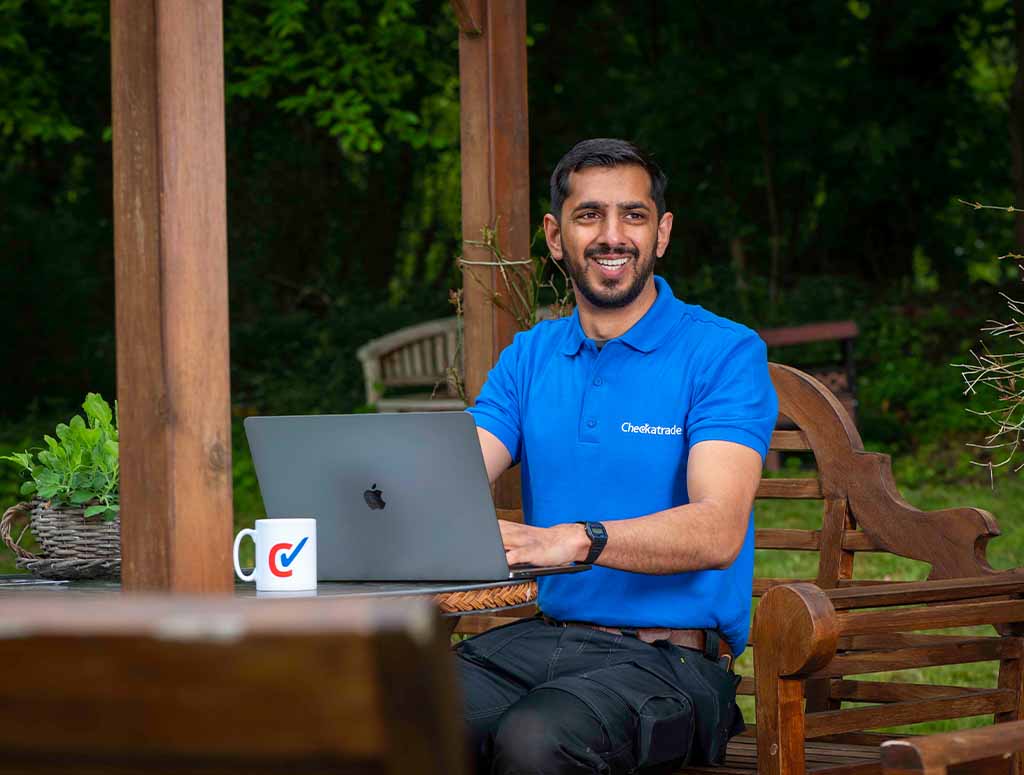 Search engine optimisation (SEO) is a term that covers any activity a business does to help themselves appear higher in the list of the organic search results. 'Organic' because the listings are not paid for. They appear due to their relevancy (keep reading to learn about 'paid for advertising').
The higher up your business appears, the more chance you'll be seen (known as an 'impression') and clicked on (known as 'click-through').
All sounds great, doesn't it? But you're probably thinking, how do I make sure my website appear high in the search results?
Quite right. Every business wants to rank high for '[their service] – in – [their location/service area]'.
The tricky part is having the time, knowledge, and patience to make this happen.
The long game
SEO is a long-term process that can take months, or even years, to achieve the results you want for your company website.
It takes time for business owners to understand how SEO works, implement their SEO strategy, and wait for search engines to assess the changes and potentially update their search results.
It involves creating and uploading good quality, relevant content to your website on a regular basis. Content that includes the keyphrases you want your business to be found for.
It requires the technical knowledge to understand how to improve the way your website works, so you can make sure it loads quickly, for example. Of course, you can pay a specialist, but this will cost you.
The objective of these activities is to show Google that your website is quality, credible and relevant, and that it deserves its place high up in those search results.
The good news is…
…there's a much quicker way to rank on Google with a website or online listing. By having a Checkatrade business listing.
Let a Checkatrade profile rank your business on Google
Checkatrade has been connecting homeowners and quality tradespeople since 1998. That's 25 years and counting of building our unrivalled reputation in the industry as the place to find a trusted tradesperson.
This authority in the industry is recognised by Google, so every tradesperson who has a profile on Checkatrade.com will rank just as a website would on Google search as well as on Checkatrade.
In other words, as a Checkatrade member, you benefit from our reputation, AND you receive two listings: one on Checkatrade.com and one in the Google search results.
The same online listing, seen in multiple places.
Show your business in the place that homeowners trust
8 in 10 people would choose a trade endorsed by Checkatrade, compared to one that isn't**
About joining us
What about Google Business profiles?
Google Business profiles (previously called Google My Business) are good for giving your business a local presence on Google and Google Maps.
However, homeowners who see a Google Business listing can't necessarily see whether that tradesperson is credible and legit; anyone can create a Google Business Profile.
Typically, homeowners will begin their search for a tradesperson on Google. If they find your business profile on Google, they'll then want to check your credentials to find out if your business is credible and trustworthy. And how do they do that? Through other websites, such as Checkatrade.
8 out of 10 people would choose a trade endorsed by Checkatrade, compared to one that isn't**
In other words, if you're found on Google, and a homeowner looks on Checkatrade to check that you're a trusted tradesperson and you're not there, you could lose the 8 out of 10 homeowners who do this trust check.
Show your business in the place that homeowners trust
8 in 10 people would choose a trade endorsed by Checkatrade, compared to one that isn't**
About joining us
Is Google Advertising worth it?
There are actually two types of Google advertising now online, the traditional Google Ads (PPC) or Local Service Ads.
Google Ads (PPC)
PPC stands for Pay Per Click. That is when somebody clicks on your ad, you get charged. The Cost Per Click (CPC) will vary depending on a wide range of factors:
Your bid
Your competitors' bids
Landing Page Quality Score
We've written an in-depth guide on PPC, so we would encourage you to read this to learn more about PPC.
Effectively, if you want more eyes on your website and you're happy to pay for people's clicks to visit your website, then PPC is worth weighing up. Do your research to see how much you would need to budget for your PPC advertising. And make sure to read our PPC blog for more information.
Are Google Local Service Ads worth it?
Local Service Ads is a form of paid advertising that helps you connect with people searching on Google for your services in their local area. Paid advertising in the Google search results can appear at the top, below, or to the side of the organic search results.
If your business ad appears when a homeowner searches, the customer can contact you directly by clicking on it. It's a similar model to PPC (Pay Per Click) advertising, but you pay once the lead has converted with Local Service Ads, rather than each time someone clicks on your ad (as with PPC/Google Ads).
The main thing to bear in mind is that the pricing varies – usually from around £10 up to £30 per lead, according to Heavyweight Digital. This means you'll need to (a) have the budget to facilitate this, and (b) take the time to monitor your monthly budget cap to check that you're receiving the number of leads your business needs and lead quality.
About the Google Guarantee
The benefit of using Google local service ads is that you will be presented as a 'Google Guaranteed Trade' with its Google Business star rating. This means you'll have to pass Google's screening procedure and meet its qualification guidelines.
Google's money back-service meaning
In your research, you may have read about the Google Guarantee service that offers a money-back guarantee. It's worth noting that the £1,500 is a lifetime cap. Once this is used up, that's it.
As Google put it, 'reimburse the customer up to the amount paid for the initial service, subject to a lifetime limit.'
One member mentioned a lack of homeowner demand to interact with their Local Service Ads
The results will be different from trade to trade. However, we spoke to a tradesperson using Local Service Ads. They told us that with their set budget, Google has never delivered the number of leads that they estimated to deliver based on their budget, services and radius.
This could be a problem for any tradesperson who is relying on these local ads as their only advertising and marketing effort.
If you prefer to know where you are with your marketing spend (rather than paying per lead), you might be better suited to a Checkatrade membership:
There are four tiers of membership (Approved, Lite, Standard, and Pro)
Membership is flexible. Pick the one that suits your business, with the option to crank it up or wind it back in from month to month (if you wish)
And because Checkatrade is built on trust, you're paying for the association of our trusted tick that millions of customers, your customers, trust
Reasons to choose Checkatrade membership over Google
OK, so of course we're going to recommend Checkatrade over Google. We're here to champion tradespeople, and we want you to receive the best support and the best value to help make your business as successful as possible.
Why choose Checkatrade
Our membership advisors are here to help
They're trained and they understand the needs of tradespeople. They know how to help you get the most from your Checkatrade profile.
Get found online in multiple places with just one listing
As an approved and guaranteed Checkatrade member, you'll appear on Checkatrade.com (where 13 million homeowners used our trades last year), and high up in the Google search results too. Two birds, one stone.
Checkatrade membership gets you more than an online listing
Every Checkatrade member qualifies for hundreds of pounds worth of discounts on business essentials, relevant to tradespeople, including van lease deals, fuel, insurance, tools, workwear, materials, and job management systems.
Be able to offer the Checkatrade guarantee to your customers
Unlike the Google Guarantee, there's no lifetime cap with the Checkatrade guarantee. Being an approved and guaranteed Checkatrade member fills your customers with confidence. In fact, 6 out of 10 people are more likely to hire a Checkatrade tradesperson if they offer our guarantee**.
It means if something goes wrong with your job, then Checkatrade will help make it right.
Make sure to read more about our guarantee.
Connecting you with homeowners specifically looking for reliable recommendations
While a Google Business profile is good to give you a presence (and a pin on Google Maps), Google is not a specialist in connecting tradespeople with homeowners. We are. Checkatrade is the place to find a trusted tradesperson.
8 out of 10 people would choose a trade endorsed by Checkatrade, compared to one that isn't**.
You're in control of your membership, budget and leads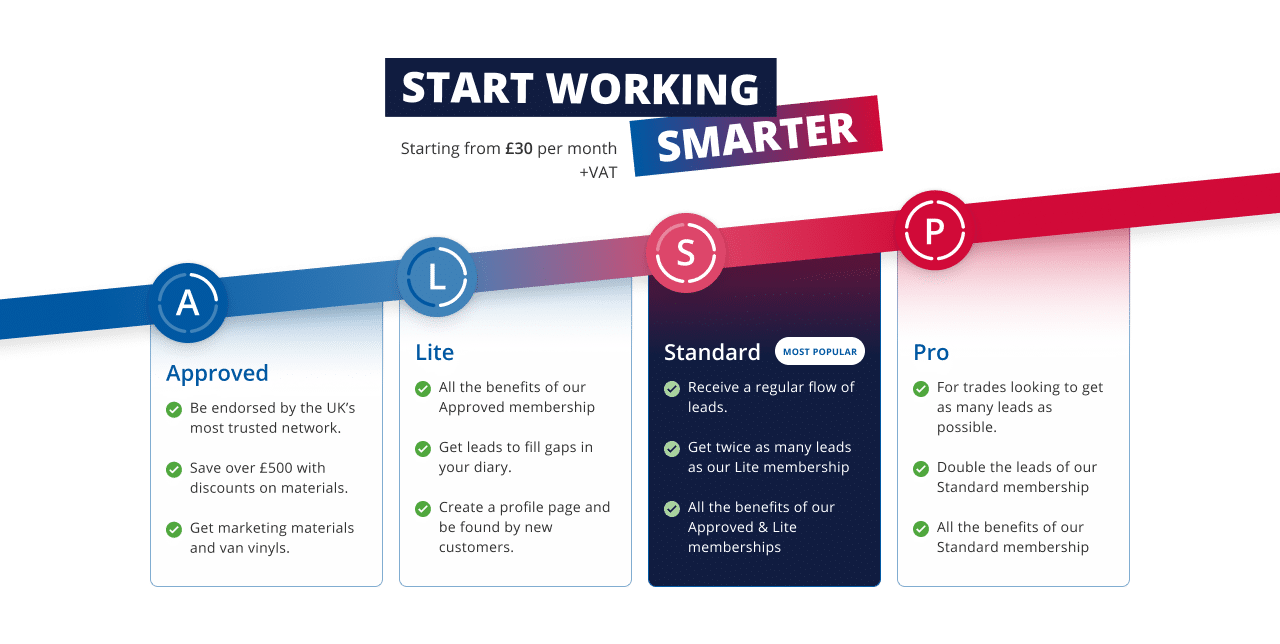 Checkatrade membership is a set monthly fee, so you can budget more easily (vs a pay-per-lead model such as Google Local Services Ads). However, our membership is flexible, so you can increase the leads you receive or dial it down month to month to suit the needs of your business.
Manage your Checkatrade profile and leads on the go
The Checkatrade App is a game-changer for tradespeople. You can manage your entire profile on the app. When you're out on the job, you can upload new photos or respond to your Checkatrade leads.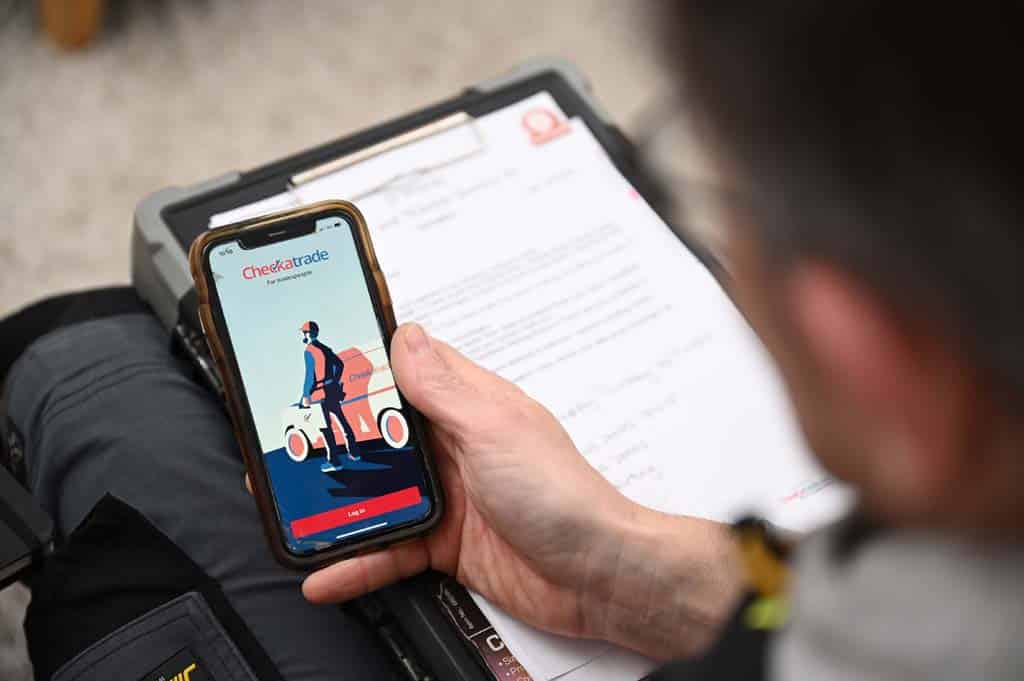 Ready to join the UK's leading trade directory? Simply click on the link below to get started.
Join the UK's best trades
Where homeowners search for quality, trusted tradespeople every day
Start the checks now
Growing your business online isn't always easy
Online marketing is so vast. There isn't one set way to get your name out there, which makes making decision like choosing between Checkatrade and Google a tough one.
But sometimes, it may be that you need to do both.
To give you even more guidance about other areas of digital marketing, check out our 'Grow your business' free download. In this free checklist we talk about websites, SEO, PPC and even print marketing.
*Checkatrade data. 'Verified' – where the reviewer has verified their review by SMS, email, or phone call.
**Claims are sourced from a survey conducted by Deep Blue Thinking on a nationally representative UK sample in November 2021.