Ceiling speaker installation cost guide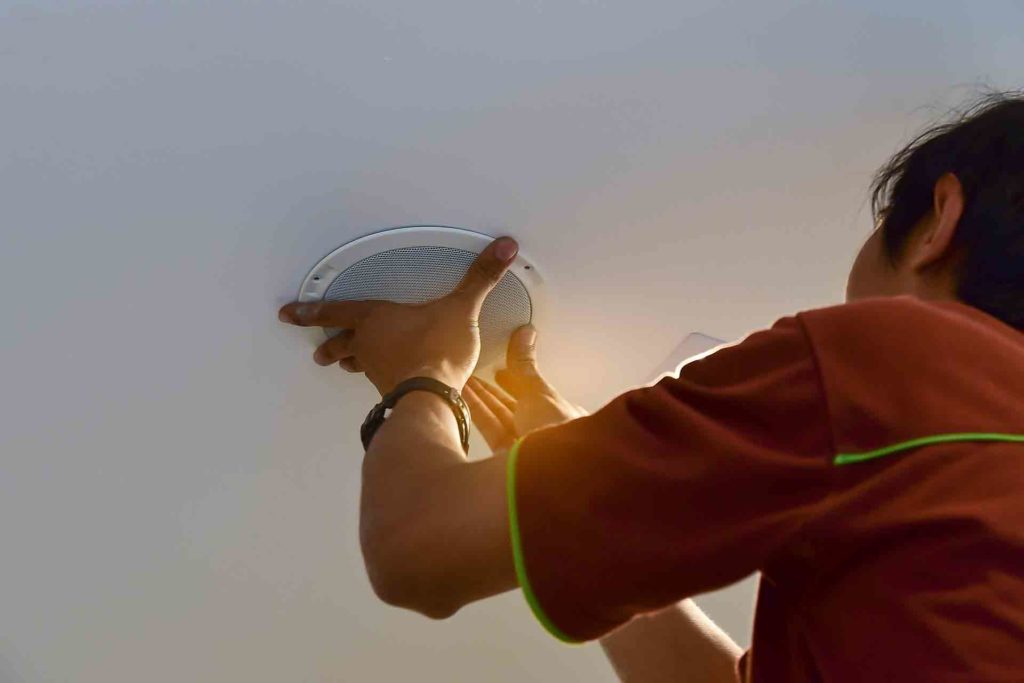 In this article, we'll cover:
Whether you love listening to music or you've always got the radio on, getting ceiling speakers installed is a great way to make your favourite sounds integral to your home. To give you that nudge you need, we've broken down the average ceiling speaker installation cost.
How much does it cost to get ceiling speakers installed?
When calculating your ceiling speaker installation cost, you'll need to factor in two things: the cost of the speakers themselves; and the installation cost. However, this can be easier said than done as the two can vary hugely depending on a number of considerations.
| Item | Unit | Cost - low | Cost - high | Average cost |
| --- | --- | --- | --- | --- |
| Ceiling speaker system | Per project | £300 | £5,000 | £2,650 |
| Electrician to install cabling | Per project | £250 | £1,000 | £625 |
Passive or active. Passive speakers need an amplifier, whereas active speakers have a Bluetooth or wifi amplifier incorporated in the back of the ceiling speaker itself. Active speakers are more expensive, but you won't have to budget for an amplifier separately. They're also cheaper and easier to install. However, if you're adding numerous speakers, they can quickly become more expensive than passive speakers, which can share one amplifier.
Amplifier. Most in-ceiling speakers are passive and need an amplifier. In this case, the amplifier is usually more costly than the speakers. Multiroom amplifiers are the most expensive. You can also get in-wall or in-ceiling amplifiers if you want to avoid cables and clutter.
Mono or stereo. Passive speakers can be either mono or stereo. Mono means you need two for stereo applications – one for the right and one for the left. Stereo means you only need one.
Size of speakers. Ceiling speakers can be sized anywhere from 2 inches to 8 inches. The most popular are 6.5 or 8 inches wide.
Water resistance. If you're hoping to install ceiling speakers in a damp place, such as a bathroom, you'll need to choose speakers that are safe to be installed around water. This is especially the case if you're going to be installing them directly above a shower.
Brand. There are many different brands that sell ceiling speakers, at lots of different price points. With some of the household names, like Bose, you'll be paying extra for the brand name.
Amount of cabling required. All ceiling speakers will require some form of cabling, whether it's a power cable or a speaker cable from an amplifier. Active ceiling speakers usually require the least wiring, whereas if you're using a multiroom amplifier, it's likely to require the most as all speakers will need to connect back to the amplifier. The more cabling you need, the more your speakers will cost to install.
Number of speakers. You'll need to decide both how many speakers you want in each room, and how many rooms you want ceiling speakers in (known as the number of zones). Both these factors will have a large bearing on the overall cost of your ceiling speakers.
Hidden speakers. Most in-ceiling speakers have a round grate that can be seen when looking at the ceiling (it can also be square, although this is less common). However, you could invest in more expensive in-ceiling speakers that are hidden. Some can even be plastered over!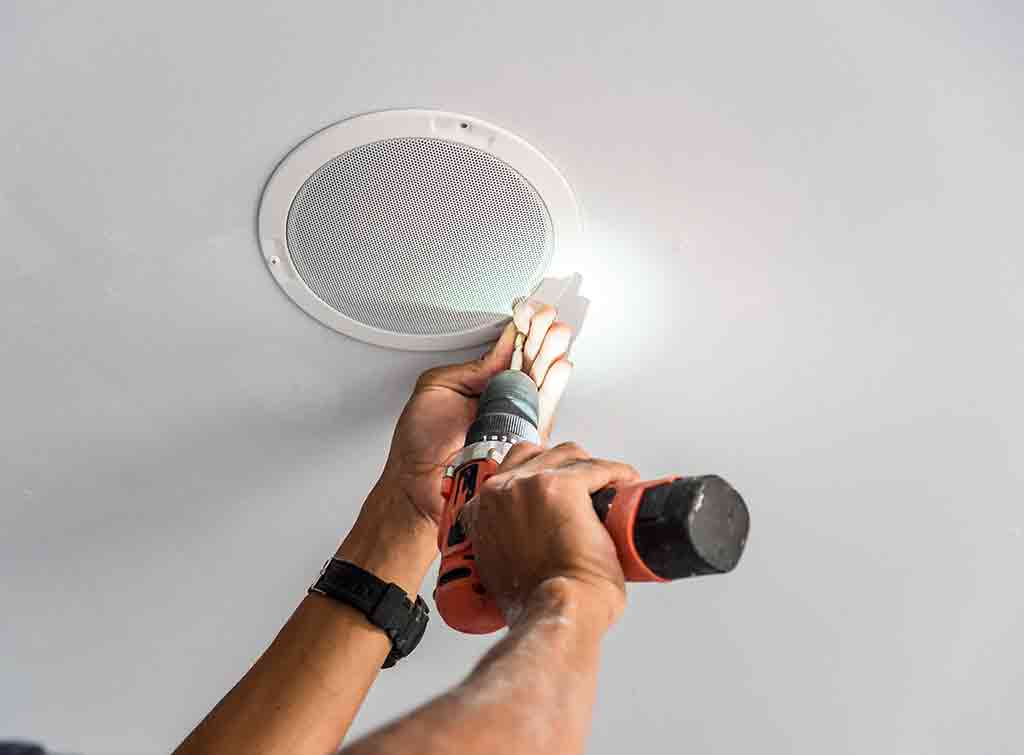 Ceiling speaker system price
The average ceiling speaker price without installation can range from £300 for one room to £5,000 for a whole house. Then, you'll need to budget for an electrician to install them for you.
Installation costs vary wildly depending on whether you're installing the speakers at the point of first fix (while you're building or renovating your home) or retrospectively. Understandably, most people install their speakers retrospectively. However, it involves chasing in all the wiring, which means you'll have to budget extra for plastering and touching up.
If you're installing your ceiling speakers retrospectively, you can expect to pay between £250 – £1,000.
Find an electrician to install ceiling speakers
Additional ceiling speaker prices
There are additional accessories that you could consider installing alongside your ceiling speakers. And of course, they'll add a bit more to your overall cost. Here are a few examples of features you could add.
Ceiling speaker fire hoods. Ceiling speaker fire hoods stop the speakers from speeding up the spread of fire along your ceiling. Your home insurance may require you to have these in order for your home insurance to be valid.
Subwoofers. These improve the quality and depth of sound that you'll get from your ceiling speakers. They're particularly good if you like your bass.
Speaker switches. If you want to easily be able to select individual speakers to play together or separately, you could invest in in-wall or free-standing speaker switches.
Volume controls. In-wall volume controls could make it easier to turn individual speakers up or down.
TV connection cables. You can run an audio cable from your amplifier to your TV so that you can listen to your TV through your ceiling speakers.
Key takeaways
Passive speakers are less expensive than active speakers but they require an amplifier.
The cheapest way to install ceiling speakers is at the first fix when you're building or renovating your home.
Ceiling speaker fire hoods will improve your home's fire safety and may be a requirement for your insurance.
Find an electrician to install ceiling speakers
Good jobs, guaranteed
Get covered when you book with Checkatrade.