Last updated on August 31st, 2022
How much does a home cinema room cost to install?
If you love the big screen experience, in this guide we take a look at the average home cinema installation cost in the UK.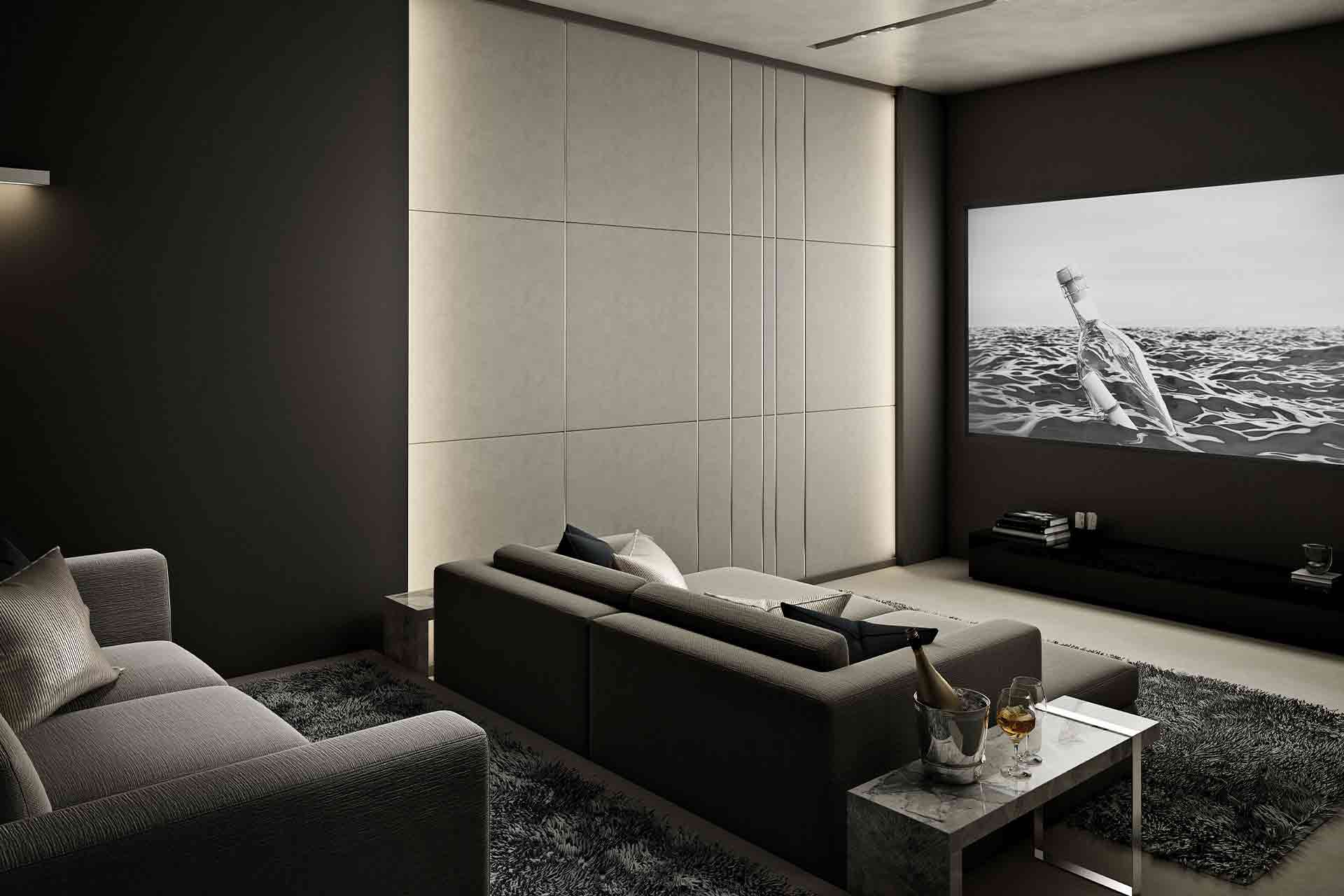 Home cinemas used to only exist in the homes of the rich and famous. Not anymore. More and more homeowners in the UK are converting their garages, sheds or other unused rooms in their homes to create a movie lover's paradise.
If you love films and have the space in your home, it could be time to create your own entertainment haven. It's not cheap to install a home cinema, but it's a home improvement that's well worth the cost for many homeowners.
How much does a home cinema cost?
| Cost provided item | Average UK cost |
| --- | --- |
| Average home cinema installation | £15,000 |
| Basic home cinema installation | £3,250 |
| Mid-range home cinema installation | £8,450 |
| High spec home cinema installation (small 4.5m2 room) | £21,000 |
| High spec home cinema installation (medium 6m2 room) | £38,000 |
| High spec home cinema installation (large 10m2 room) | £62,000 |
| Home cinema control system | £1,500 |
| Home cinema lighting | £750 |
| Home cinema seating (per person) | £1,250 |
The average cost to install a cinema room is around £15,000. But this price can vary massively, depending on the specific setup that you choose. Several key factors will influence the total cost, including:
Size of the room
Type of equipment
Specification/quality of equipment used
Any electrical or soundproofing work needed
Where you live
Home cinema system installation cost
The average price of a home theatre is much cheaper than it used to be. There are now a lot more affordable options for entertainment equipment.
To help you plan a budget for your home cinema project, it's helpful to look at the average specification for your equipment.
Typical cinema kits fall into one of these categories; basic, mid-range and high-end systems.
Basic home cinema installation price
For a basic setup you can expect to pay around £3,250 
If you have a modest budget for your home cinema, you can keep the cost down by using a large TV instead of a screen and projector. This slight compromise is an excellent option if your room is on the smaller side, as you might not have the space for a projector setup.
This budget generally assumes you're using an existing room in your home with no conversion or prep work needed.
Mid-range home cinema installation price
For a mid-range setup you can expect to pay around £8,450 on average.
If you have a slightly bigger budget to work with, you'll still be looking at using a large TV within your home cinema – you can push this budget up if you want to use a projector.
You might also want to consider in-wall speakers instead of a floor-standing subwoofer to upgrade the surround sound quality. This price range for your home cinema assumes you're using a specific space in your home, maybe a new or extended area.
High-end home cinema installation price
For a basic setup you can expect to pay around £21,000 on average.
There is no limit to how much you can spend for those with a lot of money to invest in your home cinema. You can opt for the latest, top-of-the-range projector equipment and increase the number and quality of speakers.
You could even splash out for a full-on Dolby Atmos speaker system for a truly epic cinema experience.
See the tradespeople we've checked and recommend for your job
Home cinema cost calculator
Although the entertainment equipment takes up a large chunk of the overall price of your home theatre, there are a few other costs to consider:
Acoustics
You'll want to make sure the room you're using for your home cinema has the best acoustics possible. Your choice of furnishing will help create the room's acoustics, but it's often a good idea to get professional advice from a home cinema expert.
One crucial area that requires an in-depth analysis is the relative effectiveness of the soundproofing of the room. Getting this right will ensure that your movie nights will not disturb the rest of the house, or your neighbours!
Control system
If you're installing a home cinema, you want to control everything from the palm of your hand. An integrated control system will not only let you turn the equipment on and off, but you'll also be able to dim the lights, switch inputs and operate all the individual equipment units.
The cost of a control system varies depending on the processor, handset and type of programming. Prices start around £1,500.
Lighting
The lighting in your home cinema is vital to get right, as it makes a massive difference to the look and feel of the room. All lights in your home cinema should be remote controlled and dimmable. As well as the main lighting, you can also get lighting for the seats, so you don't spill your drink or popcorn.
The average cost of home cinema lighting is in the region of £750.
Seating
An essential element for your enjoyment of your home cinema is the seating you choose. Whether it's cinema-style seating or sofas, you'll want to make sure they're as comfortable as possible and ideally have a motorised reclining function.
The average cost for home cinema seating is around £1,250 per person.
Home cinema installation hourly rates
Since you need different tradespeople for the various components of your installation, your home cinema installation hourly rates will vary. Here is a breakdown of some of the hourly rates:
Building/converting a room: Builders can charge between £10 - £35 per hour, depending on the job's complexity. However, you need to be aware that different types of builders have different rates.
Electrician: An electrician's hourly rates for your home cinema installation are around £45 per hour.
Soundproofing: Soundproofing a room for your home cinema installation can cost around £35 - £40 per hour.
Your location may also affect your home cinema installation hourly rates, as prices are higher around London and the South East.
Home cinema installation quotes
To get the most competitive home cinema installation quotes, we recommend getting in touch with at least three tradespeople and getting price estimates from them. That way, you can choose the ones with the rate that fits your budget.
Not sure how to find home cinema installers in your area? Try out our Request a quote tool.
Just fill out the form, and we'll send your job requirements to home cinema installers in your area. Then, they'll contact you so you can review their home cinema installation quotes, check out their reviews to see what your neighbours think of them, and pick the one that works best for you!
What are the benefits of installing a home cinema?
Here are some great reasons to start planning your home cinema room if you're on the fence.
1. The ultimate movie experience (with no hassle)
You'll never have to traipse to the cinema again. You can enjoy the whole cinema experience with all the highs, lows, laughs and cries of your favourite films in the comfort of your own home.
2. A perk for the whole family
Whether you're watching a Disney classic with the kids or a rom-com with your other half – a home cinema is an addition to your home that every member of the family can enjoy.
3. Front row seat for sports lovers
For sports fans, a home cinema gives you the front row experience without having to set foot out of the front door. Watching your favourite footy team on a giant HD screen with surround sound is priceless.
4. Amazing gaming
Gamers out there will appreciate how much your entertainment setup affects your gaming experience. With a superior quality screen and sound effects, it feels like you're in a whole new world – literally.
5. Tailor the perfect setup for your home
There's no 'one size fits all' for home cinemas, so you can choose the best equipment to suit your space and budget. Whether it's a modest room or an entire basement, you can tailor your home cinema to your individual needs.
Helpful home cinema installation checklist
Home cinemas should always be created in places with adequate space to ensure a decent viewing experience.
Look at how commercial cinemas appear for inspiration – dark or carpeted walls to help transfer sounds and light.
You can adjust your home cinema spec to match your budget and space limitations.
Please speak to your local home cinema experts for their professional advice.
Consider the need to add soundproofing and other acoustic treatment.
If converting a garage or basement, make sure the space is in good condition with the appropriate insulation and electricity supply.
Shop around for fair and competitive home cinema installation costs.
Always hire tradespeople with experience and relevant qualifications or accreditations.
See the tradespeople we've checked and recommend for your job