Last updated on October 25th, 2022
Storage heating costs guide
With the days getting shorter and the nights getting colder, searches for heating solutions are on the rise. One of the most popular of these is the storage heater.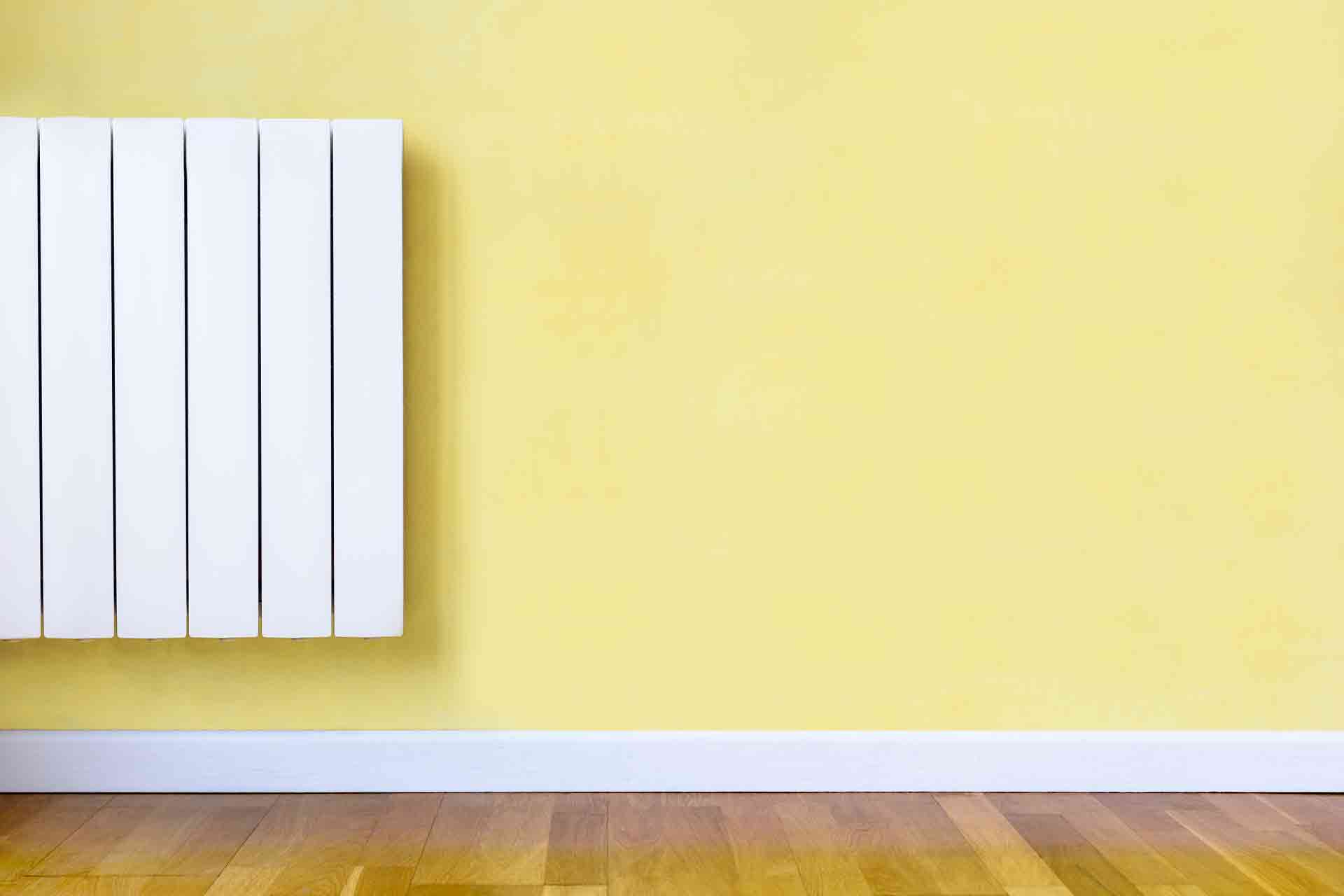 In the following storage heating costs guide, we've covered typical pricing and key considerations to help you budget.
Storage heaters are electric heaters that store thermal energy by heating up ceramic breaks at night. During the day, the heat is released gradually to keep your home warm. We've covered the average storage heating installation costs, how to use their controls, and tips to conserve energy below.
Ready to get a storage heater installed? Use our free search tool to find local engineers. 
Storage heating costs
The average electric storage heating costs vary, but typically they sit between £150 and £200 for a basic model.
High-end heaters will skew higher, but these energy-efficient models do save on running costs. To get your new night storage heating installed with existing wiring by a certified heating engineer, we recommend budgeting at least £70. If the installation requires new wiring, adjust that budget to at least £100.
| Materials | Unit | Average cost |
| --- | --- | --- |
| Basic storage heater | 1 Heater | £150 - £200 |
| Labour | Unit | Average cost |
| New storage heating installation | 1-2 days | £700-£1,600 |
| Replacement heater installation | 1-2 hours | £70-£150 |
Factors that influence storage heating costs
If you have decided to install a new storage heater to your property, a first-time install will add to your costs. Replacements are typically cheaper, but it is important to consider how big your house is, or whether you are putting your storage heater in a hard to reach place. Both of these factors, as well as the brand of storage heater you choose, will largely influence the price.
Storage heaters running cost
Night storage heaters use electricity supplied at off-peak night-time tariffs (Economy 7 and Economy 10).
Since they work by radiating the heat stored in the night throughout the day, you won't have to use expensive day-time tariffs to heat your home. This helps to keep the running costs to a minimum, making storage heaters a great investment in the long term. Assuming that you only use it on a lower rate tariff, a 2kw storage heater has an average running cost of 34p per hour.
Top tip: For those who work from home, storage heating is highly cost-effective. However, it's worth noting that heat can only be stored for around 12 hours. If you come home from work at around 8pm, it may not make as much sense to invest in a storage heating solution.
Please note that the UK wholesale energy market is currently in crisis with the current global surge in demand. The above costs are based on the October 2022 price cap. We will keep this cost guide updated and estimate the costs again as and when the price cap changes.

See the tradespeople we've checked and recommend for your job
How to use night storage heater controls
It's not always easy knowing how to use your night storage. The settings aren't always intuitive. So, here's a guide for helping you understand the best way to make these heaters work for you. Note that depending on your individual needs and how often you're at home, these settings may vary.
Controls
Most heaters have an 'output' setting on the left and an 'input' setting on the right. They're often found on the top right of the heater itself, potentially under a panel.
Input vs output
The input controls how much energy you want your night storage heater to take in overnight during the 7-hours cheap rate electricity. The output dictates how quickly you want the heat to be released during the day.
Before bed
Always set heater when you go to bed by turning down the output to as low as possible. The input warms up the heater anyway, so you won't lose any heat. If it's winter, turn up the input to maximum to store as much heat as possible. If it's autumn or summer, you won't need to turn the input up so high.
During the day and evening
Turn up the output whenever you're at home and in need. The output tells the heater how quickly you want the heat to be released, so always consider how high you have it as you'll use up all the heat and won't have enough to last you throughout the day.
NB: By making use of your night storage heaters as much as possible, you avoid having to use the daytime energy rates via electric heaters or other units.
Lower your heating costs with these night storage heater tips
Turn the 'output' setting of your storage heater to 'off' before you go to bed
If you remember, do this whenever you leave the house or aren't in the room
If your heater had a 'boost' setting, use it for extra warmth but be mindful that it's using daytime expensive energy.
Always use the stored heat first before using any boost option
To avoid using electric or plug-in heaters, turn up the input on your storage heater instead
FAQs
Are storage heaters cheaper than central heating?
In short – yes. Since they run on cheap night-time tariffs and release energy during the day, they are much cheaper to run than standard electrical heaters. They're also cheaper to install than a central heating system.
Are storage heaters expensive to use?
The top-rated brands of storage heaters are often the most efficient. As such, they are more expensive to install, but will cost less to run and will therefore save money in the long-term.
Are storage heaters being phased out?
Storage heaters are highly cost-efficient for the time being, but the Economy 7 tariff is being phased out as the UK moves towards the closure of all coal-based power plants by 2030. So, while it's worth taking advantage of the low night-time rates for the next decade, it may not be the most long-term solution.
Can I install a storage heater by myself?
Keeping your house warm is one job you certainly don't want to get wrong. For best results, we recommend professional installation.
See the tradespeople we've checked and recommend for your job