With the days getting shorter and the nights getting colder, searches for heating solutions are on the rise. One of the most popular of these is the storage heater. This is an electric heater that stores thermal energy by heating up ceramic breaks at night. During the day, the heat is released gradually to keep your home warm. Primarily used by homeowners on a time-of-use tariff, this could be the ideal solution to keeping cosy. But what are the average storage heating costs?
In the following guide, we've covered typical pricing and key considerations to help you budget.
Ready to get a storage heater installed? Use our free search tool to find local engineers. 
| Materials | Unit | Average cost |
| --- | --- | --- |
| Basic storage heater | 1 Heater | £150 - £200 |
| Labour | Unit | Average cost |
| New storage heating installation | 1-2 days | £700-£1600 |
| Replacement heater installation | 1-2 hours | £70-£150 |
Storage heating costs
The average electric storage heating costs vary, but typically they sit between £150 and £200 for a basic model. High-end heaters will skew higher, but these energy-efficient models do save on running costs. To get your new night storage heating installed with existing wiring by a certified heating engineer, we recommend budgeting at least £70. If the installation requires new wiring, adjust that budget to at least £100.
Factors that influence storage heating costs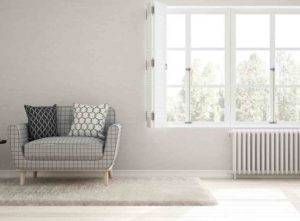 If you have decided to install a new storage heater to your property, a first-time install will add to your costs. Replacements are typically cheaper, but it is important to consider how big your house is, or whether you are putting your storage heater in a hard to reach place. Both of these factors, as well as the brand of storage heater you choose, will largely influence the price.
Storage heaters running cost
Night storage heaters use electricity supplied at off-peak night-time tariffs (Economy 7 and Economy 10).
Since they work by radiating the heat stored in the night throughout the day, you won't have to use expensive day-time tariffs to heat your home. This helps to keep the running costs to a minimum, making storage heaters a great investment in the long-term. Assuming that you only use it on a lower rate tariff, a 2kw storage heater has an average running cost of 13p per hour.
Top tip: For those who work from home, storage heating is highly cost-effective. However, it's worth noting that heat can only be stored for around 12 hours. If you come home from work at around 8pm, it may not make as much sense to invest in a storage heating solution.
Find the right heating engineer for you
FAQs
Are storage heaters cheaper than central heating?
In short – yes. Since they run on cheap night-time tariffs and release energy during the day, they are much cheaper to run than standard electrical heaters. They're also cheaper to install than a central heating system.
Are storage heaters expensive to use?
The top-rated brands of storage heaters are often the most efficient. As such, they are more expensive to install, but will cost less to run and will therefore save money in the long-term.
Are storage heaters being phased out?
Storage heaters are highly cost-efficient for the time being, but the Economy 7 tariff is being phased out as the UK moves towards the closure of all coal-based power plants by 2030. So, while it's worth taking advantage of the low night-time rates for the next decade, it may not be the most long-term solution.
Can I install a storage heater by myself?
Keeping your house warm is one job you certainly don't want to get wrong. If you have ever installed storage heaters as part of your profession, this should be a relatively straightforward task. If you have not completed a task similar, storage heaters are serious bits of kit – and a professional installation is usually recommended.
Find the right heating engineer for you
Tell us what you think
What others think of this cost guide:
Need More Information?
Related posts