Last updated on April 21st, 2022
Lawn treatment service cost guide
Bring your lawn back to life with our guide on lawn treatments and costs. Including tips on fertilisation, aeration, scarification, weed and moss control, and more.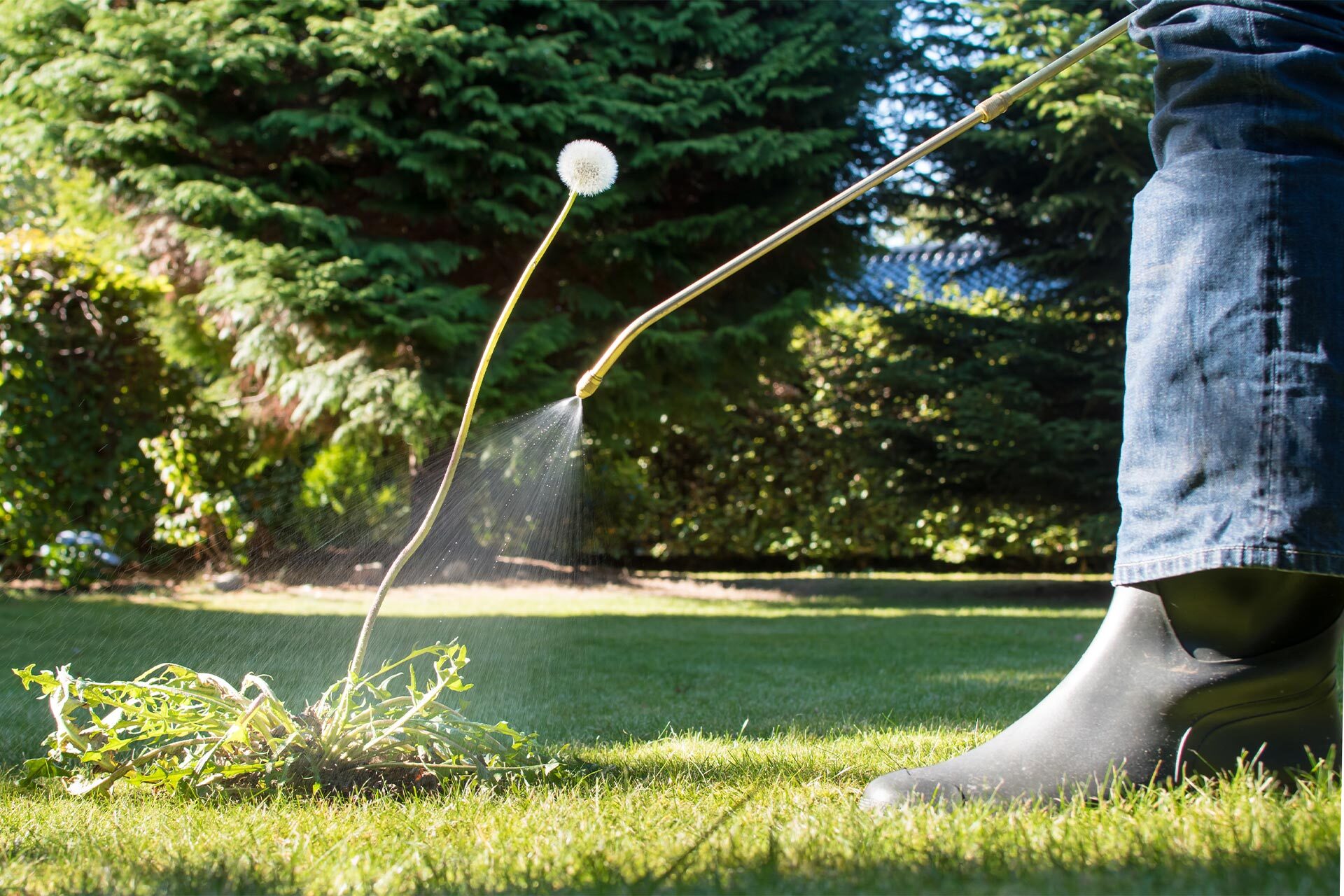 A garden should be a place of relaxation, a space to socialise or a play area for children and pets. Sadly, a damaged, diseased lawn is not only uninviting but leads people to avoid or not use their gardens, which is a huge shame.
Whether you want to strengthen your lawn, remove weeds and moss, fill in brown patches, treat lawn diseases, tackle pests or simply take the hassle out of lawn maintenance, read on to discover our lawn treatment service cost guide.
There's costs, tips and considerations to help you achieve a beautiful lawn and garden.
Lawn treatment service costs
Type of treatment
Cost + VAT
(Range low - high)
Average cost
One off treatment
£45
Monthly lawn care cost
£11-17
£14
Full lawn care service (yearly)
£100
Seasonal treatments (per visit)
£15 (50m lawn) -£120 (1000m lawn)
£67.50
Lawn fertiliser treatment (per quarter)
£25
Lawn care cost per m2
£0.12 - £0.30
£0.21
Most gardeners who specialise in lawn care will offer a monthly or annual service package. This usually involves multiple visits over the different seasons to target the specific needs of your lawn.
It is possible to opt for one off treatments to deal with specific issues but in order to keep your lawn looking great a regular treatment schedule is important.
Another way to estimate the lawn care cost is by the size of your lawn: the average lawn care cost per m2 is £0.21.
Common lawn problems
Unfortunately, lawn issues are not rare and many homeowners struggle to salvage a usable lawn despite regular mowing. Below is a list of the most common lawn problems:
Moss: Moss is very common, usually appears when lawns are mown too short and loves sheltered, damp areas. Can be effectively removed with raking.

Weeds: Surprisingly, some weeds can be quite attractive but despite their appearance, they need to be removed before your lawn suffers.
They need nutrients and water to grow and get these by stealing from your grass, causing damage to your lawn. Weeds are very common but with the correct treatments they can be a thing of the past.
Pests: Frustratingly, lawn pests can be very common and cause damage to your lawn if left untreated. Common pests include leather jackets, ants, moles, worms and chafer grubs.
Lawn disease: There are many types of lawn disease that not only affect the appearance of lawns but can cause damage to the roots and the blades of grass themselves. Common types include fairy rings (a fungal disease), leaf blight and rust disease.
Dry patches: During summer months when warmer weather is common, lawns can dry out causing patches of discoloured, dying grass. Frequent watering is a must especially when there has been no rain for a while.
Mushrooms: Although you may not want mushrooms growing in your garden, they are actually a clear sign of a natural, healthy lawn. The downside to mushrooms is that they can be poisonous to humans and animals therefore picking or mowing to remove them is a good idea, especially if you have young children and pets.
Poor mowing: Lastly, improper mowing can cause severe lawn damage. The ideal height for grass is 2.5cm and if you go below this you risk the grass dying as well as scorching from the sun. If you do not feel confident mowing your lawn it is possible to hire a professional. For more information see our guide to grass cutting costs.
See the tradespeople we've checked and recommend for your job
Types of lawn treatment
Seasonal treatments: Throughout the year your lawn is going through stages of growth and repair. As such, grass will require different types of treatments depending on the season.
Fertiliser: This is an essential treatment to keep your lawn healthy and give it protection against mowing frequently. It involves using chemicals that plants absorb and use to grow.
Common types of fertiliser are phosphorus, nitrogen, potassium and phosphate and these should be applied at least once or twice a year depending on how often you use your lawn. The cost of lawn fertiliser is £25 per quarter.
Aeration: Usually done on an annual basis, aeration involves taking out small sections of soil from your lawn so nutrients, water and air can better reach your grass roots.
Scarification: This involves removing thatch (dead and living plant matter) that has built up over time so nutrients, air and water can better reach your lawn roots.
Overseeding: An annual process that ensures your lawn stays full and vibrant, overseeding involves spreading seeds over lawns.
Weed and moss control: Weeds usually require treating with herbicide while moss can be removed with raking.
Soil conditioning: This is a process that works to increase the amount of water and nutrients in your soil making it easier for your lawn roots to absorb what they need.
Renovation: New grass seed is introduced to your lawn in this treatment leaving you with a full and healthy lawn.
Top dressing: Here the surface of the lawn is penetrated with fine sand and loam or organic material to keep your lawn looking its best.
Weekly lawn care cost

Lawn treatments are typically applied on a one off or regular annual/monthly basis.
If you would rather not sign up for an annual package then a one off lawn treatment option may be ideal for your needs and can be completed any week of the year that suits you and the weather.
The average cost of a one-off treatment is £45.
Alternatively, if you would prefer to have your garden looked after regularly, other services such as mowing and hiring a gardener may be perfect for you.
To discover weekly lawn care costs and other gardening services offered plus helpful tips, please read our guide on gardener prices or our grass cutting services cost guide.
Monthly lawn care cost
Every lawn goes through seasonal changes and has different needs according to the time of year.
Add into this the individual needs of your lawn, ranging from moss to lawn diseases, and it becomes clear that if you wish to have a fantastic looking lawn, signing up for a monthly care package is essential.
Luckily, these service programmes needn't be expensive, in fact the average monthly lawn care cost is only £14.
Lawn treatment service cost calculator
To calculate the cost of lawn service treatment you'll need to understand the nature of the lawn problem you have. Another important factor to consider is the size of your lawn – the larger the lawn the more expensive the treatment cost will be.
For accurate prices for lawn treatment services in your area, speak to local gardeners and ask for a breakdown of costs and the options available.
Get lawn care quotes
We always recommend obtaining at least three quotes from our trusted tradespeople.
Our request a quote feature is perfect for getting quotes – you post details about the job you want doing and we'll send it out to local tradespeople in your area.
How long will it take for my lawn to improve?
It is difficult to give an accurate timescale for when your lawn will look great as every lawn has its own issues and damage. Services such as weed or moss removal will allow you to reap the benefits instantly however they require regular care to prevent them from returning.
Usually, any problems or issues with lawns will need to be treated more than once and will take time to improve. If you are looking to achieve a fantastic lawn there is no quick fix but rest assured with proper care you will get there.
Can I treat my own lawn?
It is true that most garden centres will have a range of fertilisers, weed killers and treatments to deal with lawn diseases and pests, however there is no guarantee these will work as well as you hope.
The main issues with treating your own lawn are that you may incorrectly diagnose the problem, that you may purchase the wrong treatment and that you may not apply the treatment in the right way. Thankfully, hiring a professional is very affordable and the peace of mind achieved is worth the cost.
To find a local, reputable, tradesperson in your area and get a personalised lawn treatment service cost use our free search feature.
What advice for lawn care do you have in the warm summer months?
Our very own green-fingered Checkatrade member, Ali Ahmad, who runs Al's Gardening Services, has some great advice:
"Investing in a sprinkler will improve the health of your lawn greatly. The grass grows very fast this time of year, and so is using nutrients from the soil very quickly, so add nutrients to the lawn with a granular fertilizer."
Key takeaways for lawn treatment services
Lawns can be affected by various issues including moss, diseases and pests.
Aeration, scarification, overseeding and fertilisation are different ways to treat your lawn.
Companies offer lawn treatment service costs on a monthly, annual and one-off basis.
Lawn improvement is not instant and it can take time for the results to appear.
It is possible to treat your lawn yourself, however professional packages are not expensive and offer peace of mind.