Last updated on April 7th, 2022
Imprinted concrete cost guide
Stand out from the crowd with an imprinted concrete driveway. With guidance and practical tips, our imprinted concrete cost guide is designed to help you.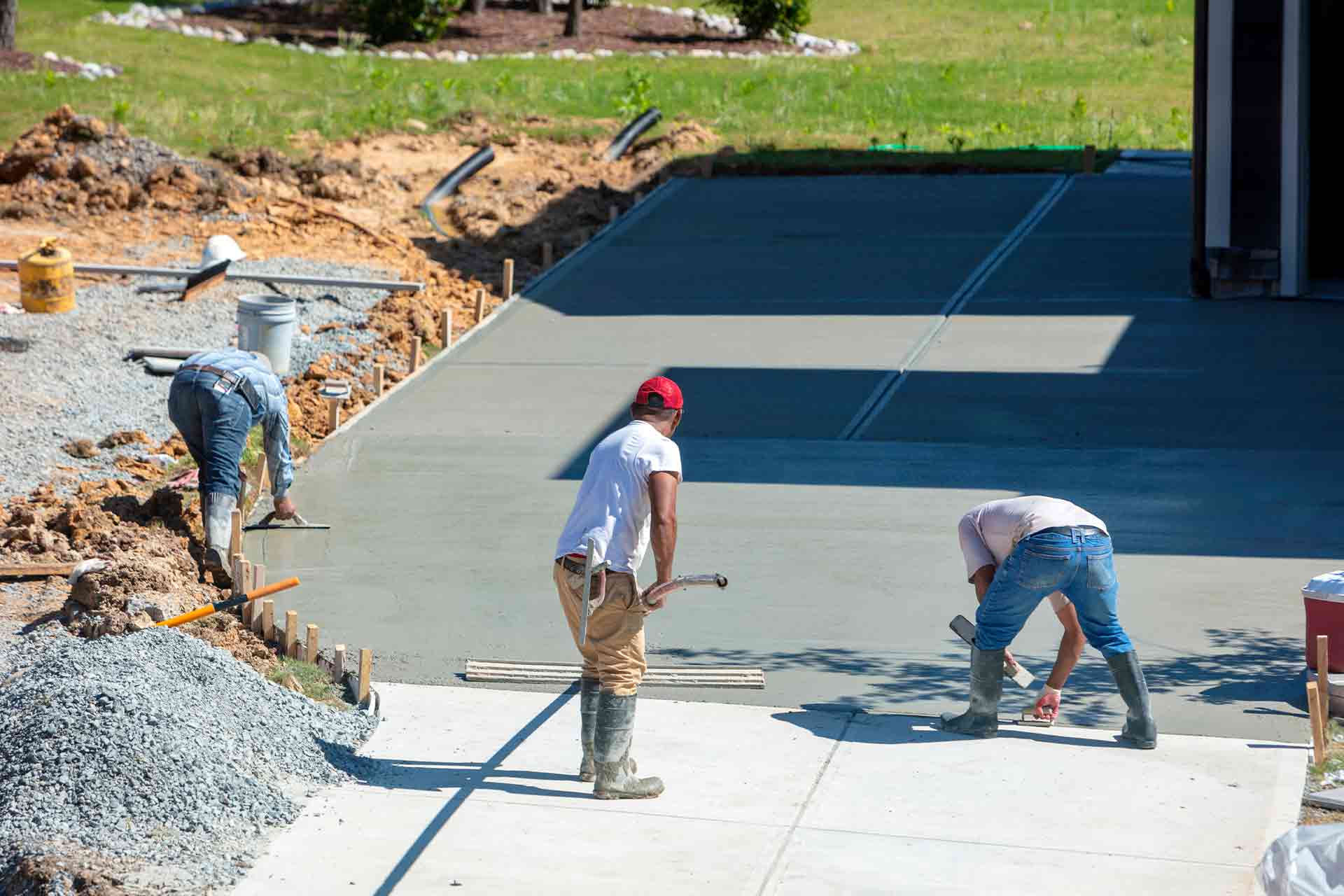 Why choose imprinted concrete?
What was once an unpopular method for improving concrete driveways or paths, imprinted concrete has become an excellent way of injecting personality into your home. Imprinted concrete allows for an unlimited numbers of patterns in a wide range of colours so you can guarantee your home will stand out from your neighbours.
Not only does this method offer excellent aesthetics, it comes with a host of practical benefits too! Ranging from forming a low maintenance, durable surface that can last for 20 years, to adding value to your home, as well as a resistance to weeds.
In this guide we will look at imprinted concrete costs, factors that affect costs, alternative options and lots of helpful information to assist you in this important decision.
How much does imprinted concrete cost?
Imprinted concrete cost
Cost + VAT
(Range low - high)

Average cost
Imprinted concrete driveway cost - materials
£1,125 (40m2) - £2,400 (100m2)
£1,762.50
Imprinted concrete driveway cost - labour
£2,625 (40m2) - £5,500 (100m2)
£4,062.50
Imprinted concrete cost per square metre
£75 - £90
£80
When it comes to calculating the cost of imprinted concrete, we need to consider two important prices: the materials and the labour.
The materials themselves can be quite reasonable, with an average cost of £1,762.50, however as this is not a quick and simple job, labour costs can be quite a bit higher, averaging around £4,062.50.
The average imprinted concrete driveway cost is £5,825.
See the tradespeople we've checked and recommend for your job
Alternatives to imprinted concrete
Available on the market today are a multitude of different driveway options, including imprinted concrete. Here are some of the most common alternatives:
Paving stones: With a large variety of options, paving stones are very popular and are available in many colours and patterns. The downside of these slabs is that they can sink over time and stubborn weeds will eventually grow between them. Block paving is more expensive than pattern imprinted concrete because you're buying individual bricks rather than just concrete and colour. However, block paving is more durable and is cheaper to repair, so that's something to factor in when weighing up the price difference.
Tarmac: Unfortunately, although tarmac can be appealing aesthetically, it is only available in two colours with no option for patterns. On the plus side, tarmac is extremely durable and may even outlast all the other options by decades.
Plain concrete: With similar benefits to imprinted concrete, plain options do not have patterns but are still available in many colours.
Gravel: Very affordable, with multiple colours and shapes, gravel can be a great choice for those on a tight budget. It can be difficult to maintain, as it is not attached to the floor, and can also spread into your home and the pavement in front of your driveway.
For the costs of these options (and more) view our driveway cost calculator.
How long does it take to install imprinted concrete?
The time it takes to install imprinted concrete largely depends on the size of the driveway and the complexity of the pattern. Typically, this will be 5 – 7 days for installation plus 1 – 3 days for the concrete to dry.
Factors affecting imprinted concrete costs
As with the timescale of installing imprinted concrete, the cost of imprinted concrete is affected by a number of important factors. This includes:
Type of concrete: There are many types of concrete to choose from, each with their own price tag, so shopping around can be helpful.
Size of driveway or path: As with most projects, larger areas require more materials and as such you'll face longer labour times and higher costs.
Complexity of pattern: With a huge number of patterns to choose from (such as cobblestone, herringbone and wood plank), your personalised imprinted concrete driveway cost will vary. The more complex the pattern the greater the total price for the job will be.
Shape of the driveway or path: Not all driveways or paths are straightforward squares or rectangles. Some are winding, circular or even completely random. The more unusual the shape of the area, the higher the labour costs will usually be.
The condition of the current space: Depending on the current condition of the driveway or path, the total cost will be affected.
Utility services considerations
It is important to check whether any gas or water pipes run under the space you are excavating to install your new driveway or path. Imagine the fallout if you accidentally damaged either of these pipes! You and your home would be in danger of injury or damage, plus you would be liable to fix any issues caused.
You also need to consider if any drains will be impacted by work taking place. Any concrete works involving manhole covers will add to the price of your project.
Cost of resealing imprinted concrete
Another thing to consider is that imprinted concrete is made up of a large, solid piece of concrete, once dry. If the gas or water company needs to access the pipes then they will need to crack open your entire driveway. If this does happen it's extremely difficult to patch repair imprinted concrete so you may need to re-lay your entire driveway or path.
Concrete can be prone to cracking as it does expand and contract. Expansion joints are used to avoid this but it is never an absolute guarantee.
As a general consideration over time, the sealant that is applied during installation will begin to wear off, so it should be reapplied every few years. The cost to do this will depend on the size of your driveway or path.
Imprinted concrete cost per square metre
When choosing to install an imprinted concrete driveway, it is very likely you will be quoted a price based on how many metres squared the space is. This amount will vary depending on many of the above factors, but most jobs will fall into the range of £75 – £90.
These costs include preparatory work such as removing an old driveway or grass and laying a sub-base of hardcore before the concrete.
The average imprinted concrete cost per square metre is £80.
Pattern imprinted concrete cost
Another way of describing imprinted concrete is to use the term "pattern imprinted concrete". As all imprinted concrete paths or driveways are stamped with a pattern, these two terms are describing the same job. As such the average pattern imprinted concrete cost is £5,825.
Imprinted concrete cost calculator
There are a number of factors that will influence the total cost of an imprinted concrete path or driveway. Concrete may all look the same to the untrained eye, but one of the factors that will influence the cost is the specific mix of materials that make up the concrete mix used in your project.
Understandably, the complexity of your chosen imprinted design, as well as the size and shape of the area to be covered will also have an impact on the final cost. Complex and repeating patterns take more time so this may increase the labour costs. For a driveway of 30m2 with a cobblestone pattern you can expect to pay approximately £2,500.
If the existing ground to be covered is not in the best condition then additional groundworks may need to be carried out before the imprinted concrete can be poured. This will increase labour costs and may also require additional equipment or clearing costs such as hiring a skip.
Can I install imprinted concrete myself?
Installing imprinted concrete is not a simple and quick job. It takes professionals days to complete and that is with their years of experience. While you could attempt to take on this job, it is strongly advised you hire a specialist.
Working with large amounts of concrete brings up a whole host of difficulties from the weight of the concrete itself to the tricky task of mixing the material before use. There is no margin for error here, once the concrete has set it cannot be altered.
Imprinting your chosen pattern can also be difficult as it must match up exactly otherwise the end result will look terrible. If your driveway is on a slope it is also common for concrete to pool at the lower end of the drive itself.
We would recommend hiring a specialist. To find a local, reputable, tradesperson in your area and get a personalised imprinted concrete installation quote use our free search feature.
FAQs
Do I need planning permission?
If the surface to be covered is more than five square metres, planning permission will be needed for laying traditional, impermeable driveways that do not make a provision for the water to run to a permeable area.
A professional tradesperson should install or divert surface water drains when installing the new driveway so planning permission should not be required, however, it is always best to check with your local council before undertaking any professional job.
How do you maintain imprinted concrete?
Although installing an imprinted concrete driveway yourself is not recommended, maintaining the concrete can be done as a DIY job. To keep your imprinted concrete looking its best you should ensure it stays clean and reseal it every few years.
How long does imprinted concrete last?
Imprinted concrete driveways, typically last up to 10 years
Useful imprinted concrete checklist
Imprinted concrete can be personalised to your exact taste and really improves the aesthetics of your home.
The average imprinted concrete cost is split between materials and labour. The cost of the labour is higher due to the complex and time-consuming nature of the job.
It is essential to check whether gas or water pipes run underneath the area where you are installing imprinted concrete.
Factors affecting the cost of imprinted concrete include the type of concrete, the complexity of the pattern and the size of the space.
We would strongly recommend you do not install imprinted concrete yourself and that you hire a professional.