Last updated on March 31st, 2022
Gas fire removal cost guide
While traditional gas fires can be an excellent way to heat your home, they're often unattractive in older properties. If you've decided to remove the gas fire, then here's how much it'll cost to get the job done.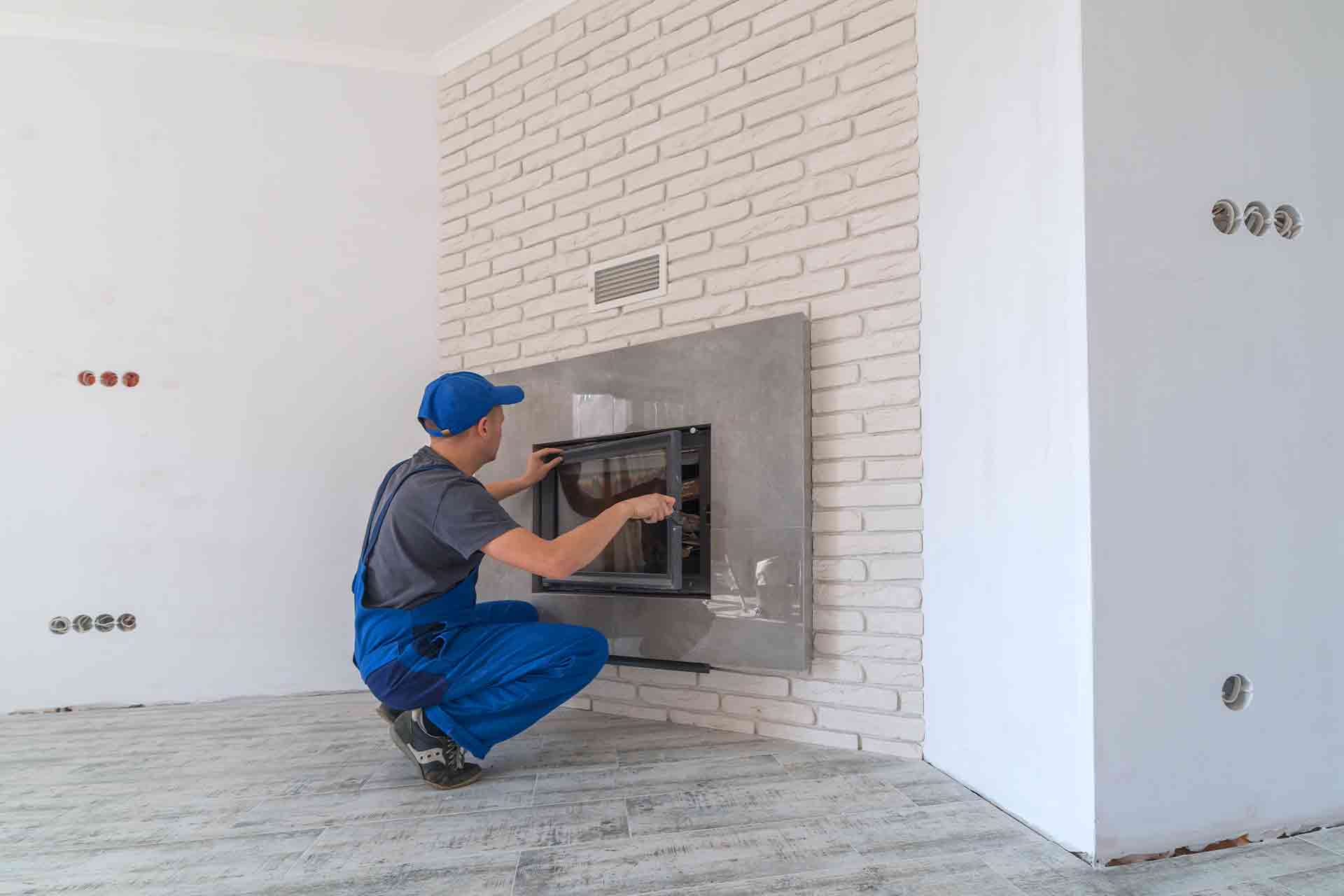 As well as being hideous to look at (usually in an older property) they can also take up a lot of space in your room. In fact, smaller rooms would benefit from a more streamlined heating option.
Other options, such as wood burning stoves, or radiators, may better suit your needs and décor. Due to this, removing your gas fire can be a wise decision. You may wish to switch your fire for a more energy efficient option to save money.
No matter your reasons, removing a gas fire must be done by a professional due to the dangers of gas leaks. Below, we've looked into the average UK gas fire removal cost, other heating options, considerations and more.
Gas fire removal cost
Removal costs
Cost + VAT
(Range low - high)
Average cost
Removal of gas fire cost
£50 - £100
£75
Removing a hearth and surrounds
£200 - £500
£350
Chimney removal cost
£1,000 - £1,600
£1,300
Removing a gas fire can involve a variety of components (more on this later) which affect the cost. The simplest option is to remove the fire and cap off the gas pipe.
To do this, the average gas fire removal cost is £75.
Common gas fire components
As we mentioned above, the visible parts of a gas fire are not the only components that assist with the functioning of your fire. In fact, most gas fires will be made up of the fire itself and the following:
Hearth: Where your gas fire sits, the hearth prevents heat from damaging your floor and walls.
Fireplace and surround: Designed to frame the fireplace and usually made from stone, cast iron or brick.
The chimney or flue: The gas and heat flows up the flue and out the top of your chimney.
See the tradespeople we've checked and recommend for your job
Gas fire replacement options
If you're planning on removing your gas fire, and it is your only source of heating, you will need to choose another type of heater to keep your home warm in the Winter.
There are many excellent alternatives to gas fires, with energy efficient and economical options.
If you are considering a different type of stove or fire please see our guide to installing a wood burner where we look further into these options. Below are just some of the choices available to you:
Wood burning stove
Pellet stove
Coal fire
Electric fire
Bioethanol fire
Radiator
Factors affecting the cost of removing a gas fire
Estimating the gas fire removal cost is never as simple as looking at the average price.
The total amount you will pay depends on a number of factors, including:
Condition of the gas fire: If your current fire is in poor condition it can be more complex to remove. This is particularly true if you choose to remove your fireplace as well. There may be a large amount of debris that will need to be removed before continuing, which will increase the price.
Type of fireplace: If you are removing your fireplace, different materials such as iron or concrete will need to be broken down. This will impact the cost of removing a gas fire.
What you are removing: Whether you choose to remove just the fire, or to dispose of all the components of your gas fire, will impact the price.
Finish: Once your fire is removed you will likely be left with damaged plaster, especially if the fire was attached to your wall. You will need to make good the space, which will add additional costs.
Ease of access: Difficult to access fireplaces will take longer to remove. This will increase the labour cost of your job.
Location: Areas with higher living costs like London and the South East will typically have higher labour costs when hiring a tradesperson.
Cost of removing a gas fireplace as well as the fire
If you're planning to not only remove your gas fire but also remove the surrounds and chimney, the job will take much longer and be much more expensive.
This is due to the complexity of removing these difficult to access components.
Taking the average removal cost of £75 for the fire, £350 for the hearth and surrounds, and £1,300 for the chimney, the total cost to remove all parts of your gas fire is £1,725.
As the most expensive part, it's clear removing chimneys is no easy feat.
You can learn more about how these costs are worked out in our chimney removal cost guide.
Likewise, for more information about removing fireplaces see our guide to fireplace removal costs.
See the tradespeople we've checked and recommend for your job
How complex is it to remove a gas fire inset to an electric one?
There are several factors that will determine whether it's complex.
You will definitely need a gas registered tradesperson to cap off the gas supply safely and an electrician to wire the new electric unit.
Other potential requirements for the job to consider:
Removal of the old gas fire and disposal.
Can you find a suitable new electric fire that fits within the old hearth surround? A tradesperson can help with measurements and finding a new electric fire that may fit without a complete hearth surround replacement.
Re-plaster work – may be required around the fireplace caused from removing/installing new.
New flooring/carpet/tiling may be required if there was damage during the change of your electric fire inset.
A very complex project may involve a structural alteration if the lintel above the fireplace has to be moved.
Can I remove a gas fire myself?
To be clear, you should never attempt to remove a gas fire yourself.
It is a legal requirement that this job is completed by a Gas Safe Registered engineer. This is due to the danger of working with gas connections.
The risks of tackling this as a DIY job include fire, and death through inhalation if you do not properly cap off the gas pipe. In addition to the risks involved with tampering with a gas fire, fireplaces are very difficult to remove due to their weight and size.
It is a legal requirement to hire a professional. To find a local, reputable, tradesperson in your area and get a personalised gas fire removal quote use our free search feature.
Useful gas fire removal checklist
Old gas fires can be unattractive, take up lots of room and be inefficient.
Your removal of gas fire cost will involve removing the gas fire and capping off the gas pipe.
Gas fires can be replaced with electric stoves, wood burners and radiators.
Hearths, surrounds and chimneys are all components that help your gas fire to function and can be removed at an extra cost.
It is extremely dangerous to tamper with a gas fire, not to mention illegal.
See the tradespeople we've checked and recommend for your job