| Fireplace removal costs | Unit | Cost + VAT |
| --- | --- | --- |
| Gas fire removal and disconnection | Per project | £150 + per project |
| Electric fire removal and disconnection | Per project | £150 + per project |
| Natural fuel (wood) fire removal | Per project | £100 + per project |
| Coal fire removal | Per project | £100 + per project |
How much does fireplace removal cost?
Removing a fireplace can be a fantastic way to renovate a property and redecorate a room. Or, an opportunity to switch to a more efficient heating method or alternate fireplace (e.g. moving from gas to electric).
Whether you want to know the costs to remove a gas, electric, wood or coal fireplace and chimney, we've detailed what you'll need to spend below.
What does it cost to remove a fireplace?
To help you budget to have your fireplace removed we spoke to the online estimators at My Build Estimate – a professional estimating company monitored by the Royal Institute of Chartered Surveyors (RICS). Here are some estimated, average prices from them for fireplace removal.
What will need to be removed?
There are five main parts to a fireplace that you'll need to consider as part of the removal:
Fireplace insert, stove, fire basket or open fire grate: The fire itself which is used to heat your room. Fire baskets, fire grates and stoves can contain coal, wood or other items to be ignited. Inserts generally slot neatly into the fireplace and are powered by gas or electric.
Hearth: The base of your fireplace which protects the room floor from the heat. Traditionally made of stone or brick, it may also extend into your room from the fireplace. Not essential for gas or electric fires but often they are installed for aesthetic reasons.
Surround and mantel: The fixtures located to the left, right and above your insert. Typically made from wood, marble, stone, cast iron or brick.
Framing and flashing: Framing holds the insert in place, whilst flashing refers to pieces of metal that attach the insert to the framing.
Chimney, flue or vent: For releasing any gases to the environment. Not essential for electric fires but other types will have one of these.
Below, we look at the costs to remove the fireplace as well as capping off services. These costs do not include the removal of any chimneys or making good the space.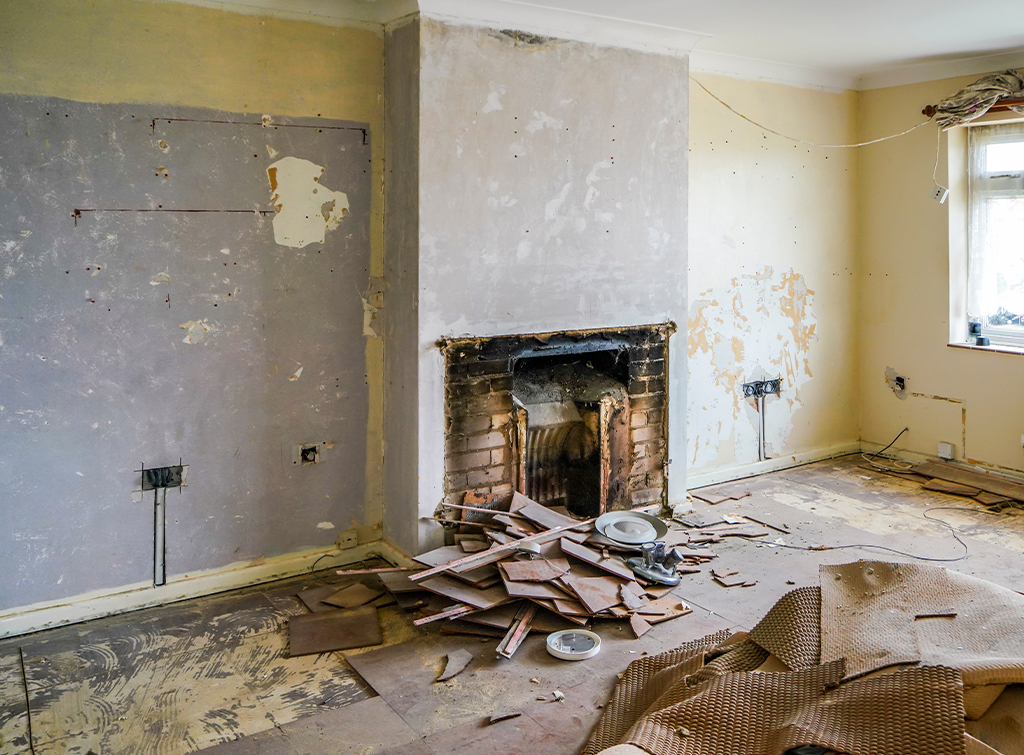 Removal costs by fireplace type
Gas fire removal costs
For gas fireplaces you must ensure the gas insert is disconnected before the fireplace can be removed. It is recommended that gas fire removal is done by a qualified professional to ensure no future leaks.
If your gas fire has a flue then the exhaust pipe will need to be removed and you may choose to cap the pipe, or replace the opening with new brick work. If you have a flueless gas fire then this step is not required. Alternatively, you may have a chimney, in which case removal costs are below.
We estimate removing a gas fireplace will cost £150+.
Electric fireplace removal costs
As they don't require ventilation the cost to remove an electric fireplace is mainly dictated by the placement and electrical work required. We recommend using a professional for the electric work and to move especially heavy fireplaces.
The majority of costs for electric fires are for making good the area. 'Insert electric fires' and 'hole in the wall electric fires' require even more work as the area is larger.
We've covered the potential costs of making them look good below.
To remove an electric fireplace we estimate £150+.
Natural fuel (wood) or coal fire removal costs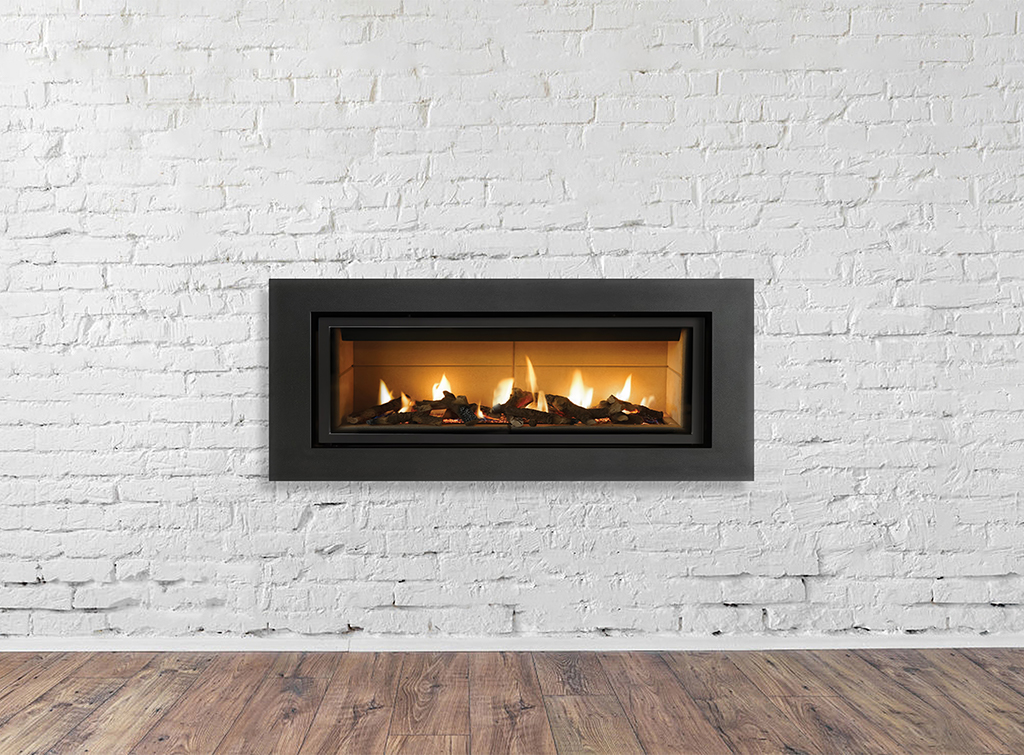 Removing a wood or coal burning stove is simple in principle, as there are no gas or electric connections to remove. However, they can weigh a considerable amount, with some weighing up to 300kg. They are also very bulky, making them a real challenge to move.
The vent or chimney connected to the fireplace will need to be removed or capped off.  For open coal fireplaces it's recommended a sweep is hired to clean the space or chimney.
To remove the wooden fireplace we estimate £100+.
Surround and hearth removal costs – brick, tiled and wood
The price it will cost to remove the surround and hearth is determined by the material used.
If it's a wooden or tiled surround, it can be as simple as removing screws and lifting it away. You may need some help with tiled surrounds due to their weight. It's also important to wear gloves and protective goggles if you choose to break them up with a sledgehammer.
Brick surrounds need to be removed brick by brick with a hammer and chisel. The same applies to hearths, which usually require a hammer and chisel to create an opening.  A crowbar can then be used to lever it away once you've broken the mortar bond.
It costs around £200 – £500 to remove the surround and hearth.
Fireplace removal specialists near you
Chimney removal costs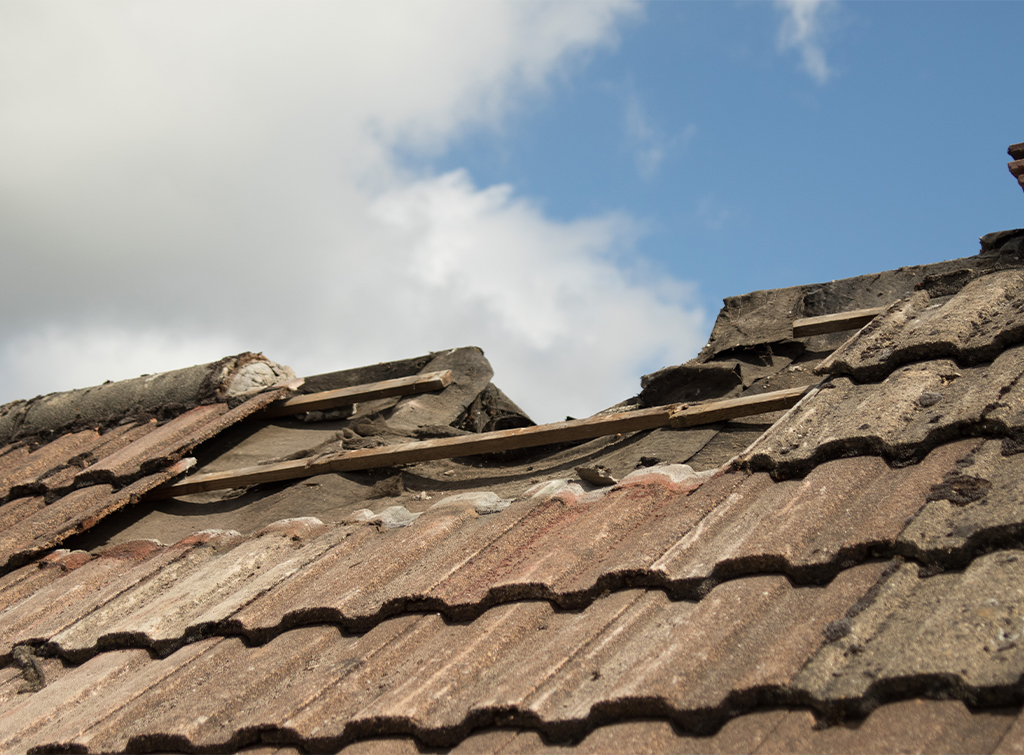 If you are no longer using the chimney it's recommended that you have it closed off in order to stop any water collecting in there. A cowl can be used to cap off the chimney, which will allow air to flow in and prevent any moisture building up. This costs roughly £150.
If you want to remove the chimney breast (the part of the chimney in the room) and have the space made up, this can cost between £1,750 to £3,250. Or, if you want to remove the chimney stack from the roof but keep the chimney breast you can expect to pay £450-£950.
Is planning permission required?
No, planning permission is not required to remove a fireplace unless it is in a listed building. However, you will need to notify the local authority building control department if removing the chimney as it is notifiable under Building Regulations. This costs around £220.
If the chimney is close to the boundary of another property you must also notify the owner under the Party Wall Act. The process costs around £100, with extra costs if a surveyor needs to be involved.
Costs to make good following fireplace removal
With the fireplace and chimney removed the opening is now ready to be made good. This includes:
Boarding up the opening with plasterboard/bricks or converting the opening into a new space.
Skimming (plastering).
Painting.
Skirting.
Floor finishes (e.g. replacing carpet or vinyl where the fireplace was).
These costs vary considerably based on what you'd like to do with the space, the style of your home and the quality of the tradesperson used. We recommend getting a quote from a specialist.
Can I remove a fireplace myself?
It's always best to hire a professional to remove a fireplace or chimney.
With gas and electric connections, structural challenges, residual emissions and the sheer weight of the fireplaces there is a lot that can go wrong for an inexperienced DIYer.
Need a fireplace removal quote?
To find a local, reputable, tradesperson in your area and get a quote for fireplace removal costs, use our free search feature.
Key takeaways for fireplace removal
Consider which parts of the fireplace you want removed, as well as any surroundings and framings.
Check which type of fireplace you have – gas, electric, natural or coal – to determine the steps involved for removal.
Check if any gas or electric lines need to be closed off.
Decide what you will do with any flue or chimney breast and stack.
Seek quotes to make good the space and decide what you'd like to do with any opening.
Tell us what you think
What others think of this cost guide:
Need More Information?
Related posts